Top Team USA Moments To Close Out The 2022 Winter Olympics
The last week of the Olympic Winter Games Beijing 2022 went by faster than a bobsled sliding down an icy track. And now, after 17 action-packed days, we can hardly believe it's over.


Take a walk down memory lane and check out some of our favorite Team USA moments from the last week.


And don't forget, to see more winter sports action, be sure to watch the Paralympic Winter Games Beijing 2022, which begins on March 4.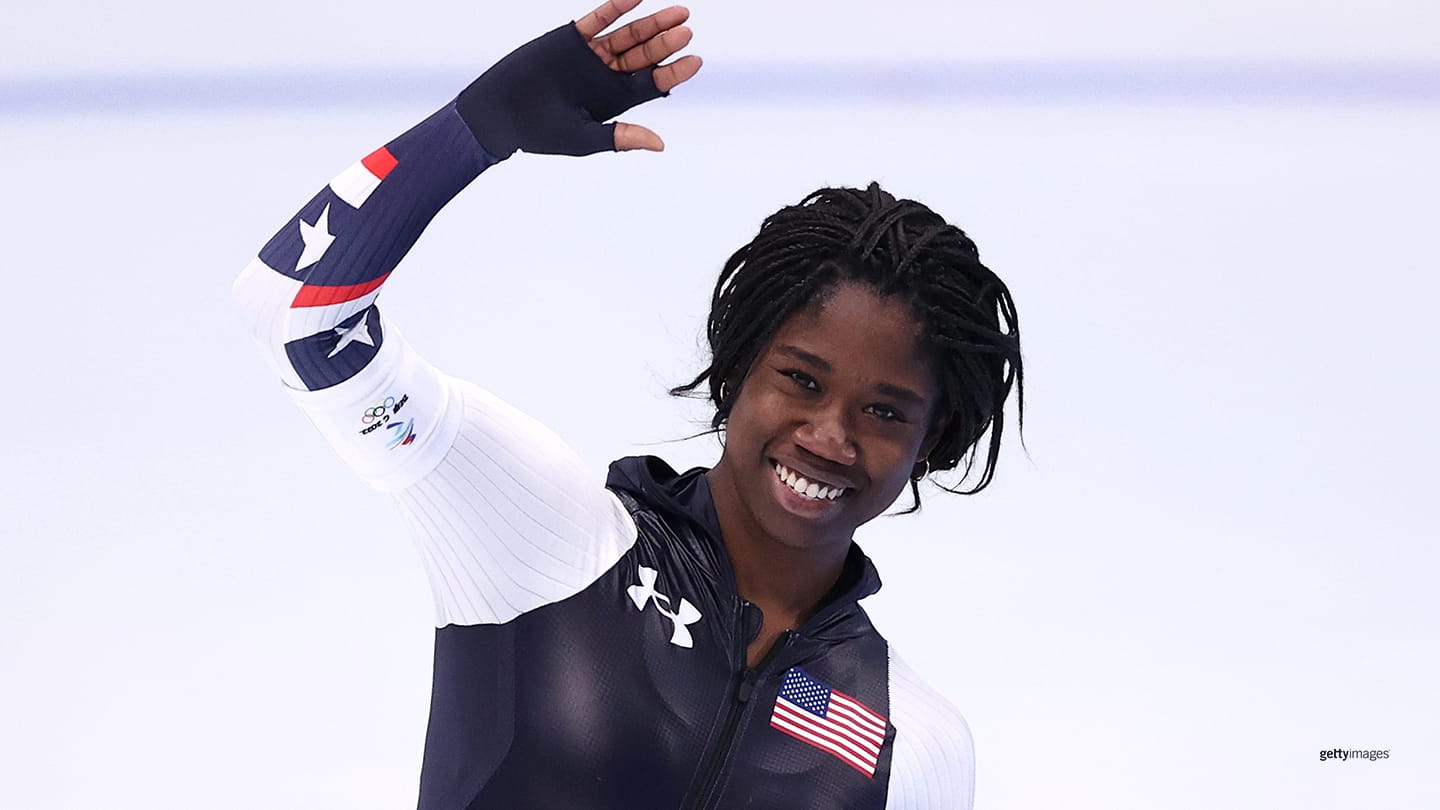 Erin Jackson celebrates winning gold after the women's 500-meter race at the Olympic Winter Games Beijing 2022 on Feb. 13, 2022 in Beijing.
Speedskater Erin Jackson makes history with Olympic gold medal in
500-meter
Jackson not only made her only event in Beijing count — she made history with it. The 29-year-old won gold in the 500-meter, becoming the first Black woman to medal in speedskating. Before the Games, a lot of the talk about the defending world cup champ was about how she earned her spot in Beijing thanks to her teammate, Brittany Bowe, who gave Jackson her qualifying spot. But now, the first-time medalist was in the spotlight all on her own.
Sylvia Hoffman and Josh Williamson make their Olympic debuts after finding bobsled through Next Olympic
Hopeful
Not many Olympians can say their journey to sport's largest stage started on reality TV. But two Team USA bobsledders — who were in Beijing at their first Games — can. Hoffman, 32, and Williamson, 25, participated in the reality show designed to help identify national team hopefuls. As former athletes, it wasn't long before the two were competing in a sled for the U.S. The experience also gave Hoffman an up-close look at an Olympic podium after taking bronze in the two-woman bobsled with four-time Olympian Elana Meyers Thomas. Williamson competed in the final event of the Games with a top-10 finish in the four-man with Hunter Church driving.
Best men's cross-country Olympic finish in 46 years: Scott Patterson takes 8th in
30K
The men's 50-kilometer freestyle race might have been cut short because of cold and windy conditions, but the U.S.'s 8th place finish was a long time coming. The last time the U.S. placed that high at an Olympic cross-country race was in 1976, when Bill Koch won silver. Patterson's time of 1:12:06.6 in the 30k race was less than half a minute from a bronze medal. In comparison, at his first Games in PyeongChang, the 30-year-old from Alaska finished the 50k in 11th and almost five minutes back.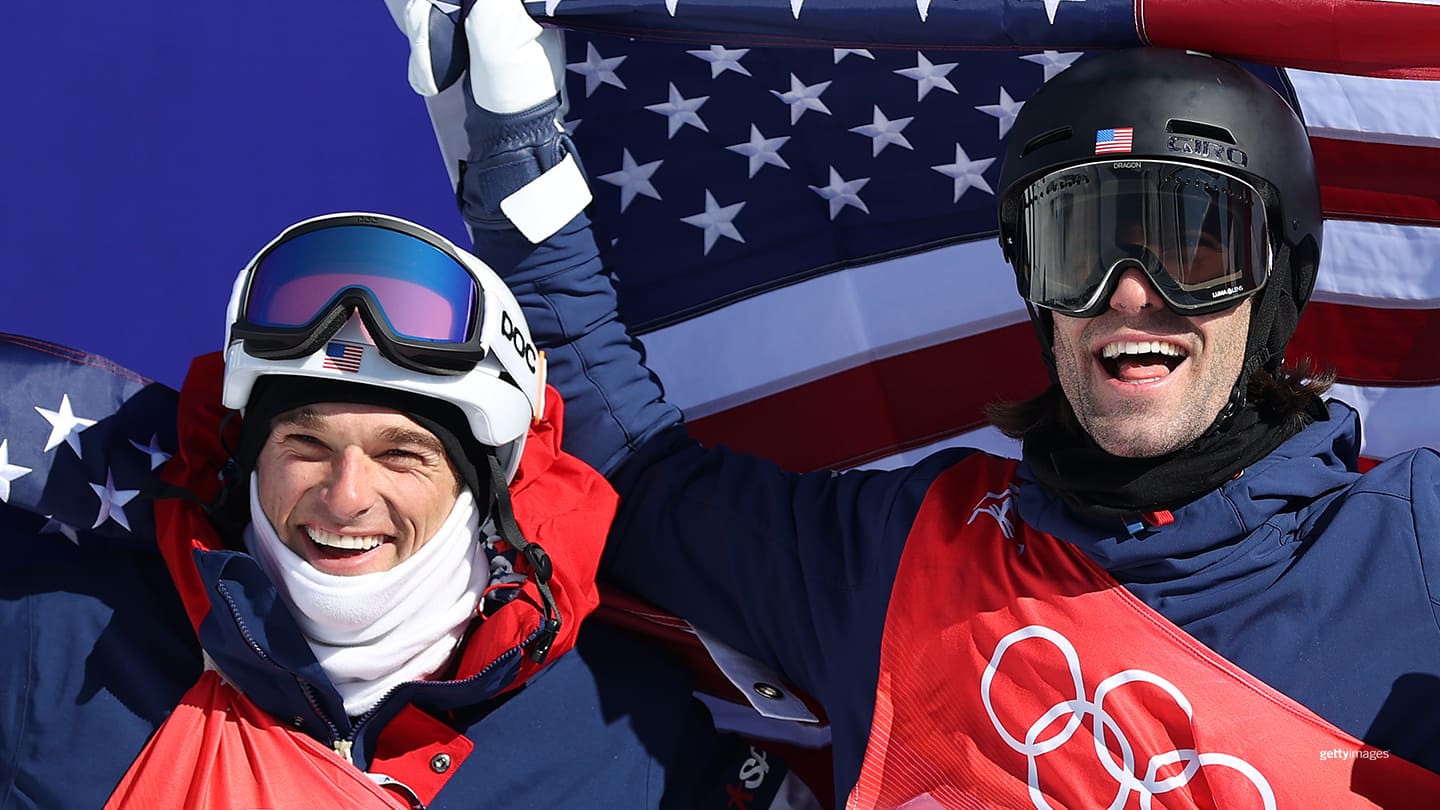 (L-R) Nick Goepper and Alex Hall celebrate after the men's freestyle skiing slopestyle final at the Olympic Winter Games Beijing 2022 on Feb. 16, 2022 in Zhangjiakou, China.
Alex Hall and Nick Goepper grab gold and silver in Olympic slopestyle
skiing
Two-time Olympian Hall gave new meaning to the phrase "one and done" when he laid down the highest score of the day on run one of three in men's slopestyle skiing. The 23-year-old from Park City, Utah, admitted it was his first time putting down elements that won him the top spot on the box. His teammate, and three-time Olympian, Goepper, 27, finished behind him to take the silver. It was a familiar sight for the Lawrenceburg, Indiana, native who took silver in PyeongChang and bronze in Sochi at his first Olympic Games when the sport of slopestyle made its debut. The twosome's feat in Beijing marked the third straight Winter Games where Team USA claimed the top-two spots in the event.
With bronze Megan Nick becomes first U.S. woman to medal individually in aerials since
1998
When American skier Nick came into Beijing, it was her Olympic debut. And thanks to her bronze in aerials, she'll leave the Winter Games as a first-time medalist. The 25-year-old from Shelburne, Vermont, became the first U.S. woman to win an individual medal after landing a back full-double full in the super final to score a 93.76. It was good enough to take the last spot on the box, just ahead of her teammate, Ashley Caldwell, who concluded her fourth Games in fourth place.
In first Olympics, River Radamus takes fourth in men's
GS
At only 24-years-old, ski racer Radamus is becoming known for top finishes on the hill — the way he is known for the crazy hair on his head. And that's saying a lot! The Steamboat Springs, Colorado, native had the best result for Team USA in the men's giant slalom, finishing fourth. He did it with a smile on his face and zebra stripes in his hair. On skis before he could walk, the son of two world-class ski coaches has had a remarkable season, including two sixth places in GS and four top-13 finishes. Not surprising for the first alpine skier to win three gold medals at the Youth Olympic Winter Games.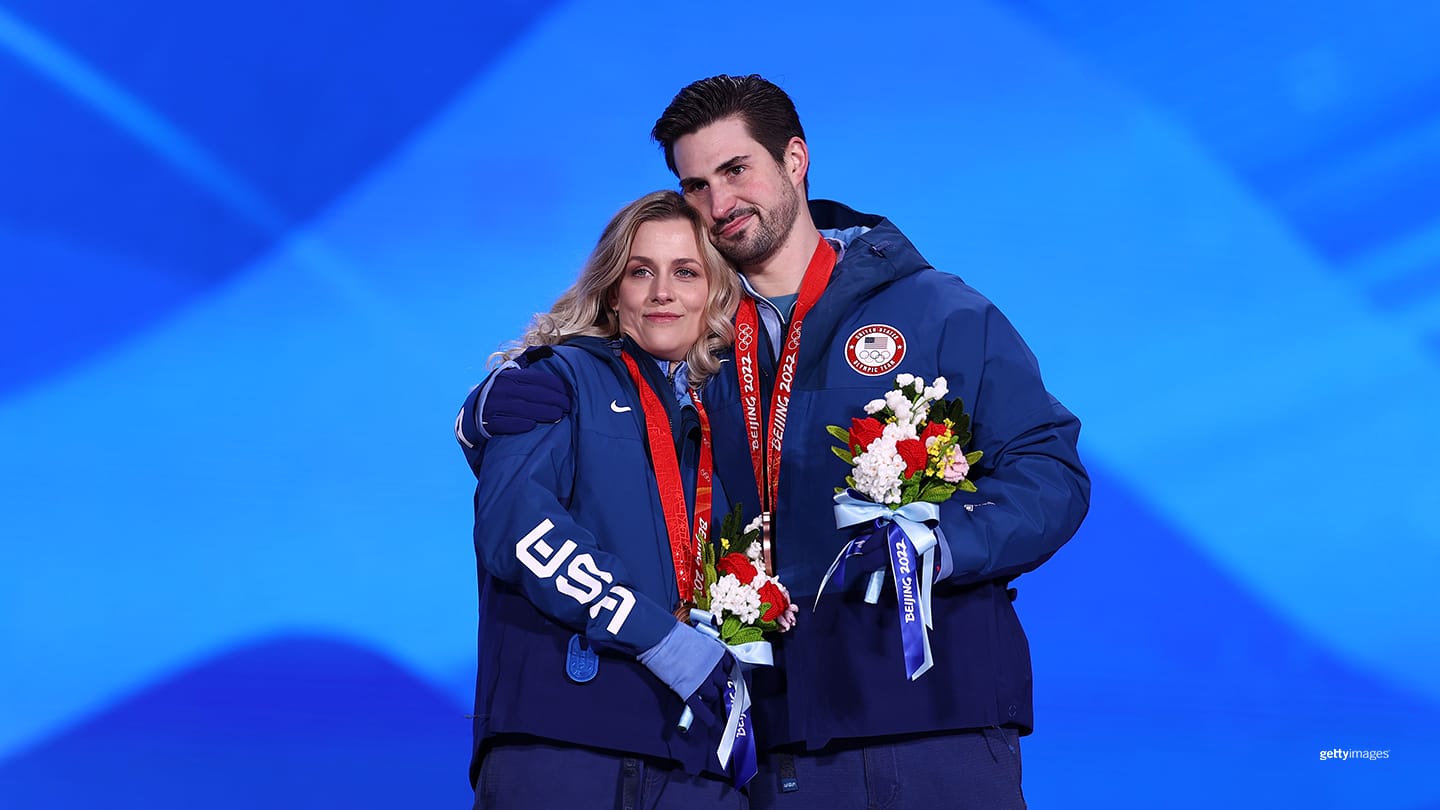 (L-R) Madison Hubbell and Zachary Donohue react after the figure skating free dance finals the Olympic Winter Games Beijing 2022 on Feb. 14, 2022 in Beijing.
Ice dancers Hubbell, Donohue end their Olympic career with
bronze
A story more than 10 years in the making ended on Olympic ice with ice dancers Hubbell and Donohue winning the medal that was just out of their grasp four years earlier in PyeongChang. The two-time Olympians won the bronze for their performance to Anne Sila's "Drowning." Their score of 130.89 was a new personal best. The pair announced their plans to retire after Beijing but didn't intend to hang up their skates completely. First, they are scheduled to go on tour for Stars on Ice. After, they both are interested in starting their own figure skating schools.
Brittany Bowe races to 1,000-meter bronze, her first career individual
medal
Nothing says happy early birthday to me better than an individual bronze medal. A week before turning 34, three-time Olympian Bowe gave herself just that when she skated to third in the women's long track speedskating 1,000-meter event in Beijing. It was the second Olympic bronze medal — and first individual medal — for the reigning world champion from Ocala, Florida. Four years earlier, in PyeongChang, she landed in the same spot in the team event. Her win in China made her the first American woman to medal in the event since 2002, when Chris Witty finished first.
Carly Margulies competes in Beijing in the women's ski halfpipe despite seven knee surgeries, the latest in
December
When Margulies was 15, she landed on her first podium, winning the U.S. Revolution Tour halfpipe event. By 16, she had her first medical procedure to repair a torn ACL. It would be the first of many surgeries — seven to be exact, with the most recent a torn meniscus less than two months before the Beijing Olympics. The first-time Olympian's 11th place finish in the women's ski halfpipe in Beijing was not her best result of the season. Still, it's a testament to the resilience of the Mammoth Lakes, California native.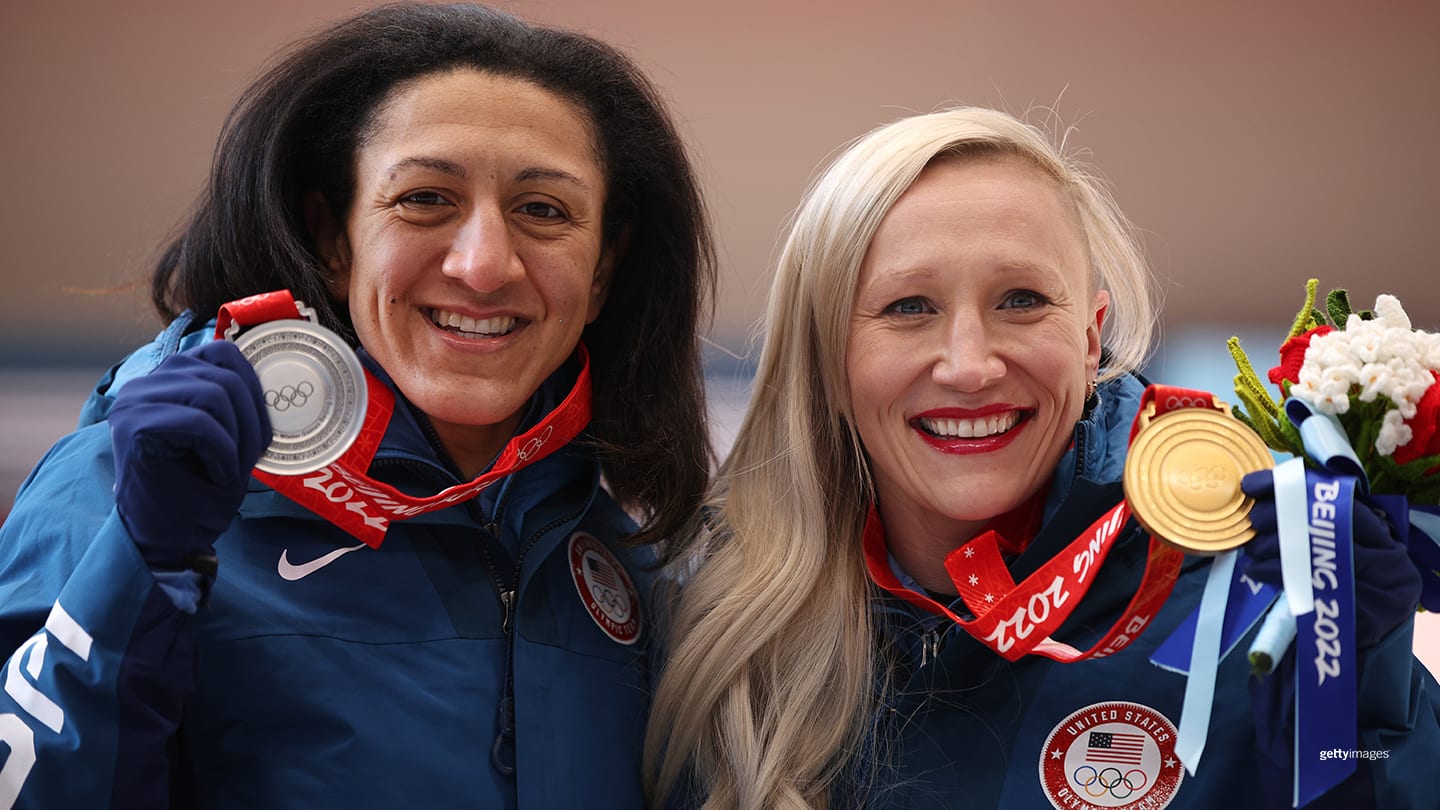 (L-R) Elana Meyers Taylor and Kaillie Humphries celebrate after the women's monobob finals at the Olympic Winter Games Beijing 2022 on Feb. 14, 2022 in Yanqing, China.
Monobob makes its Olympic debut with gold and silver for Team USA, and bronze in 2-woman
bobsled
When the sport made its debut in Beijing as one of seven new Olympic disciplines, Team USA's Kaillie Humphries and Elana Meyers Taylor — both four-time Olympians — became the world's first monobob gold and silver medalists. After making it on the podium again — winning bronze in the two-woman bobsled with first-timer Sylvia Hoffman — Meyers Taylor claimed the title of the most decorated Black athlete at a Winter Games with a combined five medals.
Skier Keely Cashman finishes women's downhill in 17th, one spot behind her career
best
If anyone was surprised to see Cashman in 17th as the top American skier in the women's downhill — and one place ahead of three-time Olympian Mikaela Shiffrin — it was the 22-year-old, who had an average career finish of 33rd in 10 starts. But at her first Games in Beijing, the 22-year-old finished one spot behind her career-best, and only a year after crashing while training for a world cup super-G, suffering a concussion and straining the MCL in her knee. In October, the Strawberry, California, native returned to the world cup circuit — less than a year after her crash.
In hard fought team sprint, Rosie Brennan and Jessie Diggins finish fifth, tied for the second best U.S. finish in the event's
history
History was made in the women's cross-country classic team sprint, and once again, it involved Team USA's Diggins, 30. Along with Brennan, 33, the two Olympic veterans placed fifth in the event, making it tied for the second-best U.S. finish in the event's history. At the top of that list was Diggin's win with Kikkan Randall in PyeongChang when the duo won the U.S.'s first medal in the sport, and the first medal of any kind for the women.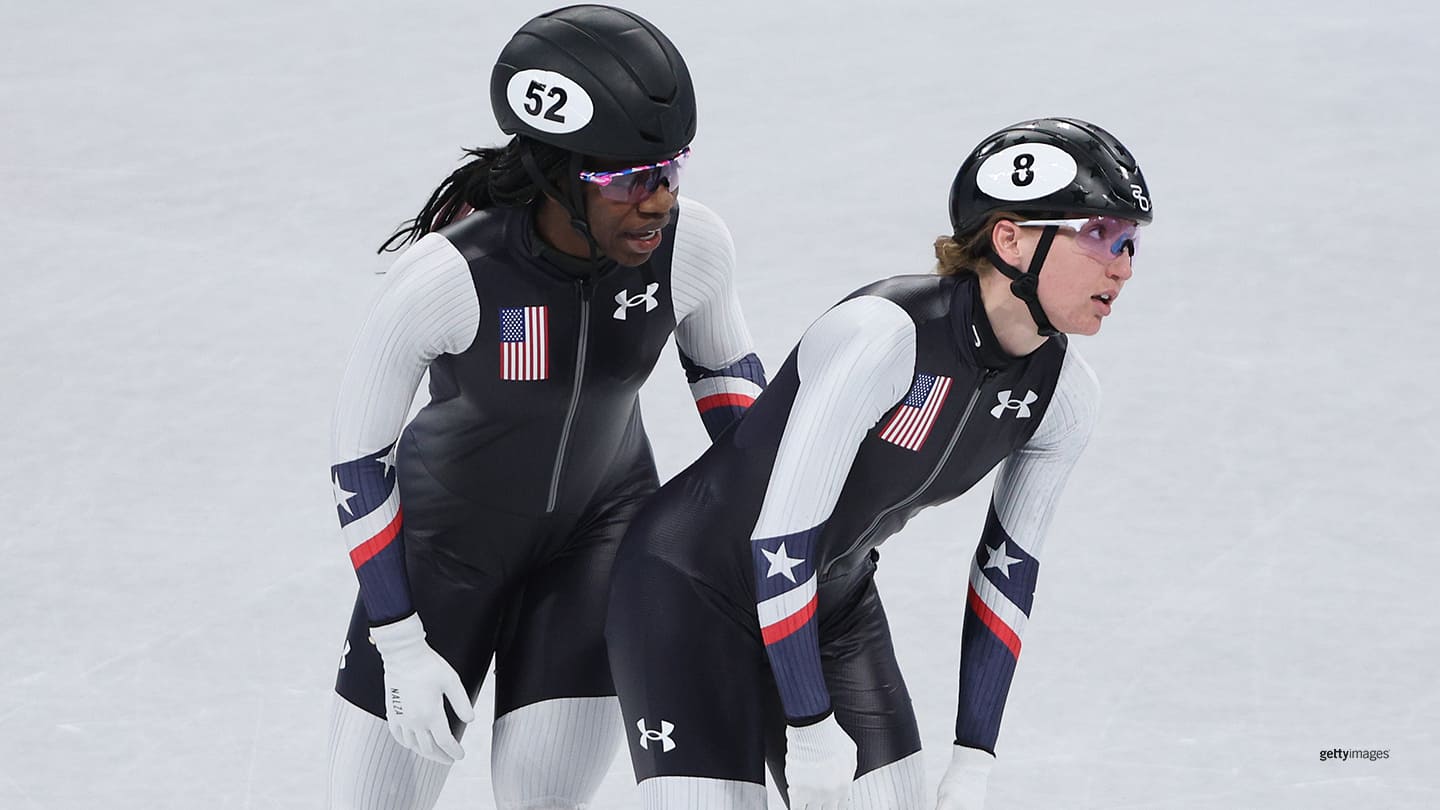 (L-R) Maame Biney and Kristen Santos compete during the women's 3,000-meter relay final at the Olympic Winter Games Beijing 2022 on Feb. 13, 2022 in Beijing.
Kristen Santos' fourth place headlines U.S. trio of strength in 1000m short
track
Team USA women were all over the top 10 in the 1000m short track, with Santos taking fourth just in front of teammates Corinne Stoddard (7th) and Maame Biney (9th). Stoddard and Biney saw career-best finishes as this trio showed just how strong the U.S. short track team is. In the final, Santos was in position to vie for a medal when a collision sent her into the pads with just three laps to go. "Ultimately, it's part of the sport. It's unfortunate and definitely heartbreaking but I have to move forward," she said after the race.


U.S. men set personal bests in Nordic combined large
hill
A host of personal best performances were on hand for the U.S. in the men's Nordic combined large hill competition — which combines ski jump's longest hill with a 10km cross-country course. Team USA had three top-25 finishes, with Jared Shumate (17th) and Ben Loomis (19th) setting personal bests. Taylor Fletcher finished 23rd (second only to his 20th place in Sochi), and Jasper Good's 34th improved upon his previous Olympic best from PyeongChang. The foursome also took sixth overall in the men's team large hill/4x5km competition.
U.S. biathlon sets highest-ever Olympic
finish
First-time Olympian Deedra Irwin made history with a seventh-place finish in the women's 15km individual race — marking the best Olympic finish ever for U.S. biathlon. The 29-year-old then qualified for the 12.5km mass start, an honor in itself as it's earned only by the top 30 athletes in the field, where she finished 23rd. Irwin also joined teammates Susan Dunklee, Clare Egan and Joanne Reid to an 11th place finish in the 4x6km team relay. Team USA has never medaled in biathlon at the Olympic Games.
Alexa Knierim, Brandon Frazier produce best U.S. pairs Olympic result In 20
years
Like their free skate program to "Fix You" — which built to a climactic final minute — so did Knierim, 30, and Frazier's, 29, scores. The American pair closed out figure skating at the Beijing Games in sixth overall and produced a personal best score (138.45) and a personal high overall score (212.68), giving the U.S. its top finish at a Winter Games in 20 years. Timothy LeDuc and Ashley Cain-Gribble finished eighth, the U.S. highest finish by two pairs since Ina and Jason Dungjen placed fourth and Todd Sand and Jenni Meno eighth in 1998.
Lisa Costantini is a freelance writer based in Orlando. She has covered Olympic and Paralympic sports for various publications, and has contributed to TeamUSA.org since 2011.