Kaillie Humphries & Elana Meyers Taylor Win Gold & Silver In Inaugural Olympic Monobob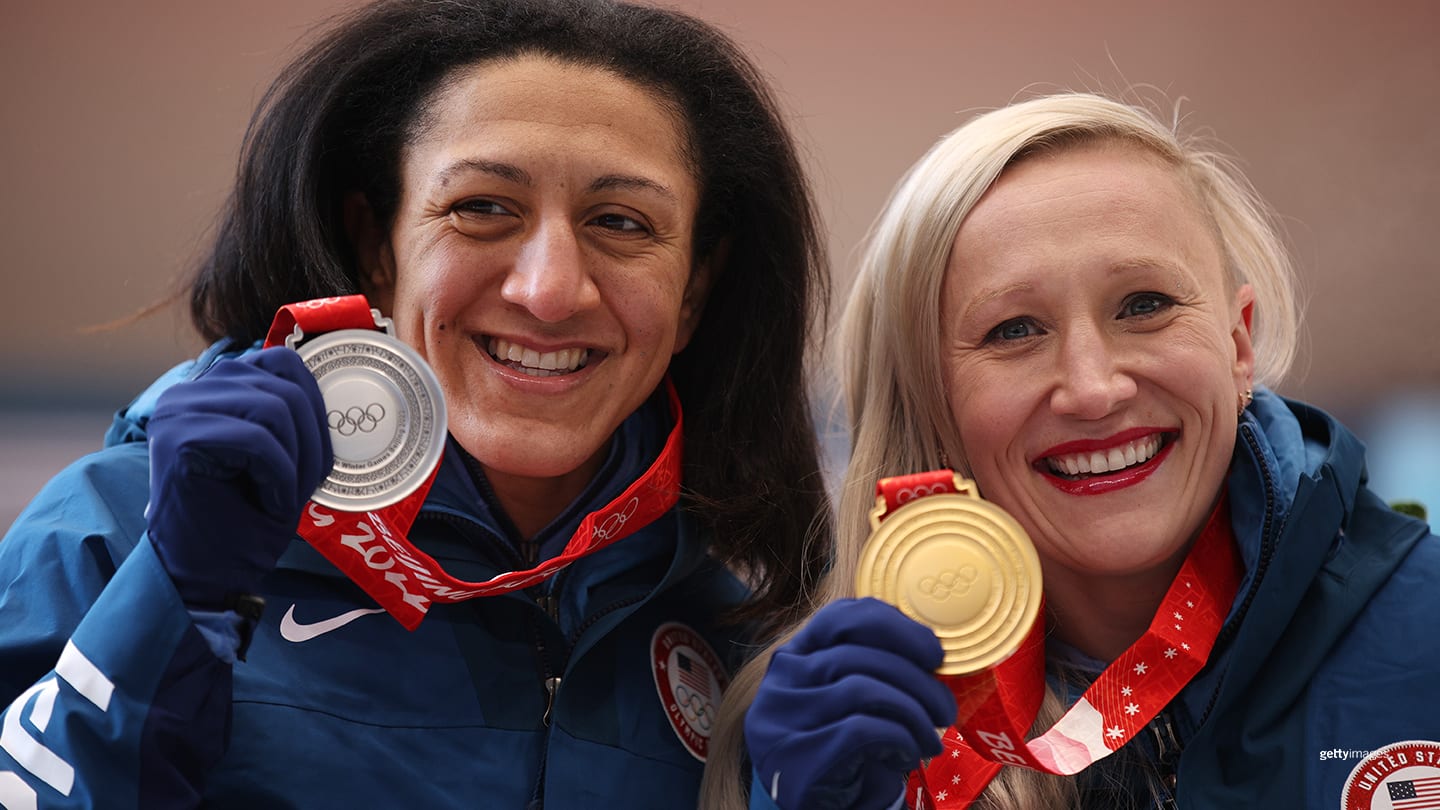 Elana Meyers Taylor and Kaillie Humphries celebrate during the Women's Monobob medal ceremony at the Olympic Winter Games Beijing 2022 on Feb. 14, 2022 in February 14, 2022 in Yanqing, China.
BEIJING — Kaillie Humphries is a newly minted U.S. citizen. And now she is also monobob's first Olympic champion.
Through four heats, Humphries remained on top of the monobob standings, which made its debut at the Olympic Winter Games Beijing 2022. The four-time Olympian won the gold medal with a combined time of 4:19.27.
She's got it! 🥇@BobsledKaillie x #WinterOlympics
pic.twitter.com/afVkSGMTxD

— Team USA (@TeamUSA) February 14, 2022
"I still remember 2002 and watching Jill Bakken and Vonetta Flowers win the first women's bobsled gold medal [at an Olympic Games]," said Humphries, with the monobob gold medal draped around her neck and the crochet podium flowers still in her hand. "To know that I have my little piece of history in sport is a huge accomplishment."
Right behind Humphries, Elana Meyers Taylor overcame a stressful Winter Games to claim silver in 4:20.81. Meyers Taylor slid the fastest fourth run, earning back 0.19 from Humphries's lead and moving from third into second place. At the halfway point last night, she had sat in fourth place and moved into medal contention on her third run this morning.
"It feels better than gold," said Meyers Taylor who tested positive for COVID-19 when she arrived in Beijing and spent a week in isolation away from her husband and almost-two-year-old son, Nico.
"This is definitely the most difficult medal I've ever earned," she continued. "It's definitely been the hardest journey to get here. I am so excited to take this medal back to my son is at the hotel."
In the final run, Meyers Taylor pushed Canada's Christine de Bruin to bronze-medal position. De Bruin, who won two monobob world series races this winter, finished third in 4:21.03.
A historic run! 🥈@eamslider24 x #WinterOlympics
pic.twitter.com/Tb27qfKFfT

— Team USA (@TeamUSA) February 14, 2022
Both Humphries and Meyers Taylor are bobsledding veterans with four Olympic medals each: 36-year-old Humphries has three gold and a bronze, and 37-year-old Meyers Taylor three silvers and a bronze. Both worked to bring gender parity to the Olympic Games with more events for women (men slide both two-man and four-man events; until this Games, women only competed in two-man). They had hoped a four-woman event would make its Olympic debut but were happy to have a second event on the 2022 Olympic program.
"To have this opportunity, to have this event and to be next to [Kaillie] on the podium, it's like a storybook ending," said Meyers Taylor.
Humphries and Meyers Taylor came to at the Yanqing National Sliding Centre's Ice Dragon track
as heavy favorites to win medals in monobob's Olympic debut.
With four wins this season, Meyers Taylor is the 2022 overall monobob world series champion, and Humphries is the reigning (and to date, only) monobob world champion.
But both Americans have had challenges this season — in fact, over the past Olympic quadrennial.
Humphries was a three-time Olympian and three-time Olympic medalist for Canada. But after the 2018 PyeongChang Olympic Winter Games, she immigrated to the U.S. and received a green card through marriage. Her husband Travis Armbruster was on the U.S. bobsled team 12 years ago. Her grandfather is an American citizen as well, and she had spent childhood summers in the States — and learned to sing the National Anthem attending baseball games with him.
Humphries wanted to become a dual citizen and sought to be released from the Canadian bobsled team. In 2019, she began sliding for Team USA.
But until two months before the 2022 Winter Games opened, Humphries was not yet a U.S. citizen. The uncertainty wore on her, knowing that "it wasn't my talent or my skill that was going to not allow me to be here," she said. "It was going to be whether I got my citizenship in time, which isn't up to me."
Then on December 1, 2021, she flew from Altenberg, Germany, where she was training for an upcoming world cup, back to California for her citizenship test and a final interview. She passed, did a swearing-in ceremony, then flew back to Germany, winning both the two-man bobsled competition as well as monobob that weekend. It was one of two world cup monobob victories for Humphries this season.
"I had to resign myself to the fact that it might not come through, and I had to be okay with that fact," she said. "I think that's what allowed me to be so strong here. As soon as I got my citizenship, the motivation went through the roof."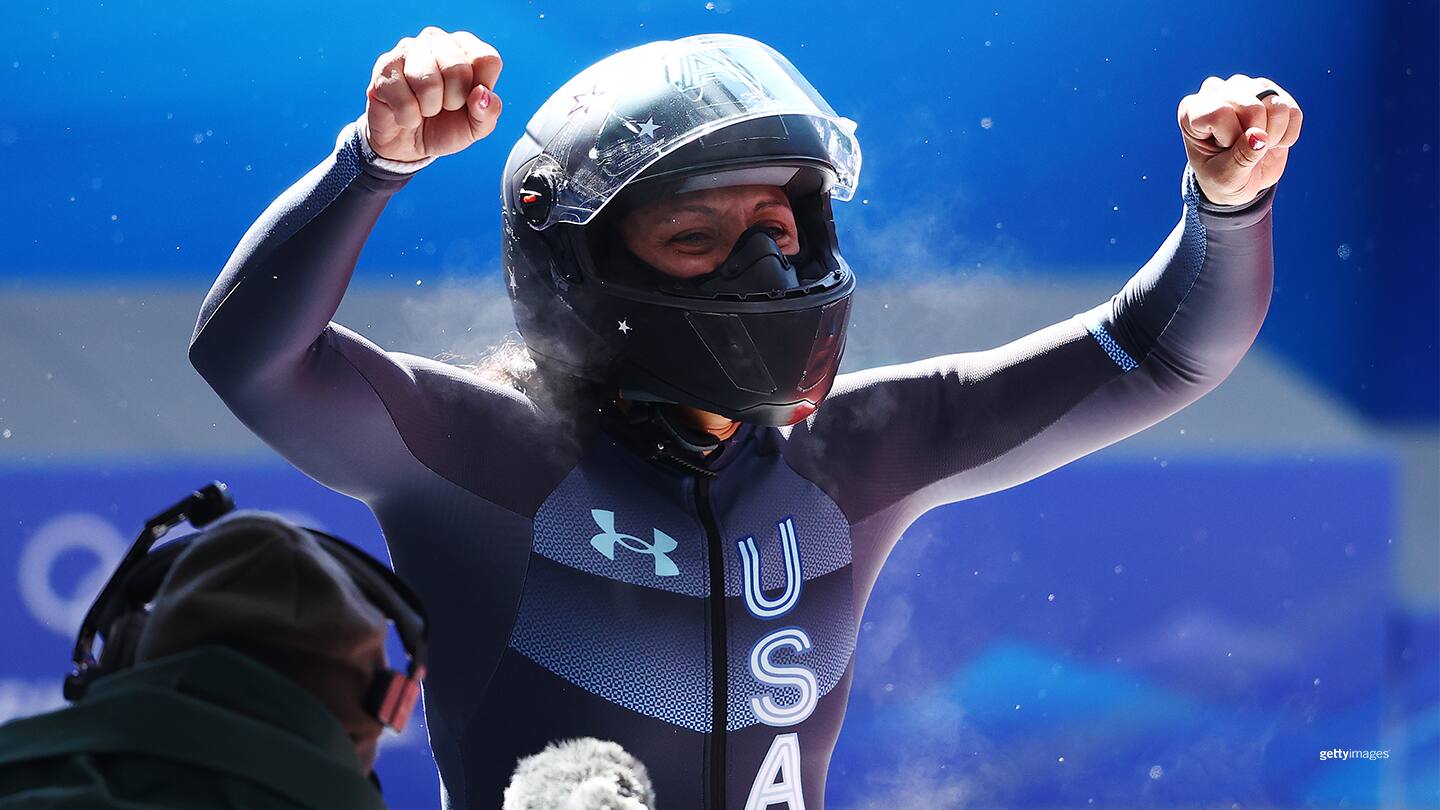 Elana Meyers Taylor celebrates during the Women's Monobob Bobsleigh at the Olympic Winter Games Beijing 2022 on Feb. 14, 2022 in February 14, 2022 in Yanqing, China.
For her part, Meyers Taylor, whose son Nico was born in February 2020, faced the challenges of returning to world-class competition after childbirth, then being a mom on tour during a global pandemic. She has paid for family members to fly to world cup events this season to care for Nico while she has trained and competed.

Then, upon her arrival in Beijing, the four-time Olympian tested positive for COVID-19 and was sent into isolation on January 31. On February 5 — just over a week before the first monobob heats on the Yanqing track — she was cleared to compete.

Although she remained upbeat in isolation, it was rough, admitted Meyers Taylor. The longer she stayed in one room, the harder it became. She was chosen as Team USA's flagbearer for the Opening Ceremony but had to watch it on TV. And she could only workout in the confines of her room. Worse, she was separated from Nico and husband Nic Taylor, who is an alternate on the U.S. men's bobsled team here in Beijing.

"You go into the Olympics and you have everything regimented, you think you have everything under control," she explained. "To have absolutely no way to control the situation, just waiting on test results day after day hoping you test negative, it was really hard mentally."

The day before the monobob competition started, Meyers Taylor sat in the container that holds the team's bobsleds. She told head coach Brian Shimer that she did not think she could compete the next day. Shimer won a bronze medal at the 2002 Salt Lake City Olympic Winter Games driving a four-man bobsled for the U.S.

"I was that bad mentally," Meyers Taylor confessed. "There was so much fog in my head from everything that's been going on. I was really questioning whether I should come out."

Shimer reassured Meyers Taylor, and the rest of her team chimed in too.

"We got this, we're gonna do this," Shimer said throughout the day.

Before the first monobob heats, Meyers Taylor asked Shimer to pick her sled's runners.

"I looked at him and said, 'You know what, I trust you with my life, I trust you with my son's life, choose the runners,'" she said, "and he shows me the runners."


Olympic Monobob
Competition
In the first heat of monobob yesterday, Meyers Taylor set a start record on the track but then had problems farther down the track. Next down the track, Humphries left her teammate's start record intact but claimed the track record and stood in first. Meyers Taylor ended up tied for third with de Bruin in heat 1.

"Not too bad for a 37-year-old mom," Meyers Taylor said about her start times. "I'm the oldest driver in the competition and the only one coming off a pregnancy, so I'm very excited about the starts. I knew with the lack of runs and with some of my struggles with monobob, I needed the start."

By the end the first night, Humphries was leading by over one second and Meyers Taylor had fallen to fourth.

With such a large gap, Humphries allowed herself think about winning monobob's first Olympic gold medal.

"I would think about it and then quickly remind myself that I have a lot of work to do to get to that point first," she said. "And I have to focus on that work."

Meyers Taylor had different thoughts. She decided to put the stress of the previous weeks behind her and just try to enjoy the experience. She had nothing to lose.

"For me, the difference between fourth and 20th place wasn't going to make a difference," she said. "So all I had to do was lay it on the line, and that's exactly what I did. I just went out there, enjoyed the heck out of this race, and fortunately it paid off."

In the third heat, Humphries again slid the fastest, and Meyers Taylor moved into medal contention with the second-fastest run, passing 2016 Youth Olympic Games monobob gold medalist Laura Nolte from Germany.

In the fourth and final heat, Meyers Taylor steered a cleaner run — the fastest of the day — and climbed into silver-medal contention, the relief palpable to all who saw her climb out of her sled.

"Today I will tell Nico that his mom fought hard, and she did everything she could to bring this medal home to him," said Meyers Taylor, who had hoped to hold Nico on the medal stand.

For Humphries, this Olympic gold medal feels more emotional than the other two she has won.

"It just really hits the heartstrings a little bit to know that I had to fight so hard for something that I wanted," she said, "and I had the backing and the support, and the nation stood behind me, and it worked."

With four Olympic medals (and counting), Meyers Taylor is now the most decorated Olympic bobsledder in U.S. history, surpassing the late Steven Holcomb and 1948 and 1952 Olympian Pat Martin. Holcomb claimed gold in four-man at the 2010 Olympic Winter Games, then two silver medals at the 2014 Winter Games. His unexpected death in May 2017 rocked the bobsled world, especially at home.

"It's bittersweet to break any of his records," Meyers Taylor said. "Holcomb was such a special person to me, and he's part of the reason why I'm here. He guided me every step of the way in my career. I'd like to think he still guides me, and he still guides my husband too."

Humphries became the first woman to earn Olympic Winter Games medals for two different nations. She won a pair of golds (2010, 2014) and a bronze (2018) in two-woman bobsled for Canada.

"Every single time I represented Team Canada, I did so with my heart and soul," Humphries said. "The USA has my future, and every single time I stand on that podium, I am so proud to represent the United States."
Want to follow Team USA athletes during the Olympic Games Beijing 2022? Visit TeamUSA.org/Beijing-2022-Olympic-Games to view the competition schedule, medal table and results.
An award-winning freelance writer based in Vermont, Peggy Shinn is in Beijing covering her seventh Olympic Games. She has contributed to TeamUSA.org since its inception in 2008.