News
Kaillie Humphries
Elana Meyers Taylor
Kaillie Humphries and Elana Meyers Taylor Make Their Debut In Olympic Monobob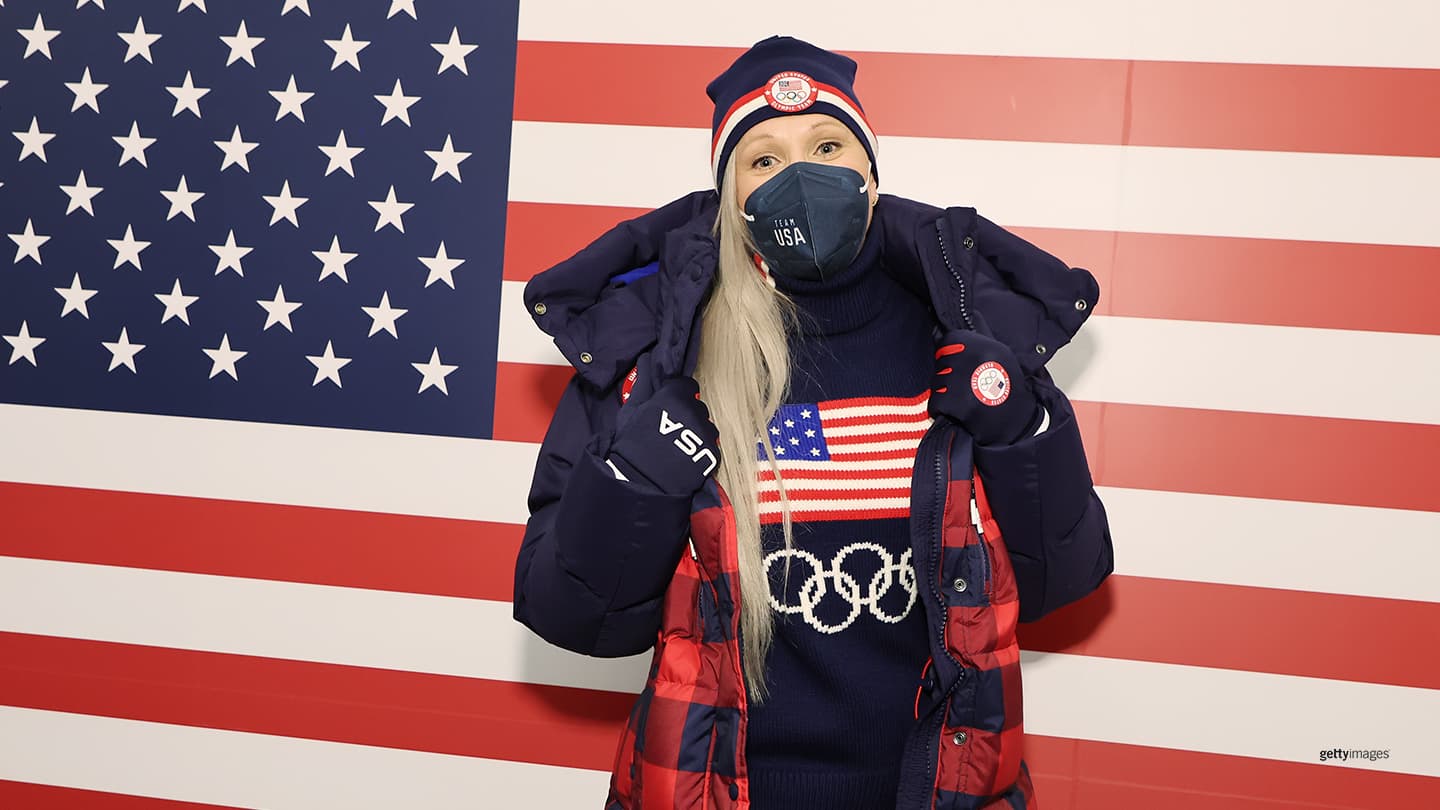 Kaillie Humphries gets fitted in Polo Ralph Lauren ahead of Beijing 2022 on Jan. 28, 2022 in Los Angeles, California.
BEIJING, China — Twists and turns on a snowy track proved to be a welcome challenge on day one of the monobob competition Sunday for Team USA's Elana Meyers Taylor and Kaillie Humphries after the week they'd had.
The two bobsled pilots — both four-time Olympians and three-time medalists — spent their first week in the Chinese capital in quarantine after Meyers Taylor tested positive two days after arriving in Beijing, and Humphries was deemed a close contact.
Thankfully, the pair cleared quarantine in time to train for the debut of the women's monobob event at the Olympic Winter Games Beijing 2022.
"I thought I had a really good chance at 2-man," Meyers Taylor said, not sure if she'd get released with only enough time for her second event. "I was just praying for one day at monobob training because I did not know if I'd get out in time."
On Thursday, on her first training run back, Meyers Taylor finished fifth; and 10th on her second run.
Then on Sunday at the Yanqing National Sliding Centre in Beijing, after the first two heats Sunday, both American women showed podium potential.
Meyers Taylor's total time was a respectable 2:10.42, placing her fourth overall and a new start record.
Gliding in strong after run 2. @eamslider24 x #WinterOlympics
pic.twitter.com/DMltr1fpzX

— Team USA (@TeamUSA) February 13, 2022
"There are some really great competitors from top to bottom. You can see from the timesheet that some people have figured it out more than others," she said about her first event of the Games. "But it is what it is. I'm going to do the best with it I can. Make the most of it."
Meanwhile, her teammate Humphries finished first with 2:09.10 — and was the only athlete to complete a run inside 1:05, finishing a full second ahead of the pack after the second heat and earning her a new track record.
Pulling away! 💨@BobsledKaillie x #WinterOlympics
pic.twitter.com/YCoURJteqN

— Team USA (@TeamUSA) February 13, 2022
Meyers Taylor knew to expect it from her teammate, the defending world champ. The two went head-to-head at the recent monobob world series, where Humphries finished just behind her American teammate.
"There's some very fierce competitors: Kaillie, [Australia's] Breeana Walker, the Canadians [Cynthia Appiah and Christine de Bruin]. Top to bottom, it's going to be a challenge either way," Meyers Taylor said.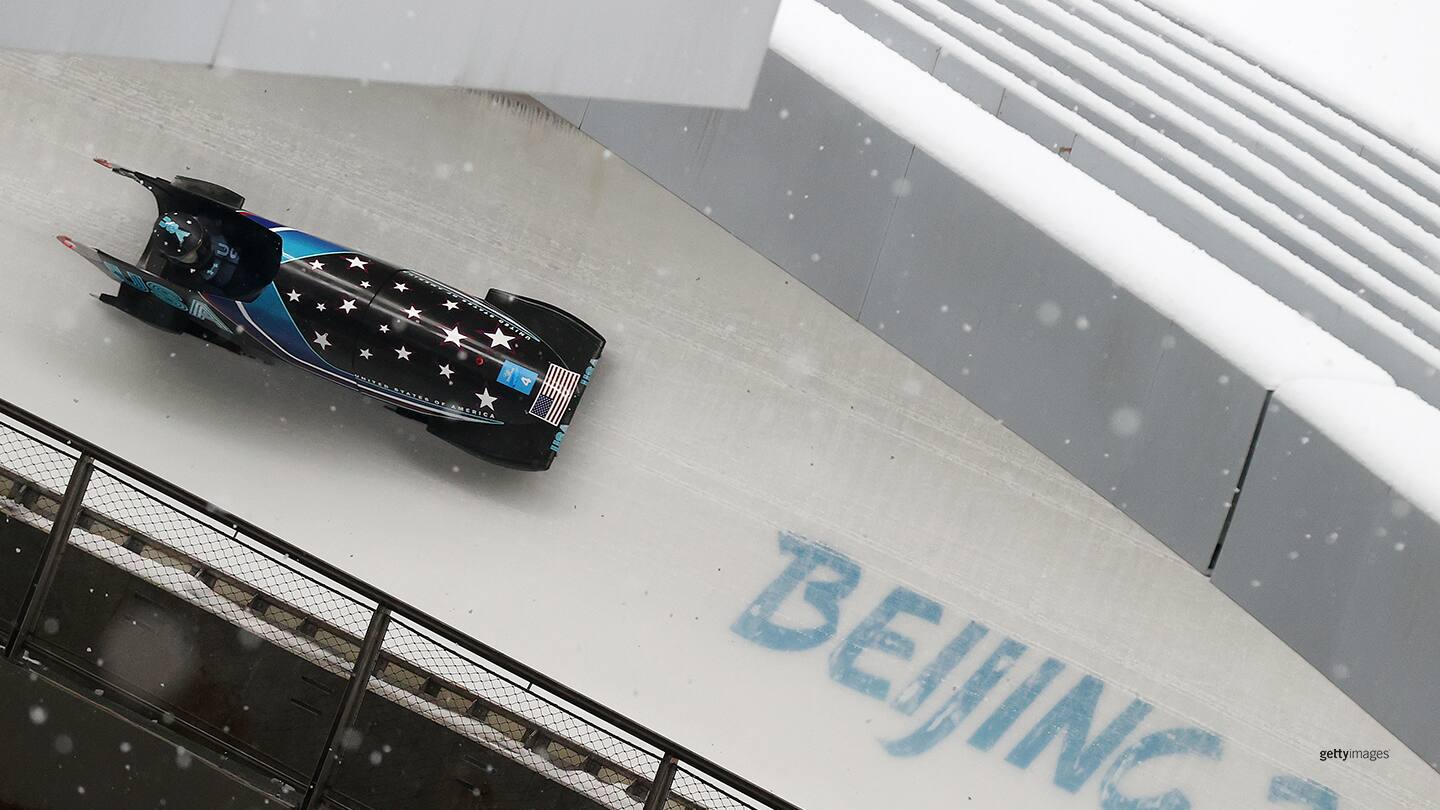 Elana Meyers Taylor slides during the Women's Monobob Bobsled heats at the Olympic winter Games Beijing 2022 on Feb. 13, 2022 in Yanqing, China.
Going into the second heat, de Bruin was in position for the bronze medal spot with the veteran American. Meyers Taylor was quick on the start — something she had been working on with her husband, Team USA bobsledder Nic Taylor, who is in Beijing as an alternate. But after her second run was just shy of perfect, she dropped into fourth for the final two heats the next day.
Before the 2022 Winter Games, the last time Meyers Taylor was in a sled was in St. Moritz a month prior at the final world cup race of the season. And the last time she was on the ice at the sliding center in Beijing was in the fall.
With the addition of this new woman-only event, Beijing will be the first time male and female bobsledders have an equal chance at a medal as the men have had the two- and four-man races. Previously, the two-woman competition was the only bobsled event for females.
Humphries thinks it's about time.
"I think it's very instrumental having another event. Not only for women's equality — to be able to be the same as men in medal opportunity — but just for greater participation," she said.
"The addition of monobob has opened the door for a lot of opportunity, which is really fantastic. I hope that continues and provides an opportunity for men too."
"It would be a huge honor." @BobsledKaillie on what it would mean to represent #TeamUSA on the podium for the first time. #WinterOlympics pic.twitter.com/P91Lf9k9yC


— Team USA (@TeamUSA) February 13, 2022
The most decorated woman in bobsled history competed for Canada until 2019, winning two golds and a bronze. After earning her U.S. citizenship at the end of last year, Humphries hopes to be the first woman to stand at the top of the podium for this new event.
As the name suggests, monobob is a single competitor doing the work multiple people typically do: everything from pushing the sled at the start to driving and braking over the winding course.Multitasking at its finest.
"For me, its another race," the 36-year-old said. "What makes it the most special is that I've got more opportunities to race and compete, and I think that's my favorite part."
February 14 will see the crowning of the world's first Olympic monobob champion. Heat three is scheduled to start at 8:30 p.m. Feb 13 EST, and the final run at 10 p.m.
Want to follow Team USA athletes during the Olympic Games Beijing 2022? Visit TeamUSA.org/Beijing-2022-Olympic-Games to view the competition schedule, medal table and results.
Lisa Costantini is a freelance writer based in Orlando. She has covered Olympic and Paralympic sports for various publications, and has contributed to TeamUSA.org since 2011.