News
Sylvia Hoffman
Sylvia Hoffman
Elana Meyers Taylor, Sylvia Hoffman Sit In Third Heading Into Two-Woman Bobsled Finals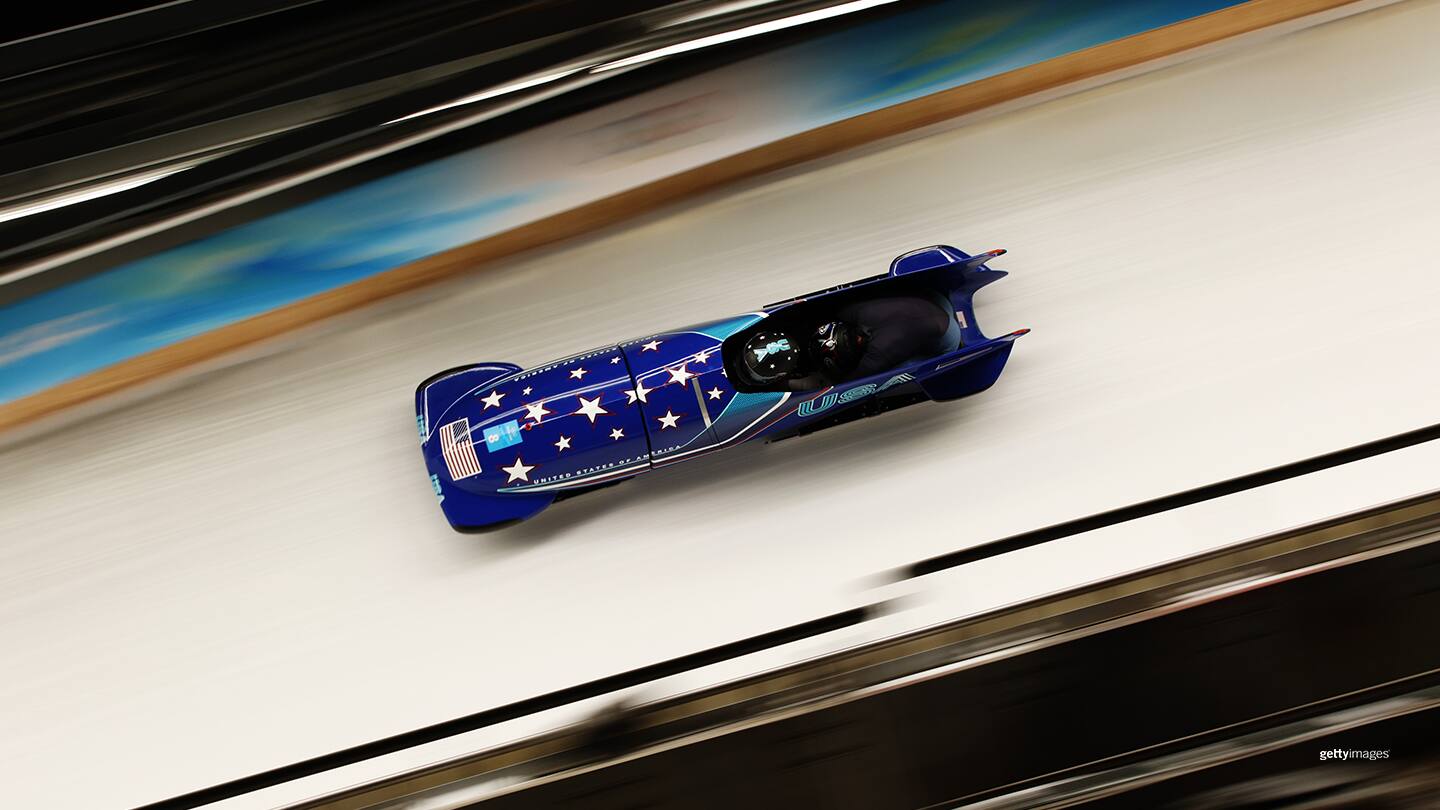 Elana Meyers Taylor and Sylvia Hoffman slide during the 2-women Bobsleigh heats during the Olympic Winter Games Beijing 2022 on Feb. 18, 2022 in Yanqing, China.
BEIJING — Day one of the two-woman bobsled at the Olympic Winter Games Beijing 2022 saw new records set with the potential for more to come.

Four-time Olympian Elana Meyers Taylor and newcomer brakewoman Sylvia Hoffman — who are sitting in third place for Team USA after two heats — set a new start record of 5.33 on their first run and then matched it on their second.

Days earlier, at the Yanqing National Sliding Centre, Meyers Taylor set her first start record of the Games when monobob made its Olympic debut. And like today, she did it on her first run.

If history continues to repeat itself, that would mean another new shiny medal for Meyers Taylor, 37, who finished that race in second place — behind the U.S.'s Kaillie Humphries — making her the oldest American female athlete to win a medal at the Winter Olympics.

It's a thought Meyers Taylor is trying to push from her mind.

"I think you can't help but think about it a little bit. You obviously want to medal," she said going into the two-woman finals after finishing the heats with a time of 2:02.79. "But at the end of the day, I'm just going to go out there and have fun tomorrow."

For first-time Olympian, Hoffman, she plans to just follow her teammate's lead. "I'm able to slide with a veteran slider. She's been doing this for several years, and I trust her from start to finish. That's our motto: From start to finish," she said.
Want to follow Team USA athletes during the Olympic Games Beijing 2022? Visit TeamUSA.org/Beijing-2022-Olympic-Games to view the competition schedule, medal table and results.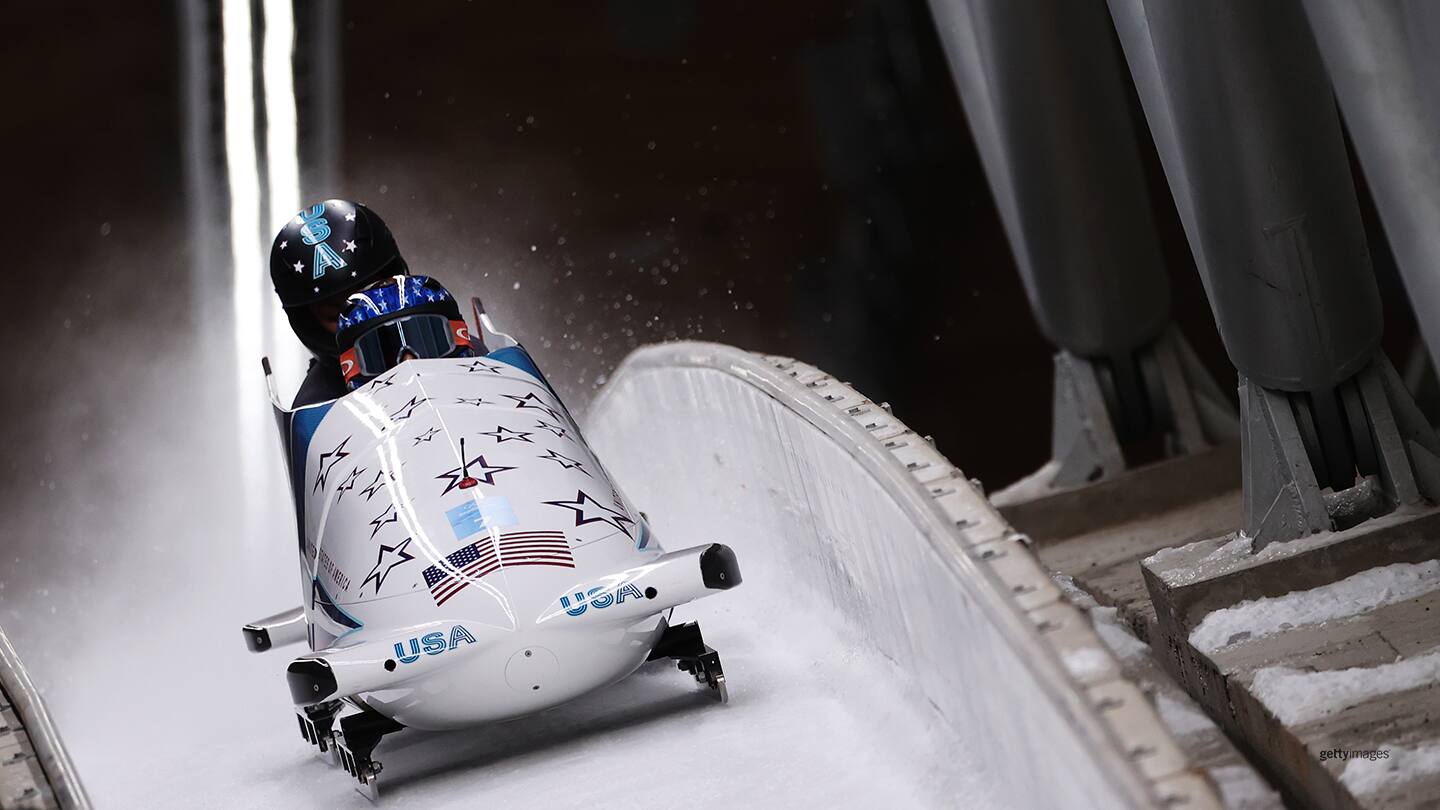 Kaillie Humphries and Kaysha Love of Team United States slide during the Olympic Winter Games Beijing 2022 on Feb. 18, 2022 in Yanqing, China.
Going into the second heat of the two-woman event, Meyers Taylor and Hoffman were sitting in third — just ahead of Team USA's other sled, piloted by Humphries, 36, and Kaysha Love as brakewoman. Germany was holding the top two spots with both of their team sleds.
At the end of the day, the two German pilots didn't relinquish the top spots, pushing Humphries down to fifth (with a combined time of 2:03.38), behind her former teammate, Canada's Christine de Bruin (2:03.21), who took Olympic bronze in monobob earlier in the week.

"There's definitely a lot more in the tank from the driving side," the recent U.S. citizen said, who was competing for Team Canada until 2019. "I'm happy with how we started. Kaysha did an amazing job today. We'll look again at equipment, look to clean up our drives, and see what happens."

The U.S., Canada and Germany are known for dominating this event, with Germany grabbing gold at the last Winter Games in PyeongChang. But in 2018, the German on top was Mariama Jamanka, 31, who is currently sitting in second place. Her teammate, and first-time Olympian, Laura Nolte, sits in first, setting a new track record and a time of 1:01.01 at the end of her second run.

Nolte, the youngest among the group of veterans at 23, was shut out from a medal in monobob after finishing in fourth.

History has shown that a lot can happen from one heat to the next — and Meyers Taylor has seen it firsthand.

"I know it's a whole new day tomorrow. Kaillie has come from behind before to win a medal, Christine [de Bruin] is a great competitor, and we've still got to go after the Germans. I've got to figure it out and take out both teams," she said.

Ideally, she'd love to top the podium to earn her first gold medal. With three silvers and a bronze, it would mean more knowing she achieved it at her first Winter Games as a mom.

Almost two years ago, Meyers Taylor gave birth to her son, Nico, with fellow U. S. bobsledder Nic Taylor, who is currently in Beijing as an alternate on the men's side.

Beijing marks a first for Humphries, too, as these are her first Games competing for the U.S. The newly minted monobob champion had previously been sliding for Team Canada, winning two golds and a bronze for her former home country in this event.

And with a top-three spot after her first run, the most decorated woman in bobsled history knows she has what it takes to get on that numbered box.

But this time, she'll be wearing one extra color when she does it.
The final two heats will take place on Saturday and will be the final event for women's bobsleigh in Beijing. The men are still to compete in the four-man, an event the women were hoping to have added at these Winter Games. However, with the addition of the monobob, currently a women's only event, this Games marks the first time male and female bobsledders have an equal chance at a medal.
Lisa Costantini is a freelance writer based in Orlando. She has covered Olympic and Paralympic sports for various publications, and has contributed to TeamUSA.org since 2011.