Bobsledders Kaillie Humprhries, Sylvia Hoffman Grab Bronze in Germany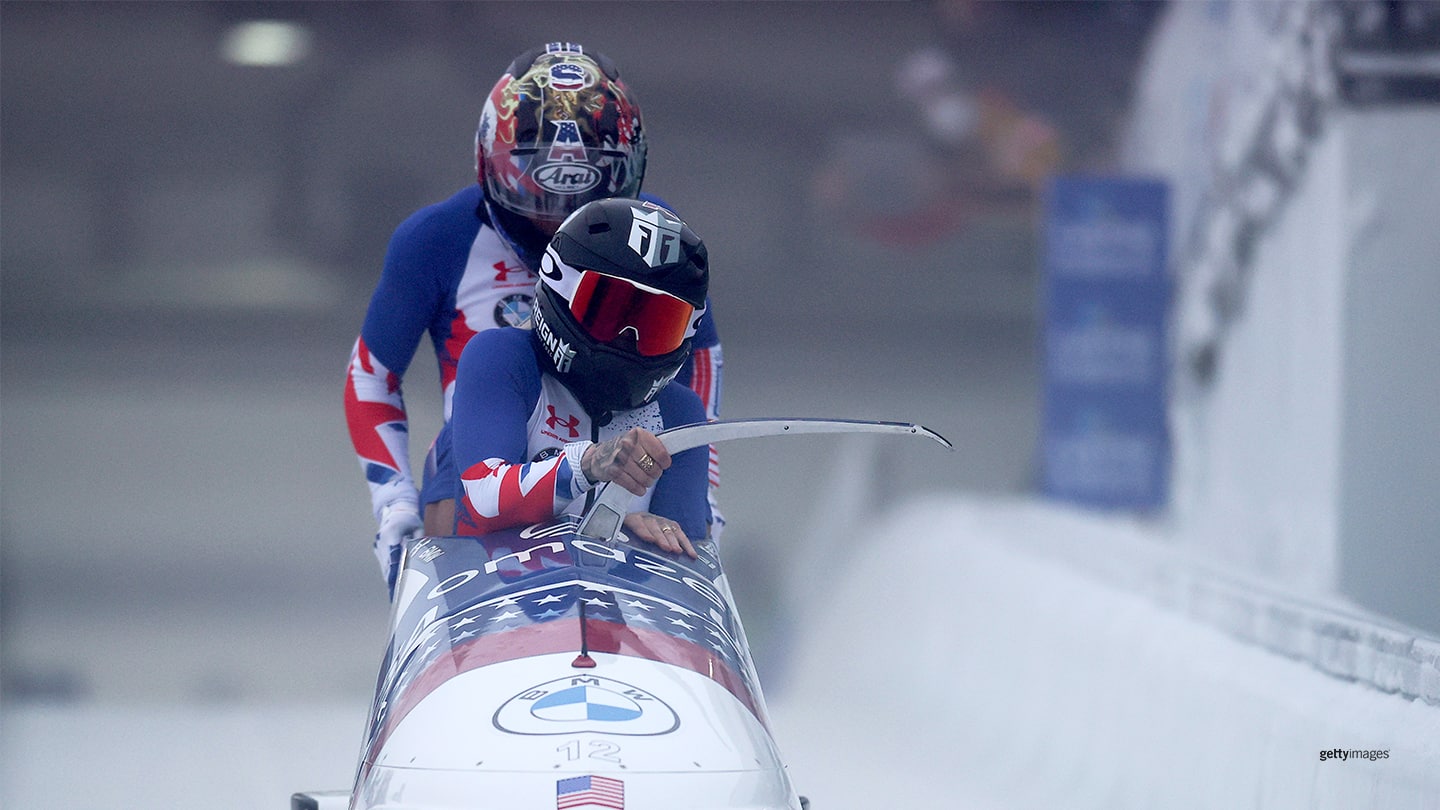 Kaillie Humphries and Sylvia Hoffman compete in the 2-woman Bobsled at the BMW IBSF World Cup Bob & Skeleton 2021/22 on Dec. 12, 2021 in Winterberg, Germany.
A day after Elana Meyers Taylor won her fourth world cup monobob race of the season, Kaillie Humphries and Sylvia Hoffman took bronze in the two-woman bobsled Sunday in Winterberg, Germany.

Not ready to let the women claim all the hardware, the four-man team of Hunter Church, Josh Williamson, Charlie Volker and Kristopher Horn took bronze Sunday.

The medals capped a solid weekend for U.S. bobsledders as the world cup season heads toward its last event and the clock ticks down toward Beijing.

Sunday morning's conditions were less than ideal, with the women's race delayed because of heavy snowfall overnight. For Meyers Taylor and Kaysha Love, the snow meant an 11th-place finish after the first run in 59.77 seconds. They responded with the fastest second run of the day (57.78) and ended in fourth place at 1 minute, 57.55 seconds.

"We just cleared the way for everyone else in the first heat, but that's Winterberg for you," Meyers Taylor said. "I'm really proud that we were able to climb back from 11th place, and Kaysha pushed great today."

Humphries and Hoffman overcame a slow start time on their first run to finish in third, then used a faster start on run two to hold on to the third spot with a combined time of 1:57:30. Germans Laura Nolte and Deborah Levi won gold in 1:57:15 followed by teammates Kim Kalicki and Leonie Fiebig in second in 1:57:28.

"I felt good today, especially since it was a snow race," Humphries said. "I'm happy with my drives. The push on the first run wasn't quite there, but we're working to get consistency."

On Saturday, Meyers Taylor captured the top spot in the overall monobob standings with her win with just one race remaining. The event will make its Olympic debut in Beijing.

"It's really cool to come away with the lead after today's win," Meyers Taylor told USA Bobsled & Skeleton. "I'm trying to put together two consistent runs, and I'm starting to figure things out in monobob. The four races I've won were on runners from Jamie Greubel Poser; she just keeps on giving and it's pretty cool to have a former teammate continue to contribute to the sport."

For Church, Williamson and Horn it was just their second world cup four-man medal ever and their first since January 2020 when they, along with James Reed, won bronze in Igls, Austria. It's Volker's first world cup medal. They were in fifth place after the first run but had the fastest start time and second-fastest time of the second run to finish third with a time of 1:49:54. A German team won in 1:49:08 and Great Britain was second in 1:49:50.

"It was really cool to medal in Igls, but to medal on a German track, which we historically haven't had success on, is unreal," Church said.

The two-man bobsled was also in action Saturday. Church and Charlie Volker finished 13th while Frank Del Duca and Hakeem Abdul-Saboor were 15th. Del Duca piloted the four-man for just the second time in world cup competition on Sunday and he, Abdul Saboor, Carlo Valdes and Kyle Wilcox finished 11th.
Karen Price is a reporter from Pittsburgh who has covered Olympic and Paralympic sports for various publications. She is a freelance contributor to TeamUSA.org on behalf of Red Line Editorial, Inc.