U.S. Four-Man Bobsleds Finish 10th And 13th To Close Out Olympic Sliding Events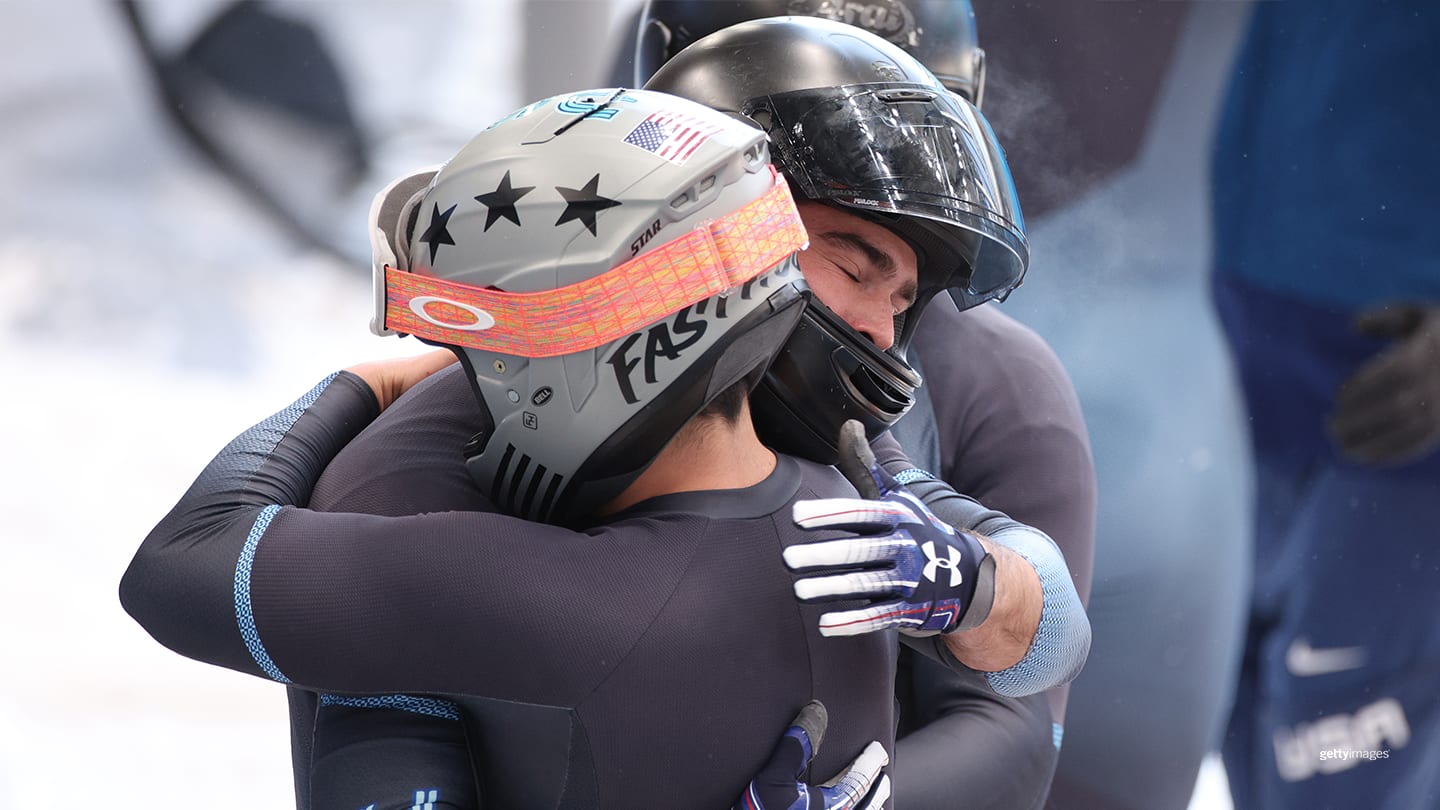 Pilot Hunter Church reacts with teammate Joshua Williamson after their slide during the four-man Bobsleigh heat 4 at the Olympic Winter Games Beijing 2022 on Feb. 20, 2022 in Yanqing, China.
One U.S. four-man bobsled crew finished its Olympic debut Sunday while two members of another took their final runs down the track.

The quartet of newcomers in the U.S. sled piloted by Hunter Church finished in 10th place while Frank Del Duca steered his sled to 13th over the weekend at Yanqing National Sliding Centre. Church's sled and crew of Josh Williamson, Kris Horn and Charlie Volker was strongest on its third run, moving up to 11th before moving up to 10th on Sunday with a total time of 3:57.06. German sleds took the top two spots while Canada took bronze.

"I think today was like, 'We're here for each other. We're doing this for each other. We've earned the right to be here. Let's just go out there and have fun,'" Church said to USA Bobsled & Skeleton.

Del Duca, in his Olympic debut, piloted two-time Olympian Carlo Valdes, Jimmy Reed and two-time Olympian Hakeem Abdul Saboor to a total time of 3:57.65. They were able to move up from a tie for 14th to 13th on Sunday with the help of a 4.97-second push time. Del Duca said he thought that last push was everything the crew had to send off its two retiring members. It was the competitive swan song for Reed and Valdes, who have won a combined 15 world cup medals.

"I got pretty emotional up there and I knew it was going to be the last one," Valdes said. "Reflecting back on everything — that's why I was pretty much trying to harness that last push and put everything into it. It's been a hell of a career."

"I think after eight years I've put everything I've had into this sport," Reed said. "Lots of ups, lots of downs. That was a great last run to end my career on."

Thanks to the efforts of Elana Meyers Taylor and Kaillie Humphries, Team USA upped its bobsled medal total from one in 2018 to three in Beijing. The U.S. is still seeking its first four-man bobsled medal since 2014, when Stephen Holcomb piloted the U.S. to silver.
Want to follow Team USA athletes during the Olympic Games Beijing 2022? Visit TeamUSA.org/Beijing-2022-Olympic-Games to view the competition schedule, medal table and results.
Todd Kortemeier is a sportswriter, editor, and children's book author from Minneapolis. He is a freelance contributor to TeamUSA.org on behalf of Red Line Editorial, Inc.