NCAA Representation Abound At The Bobsled World Championships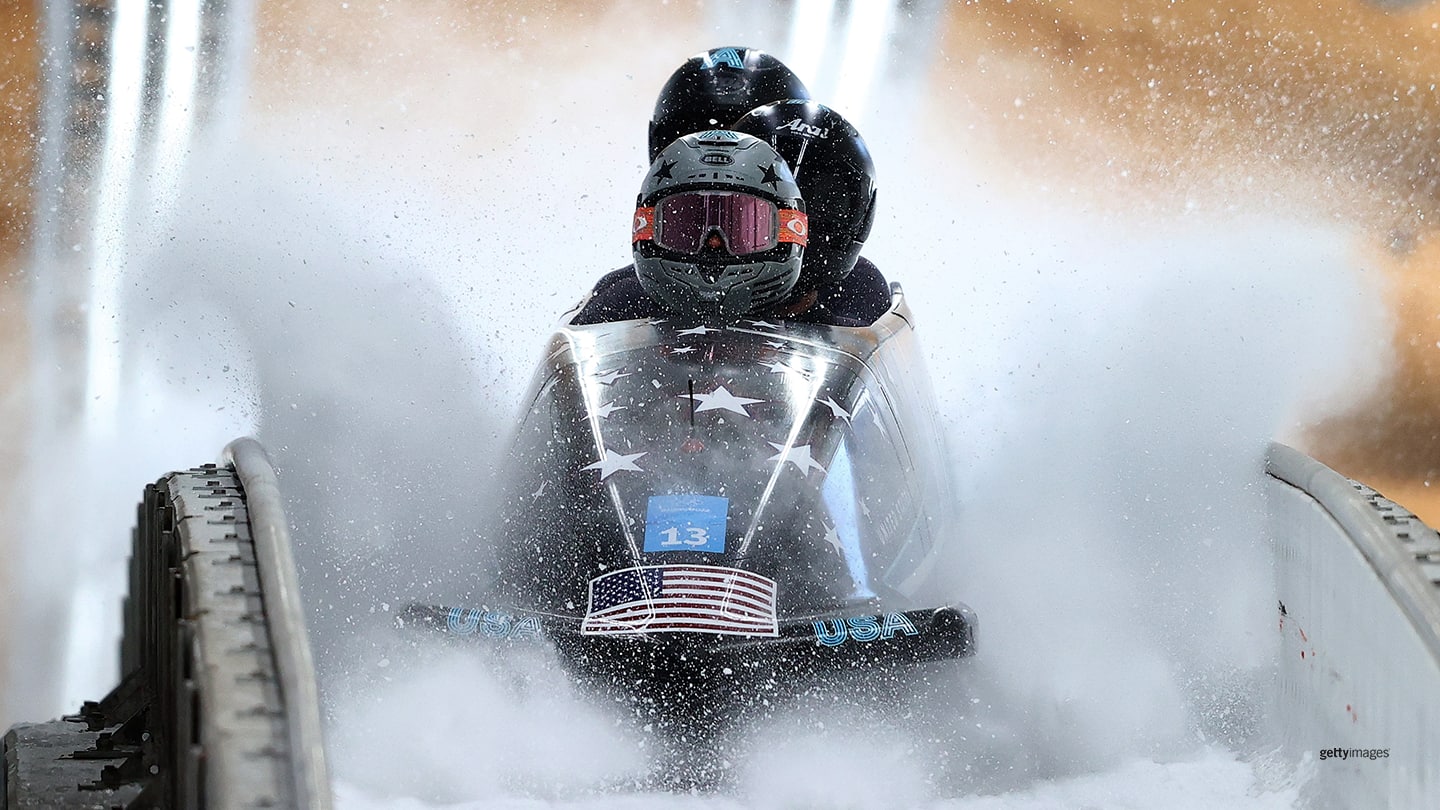 Hunter Church, Joshua Williamson, Kristopher Horn and Charlie Volker come to a stop as they finish their slide during the four-man Bobsleigh at the Winter Olympic Games Beijing 2022 on Feb. 20, 2022 in Yanqing, China.
The power of sport has always appealed to Carsten Vissering.
When he was an All-American swimmer at Southern Cal, Vissering could be found in the weight room as much as the swimming pool. As a swimmer, Vissering was a Pac-12 champion breaststroker who helped a Trojans relay team win an NCAA championship in 2018.
In the weight room, Vissering was a monster. He powered up with 500-pound back squats and 350-pound clean lifts.
"My nickname on the team was the weightlifter who swims," Vissering said. "It just became a part of my personality. People joked around it. It was just the thing that came to associate myself, how I identified myself. I loved it."
All that power explains why bobsledding was such a perfect fit for Vissering, a 25-year-old from Bethesda, Maryland, who graduated from USC in 2019. Vissering is expected to make his world championships debut next week in St. Moritz, Switzerland.
"That explosive power is my advantage, just being able to generate force," said Vissering, who is among several athletes who have made the transition from another sport into bobsledding. "However, there are a lot of speed demons on the team who can smoke me in the 30-yard dash."
The IBSF World Championships began Thursday with competition in men's and women's skeleton. The final skeleton runs are Friday. The two-man bobsled and women's monobob competitions are Saturday and Sunday, followed by the skeleton mixed-team competition Sunday, Para bobsled Feb. 2-3, women's bobsled Feb. 3-4, and four-man bobsled Feb. 4-5.
Kaillie Humphries, a four-time Olympian who won a gold medal in women's monobob at last year's Winter Games in Beijing, enters St. Moritz as Team USA's top medal hopeful. The defending world champ in both the monobob and two-woman events holds the top overall women's ranking on the world cup this season, as well as the No. 1 ranking for monobob.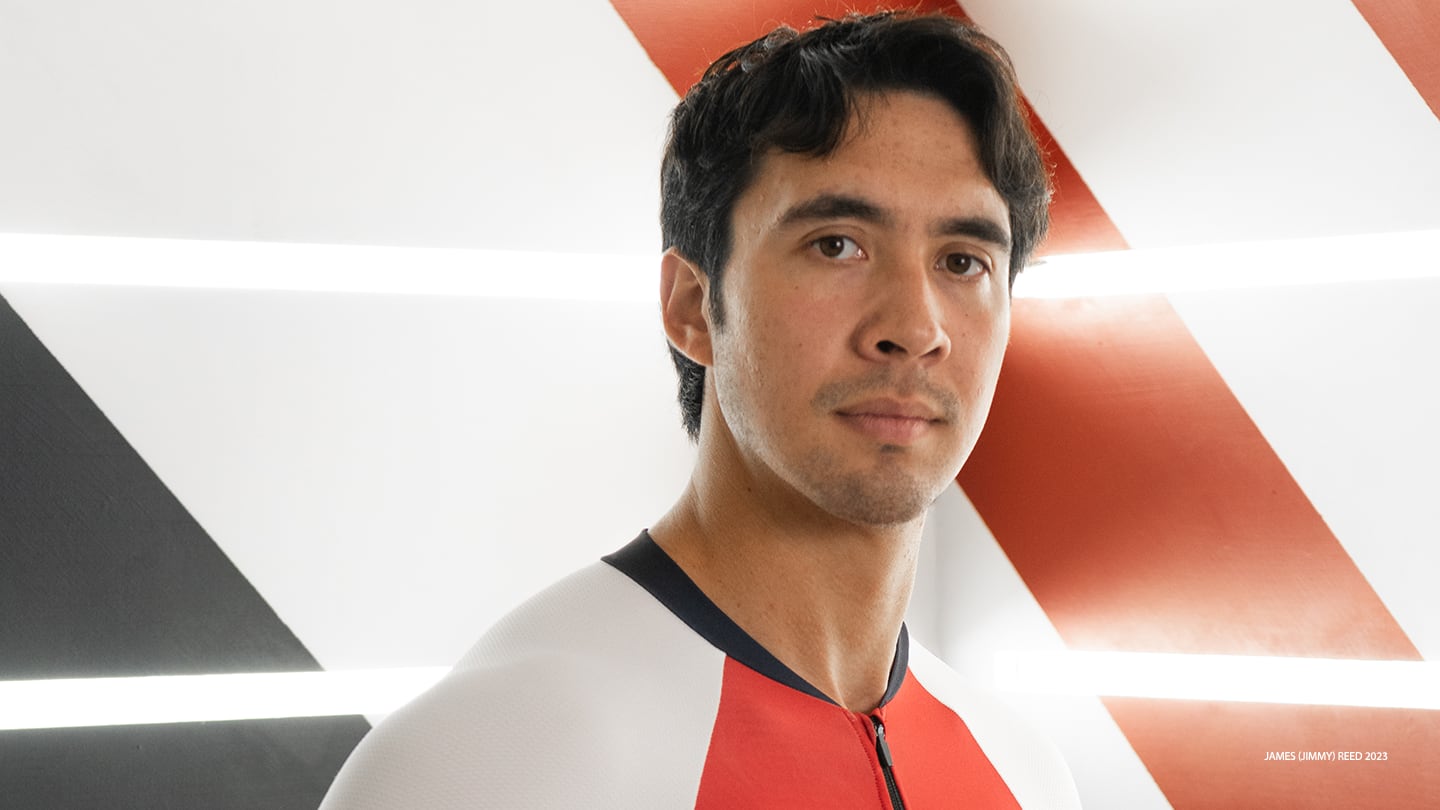 Carsten Vissering poses for a headshot before the bobsled world chammpionships.
Among those joining her in St. Moritz is two-woman teammate Kaysha Love, who combined with Humphries for a first-place finish last weekend in Altenberg, Germany.

Fellow pilot Nicole Vogt is ranked seventh in the monobob and eighth in the two-woman.

Frank Del Duca, a 2022 Olympian, is the top U.S. pilot on the men's side, with a No. 10 world cup ranking in four-man and No. 11 ranking in two-man. Geoff Gadbois is No. 17 in both two-man and four-man.

Kelly Curtis, a 2022 Olympian, and Kendall Wesenberg, a 2018 Olympian, are the top U.S. medal contenders in women's skeleton with No. 5 and No. 11 world cup rankings, respectively. The men's skeleton lineup includes No. 6 Austin Florian and No. 15 Andrew Blaser, a 2022 Olympian.

Among those on the U.S. team who could make their world championship debuts are men's bobsledders Vissering and Freddie Harris, an elementary school physical education teacher in Dallas who played college football as a defensive lineman at the University of Central Oklahoma. Both made the national team for the first time this past fall.

Love, a 25-year-old from Herriman, Utah, was a track athlete at UNLV before making her Olympic debut in bobsledding last year. Del Duca was a track and field athlete at Maine.

The roster of athletes moving from other sports to bobsledding is vast.

Among the other A-listers who have done so are Elana Meyers Taylor, a former softball player at George Washington University who has won five medals in four Olympic Games. Lauryn Williams, who won a gold medal in track at the Olympic Games London 2012, teamed up with Meyers Taylor to win bobsled silver in 2014, making Williams the first American woman to medal at the Summer and Winter Olympics. Sylvia Hoffman, a college basketball player at LSU Shreveport, won an Olympic bronze medal with Meyers Taylor last year in Beijing. On the men's side, Curt Tomasevicz, who played football at Nebraska, earned two Olympic medals in three Winter Games from 2006 to 2014.

All of that history tugged at Vissering, who didn't want to leave sports just because his four years of swimming at USC were over.

"I'm like, why couldn't I do this even if I come from a sport or background that might not be conducive to success in this sport," Vissering said. "That doesn't mean that you can't make it happen. These things can happen."

"You don't really have to be done with athletics after college," he added. "Your peak as a man is like 28 to 33. Most college athletes finish at like 22, maybe 23. You don't have to be done."

Vissering, who went on from USC to earn a master's degree in public administration at George Washington, wasn't done. Slated for the No. 2 position in a four-man sled in St. Moritz, sitting right behind the driver, Vissering fills a precise role on the squad. His upper body is powerful. His vertical leap is 42 inches.

"Swimming requires a lot of upper-back mobility and so does the 2 position in the bobsled," Vissering said. "The funny thing is, I'm the tallest guy on the team, about 6-5 and a half, but I can get lower in the 2 position than people shorter than me. The mobility from swimming, where I can just kind of roll my shoulders and fold my back a little bit better than people who were football players or baseball players who tend to be very, very stiff athletes."

While bobsled has become a target sport for former track athletes and football players, Vissering is among a few swimmers who have made the transition. Colleen Fotsch, an All-American swimmer at Cal, made the women's national bobsled team in 2020.

"It is something that I'm incredible proud of," Vissering said. "That's something that just also motivated me a lot to do this."

Paul D. Bowker has been writing about Olympic and Paralympic sports since 1996, when he was an assistant bureau chief in Atlanta. He is a freelance contributor to TeamUSA.org on behalf of Red Line Editorial, Inc.