The Post-Olympic Season Brings Changes, New Opportunities For U.S. Bobsled Team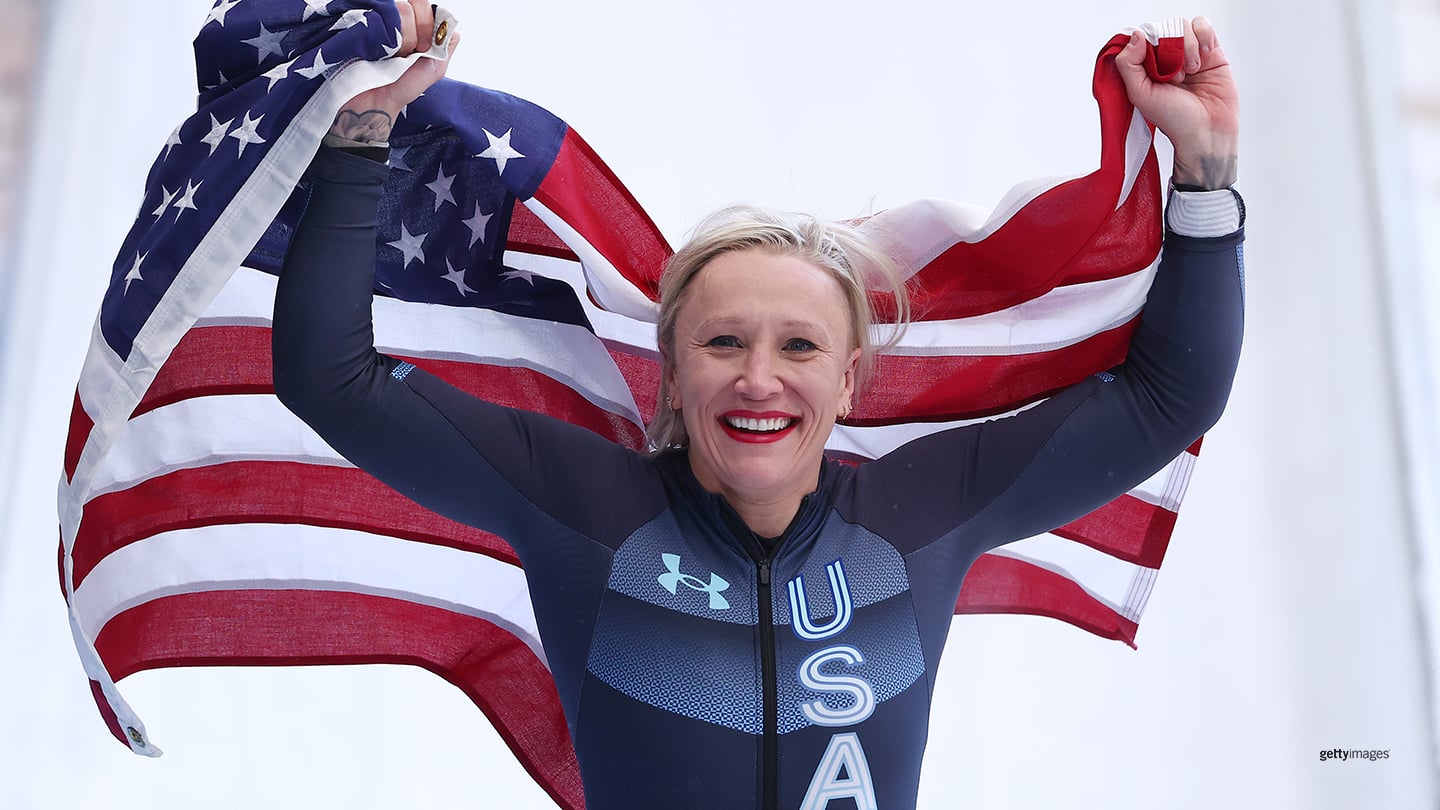 Kaillie Humphries celebrates after the women's monobob finals at the Olympic Winter Games Beijing 2022 on Feb. 14, 2022 in Yanqing, China.
Kaillie Humphries admitted she feels much more relaxed than she has in a few years.

She no longer has to worry about issues related to her citizenship and immigration status. Now that she's made the move from Canada to the United States, she can turn her attention to the upcoming bobsled season and starting a family as soon as it ends.

Humphries said she was relieved to have a few months to take it easy after winning the first-ever Olympic gold medal in women's monobob at the Olympic Winter Games Beijing 2022 in February.

It was her third Olympic gold medal and the first for her as a member of the U.S. bobsled team. Her performance capped an emotional and often uncertain past few years for the Canadian-born Humphries as she fought to compete for Team USA.

"My down time was a recovery period, and my brain and my body needed it 100 percent," Humphries said. "So for me, it was actually a really nice down time and recovery because I didn't have that going into the Olympics at all."

Humphries said she feels refreshed at age 37, and she's excited to get back on the ice this season for the U.S. bobsled team. This is an exciting time for the four-time Olympic medalist and her American teammates as they welcome plenty of changes — both in their training and personal lives.

"I think we have some things in place this year to be successful, but at the same time, we have to keep in mind that the big goal is 2026 and even 2030," said Curt Tomasevicz, a 2010 Olympic gold medalist who now serves as director of sports performance for USA Bobsled and Skeleton.

"We're looking quite a ways ahead, and that includes looking at results that are on our development circuits in addition to the world cup and the world championships, too."

The Americans open the season in North America, starting with this week's North American Cup in Whistler, British Columbia — where Humphries won her first Olympic gold medal in 2010. The world cup season kicks off at the same venue on Nov. 24-26, then heads to Park City, Utah, and Lake Placid, New York.

"That in itself is a huge opportunity for us to kind of set the bar pretty high and get some good results where we're pretty good on our home track," Tomasevicz said. "So I think that is a pretty special part of our season."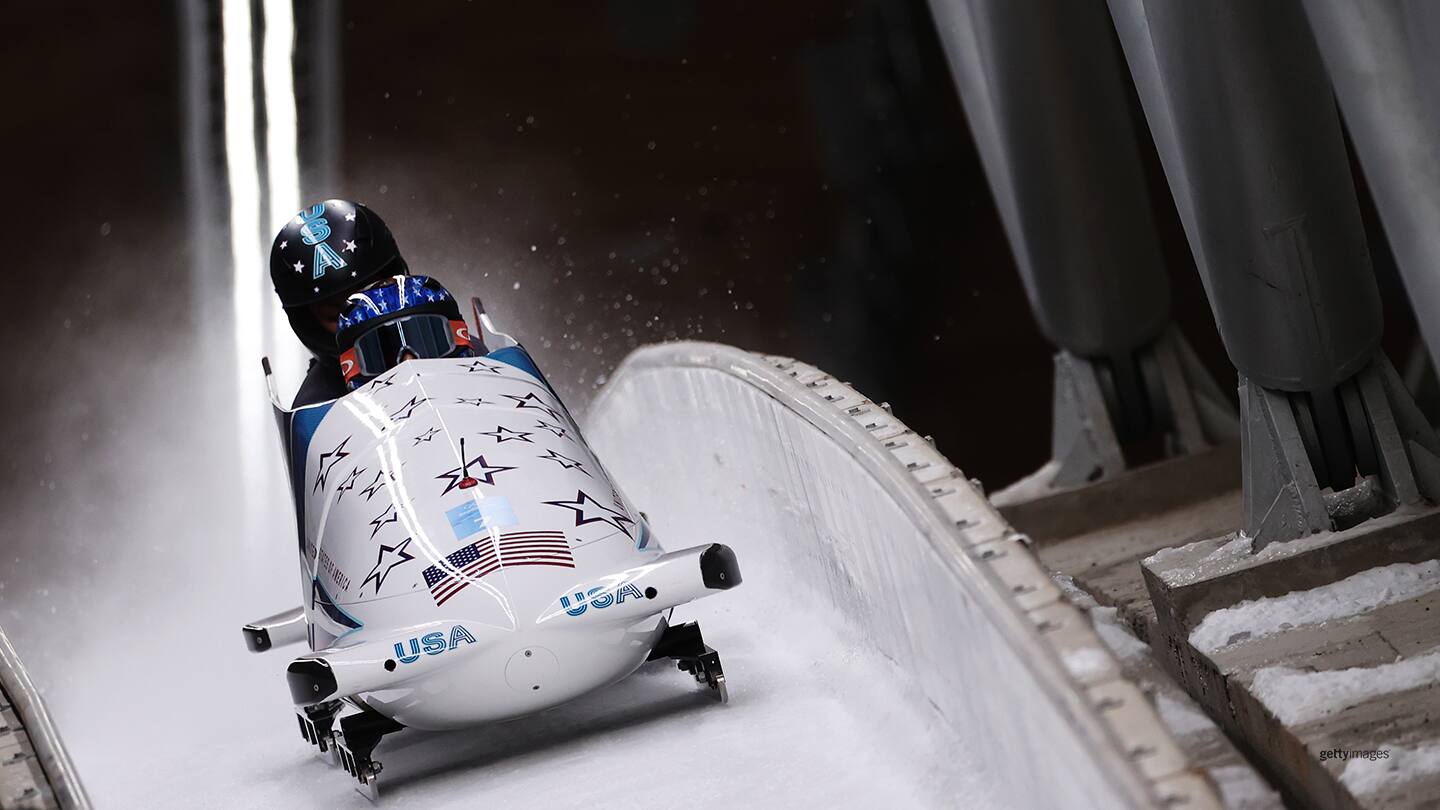 Kaillie Humphries and Kaysha Love compete during the 2-women bobsled at the Olympic Winter Games Beijing 2022 on Feb. 18, 2022 in Yanqing, China.
Five-time Olympic medalist Elana Meyers Taylor decided not to compete this season so she and her husband can have their second child.

Humphries said she also planned to get pregnant and take off this season. She spent most of this past summer focused on starting a family as she and her husband went through multiple rounds of in vitro fertilization.

"My husband and I did our two rounds of IVF," Humphries said. "We've pushed pause so that I could go and compete this season, maintain my world ranking to be able to still work towards my 2026 goals, and we'll go back in March to do the implantation of the embryos that we did retrieve."

Humphries said this is a "rebuilding year" for her as she looks to defend her monobob gold at the Olympic Winter Games Milano Cortina 2026. She has had adjust her training, diet and sleep schedule because of the hormonal changes she has experienced from the IVF.

Humphries said her approach to this season hasn't changed any, even with her facing the possibility of taking off next season to have a baby.

"It doesn't make me want to win anymore. I want to win every time I get out on that track," Humphries said. "Every single time I get to a race, I want to put my best foot forward.

"… I want to be the best that I can be, and I want to have the best showing. And I know and I have faith and trust that the best that I can be is the best in the world."

At the same time, Kris Horn, Kaysha Love and Sylvia Hoffman, who each made their Olympic debuts as push athletes in Beijing, are making the transition to drivers this season.

Hoffman teamed with Meyers Taylor in Beijing to earn the bronze medal in the two-woman bobsled.

Tomasevicz said Horn, Love and Hoffman will bring their pushing ability to the driver's seat, setting them up to possibly qualify and medal at future Olympics.

"That takes a lot," Tomasevicz said of making the transition from push athlete to driver. "To be honest, I tried it for one season, and it went OK. But I wasn't cut out to be a driver, so I stuck with pushing.

"So even personally I know it's a big task, and it can be frustrating at times going from being one of the best in the world to the bottom of the depth chart and having to work your way up at a new position. But all three of those, we know, definitely have a lot of potential."

Humphries, as a four-time Olympian, is the veteran of the group. Despite being relatively new to Team USA, she has taken on a leadership role and regularly gives advices to her younger teammates.

"I feel like kind of a mom, so it's great because it gives me a bit of preparation for hopefully what's to come in real life in the future where I can really be a mom," Humphries said, laughing. "But I'm a mom to a bunch of up-and-coming athletes."
Alex Abrams has written about Olympic sports for more than 15 years, including as a reporter for major newspapers in Florida, Arkansas and Oklahoma. He is a freelance contributor to TeamUSA.org on behalf of
Red Line Editorial, Inc.