News
Sylvia Hoffman
Sylvia Hoffman
Elana Meyers Taylor, Sylvia Hoffman Win Bronze In Two-Woman Bobsled Finals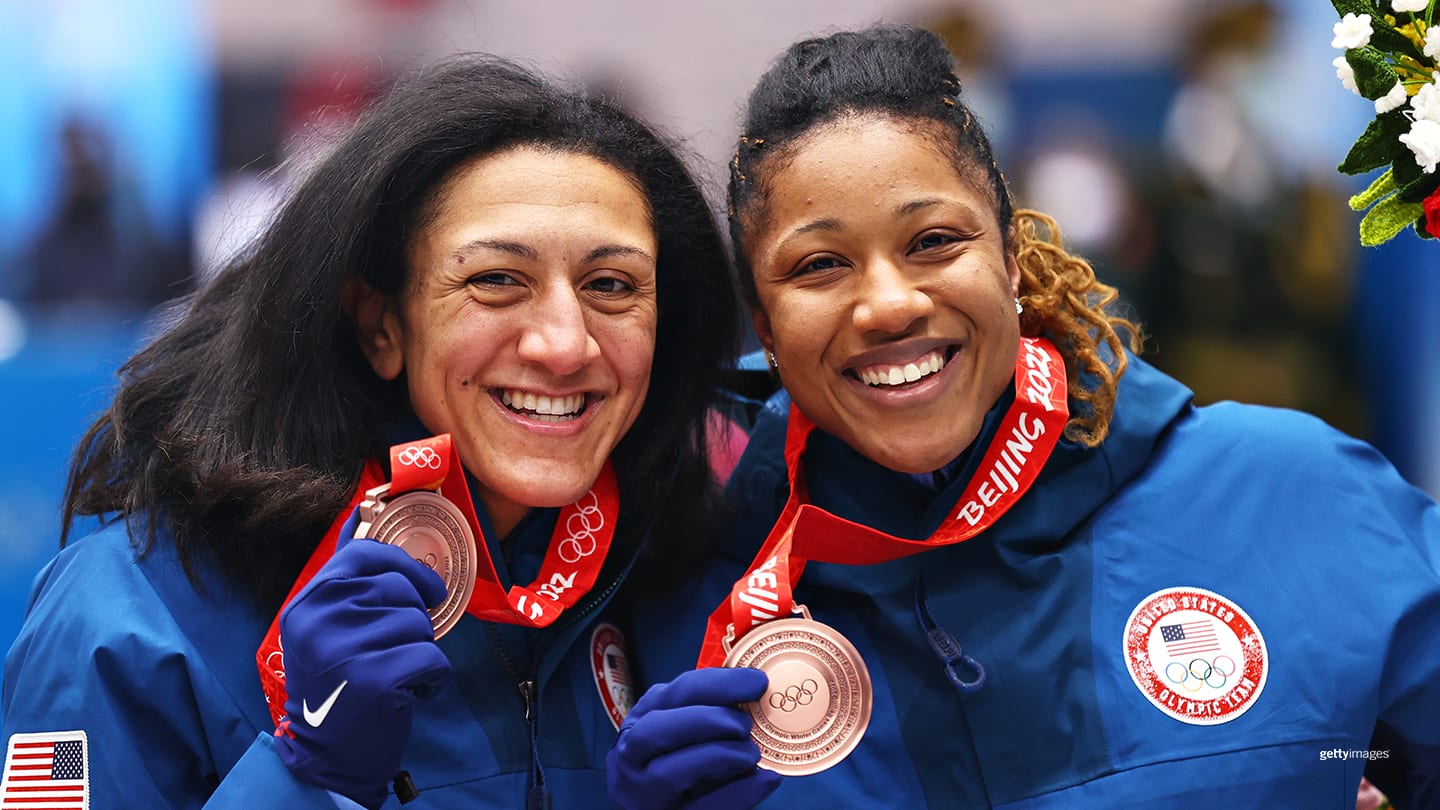 (L-R) Elana Meyers Taylor and Sylvia Hoffman pose for a photo after the two-woman bobsled at the Olympic Winter Games Beijing 2022 on Feb. 19, 2022 in Yanqing, China.
BEIJING — Going into the Olympic Winter Games Beijing 2022, Elana Meyers Taylor might not have known it, but 2022 would turn out to be the year of the dragon for her.

On Saturday, the 37-year-old from Douglasville, Georgia, would secure her second medal of the Games, winning bronze in the two-woman bobsled on the track nicknamed the "Flying Snow Dragon."

She would become the most decorated Black athlete at a Winter Games with a combined five medals.

"That's pretty cool. There [are] a lot of people that came before me. Vonetta Flowers is the reason I'm here, and [speedskater] Shani Davis and even Erin Jackson. It's just been such a long legacy of Black athletes at the Winter Olympics. Hopefully, it just continues," Meyers Taylor said.

Her first podium finish occurred days earlier when monobob made its Olympic debut. The four-time Olympian secured the silver — behind Team USA's Kaillie Humphries, who became monobob's first Olympic champion.

Going into the final day of women's bobsled, Meyers Taylor — who won silver in PyeongChang — and first-time Olympian Sylvia Hoffman were sitting third. After putting down two consistent runs, the pair kept their position on the podium with a total time of 4:05.48, keeping the German's from stacking the podium — an impressive feat accomplished earlier by Germany in the two-man event.

Finishing with the fastest time (4:03.96) was first-time Olympian Laura Nolte of Germany, looking for redemption after placing fourth in monobob. Behind her by 0.77 was her teammate and gold medalist from PyeongChang, Mariama Jamanka.

After the top five completed their first runs, the heat standings stayed the same from the day earlier. But it wouldn't last long.

Germany had a third sled sitting in sixth, piloted by Kim Kalecki. After her first heat time of 1:01.30, she leapfrogged Humphries' run of 1:01.75 to round out the top five.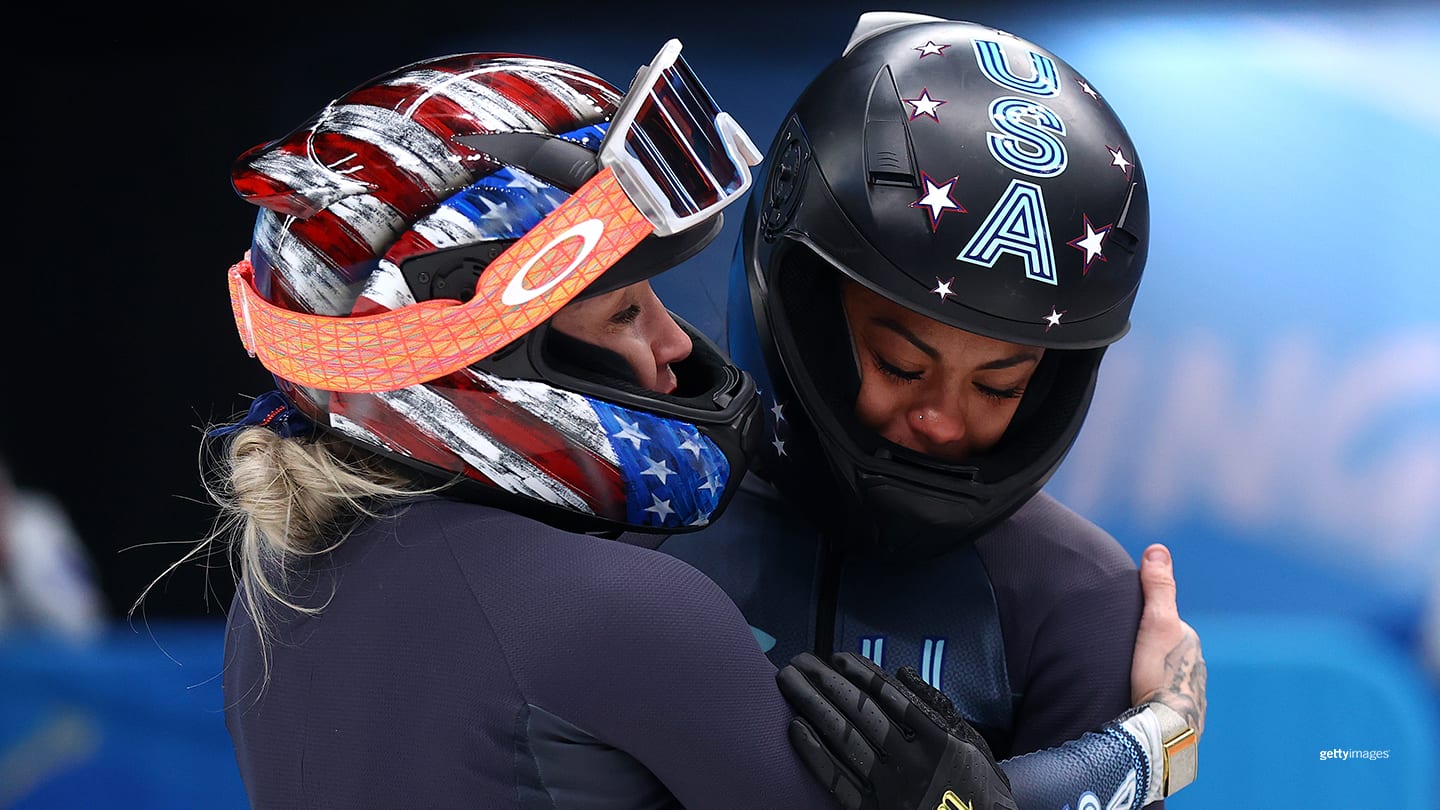 (L-R) Elana Meyers Taylor and Sylvia Hoffman celebrate after the two-woman bobsled at the Olympic Winter Games Beijing 2022 on Feb. 19, 2022 in Yanqing, China.
The final heat saw two sleds separating the American pilots, with Team USA sitting third and sixth.

Humphries and brakewoman Kaysha Love dropped down to seventh with an average final run, ending with a total time of 4:07.04.

Humphries, 36, competed in the last three Winter Games for Team Canada, winning two golds and a silver in the event before getting her American citizenship less than two months before the start of the Games.

Her season became even more hectic when she underwent surgery in April, forcing her to press pause on her training and competition schedule.

For Love, this was her first Games. The 24-year-old track and field athlete only started pushing this season — going back and forth between the two sports — making her world cup debut in bobsled last fall.

"Both Kaysha and I had giant targets on our backs coming in, and I'm so proud of what we did together," Humphries said. "At the end of the day, my body just gave up," she said, citing a calf injury that prevented her from performing at her best. "I think my mind a little bit, too."

"I just hit a wall and didn't have it in me these last couple days," she said. "It sucks. It's not ideal from a performance side. But at the end of the day, I'm human like everybody else. I'm more disappointed for Kaysha and for everybody else that I couldn't muster it together."

She hopes to get another chance at the Olympic Winter Games Milano Cortina 2026, which would cap her career after a full 20 years.

"I'm not getting any younger so I can tell you right now I'm not doing a full four years, but I'm not retiring," Humphries concluded.

While this was the final event for women's bobsled, Meyers Taylor has one last task to perform in Beijing: flagbearer for the Closing Ceremony. Her husband, Nic Taylor, who is in Beijing as an alternate for the men's bobsled team, broke the news to his wife earlier the previous day.

It was especially significant because the new mom took time off in this quad, giving birth to her son, Nico, almost two years ago. She didn't think she'd even make it back in time to try for Beijing. Now she has a new silver and bronze medal to show for all her hard work.

"I just try to go out there every day and be myself and work so hard to just be a good person," Meyers Taylor shared. "I believe good things happen if you just be kind."
Want to follow Team USA athletes during the Olympic Games Beijing 2022? Visit TeamUSA.org/Beijing-2022-Olympic-Games to view the competition schedule, medal table and results.
Lisa Costantini is a freelance writer based in Orlando. She has covered Olympic and Paralympic sports for various publications, and has contributed to TeamUSA.org since 2011.