The Women Of USA Bobsled Are History Makers
When Kaillie Humphries and Elana Meyers Taylor went 1-2 in monobob's Olympic debut at the Olympic Winter Games Beijing 2022, their feat became the latest in a long list of historic firsts for U.S. women's bobsled.

Five days later, Meyers Taylor made more history when she won a bronze medal in the two-woman competition at the 2022 Winter Games. It was her fifth Olympic medal, making her the most decorated female bobsledder of all time (passing Humphries). Meyers Taylor is now tied for sixth among all bobsledders, with only five German men and an Italian ahead of her.

In a sport long considered a German tradition, American women have made bobsled their own, winning more Olympic medals than any other nation in those events (USA 9, Germany 6, Canada 5, Italy 1). Here's a look at important moments in U.S. women's bobsledding over last 20 years.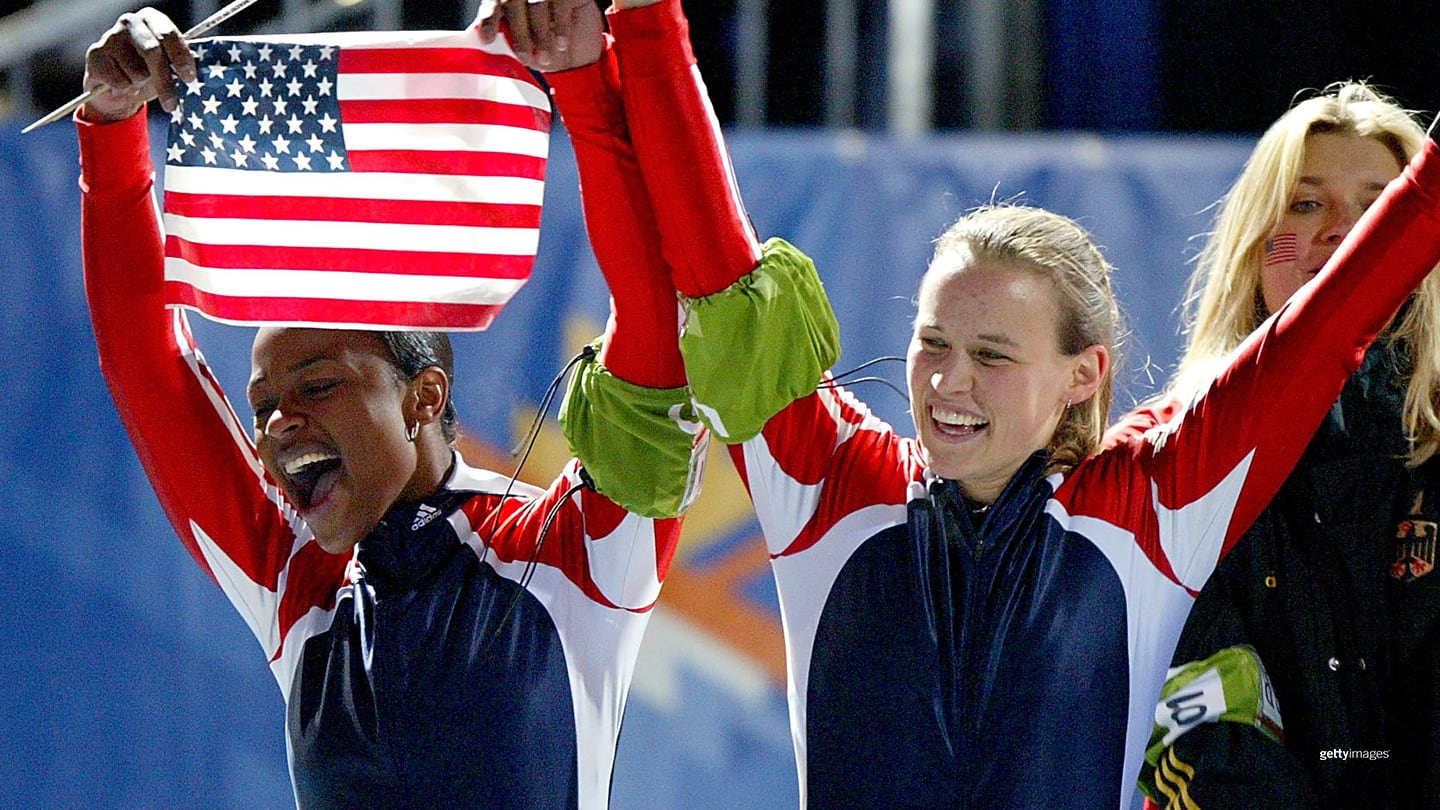 Vonetta Flowers and Jill Bakken celebrate after winning the gold medal in the women's 2-woman bobsled during the Olympic Winter Games Salt Lake City 2002 on Feb. 19, 2002 in Salt Lake City, Utah.
Jill Bakken & Vonetta Flowers Win First Olympic Gold
The IOC added women's bobsled to the Olympic program at the 2002 Olympic Winter Games. It was one of few remaining Olympic sports without a women's event, and heading to the 2002 Games, the Americans, led by pilot Jean Racine, were favored to win at least one medal.

But it was Jill Bakken and Vonetta Flowers who claimed the honor of winning women's bobsled first-ever Olympic gold medal. (Racine's brakewoman, Gea Johnson, had injured her hamstring, so struggled to push the sled at the start.)

Not only had Bakken and Flowers made history as the first Olympic women's bobsledding champions, Flowers was the first Black athlete to win a gold medal at an Olympic Winter Games — a fact of which she was unaware until a reporter asked her about it.

"I hope this won't be the end of it," Flowers responded that day. "I hope you'll see other African-American girls and boys who want to give winter sports a try because there are not a lot out there."

Her words were prescient. In every Olympic women's bobsled event since 2002, U.S. women have stood on the podium, and half of the these medalists have been Black athletes.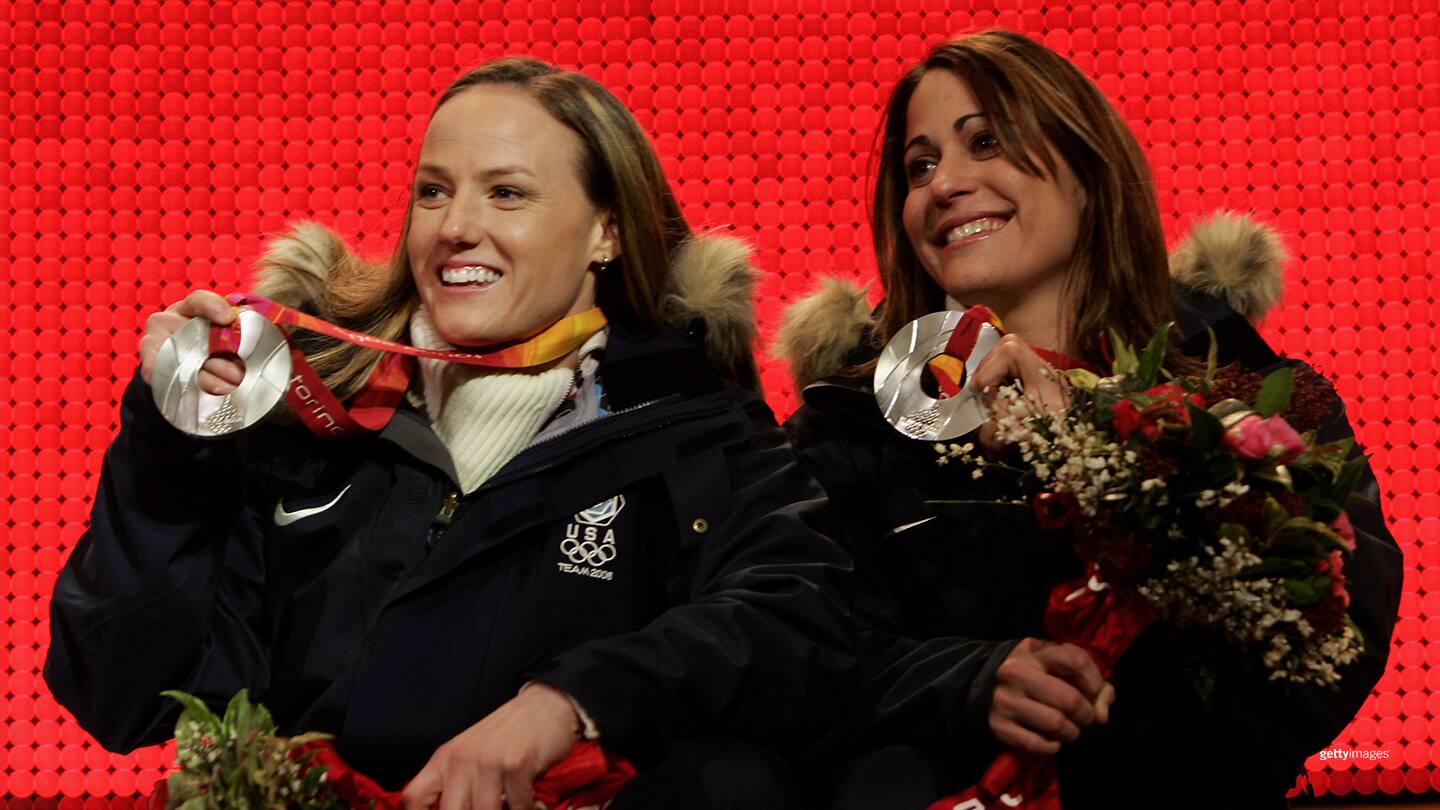 Shauna Rohbock and Valerie Fleming receive the silver medal in the two woman bobsled during the Olympic Winter Games Turin 2006 on Feb. 21, 2006 in Turin, Italy.
A Legacy of Olympic Medals
While Bakken's and Flowers's Olympic gold medal began an unbroken streak of Olympic medals for the U.S. women, it was rooted in the efforts of other women on the team at the time. Early pioneers of the sport — like pilots Bakken, Racine, and Bonny Warner — laid a foundation for future success.

For example, it was a call from Warner to track coaches in the Salt Lake City area that got Shauna Rohbock into bobsledding.

A track star at Brigham Young University at the time, Rohbock thought why not? It could be an opportunity to compete in the upcoming 2002 Olympic Games in Salt Lake City.

"I mean, the Olympics in your home state, home country, that'd be pretty awesome," she said recently.

Rohbock was an alternate brakewoman at the 2002 Winter Games but then switched to the driver's seat and was soon winning medals on the IBSF World Cup tour. In 2006, she and brakewoman Valerie Fleming upheld the medal-winning standard that had been set for American women, claiming an Olympic silver medal.

From there, more brakewomen have become bobsled pilots and won Olympic medals, like Erin Pac, Jamie Greubel, and Meyers Taylor — athletic women who have "had the skill to be able to pilot the sleds," said Rohbock, who retired in 2011 and became a U.S. bobsled coach.

Meyers Taylor credits continuity in the program, too. In addition to being great athletes, the medal-winning pilots have served as mentors for those coming up behind them.

"Shauna was a brakeman for Jill, so she learned from Jill and then was able to progress from there," explained Meyers Taylor. "I was a brakeman for Shauna and was able to learn from her and then progress from there. Now Shauna is back coaching. So I think there's just been a really great legacy."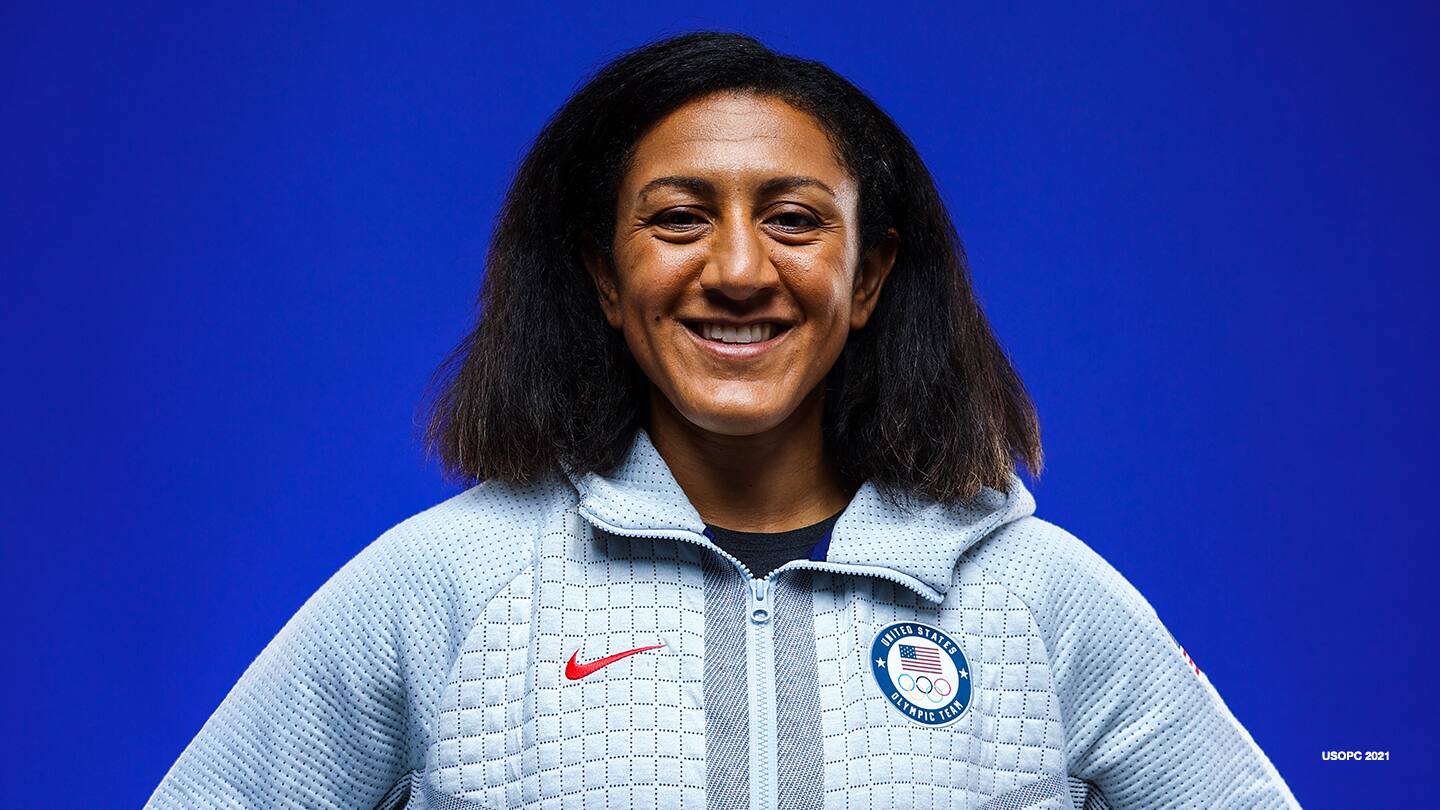 Elana Meyers Taylor poses for a photo during the Team USA Beijing 2022 Olympic shoot on Sep. 12, 2021 in Irvine, Calif.
Elana Meyers Taylor
Meyers Taylor not only learned from Rohbock, she was also a brakeman for Pac — winning a bronze medal at the 2010 Vancouver Olympic Winter Games. The next year, Meyers Taylor became a pilot and was soon winning world cup and world championship medals. At the 2014 Sochi Games, Meyers Taylor and brakewoman Lauryn Williams won an Olympic silver medal.

Now a four-time Olympian, Meyers Taylor has won a medal in every Olympic event in which she has competed, including a silver medal in monobob, then a bronze in two-man at the 2022 Winter Games.

It was an astonishing feat given that she spent her first week of the 2022 Winter Games in COVID-19 isolation, missing an opportunity to carry the U.S. flag into the Opening Ceremony and enduring the stress of being separated from her husband and young son. But she remained focused and in monobob, she won the final run and moved from bronze-medal position up to silver. Then, she made the switch to two-man and held bronze-medal contention for four runs.

"Even though it was a bronze medal, having four of the most consistent runs of the entire competition was one of the best accomplishments of my career because it really was consistent driving and consistent pushing and really top notch driving as well," she said.

With five Olympic medals, Meyers Taylor became the most decorated Black athlete in Winter Games history. She also became the most decorated U.S. bobsledder, breaking the late Steven Holcomb's record of three Olympic medals, with two of the three won at the 2014 Sochi Games.

"Just thinking of the legacy Holcomb had and how hard that was for him to win two medals in in the same Olympics, and to have done it and followed his legacy, I think it's only fitting," she said a couple of weeks after the Beijing Games. "It's only fitting because of how much of a role he played in my own career, especially my driving career."

Meyers Taylor is also the first mom to win an Olympic medal in bobsledding. Son Nico was born in 2020.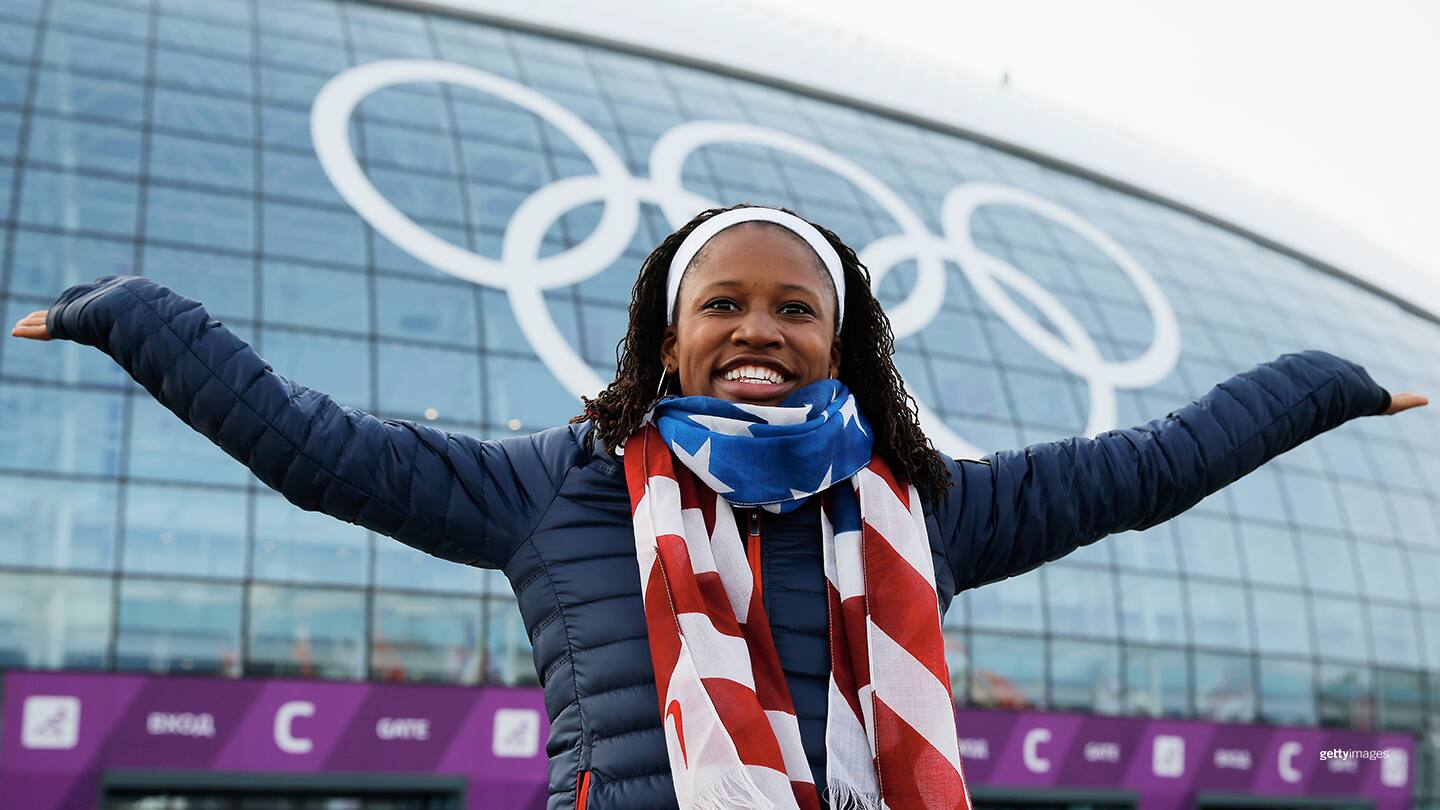 Lauryn Williams poses for a photo during the Olympic Winter Games Sochi 2014 on Feb. 20, 2014 in Sochi, Russia.
First Summer and Winter Olympic Medalist
In July 2013, Lauryn Williams — a two-time Olympic medal-winning sprinter — had a chance meeting with Olympic hurdler Lolo Jones at the airport. Williams had read that Jones was a new bobsled brakewoman and wanted to know what the sport was like.

"I didn't really have a clear plan for what I wanted to do in life after sport," said Williams by phone recently. "So I just jumped in, and six months later, I was at the Olympics."

At the 2014 Olympic Winter Games in Sochi, Williams won an Olympic silver medal as Meyers Taylor's brakewoman. Until a reporter asked her what it felt like to become the first U.S. woman to win medals at both the Summer and Winter Games, Williams had no idea that she had just made history.

She hopes that her feat has inspired people to realize what they can do versus what they can't do.

"I never knew that there was a way to become a 'first,' said Williams, who now runs her own financial business in Dallas, Texas. "It's really about striving for whatever your potential is, that you can overturn some stones and impact people on your own personal journey."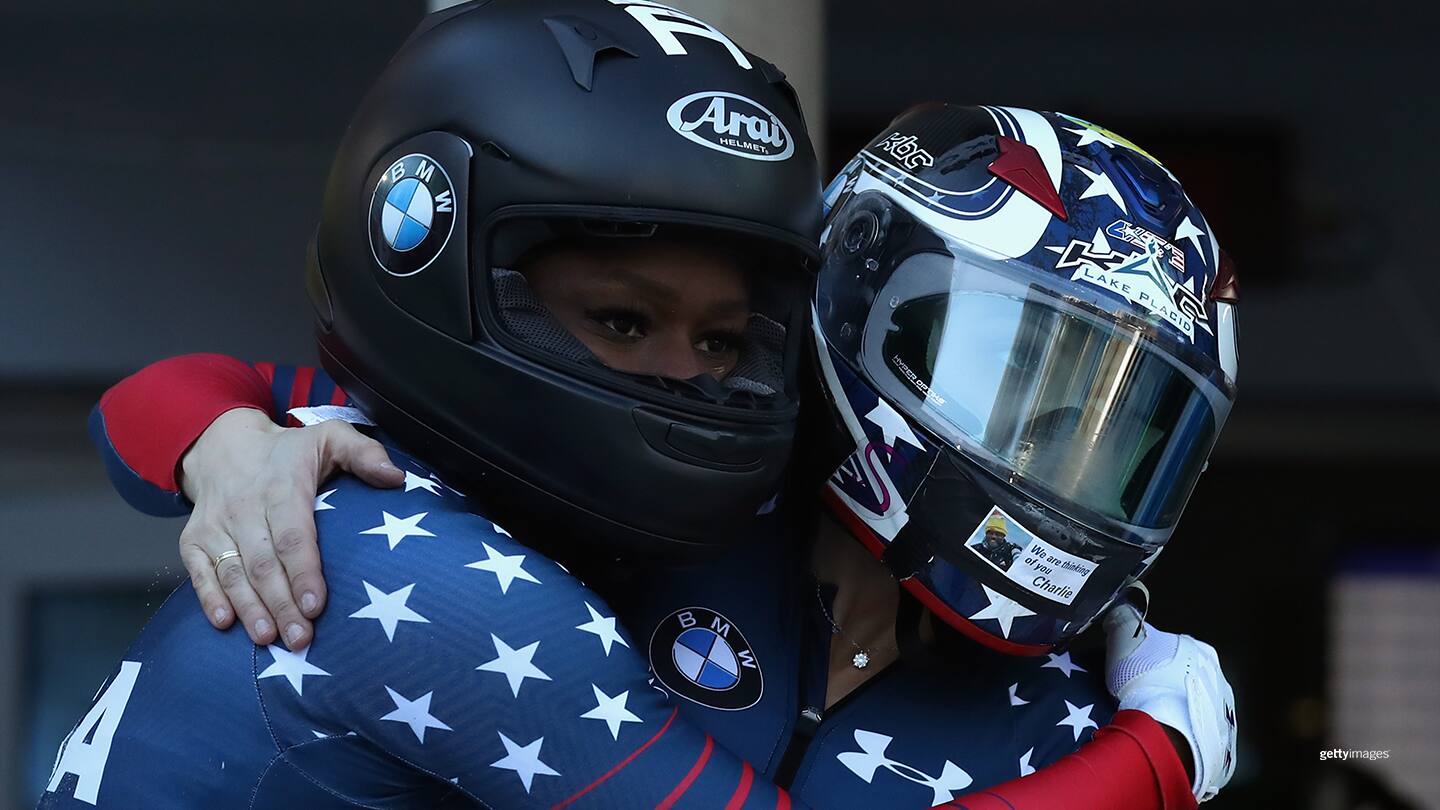 Aja Evans and Jamie Poser celebrate after the second run of the women's bobsled during the BMW IBSF World Cup on Jan. 27, 2017 in Koenigssee, Germany.
World-Class Brakewomen
Williams and Lolo Jones are just two of the many top athletes who have become bobsled brakewomen for Team USA. Just look at the six brakewomen on the 2021/2022 national team, which featured two world champions (Jones and Lauren Gibbs), two Olympic silver medalists (Gibbs and Sylvia Hoffman), and an Olympic bronze medalist (Aja Evans).

With women of this athletic caliber pushing the sleds off the line, the U.S. women regularly set track start records. The extra tenths or hundredths of a second gained at the start then allow the pilots to have more room for error down the track.

But more than setting start records, the high-caliber brakewomen have set a standard of excellence in the program.

"Everybody is pushing for every hundredth [of a second]," said Meyers Taylor, who has worked to recruit talented brakewomen. "Then when the Olympic team is finally named, you get really great athletes."

The unsung heroes are the brakewomen who don't make the Olympic or world championship teams. Throughout the season, they keep the bar set high, with everyone hoping to be selected for the team.

"They push the athletes who do go on to win medals to be better," said Meyers Taylor, "and that crazy competitiveness really breeds excellence."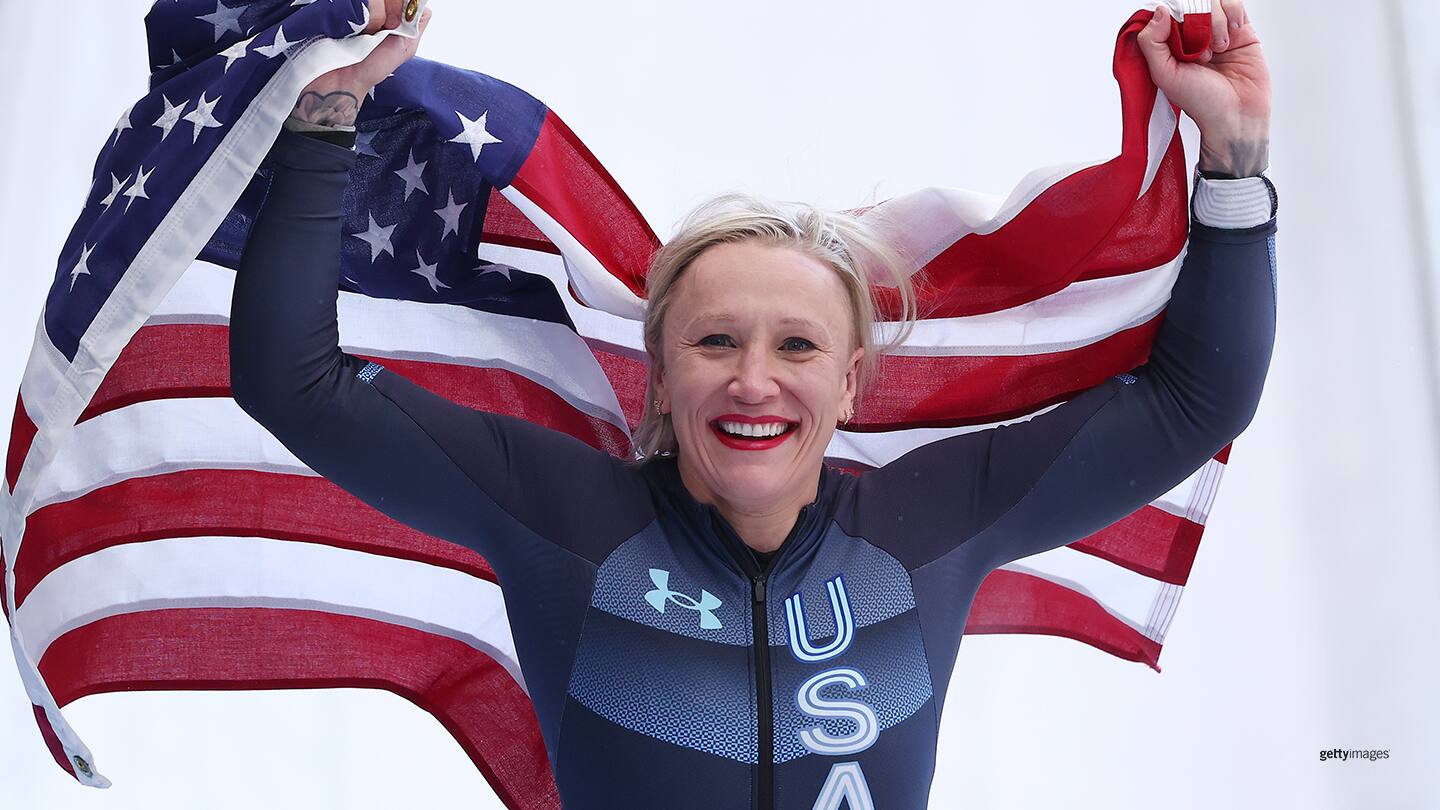 Kaillie Humphries celebrates winning gold in women's monobob during the Olympic Winter Games Beijing 2022 on Feb. 14, 2022 in Beijing.
Kaillie Humphries Joins Team USA
In 2019, Kaillie Humphries — who had won two Olympic gold medals and a bronze sliding for Canada — donned the red, white, and blue and became a member of Team USA. She made an immediate impact, winning the first world cup that season. She also won the 2020 and 2021 world titles — her first since she claiming back-to-back world titles for Team Canada in 2012 and 2013.

Even with her historic accomplishments in bobsled (she was at the time, the most decorated female Olympic bobsledder), Humphries did not know she would be able to compete at the 2022 Olympic Winter Games (her fourth). She had to be a U.S. citizen to compete for Team USA at the Games, and she waited for months to get her citizenship. Finally, on December 1, 2021, she flew from the world cup tour in Europe back to California to get sworn in as an American citizen (she is now has dual U.S. and Canadian citizenship). Then she flew back to Europe and won both the monobob and two-man races that weekend.

At the Beijing Games Humphries dominated all four runs of monobob's Olympic debut, notching her place in history. "A huge honor," she said at the time, awash in emotion.

"To know that I gave my heart and soul to this sport, to this country, to what I love to do, and that resulted in a gold medal, it's a feeling of pride and elation and excitement," she said. "This one feels more emotional than most."

Humphries three Olympic gold medals are the most by any woman in bobsled history.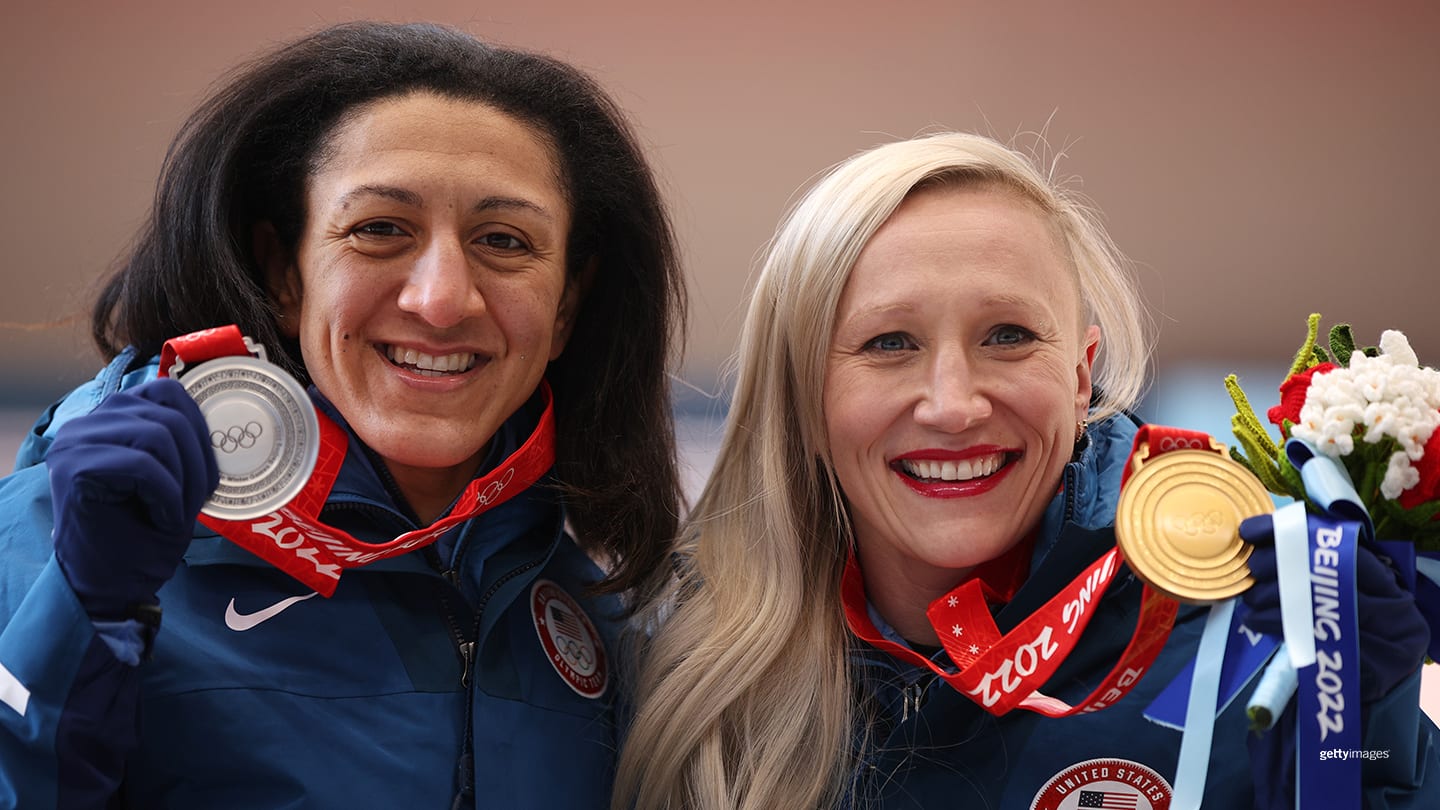 Elana Meyers Taylor and Kaillie Humphries celebrate during the women's monobob medal ceremony during the Olympic Winter Games Beijing 2022 on Feb. 14, 2022 in Yanqing, China.
Monobob
While Humphries was proud to win monobob's first Olympic gold medal, she was equally proud of the work that she and Meyers Taylor had done to get a second women's bobsled discipline in the Olympic Games. Although both Humphries and Meyers Taylor had hoped women's four-man would make it onto the Olympic program instead of monobob, both women were satisfied that bobsledding was moving toward equality. The men have been able to compete in two bobsled events (two- and four-man) since the 1932 Winter Games.

"I think it's a testament to our will and strength and how hard we were willing to fight for something," Humphries said, of her work to get monobob on the Olympic program and that the she and Meyers Taylor had finished 1-2 in the event's debut.

After dominating the monobob world series for much of the 2021/2022 season, Meyers Taylor had hoped to be the one on the podium's top spot. But after a difficult Games, she said her silver medal felt like gold.

"Just to have this opportunity, to have this event, and to be next to Kaillie on the podium," she said, "it's like a storybook ending."
An award-winning freelance writer based in Vermont, Peggy Shinn has covered seven Olympic Games. She has contributed to TeamUSA.org since its inception in 2008.