World Champions and Olympic Medalists Lead USA Bobsled's Deep Pool of Brakewomen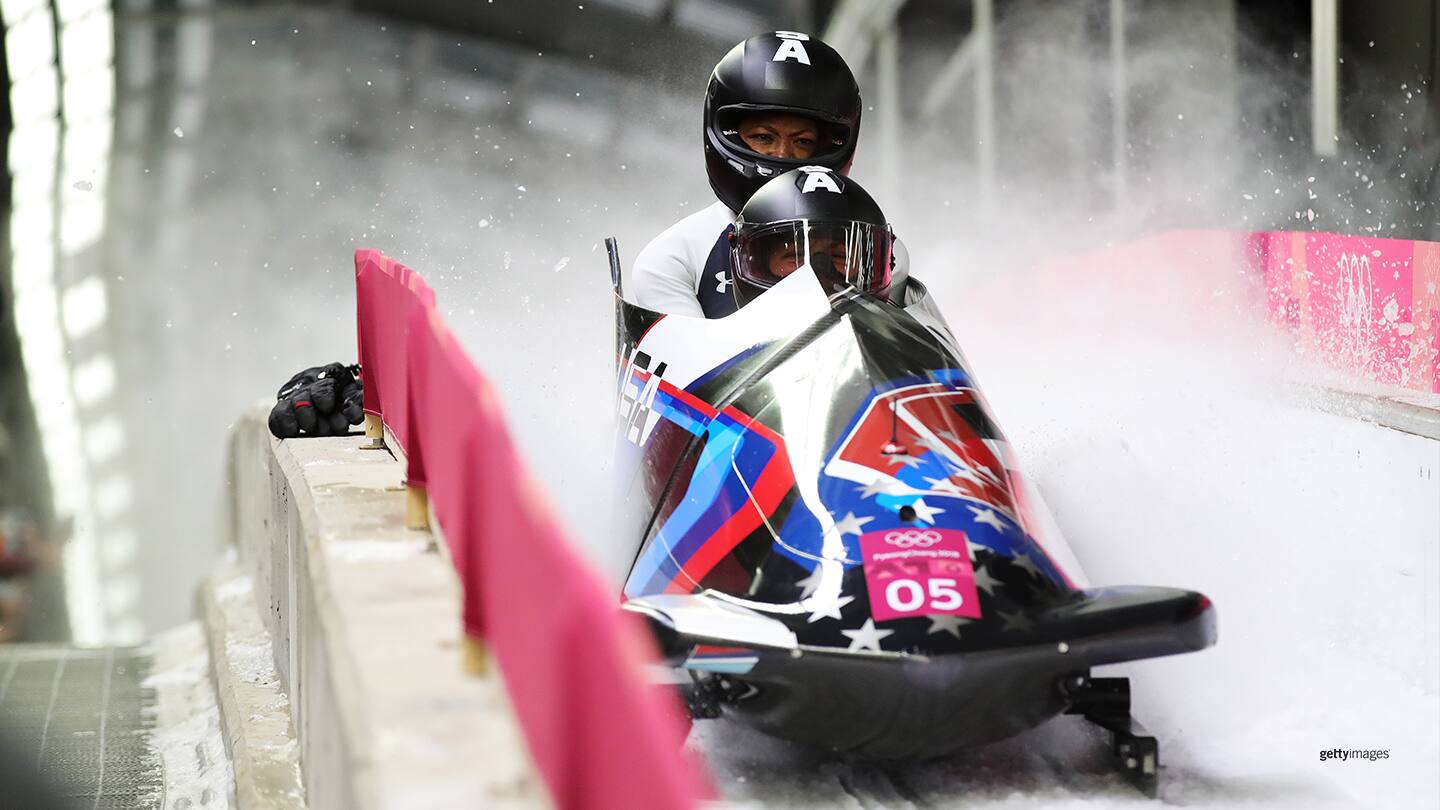 Elana Meyers Taylor and Lauren Gibbs celebrate in the finishing area after the Women's Bobsled heats at the Olympic Winter Games PyeongChang 2018 on Feb. 21, 2018 in Pyeongchang-gun, South Korea.
The U.S. women's bobsled team has long had some of the strongest brakewomen in the world. This year's team features two world champions — one with an Olympic silver medal — an Olympic and world championship bronze medalist, and five women with handfuls of world cup medals.

The depth of this squad is one reason that bobsled pilot Kaillie Humphries wanted to join Team USA after she left the Canadian bobsled team.

"I was always so jealous, so envious of what it would be like to race with strong, intense, powerful women, and the U.S. has always been so dominant," said Humphries, a two-time Olympic and two-time world champion. "It motivated me to really push that much harder to really step up my game and do these women more justice."

Humphries hopes to compete for Team USA at the Olympic Winter Games Beijing 2022 if she receives her U.S. Passport in time.

With the return of 2014 Olympic bronze medalist Aja Evans and world hurdles champion Lolo Jones to the 2021-2022 national team, competition to push the three world cup bobsleds — and the sleds that qualify for the 2022 Beijing Winter Games — will be fierce.

In addition to Evans — who won a world championship bronze medal in 2017 with three-time Olympic medalist Elana Meyers Taylor — and Jones, the 2021 world champion with Humphries, the six brakewomen include:
Team veteran Lauren Gibbs, a 2018 Olympic silver medalist (with Meyers Taylor) and 2020 world champion (with Humphries) who's in her eighth year on the national team
Perennial U.S. push champion Sylvia Hoffman, who came to bobsled through Team USA's The Next Olympic Hopeful program and landed on the podium in her first world cup
Lake Kwaza, who scored a series of world cup podiums with Meyers Taylor in 2019; and
Rookie Kaysha Love, a sprinter from the University of Nevada-Las Vegas.
"I'm glad I'm not the one making that decision!" said Meyers Taylor, referring to the coaches and staff who select brakemen for the U.S. bobsleds. "It's going to be intense. It always has been. Every single year, it comes down to hundredths of a second on who's in what sled and who makes the Games."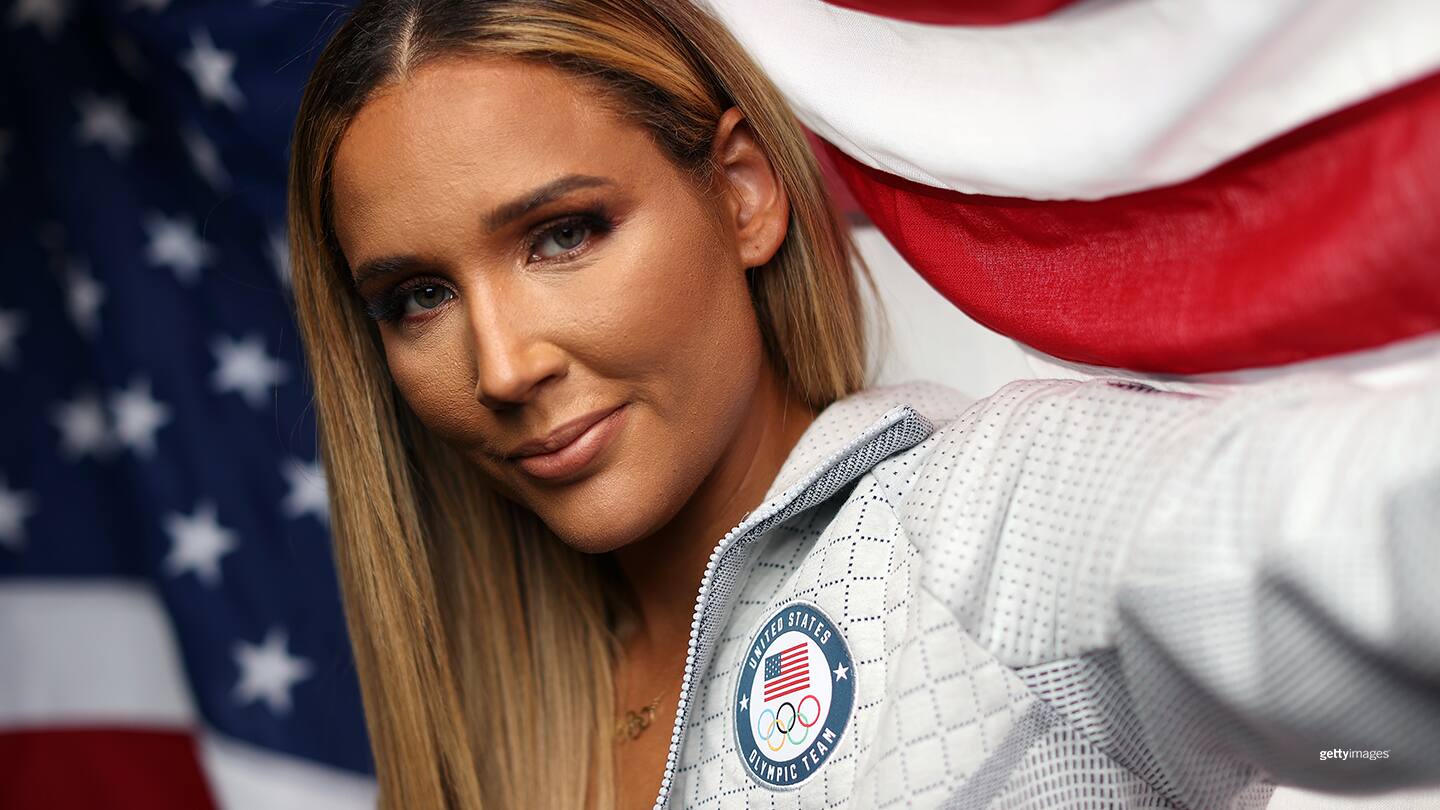 Lolo Jones poses for a portrait during the Team USA Beijing 2022 shoot on Sept. 12, 2021 in Irvine, Calif.
When Jones won her first world championship title in women's bobsled last February — pushing Humphries's bobsled — she was thrilled to be back in the battle. The hurdler-turned-bobsledder had just returned from a bobsled hiatus. And it was a sign that she might actually be in the hunt for an elusive Olympic medal in 2022.
One of track and field's best-known athletes, Jones's complicated relationship with the Olympic Games began in 2008 when, at her first Olympic Games (ironically in Beijing), she was favored to win the women's hurdles. She was leading the race when she clipped the ninth and final hurdle, stumbled, and crossed the line seventh. Four years later, at the Olympic Games London 2012, she finished fourth.
She made the U.S. bobsled team in October 2012 and made the U.S. Olympic Team competing in Sochi 2014, where she finished eleventh with pilot Jazmine Fenlator. She became one of ten athletes to have competed in both the Summer and Winter Games
Since then, Jones has not competed in an Olympic Games. She withdrew from the 2016 U.S. Olympic Trials — Track and Field because she was still recovering from hip surgery. Then she missed making the Olympic Winter Games PyeongChang 2018. Again, she stepped back from bobsled to focus on her track career.
But when the Olympic Games Tokyo 2020 were postponed due to the COVID-19 pandemic, Jones soon returned to a bobsled training camp, in part because Humphries messaged her and encouraged her to return.
For Jones, it was like "walking back into the lions' den," she told NBCOlympics.com. A few months later, Jones and Humphries won the women's bobsled world championships.
There is no guarantee that Jones, who's now 39, will make the 2022 U.S. Olympic Team. But rather than viewing the competition with her fellow brakewomen as another hurdle to overcome, Jones is happy that Team USA has a deep squad.
"When you're at the top of the mountain, it is nothing without the climb," she said during a Team USA media summit. "That's what makes it worth it. How hard did you have to work for it."
As for returning to the city where she first competed in the Olympic Games, Jones joked that it's both "horrific and a blessing."
"I think it would be pretty cool to go back to where it all started and finish the dang thing," she said.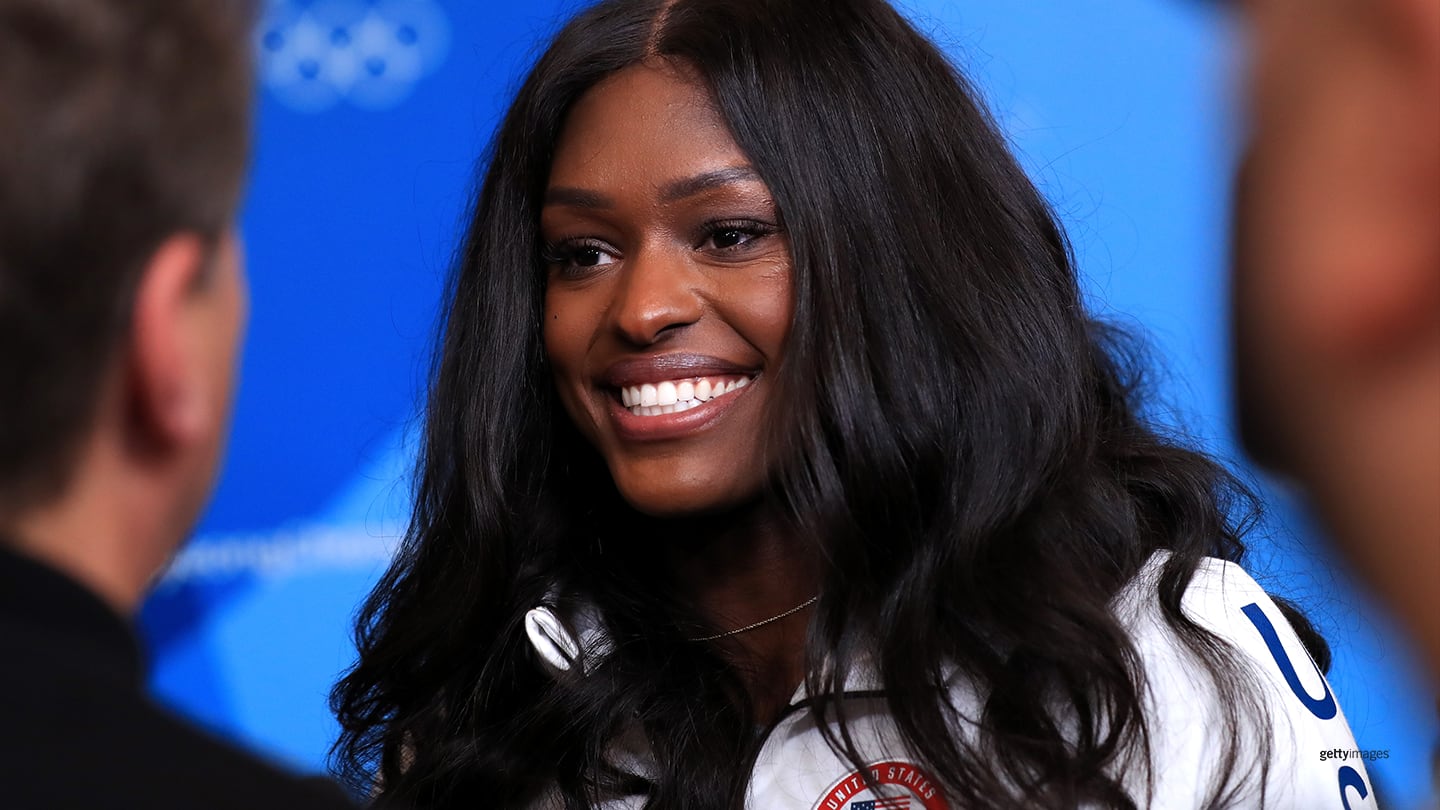 Aja Evans speaks during a press conference ahead of the Olympic Winter Games PyeongChang 2018 on Feb. 9, 2018 in Pyeongchang-gun, South Korea.
Aja Evans Returns To
Bobsled
Evans also returned to bobsled last year after a three-year hiatus. She had stepped back from the sport in 2018 after finishing fifth with Jamie Greubel Poser at the 2018 Olympic Winter Games. (The two women won Olympic bronze at the 2014 Winter Games.)
"It was a decision I made to allow myself the space to really figure out what I wanted to be doing, who I am, and where I wanted to be," she said recently by phone from her new home in Atlanta. "With bobsled always on the forefront of my mind, it clouded my idea of who I was."
Evans took a corporate job in her native Chicago but soon realized that her path lay in athletics. Passionate about working with children and her community, she really enjoyed her role as an Olympic medalist, inspiring and impacting others.
"I had a really good conversation with my best friend last year," she said. "She helped me see that this Olympic platform is a blessing."
Now 33, Evans knows that making third U.S. Olympic Team will not be easy, and she sees the next few months full of "twists and turns." But at the same time, she is excited.
"Elana and I have a lot of unfinished business," said Evans, referring to their world championship bronze medal. "I'm excited to see how the coaches and the selection committee put everything together to make the magic happen."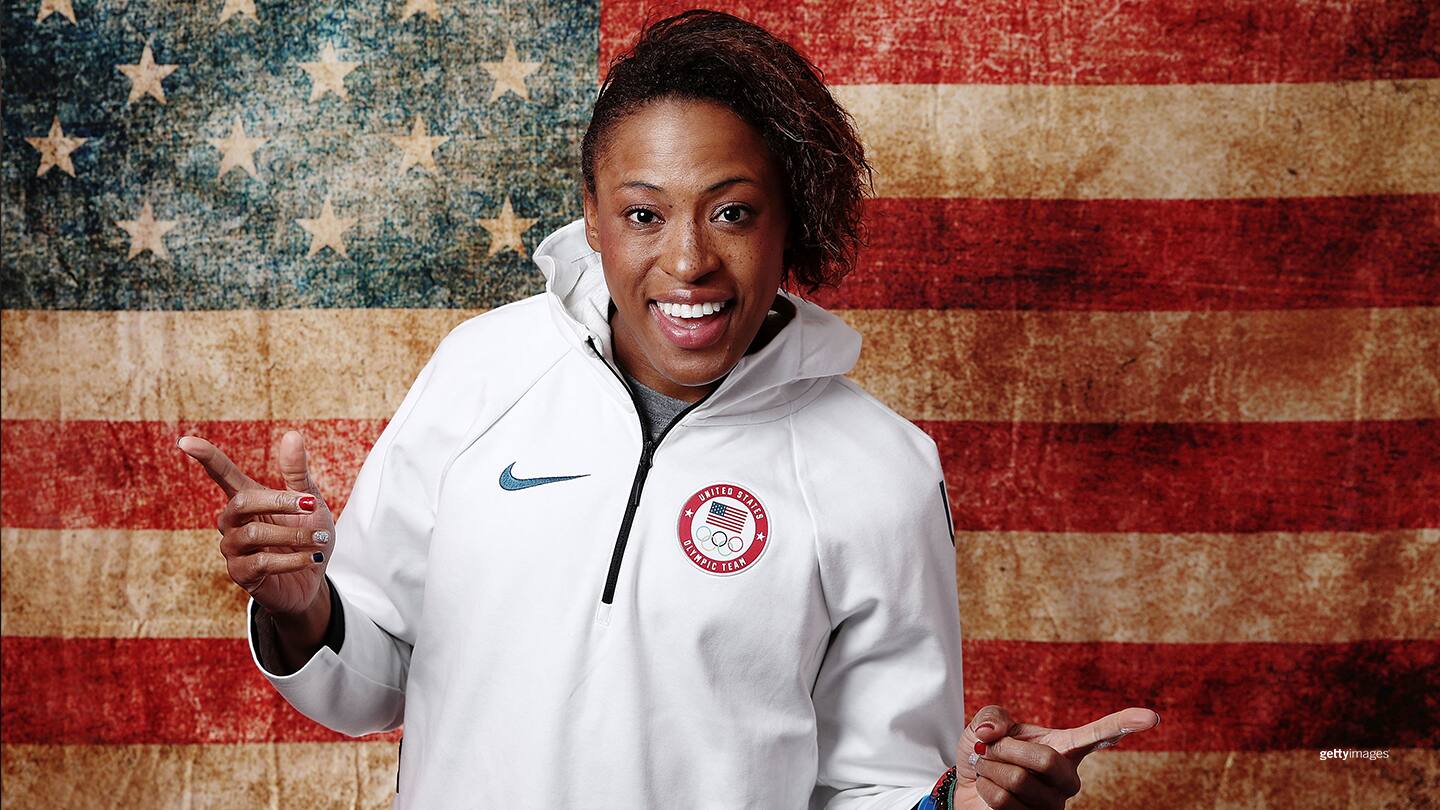 Lauren Gibbs on the Today Show Set on Feb. 12, 2018 in Gangneung, South Korea.
Lauren Gibbs Aims For One More Olympic
Games
Gibbs, who left a corporate sales job in 2013 and made the U.S. bobsled team, found the 2018 Olympic Winter Games so intoxicating that she wanted to come back for more. She felt like a super hero, winning an Olympic silver medal with Meyers Taylor at those Games.
"How could I walk away from this right now?" she thought.
Since the PyeongChang Games, Gibbs has collected five more world cup medals (for a total of 17), plus a world title with Humphries at the 2020 world championships.
"I never thought I'd actually be a world champion," Gibbs said. "It's incredible to be the best in the world at something."
Now, at age 37 and a veteran on the brakewomen's squad, Gibbs plans to slide for one more season. She also has her foot back in the corporate world, this time as a director of external sales for Parity, an organization working to close the pay gap in professional women's sports.
"I feel like I'm making a difference," she said, "so that's pretty special."
As for qualifying for her second and final Olympic Games, Gibbs is philosophical.
"[Bobsled] is one of the best life lessons I've ever been privileged to be part of," she said recently by phone from her new home in California. "It's difficult. But that's life, right? You don't always get what you want. It doesn't always end the way you want it to end. But you can choose how you respond to what happens to you, and you can choose to get the most out of it no matter what, and you can choose to find a way to enjoy it."
She gets emotional talking about the strength of the U.S. brakewomen, knowing that no matter how strong she is, she will be competing with equally strong teammates for an Olympic berth.
"The women's team has won an Olympic medal at every Olympics since we were allowed to compete [in 2002]," she said, crediting the long list of female pilots who have helped build the team. "It's just really special to be part of this legacy. No matter how my career ends, I'll always be honored to be considered one of the best on the U.S. team."
"It's really special to see these incredible athletes come out year after year and give their all."
An award-winning freelance writer based in Vermont, Peggy Shinn has covered six Olympic Games. She has contributed to
TeamUSA.org
since its inception in 2008.