Bobsled & Skeleton World Championships Kick Off In The Same City, But Very Different World, From Last Year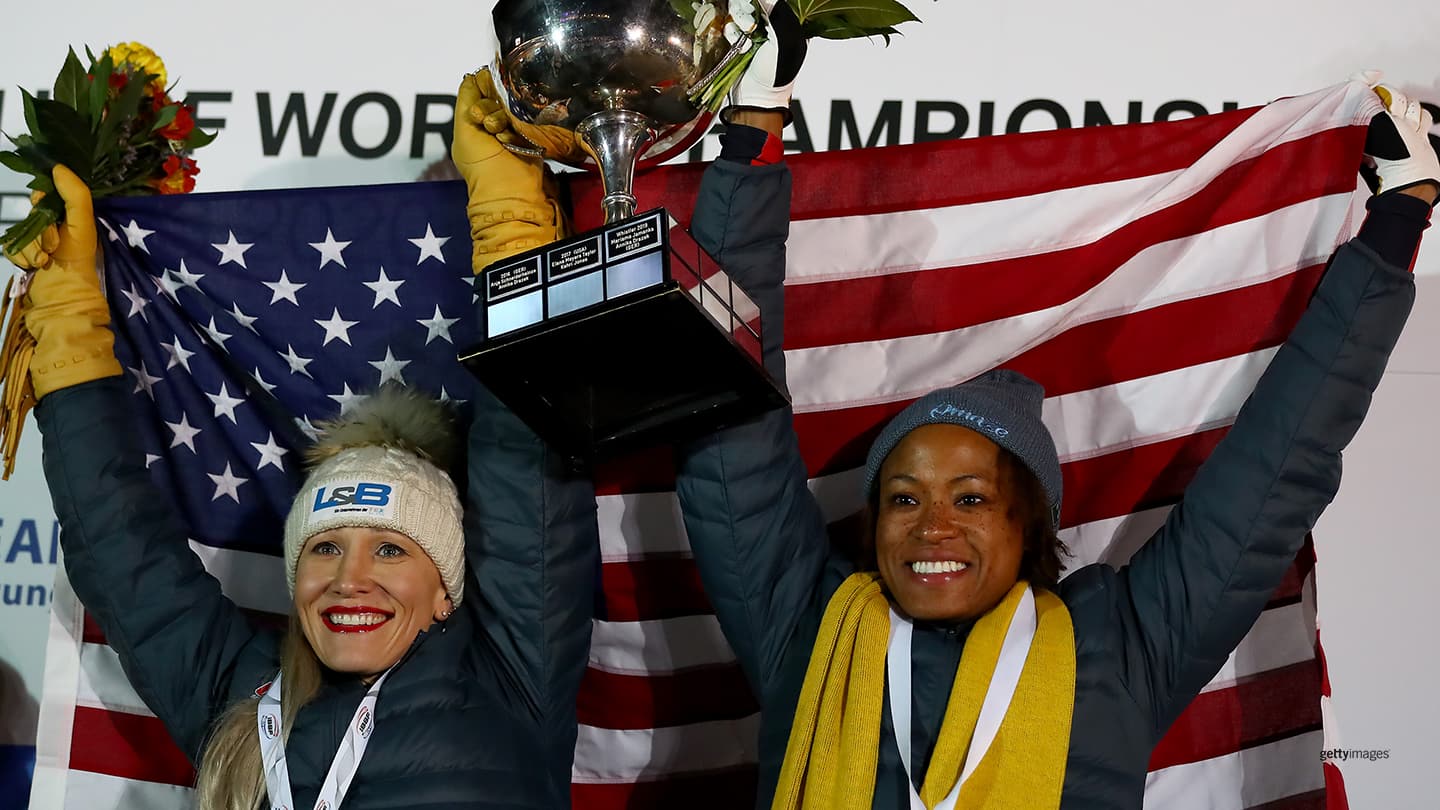 Kaillie Humphries and Lauren Gibbs celebrate winning the gold medal after the Women's Bobsled during day 2 of the BMW IBSF World Championships Altenberg 2020 on Feb. 22, 2020 in Altenberg, Germany.
Sometimes it catches Lauren Gibbs off guard when someone describes her as the defending world champion in two-woman bobsled.

It isn't that winning the world title with pilot Kaillie Humphries last year in Altenberg, Germany, was insignificant. It's just that shortly after that victory on Feb. 22, 2020, everyday life around the world came to a screeching halt with the onset of the COVID-19 pandemic.

"So much happened after that that people often have to remind me that I won the world championships," said Gibbs, a 2018 Olympic silver medalist. "I think Kaillie and I might be the only U.S. world champions for the whole year. It's crazy because we got home, I had a birthday party (March 2), we went to Disneyland that week to celebrate and then everything shut down. Everything fell apart. I don't know that I ever really got to process it."

It has certainly been an unusual season for the U.S. bobsled and skeleton team heading into this year's world championships beginning Friday, once again in Altenberg after being moved from Lake Placid, New York.

In addition to the disruption to normal offseason training that so many athletes experienced, team officials announced early in the fall that they weren't going to compete in Europe until the start of the new year out of concerns for the athletes' safety and well-being. The team remained in the U.S. and trained at Lake Placid, and didn't jump into world cup competition until the mid-point of the season in January.

In addition to the standard COVID-19 safety protocols, such as frequent testing, mask-wearing and social distancing, fans haven't been allowed at the tracks and often times the athletes are the only ones staying in the hotels, Gibbs said.

"It's strange to be traveling at a time when you're not supposed to travel," Gibbs said. "I feel very grateful to the staff at every hotel we've stopped at for agreeing to be open and agreeing to the protocols so we can be safe."

Training has also been different, she said, with the team split into groups and sliding limited to three runs per day over two days instead of three. Plus, this year the women's circuit added monobob to the competition schedule.

Humphries won two monobob races and Elana Meyers Taylor, who was giving birth to her first child at the time of last year's world championships, claimed a pair of silver medals. Both women were strong advocates of adding the women's single sled, which will make its Olympic debut in 2022, to the competition slate.

The first-ever women's monobob world champion will be crowned Feb. 14 in Altenberg, and both Americans are among the favorites to win the title.

They're also in contention to for the two-woman competition, which held its first two of four heats on Friday. Defending champion Humphries jumped out to a nearly lead of .34 of a second, though this year she's paired with brakeman and former Olympic hurdler Lolo Jones, reprising the pair that took won last week at the world cup in Igls, Austria. Meyers Taylor goes into Saturday's finale in fourth, driving with Sylvia Hoffman, with whom she's earned two of her three medals in two-woman bobsled in 2021.

The men's bobsled team will not compete in the world championships and has already returned to the U.S. to start preparing for the 2021-22 team selection races, which will be held next month in Park City, Utah.

In skeleton, Katie Uhlaender, Kendall Wesenberg, Sara Roderick, Austin Florian and Austin McCrary will all be taking their shots Feb. 11-13 in Altenberg.

Uhlaender, a four-time Olympian who made her 90th world cup start last weekend, closed out world cup competition with a 13th-place finish, followed by Wesenberg in 15th and world cup rookie Roderick in 16th. Florian is coming off a career-best 14th-place finish in Igls, while McCrary was 23rd. The last U.S. skeleton athlete to medal at the world championships was Noelle Pikus-Pace in 2013.

The track at Altenberg, Gibbs said, is tough. It's similar to Lake Placid in that it's very technical and the start is long.

"It's the second-longest start we push on so when you go from Koenigssee, which is very short, Altenberg feels like you're running a marathon. You're like, oh man, am I still running? But the track crew is amazing and the ice is always great."

What is disappointing, Gibbs said, is that the world championships were supposed to be held in Lake Placid this year but were moved to Germany because of coronavirus concerns.

"It's tough because it was supposed to be a home world championships and I feel like we could have pulled it off," she said. "I know the area and the track worked so hard and made so many improvements and I'm just as bummed for them as I was for us because that community was really excited about it."
Karen Price is a reporter from Pittsburgh who has covered Olympic sports for various publications. She is a freelance contributor to TeamUSA.org on behalf of
Red Line Editorial, Inc.