Led By A Historic Win From Jessie Diggins, See What Team USA Winter Athletes Were Up To This Weekend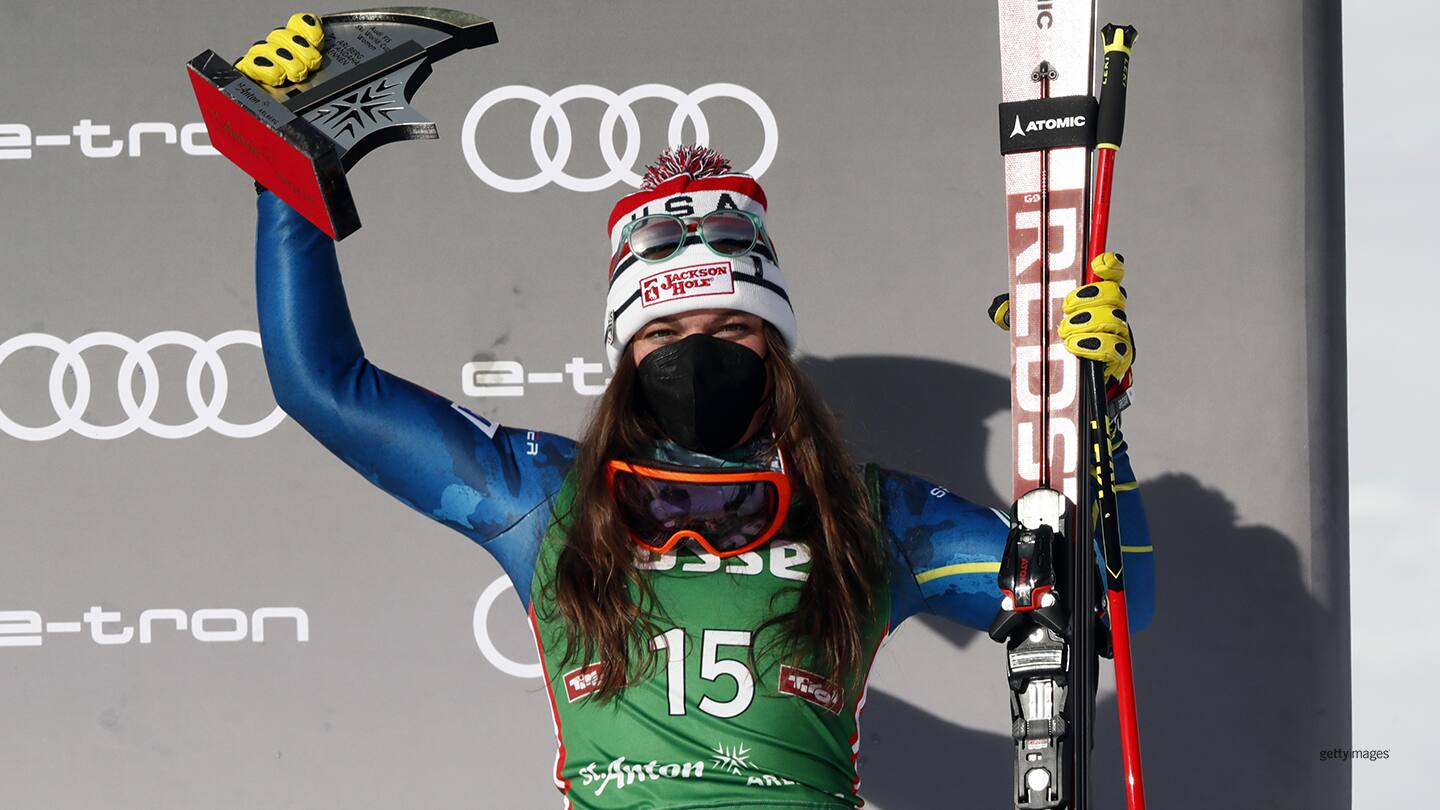 Breezy Johnson takes 3rd place during the Audi FIS Alpine Ski World Cup Women's Downhill on Jan. 9, 2021 in St. Anton, Austria.
Jessie Diggins charged up the Italian Dolomites Sunday to secure an overall victory in the Tour de Ski, in doing so becoming the first American champion of the prestigious cross-country ski competition.


The 2018 Olympic champion had been strong throughout the 10-day, eight-stage tour that began last weekend in Val Müstair, Switzerland, and continued this week in Toblach, Italy, before wrapping up this weekend in Val di Fiemme, Italy.


Diggins, 29, had two wins and five podium finishes in the seven stages entering Sunday's final climb in Val di Fiemme. With a second-place stage finish in the 10-kilometer freestyle mass start, Diggins maintained the tour lead and also moved into first place in the world cup overall standings.


U.S. teammate Rosie Brennan, who had been first in the world cup standings, ended the Tour de Ski in sixth place. Gus Schumacher proved to the the top U.S. man, taking 18th.


Read more about Diggins' gutsy stage eight performance here.

Alpine Skiing
Breezy Johnson scored her third downhill podium of the season Saturday when she took third place in St. Anton, Austria. The 2018 Olympian also finished third in downhill races consecutive downhills earlier this season in Val d'Isere, France, and so it's perhaps little surprise that she's also third in the season downhill standings.


A subsequent super-G Sunday in St. Anton didn't go as well for Johnson, who caught an edge but was able to recovered and finish 32nd. Isabella Wright proved to be the top U.S. finisher, taking 24th.


The men, meanwhile, were in Adelboden, Switzerland, this weekend for a trifecta of technical races. However, the mood was dampened after Tommy Ford crashed late in Saturday's giant slalom and had to be airlifted to a local hospital. The U.S. team later reported that his "head and neck injuries are minor and resolving nicely. He has a knee injury that is undergoing further evaluation."


The crash came one day after Ford was 10th and Ryan Cochran-Siegle 12th in Friday's giant slalom. Cochran-Siegle and River Radamus finished 19th and 20th on Saturday to lead the Americans. Luke Winters was the top American in Sunday's slalom, finishing 23rd.

Bobsled & Skeleton
The U.S. bobsled and skeleton team was back in action for the first time this season as its world cup tour stopped this weekend in Winterberg, Germany. Kaillie Humphries and Sylvia Hoffman finished sixth while Elana Meyers Taylor and Lolo Jones were one spot behind them in Saturday's two-woman contest. The race was Meyers Taylor's first since the 2019 world championships and since giving birth to a son Nico in February 2020.


Codie Bascue piloted the top U.S. men's sled both days, finishing 14th in both Saturday's two-man and Sunday's four-man races. Four-time Olympian Katie Uhlaender (13th) and Austin Florian (15th) led the way in Friday's skeleton races.

Biathlon
The latest biathlon world cup wrapped up Sunday in Oberhof, Germany, with two relay events. Clare Egan proved to again be the top American finisher across the four individual races, with her best result coming in a 13th-place finish in Friday's 7.5K sprint. She ranks 19th in the overall world cup standings and 14th in the sprint standings.

Big Air
American skiers and snowboarders were in Kreischberg, Austria, this weekend for big air competitions. Alex Hall, a 2018 Olympian in slopestyle, was the top U.S. finisher in Friday's skiing events, taking eighth. In the snowboarding contests Saturday, 2018 Olympians Julia Marino finished 10th in the women's event and Chris Corning was 16th in men's.

Luge
Like the U.S. bobsled and skeleton teams, the American luge contingent waited until 2021 to join its world cup tour and this weekend's competition in Sigulda, Latvia, proved to be its second of the season. Summer Britcher posted the top individual finish, taking 10th in Sunday's women's race. Tucker West and Chris Mazdzer finished 12th and 13th in Saturday's men's singles race, while Mazdzer and Jayson Terdiman were 10th in doubles that day. The competition concluded Sunday with the team relay, but the U.S. team of Britcher, West and Mazdzer/Terdiman was disqualified.
Chrös McDougall has covered the Olympic and Paralympic movement for TeamUSA.org since 2009 on behalf of
Red Line Editorial, Inc.
He is based in Minneapolis-St. Paul.