American Freestyle Skiers Shine In Utah As Kaillie Humphries Claims Historic Bobsled Win And More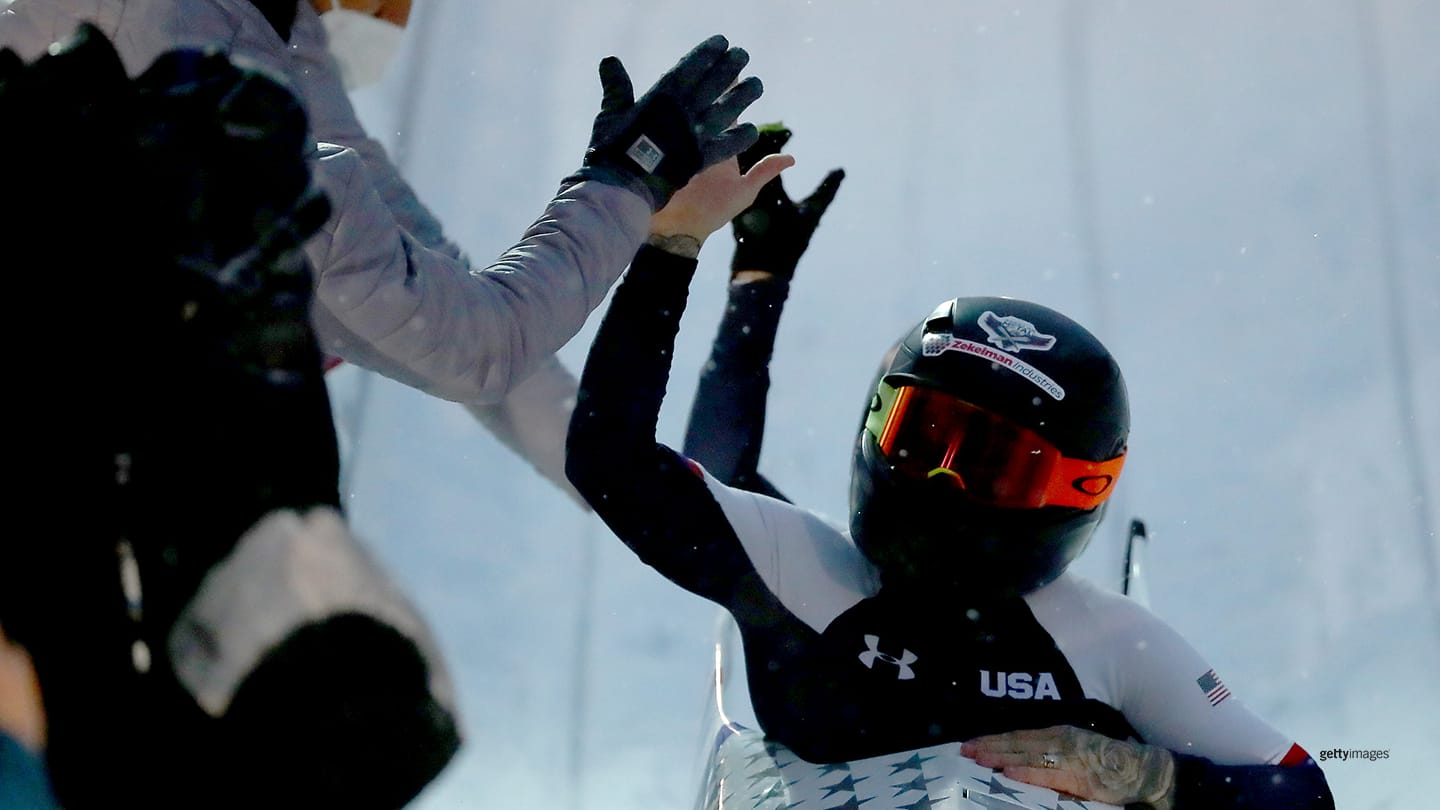 Kaillie Humphries and Lolo Jones celebrate after winning the gold medal during the IBSF World Championships 2021 Altenberg 2-Woman Bobsled competition at the Eiskanal Altenberg on Feb. 6, 2021 in Altenberg, Germany.
Another weekend, another big performance for the U.S. aerials team.


After rolling through Europe and picking up 10 podium finishes over the last three weeks, the Americans were at home this weekend competing on the White Owl site at Deer Valley in Utah, and this time it was Justin Schoenefeld who came away with a second-place finish on the men's side, while teammates Winter Vinecki and Kaila Kuhn finished second and third, respectively, in the women's contest.


Schoenefeld's podium finish was the second of his career in an individual event, and his first this season. Vinecki and Kuhn, meanwhile, continued breakout seasons. The 22-year-old Vinecki reached the world cup podium for the first time last month when she won the competition in Moscow, and she's now reached the podium in each of her last three competitions. Seventeen-year-old Kuhn also recorded her first podium finishes this season, having taken third last month in Yaroslavl, Russia, before repeating that today.


Earlier in the competition, Kai Owens went from posting a career-best fourth-place finish in Thursday's moguls event to leading a U.S. sweep in the non-Olympic dual moguls event on Friday, with Hannah Soar and Tess Johnson taking second and third. The result marked the first world cup win for the 16-year-old Owens. Dylan Walczyk was the top U.S. man in moguls, finishing seventh, while three U.S. men were among the final eight in dual moguls.

Bobsled

Kaillie Humphries made history in the two-woman bobsled Saturday, becoming the first to claim four world titles in the event. Her push athlete, Lolo Jones, had quite the day too. The two-time indoor hurdles world champion won her second bobsled world title and her first in an Olympic event.


Humphries and Jones partnered for the first time last week and won a world cup race in Igls, Austria. They kept it up this weekend in Altenberg, Germany, posting the fastest time in three of the four heats between Friday and Saturday to win by .29 of a second. Elana Meyers Taylor and Sylvia Hoffman were just behind in sixth.


Humphries won two of her world titles (and two Olympic gold medals) while competing for Canada. She joined the U.S. team last year and promptly won a third world title. Jones is a two-time Olympian in the 100-meter hurdles.

Cross-Country Skiing

Jessie Diggins added to her lead in the world cup standings with a third-place finish in Saturday's freestyle sprint event in Ulricehamn, Sweden, marking her ninth podium finish so far this season. Racing on a fast, flat course in southern Sweden, Diggins led wire to wire in her semifinal heat but then qualified for the final as a "lucky loser" after finishing fourth in her semi. The Minnesota native powered into the third position over the last 500 meters of the final. Three U.S. men reached the quarterfinal round.


Competition wrapped up Sunday with team sprints, the event Diggins won with Kikkan Randall in 2018 to claim Team USA's first Olympic gold medal in the sport. This time Diggins partnered with Sadie Maubet Bjornsen to finish fourth in the women's race. Simi Hamilton and Kevin Bolger raced to a sixth-place finish in the men's event.


Diggins now leads the overall world cup standings with 1,246 points, with Russia's Yulia Stupak (904) second and U.S. teammate Rosie Brennan (879) third.

Alpine Skiing

Travis Ganong led all U.S. skiers by finishing 12th in a super-G Saturday in Garmisch-Partenkirchen, Germany. The alpine team moved on to the world championships this week in Cortina d'Ampezzo, Italy.

Luge

Chris Mazdzer wrapped up the luge world cup season on Saturday by finishing ninth with Jayson Terdiman in the doubles race and then taking 14th in the singles race in St. Moritz, Switzerland. Mazdzer, an Olympic silver medalist, led all U.S. singles sliders, with Tucker West 17th and Jonny Gustafson 21st in the men's race. In the women's race Sunday, Summer Britcher finished 15th, while Emily Sweeney was 18th. Ashley Farquharson and Brittney Arndt took 24th and 26th, respectively. The team relay that was to end the event had to be canceled due to heavy snowfall.

Alpine Snowboarding

Seventeen-year-old Iris Pflum was the top American woman this weekend in Bannoye, Russia, trading 29th in Saturday's parallel giant slalom and then 25th in Sunday's parallel slalom. Both set or tied a career best. On Sunday, Cody Winters led the U.S. men in parallel slalom, finishing a career-best 20th, while Robert Burns was 32nd in Saturday's parallel giant slalom.

Nordic Combined

Taylor Fletcher and Ben Loomis represented the U.S. at the world cup in Klingenthal, Germany, with Fletcher taking 38th in Saturday's Gundersen large hill and 10-kilometer competition and 37th in the same event Sunday. Loomis was 44th Saturday but did not start Sunday.

Ski Jumping

Logan Sankey was the lone American at the women's ski jump world cup Saturday in Hinzenbach, Austria, finishing 34th. The result marked a career best for the 2016 Youth Olympian in an individual event.
Chrös McDougall has covered the Olympic and Paralympic movement for TeamUSA.org since 2009 on behalf of
Red Line Editorial, Inc.
He is based in Minneapolis-St. Paul.