Brittany Bowe Races To 1,000-Meter Bronze, Her First Individual Medal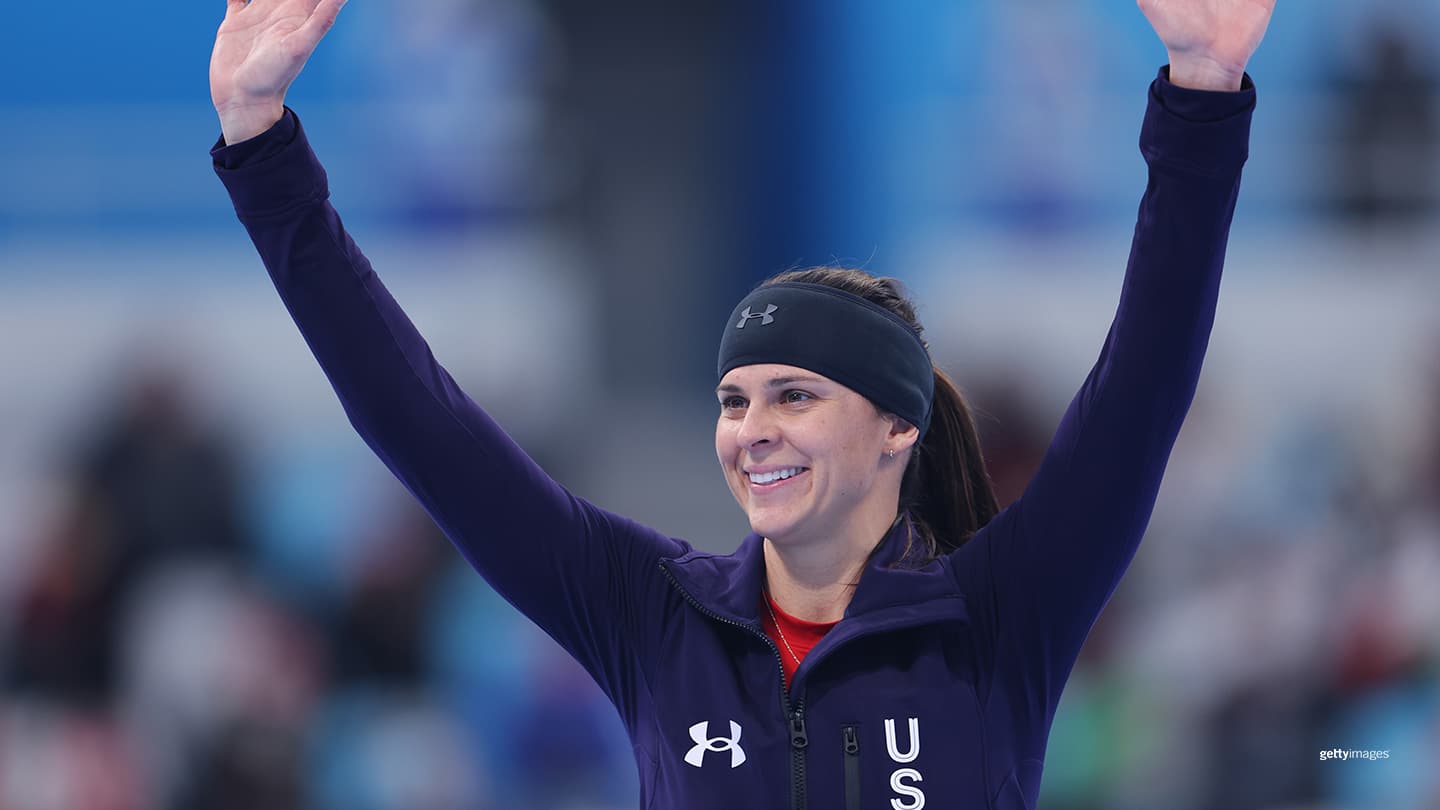 Brittany Bowe celebrates during the women's 1000-meter flower ceremony at the Olympic Winter Games Beijing 2022 on Feb. 17, 2022 in Beijing.
Days after her selfless act helped produce a gold medal for her American teammate, Erin Jackson, Brittany Bowe finally collected a piece of individual Olympic hardware for herself Thursday.

A week shy of her 34th birthday, the three-time Olympian from Ocala, Florida, won the bronze medal in the women's long track speedskating 1,000-meter event at the National Speed Skating Oval in Beijing. Bowe became the first American woman to medal in the event since Chris Witty won gold in 2002 and tied Atje Keulen-Deelstra of the Netherlands as the oldest woman to reach the podium in the event. Keulen-Deelstra did so 50 years ago in 1972.

Bowe, the reigning world champion who also holds the world record of 1 minute, 11.61 seconds in the event, crossed the finish line in 1:14.61 to place third. Miho Takagi of Japan claimed the gold medal with a new Olympic record of 1:13.19. The Netherlands' Jutta Leerdam won the silver medal in 1:13.83.

Kimi Goetz of Flemington, New Jersey, placed seventh in the 1,000, posting a time of 1:15.40.

Skating in the last of 15 pairs with Daria Kachanova of the Russian Olympic Committee, Bowe tied the fastest time of the day — 17.60 seconds — at the 200-meter mark but couldn't match Takagi's impressive speed at the end. The medal was Takagi's fourth of the Beijing Games.

"I got off to a great start, really strong and fast, but my lap speed just hasn't been there," Bowe said. "Miho Takagi is skating out of her mind, and I was gunning for that time, but it didn't happen. I was going for gold, but I'll probably take the bronze. I'm proud of the performance."
Third #WinterOlympics, first individual Olympic medal.

It's a bronze for @BrittanyBowe in the women's 1000m! pic.twitter.com/epIlenYe1l


— Team USA (@TeamUSA) February 17, 2022
It was the second Olympic bronze medal for Bowe, who had also won one in the team pursuit at PyeongChang four years ago, but her first individual medal at a Games. A four-time world champion, Bowe has won three world titles at the 1,000-meter distance.

"I was going for gold today, but if I take a step back and a deep breath for a moment, I'm honored and blessed to take home a medal," Bowe said.

It would seem that karma rewarded Bowe after she notably gave up her spot in the 500-meters to teammate and fellow Ocalan Erin Jackson, who had slipped in the Olympic trials and failed to qualify. Bowe eventually earned a spot to compete in the event after another country was unable to fill its quota. She finished 16th. Jackson, meanwhile, went on to win the gold, becoming the first Black woman to win an Olympic gold medal in speedskating.

"You are a mentor. A friend. A teammate. A sister," Jackson said in an Instagram post prior to the race. "Thank you for playing a huge part in my journey to gold, @brittanybowe."

Bowe, a former college basketball player, said she appreciated all the support she has gotten during her speedskating career.

"I've got a ton of emotions — honored, blessed, happy," Bowe said. "Words can't describe it. Thanks to the countless number of people encouraging me. It means so much. It's been quite the journey.

"Everyone pushed me to the line to bring home that bronze."
Want to follow Team USA athletes during the Olympic Games Beijing 2022? Visit TeamUSA.org/Beijing-2022-Olympic-Games to view the competition schedule, medal table and results.
Bob Reinert spent 17 years writing sports for The Boston Globe. He also served as a sports information director at Saint Anselm College and Phillips Exeter Academy. He is a contributor to TeamUSA.org on behalf of
Red Line Editorial, Inc.