A Long Journey Has Taken Long Track Skaters Emery Lehman, Ethan Cepuran To The Top Of The Sport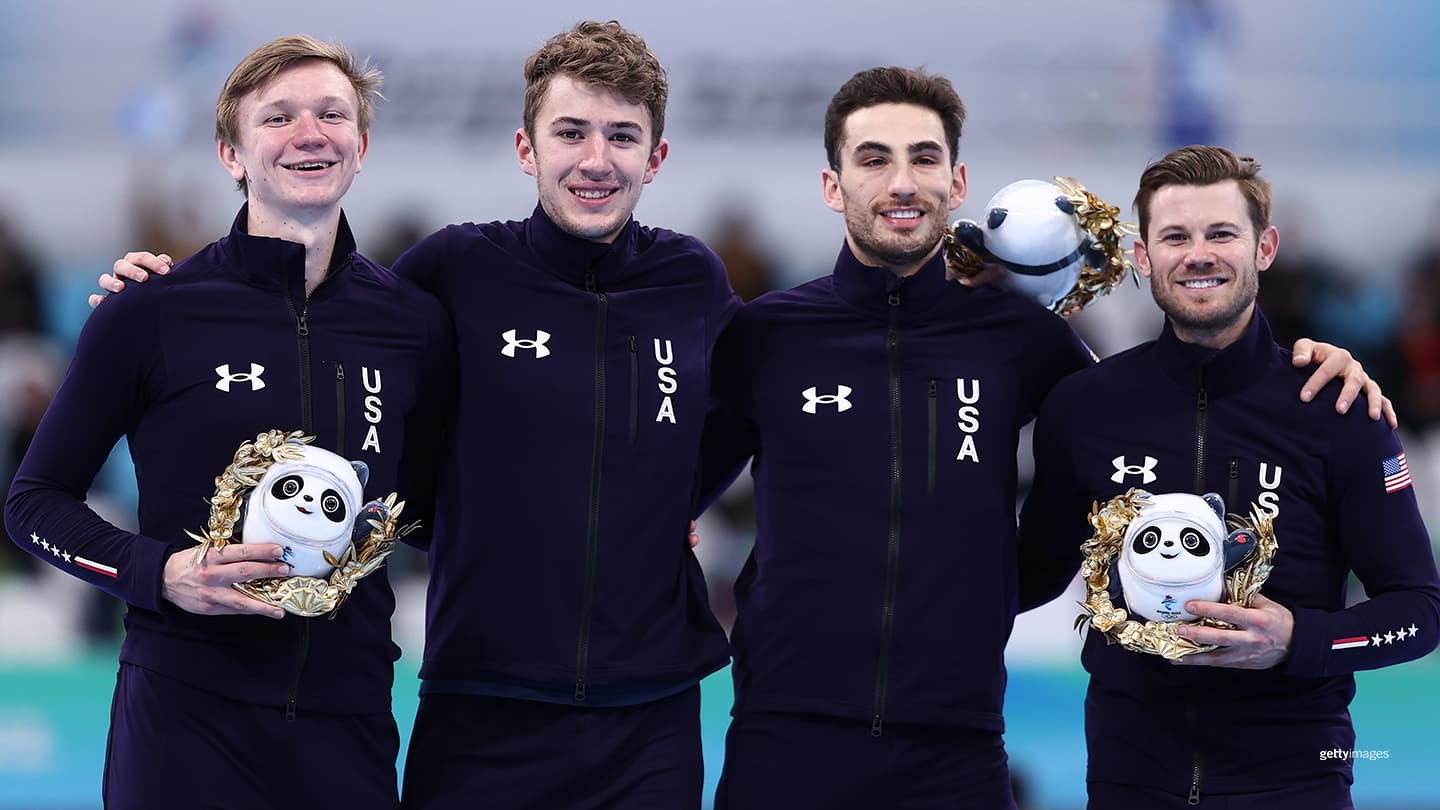 (L-R) Ethan Cepuran, Casey Dawson, Emery Lehman and Joey Mantia pose during the flower ceremony of the men's team pursuit finals at the Olympic Winter Games Beijing 2022 on Feb. 15, 2022 in Beijing.
Ethan Cepuran and Emery Lehman were just kids in a van headed to Milwaukee for speedskating competitions.

It was a slice of life for a pair of skaters who grew up just miles from each other in the suburban shadows of Chicago and eventually became U.S. Olympic teammates. And now it draws a proud laugh from both.

"Ethan was definitely the cute, little goofy kid," recalled Lehman, a three-time Olympian who is entering another Olympic quad this fall with the U.S. Speedskating long track world cup team. "I was definitely the cute, little goofy kid in someone else's eyes, too."

"Carpooling up to Milwaukee was always a big thing," Cepuran said.

Last February at the Olympic Winter Games Beijing 2022, the childhood friends not only won their first Olympic medals, but they did so together in the team pursuit, helping the U.S. take the bronze. There they were, two kids from Chicago with medals around their necks waving for TV cameras beaming the moment back to Illinois.

"It was something that was really cool," said Lehman, who grew up in Oak Park, which is just a few miles west of downtown Chicago and about 20 miles east of Cepuran's home in Glen Ellyn. "His brother (Eric) coached me and his dad used to drive me up to the Pettit Center (in Milwaukee) when I was younger.

"We've known our families and each other. We've known each other for quite some time now. It was definitely really cool, really fun having him on the teams."

And for Cepuran, Lehman was clearly the older family friend setting the target.

"He's always somebody that I could look up to and be like, 'Wow, he's doing that? Like that's crazy,'" Cepuran said. "I remember watching him in like 2013 at junior worlds. I barely knew what junior worlds was. He won the 5K. I was just star struck."

Lehman was just 17 years old and a student at Oak Park High School when he made the 2014 U.S. Olympic Team and was the youngest skater on the long track squad. Now he is one of the oldest.

"Not until now, in my old age of 26, did I realize that there's younger kids than me now and they're coming up," Lehman said. "For the longest time, I was that young kid coming up. I was the youngest kid on the Sochi Olympic team, I was the youngest kid in the Korea Olympic Games. To not be the youngest in Beijing was definitely a little odd."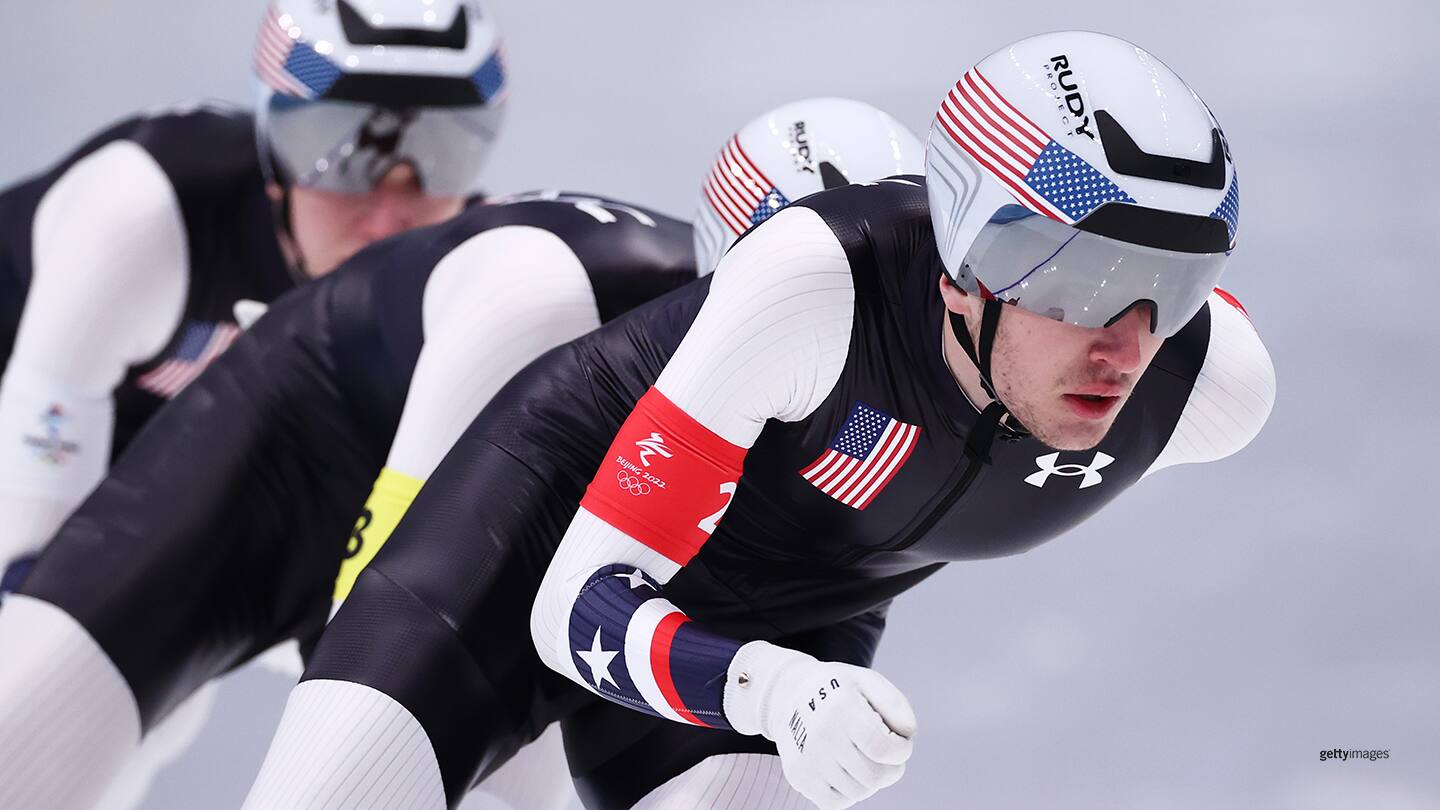 Casey Dawson competes during the men's team pursuit semifinals at the Olympic Winter Games Beijing 2022 on Feb. 15, 2022 in Beijing
Lehman and Cepuran are among 10 Olympians on the 15-member U.S. fall world cup team, which begins the season this weekend in Stavanger, Norway.

"I can still see so many ways to improve," said the 22-year-old Cepuran, who made his Olympic debut in Beijing and won the 5,000-meter race at the U.S. fall qualifier in Kearns, Utah. "That's kind of what I focused on with summer training this year. I think it really helps my skating not kick off, but stay at a similar level the last year."

While the women's team includes the proven skills of Brittany Bowe, a former women's college basketball player who has competed in three Olympic Winter Games and won four world championships, and Olympic 500-meter champion Erin Jackson, the squad's versatility is reflected by Greta Myers, a teen skater from Minnesota, and Sarah Warren, a former soccer player at the University of Illinois and a 2012 Youth Olympian in speedskating.

Among those young up-and-comers on the men's squad that Lehman alluded to is Jordan Stolz, who made his Olympic debut earlier this year and set a junior world record among his five wins in the world cup qualifier in October. His junior world record came in the 1,000.

Austin Kleba and Casey Dawson also made their Olympic debuts in Beijing, with Dawson joining Lehman, Cepuran and Joey Mantia in team pursuit to win a bronze medal. Dawson won the 10,000 at the fall qualifier and was second to Cepuran at 5,000 meters. Kleba had second- and third-place finishes in the 500.

Also on the men's squad are Conor McDermott-Mostowy, who won three medals at the 2021 national championships, and Cooper McLeod, a four-time junior national record-holder who made the world cup team for the first time.

Bowe, a two-time Olympic medalist and a flag bearer this year in Beijing, has been a medals machine in her decade competing internationally after transitioning from wheels to blades, especially in her signature 1,000-meter event. In addition to a boatload of world cup medals, she also won the Olympic bronze medal in the event in Beijing.

Jackson, the first Black woman to win an individual medal at the Winter Olympics, has emerged as the world's best at 500 meters after winning Olympic and world cup titles earlier this year. She and Bowe finished one-two in the fall team qualifier.

Mia Manganello Kilburg, another two-time Olympian, had four wins in the fall qualifier and Kimi Goetz, a 2022 Olympian, had wins at 500, 1,000 and 1,500 meters. Another 2022 Olympian on the world cup squad is Giorgia Birkeland, who finished second to Manganello Killburg in two mass starts at the qualifier.

Also on the women's team are Myers, Warren and McKenzie Browne, an eight-time national champion in in-line skating who finished sixth in the 500 and eighth in the 1,000 at the U.S. Olympic Team Trials.

After the season opener in Stavanger, the world cup tour heads to Heerenveen, Netherlands on Nov. 18-20, and has four additional stops through February. The Four Continents Speed Skating Championships will be held in Quebec in December. The world championships are March 2-5 back in Heerenveen.
Paul D. Bowker has been writing about Olympic sports since 1996, when he was an assistant bureau chief in Atlanta. He is a freelance contributor to USSpeedskating.org on behalf of
Red Line Editorial, Inc.