After Hot Start In World Cup, U.S. Long Track Skaters In Fine Form Heading Into Trials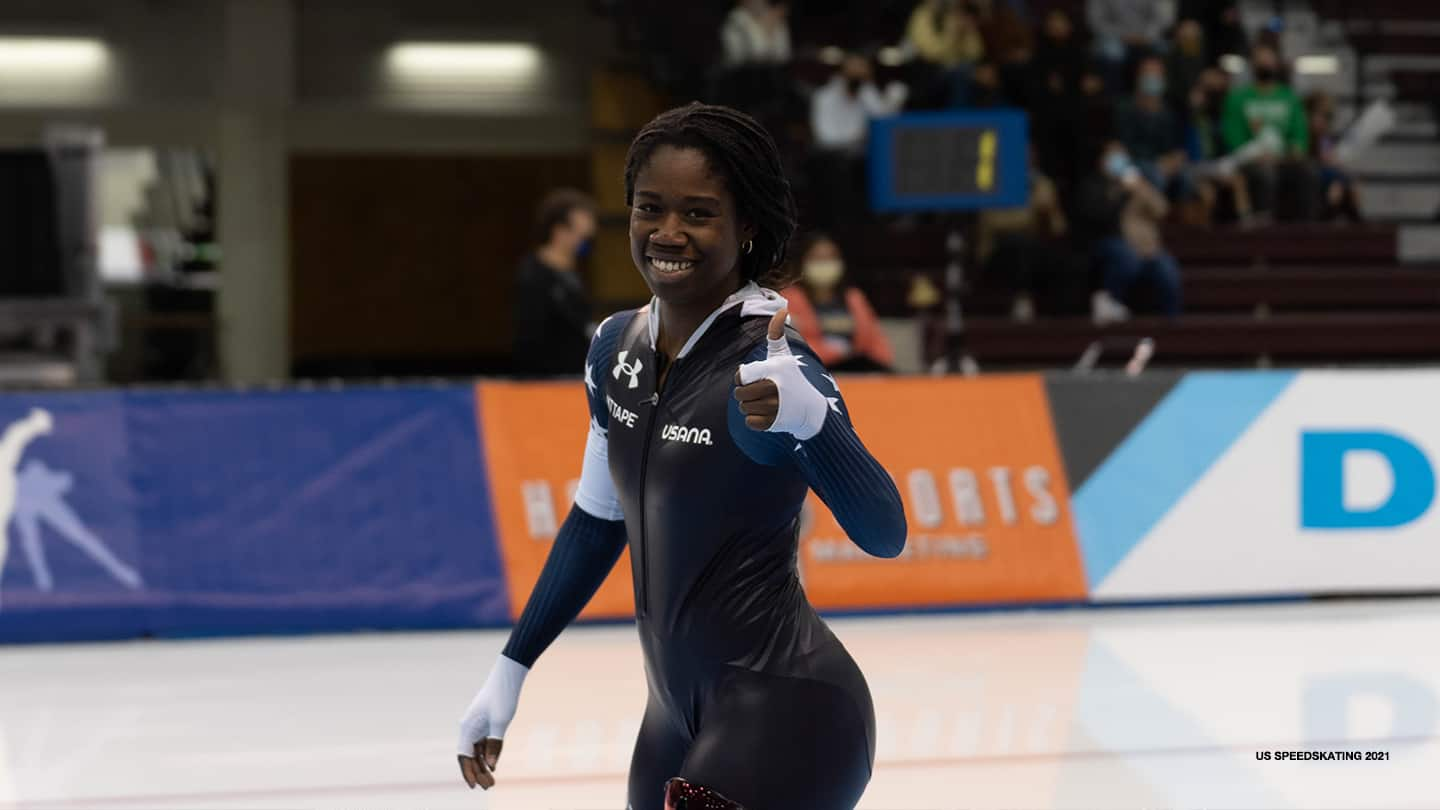 Erin Jackson competes at the ISU World Cup Long Track on Dec. 3, 2021 in Salt Lake City, Utah.
If the fall world cup season is any indication, the U.S. long track speedskating team is rounding into form and could make some serious noise at the Olympic Winter Games Beijing 2022.

At the fourth and final fall event this past weekend in Calgary, Americans produced six medals and two junior world records. Their performances pleased long track program director Matt Kooreman, who singled out Erin Jackson, Brittany Bowe and Joey Mantia, all of Ocala, Florida, which has become an unlikely hotbed for the sport.

"It's good momentum for us going forward," Kooreman told US Speedskating. "I don't think anyone had a perfect race either, and I know all three of them have things that they've identified from that race that they can do better.

"I think it's a good way to end where you see success, but you also know you can do better. I think that will drive them going forward to the Games."

With a few weeks to go before the U.S. Olympic Team Trials kick off Jan. 5 in Milwaukee, here's where things stand for some of Team USA's top Beijing hopefuls.


No one has made bigger strides this year than Jackson, who burst onto the scene in 2017, became the first Black woman to make the U.S. Olympic long track team and placed 24th in the 500 in her Olympic debut in 2018.
She's been steadily improving in the years since, then took a huge leap this season. Jackson, 29, began the season by becoming the first Black American woman to win a speedskating world cup race, collecting gold medals in both 500 races in the first world cup event in Tomaszów Mazowiecki, Poland. She followed that up by earning a gold medal and a silver medal the following weekend in Stavanger, Norway.
Then Jackson returned to American soil to claim her fourth gold medal of the season in the 500 at the Utah Olympic Oval. In the process, she set a personal best and broke the national record with a time of 36.809 seconds.
Rounding out the fall season in Calgary, Jackson collected a bronze medal in the 500 to give her four gold medals, a silver medal, and a bronze medal for the season. It's little surprise that Jackson leads the world cup standings for the 500-meter event.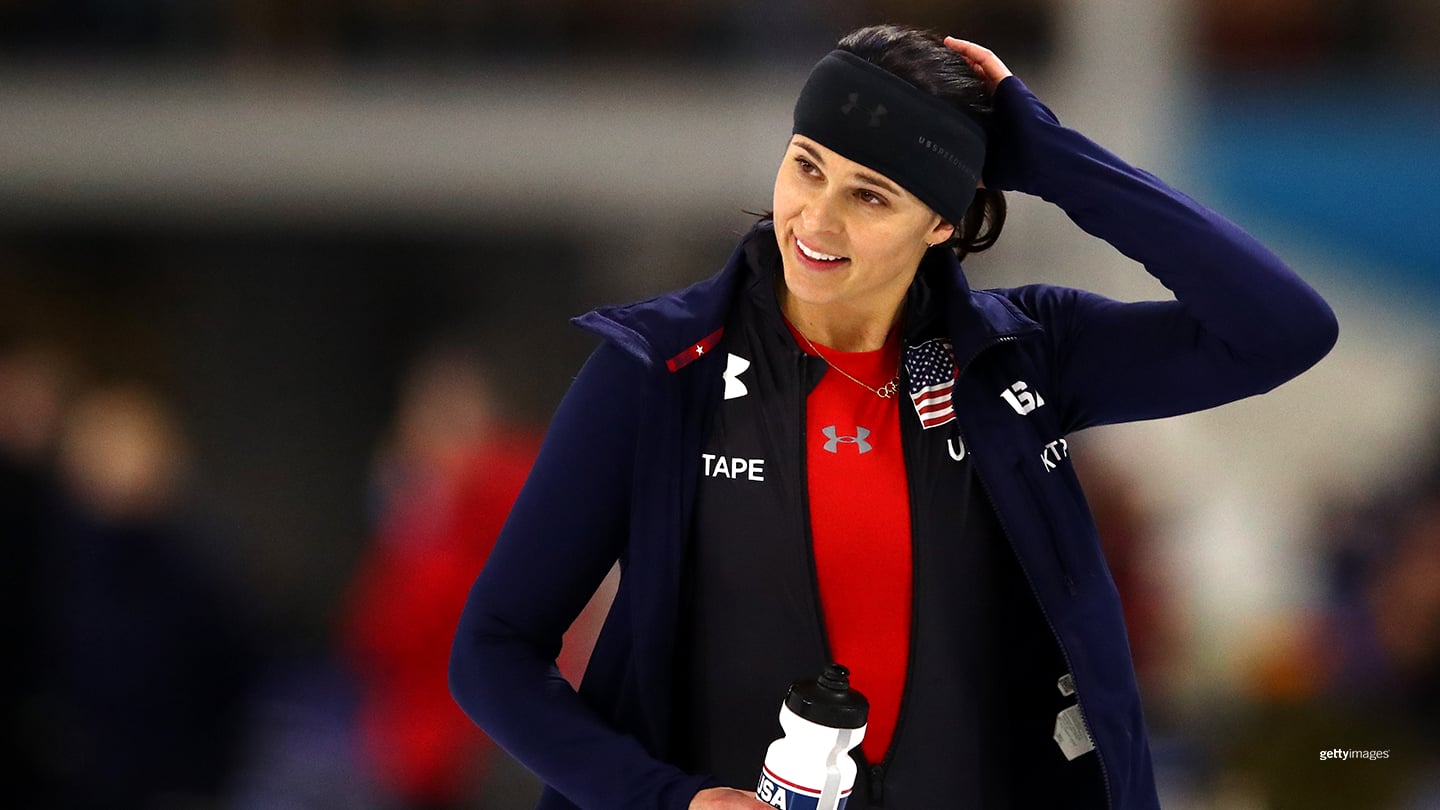 Brittany Bowe celebrates after competing in the women's 1000 meter during the ISU World Speed Skating Championships on Feb. 13, 2021 in Heerenveen, Netherlands.
The longtime standard bearer for the U.S. women's program, Bowe is a two-time Olympian, 2018 bronze medalist and multi-time world champion. Now 33, she's shown this season she still has it.
After closing out the fall season with a gold medal in the 1,500 meters and a silver medal in the 1,000 in Calgary, she upped her season tally to six medals. The world-record holder in the 1,000, Bowe now leads the world cup standings at that distance while ranking second in the 1,500.
"It feels really good to end the World Cup 4 with a win," Bowe told US Speedskating. "I started out the season really strong and then had some shortcomings in Salt Lake and a silver yesterday and gold today. It's nice to leave Calgary with a smile on my face and really determined to get back to work. My eyes are set on gold in Beijing."
The 35-year-old Mantia is showing no signs of slowing down either. Coming off his third world title in the mass start last year, he has been sharp in claiming three gold medals, a silver and a bronze through the first part of the world cup season.
In addition to two individual wins at 1,500 meters, Mantia joined Emery Lehman and Casey Dawson in winning the men's team pursuit while setting a world record of 3 minutes, 34.47 seconds in Salt Lake City.
Mantia is trying to make his third straight Olympic team and hopes to win the first medal in long track speedskating by a U.S. man since 2010. He narrowly missed in 2018, placing fourth in the 1,000 meters.
"Being on the top or being on the podium this close to the Games is definitely reassuring," Mantia, who is ranked No. 1 in the world at 1,500 meters, said. "I would say it's important for me not to get complacent and not start letting off the pedal because now I think I've got it and I've just got to maintain to the Olympics.
"I think there's still a lot of growth to be had and a lot of work to be done to fine tune and get even better between now and the Games."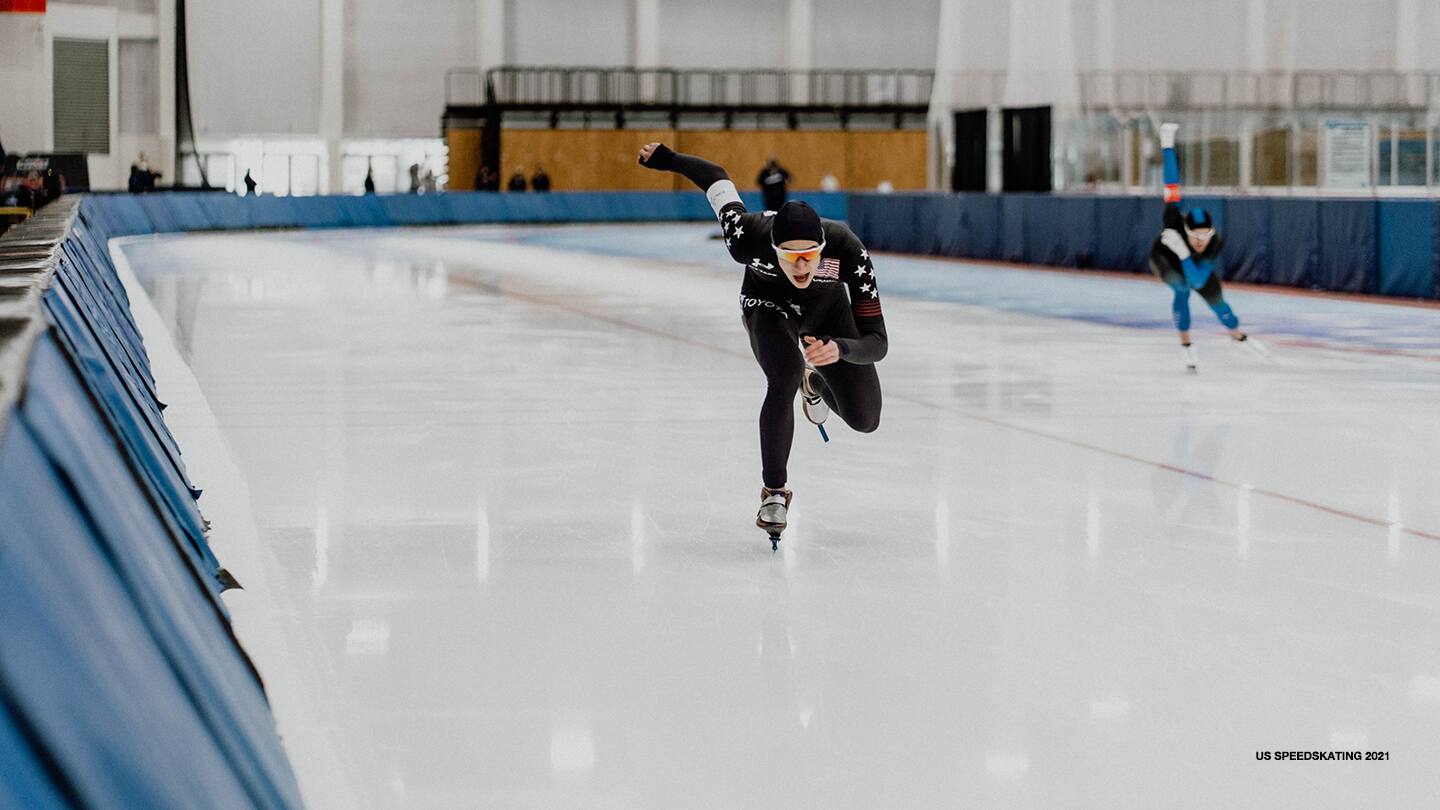 Jordan Stolz competes in the men's 500 meters during the Long Track Fall World Cup Qualifiers on Oct. 22, 2021 in Salt Lake City, Utah.
Stolz, 17, signaled this fall that he will be a future American star.
On Dec. 10, he raced to a new junior world record in the 500 meters in Calgary, clocking in at 34.110 seconds to place seventh. Two days later in the 1,000, he did even better — setting another junior world record of 1:06.968 while also reaching the world cup podium for the first time, taking second.
Though Goetz hasn't reached a podium yet this season, the 27-year-old from Flemington, New Jersey, has been knocking on the door, with five top-10 finishes. Goetz, who placed fifth in both the 500 and 1,000 at the 2020 world championships, ranks ninth in the 1,000 standings and 12th at 500.
Veteran Kilburg-Manganello, who won Olympic bronze as part of the team pursuit in 2018, continues to churn out the solid results. The 33-year-old from Crestview, Florida, has shown the best so far in mass start, where she ranks fifth, but she's also among the top 30 in the 1,500 and long distances standings.
Lehman and Dawson joined up with Mantia for the record-setting team pursuit, but they're hardly one-hit wonders. The duo teamed up with Ethan Cepuran to win another team pursuit title in Calgary. Meanwhile, Lehman is 15th in the 1,500 standings and Dawson is 16th in long distances.
Ian Quinn leads all U.S. men—including Mantia—with a sixth-place ranking in the men's mass start standings, while Dessie Weigel is 18th on the women's side.
Bob Reinert spent 17 years writing sports for The Boston Globe. He also served as a sports information director at Saint Anselm College and Phillips Exeter Academy. He is a contributor to TeamUSA.org on behalf of
Red Line Editorial, Inc.