Speedskater Brittany Bowe Charges Way to 1,500-meter Gold at World Cup Stop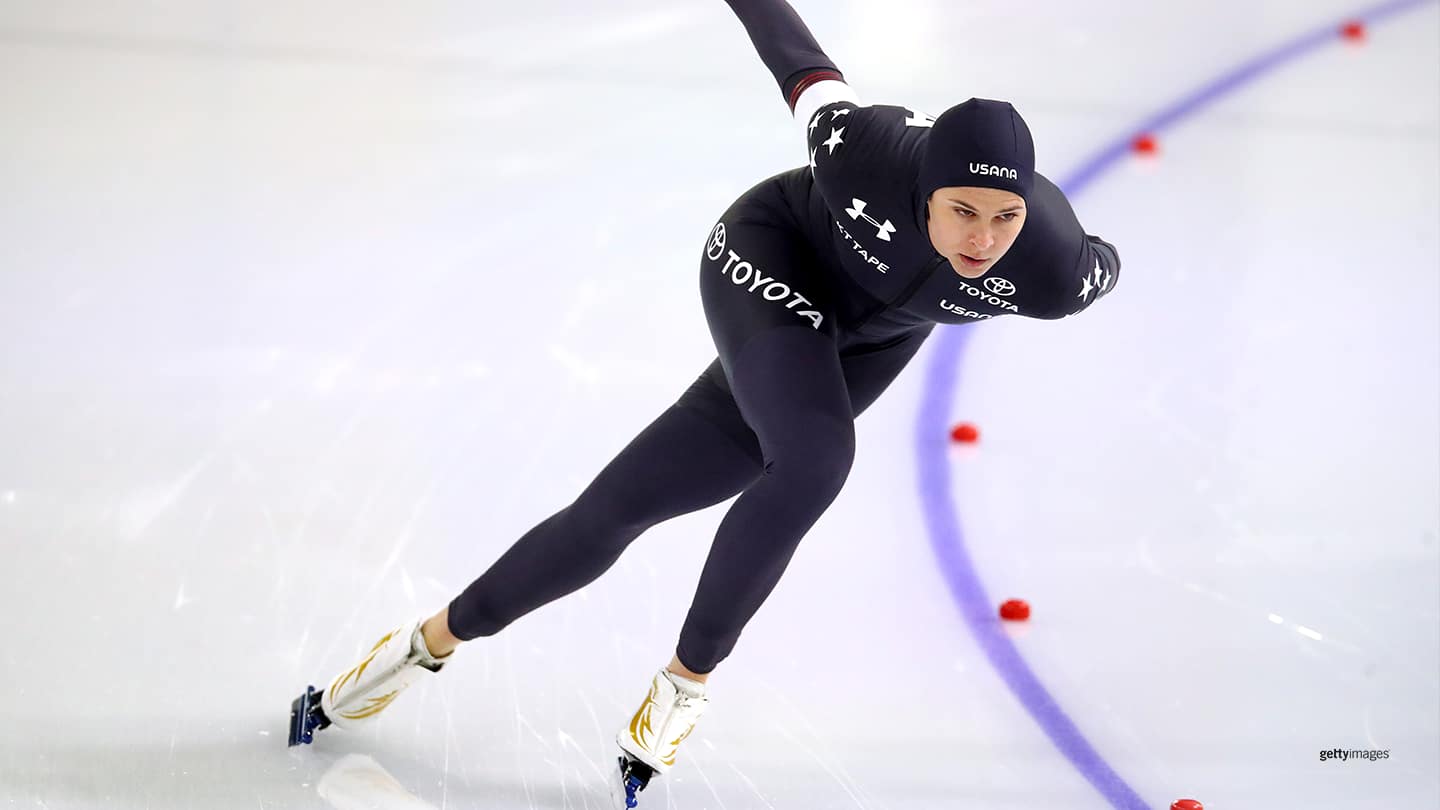 Brittany Bowe competes in the 1500m at the ISU World Speed Skating Championships at Thialf Arena on Feb. 14, 2021 in Heerenveen, Netherlands.
You could call it Brittany Bowe's personal Calgary Stampede.

Bowe won a pair of medals — one gold, one silver — as Team USA turned in an impressive world cup performance this weekend on the fast ice in Calgary, Alberta, Canada.

Bowe collected her second medal of the weekend when she struck gold Sunday in the women's 1,500 meters. After Nana Takagi of Japan laid down a personal-best time of 1 minute, 52.063 seconds, Bowe rose to the challenge in the eighth pairing of the day.

Bowe posted the best time in each of the four splits to cross the finish line in 1:52.054 to squeeze past Takagi, who picked up the silver medal. Japan's Ayano Sato, who skated in Bowe's pairing, won the bronze medal in 1:52.193. Sato leads the world cup standings with 188 points, followed by Bowe with 184 and Takagi with 180.

Bowe's gold followed a silver on Saturday as she was edged by Japan's Nao Kodaira in the 1,000. Bowe, who holds the world record, had a time of 1:12.543, just 0.03 seconds behind Koaira. Bowe still leads the world cup standings in the 1,000 with 222 points. Kodaira is second with 192.

A week after setting the world record of 3:34.47 in the men's team pursuit on home ice in Salt Lake City, Team USA hammered its way to the finish during the bell lap to win Sunday in 3:35.592. The absence of record-setting team member Joey Mantia didn't seem to matter as Emery Lehman, Casey Dawson and Ethan Cepuran worked seamlessly in Calgary. Norway took the silver in 3:36.242.

In addition to the gold medal, the U.S. finished atop the season standings in team pursuit with 312 points. Norway was second with 302 and Canada third at 284.

In the men's 1,000 meters Sunday, 17-year-old American Jordan Stolz set a new personal best of 1:06.968 to take the silver medal behind China's Ning Zhongyan, who set a personal best of 1:06.656. In taking the bronze medal, Russia's Viktor Mushtakov also established a personal best of 1:06.988.

Erin Jackson won the bronze medal in Saturday's women's 500. Jackson turned in a time of 36.921 seconds, 0.25 second off the winning time of Russia's Angelina Golikova. Japan's Nao Kodaira took the silver in 36.764. Jackson and Golikova are 1-2 in the world cup standings with 420 and 404 points, respectively.
Bob Reinert spent 17 years writing sports for The Boston Globe. He also served as a sports information director at Saint Anselm College and Phillips Exeter Academy. He is a contributor to TeamUSA.org on behalf of Red Line Editorial, Inc.