What To Watch For At This Weekend's Long Track Trials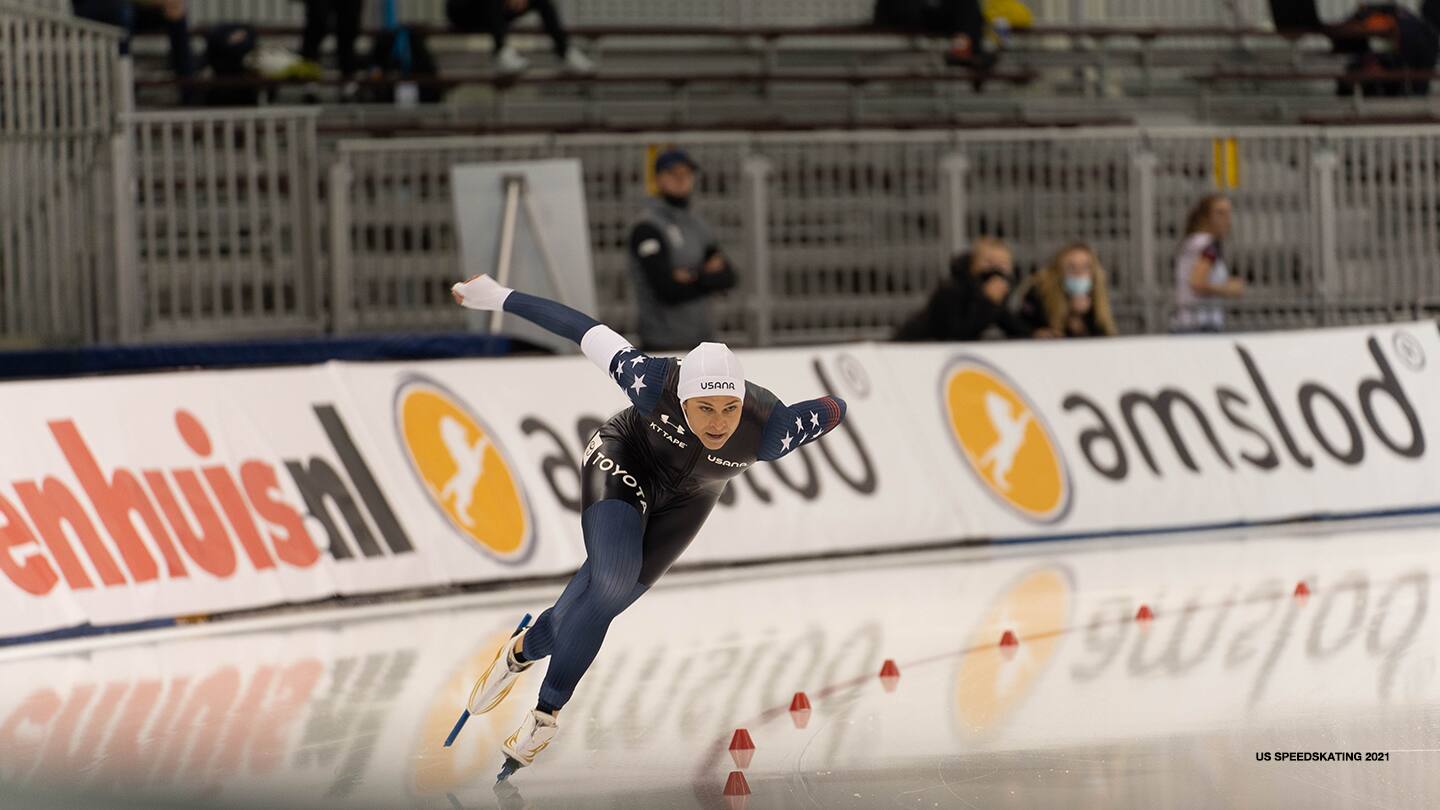 Brittany Bowe competes in the women's 1500 meter event during the ISU World Cup Speed Skating on Dec. 5, 2021 in Salt Lake City, Utah. Photo courtesy of US Speedskating.
The Olympic season got off to a fast start for some members of the U.S. long track speedskating team, and the stakes only heat up as the U.S. Olympic Team Trials for Long Track Speedskating begin Wednesday, Jan 5. in Milwaukee.

With eight to 12 spots available on the team that will compete at the Olympic Winter Games Beijing 2022, competition will be fierce at the Pettit National Ice Center. Each day will feature men's and women's racing at a single distance, culminating with the mass start on Sunday.

Based on the world cup results to start the season, several U.S. skaters should have a strong chance at medaling at the Beijing Games. Here's a snapshot of who and what to expect from the athletes at the trials.
Who knew a Central Florida town would be the birthplace of the three top U.S. speedskaters? More recognized for its horse breeding and equestrian training, Ocala is quickly making a name for its speedskating thanks to Brittany Bowe, Erin Jackson and Joey Mantia.

All three come from very successful careers as inline skaters and have trained under the guidance of Renee Hildebrand. Now they're Team USA three biggest medal hopefuls going into Beijing.

At 33, Bowe is going for her third Olympics, and based on her form so far this season she could be in for her best Olympic performance yet.

She finished off the year with a gold medal in the 1,500-meter and a silver medal in the 1,000-meter at the world cup in Calgary, Alberta. The latter is Bowe's specialty event — she's the world-record holder, world cup leader and a three-time world champion in the distance. All that's missing now is an Olympic gold medal. She also comes into Milwaukee ranked second in the 1,500.

Mantia, 35, also shows no signs of slowing down. Like Bowe, he is also on track for making his third Olympics, and he narrowly missed medaling in the 1,000-meter by placing fourth at the 2018 Olympics.

Coming into Milwaukee, Mantia ranks No. 1 in the 1,500-meter. The event to really watch for, though, is the mass start, where Mantia is a three-time world champion.
At 29, Jackson is still a relative newcomer on the U.S. teams. While she had 15 years of inline skating success, Jackson didn't commit to skating on ice until 2017. Her speed quickly made up any surface awkwardness. Four months after committing to full-time skating on ice, Jackson qualified for the 2018 Winter Games in PyeongChang, becoming the first Black American woman named to an Olympic long track team.
Her stunning trajectory has continued after 2018, when she finished 24th in PyeongChang. In her signature event, the 500-meter, she won her first world cup race this season — then added three more.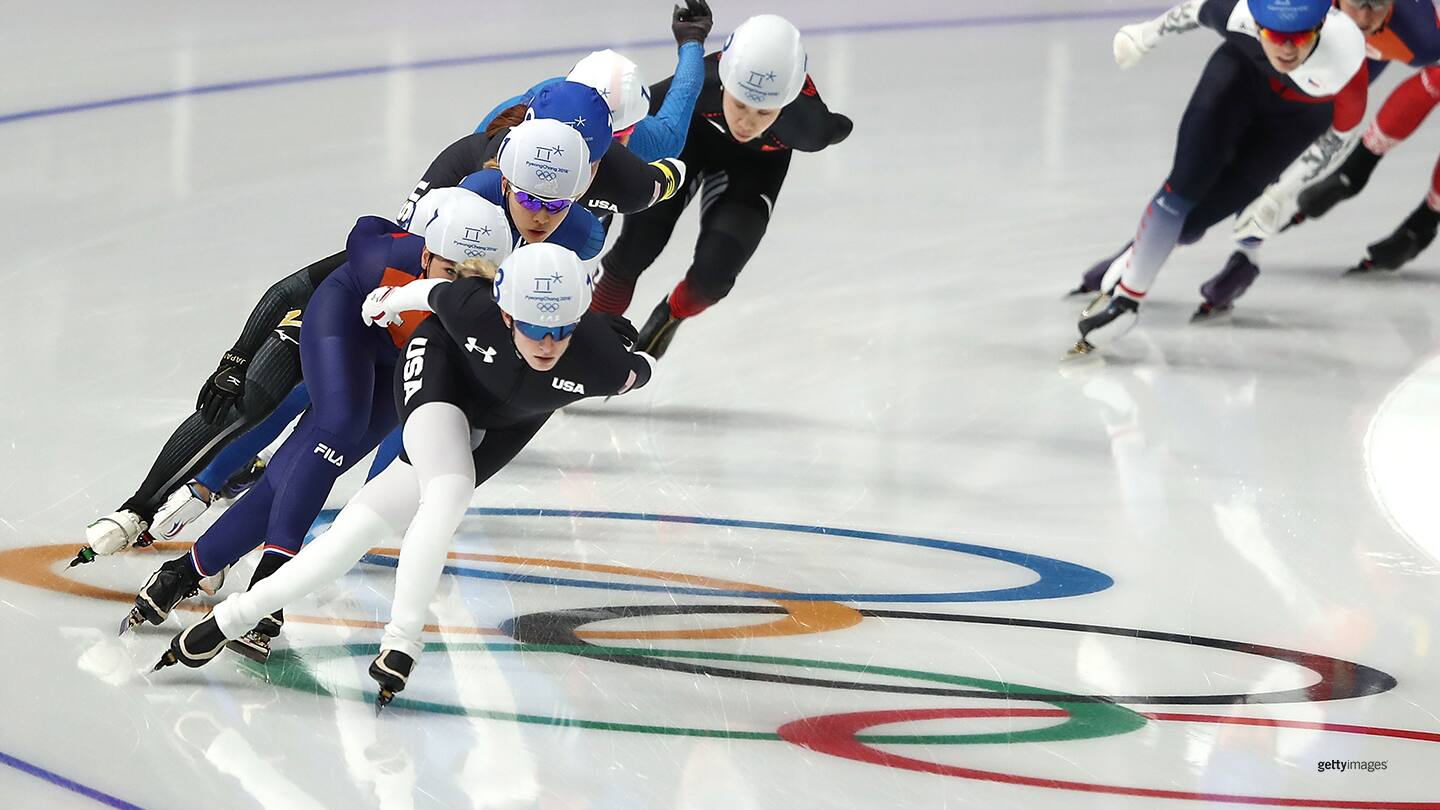 Mia Manganello leads during the women's speed skating mass start final on during the Olympic Winter Games PyeongChang 2018 on Feb. 24, 2018 in Gangneung, South Korea.
The trio from Ocala all appear to be bona fide medal contenders going into Beijing. Should any of them reach the podium, they'd be the first American to do so in an individual long track race since 2010, when Shani Davis won a gold and silver medal, and Chad Hedrick claimed a bronze.

The U.S. has had more success in the team pursuit event in recent years, with the men claiming a silver medal in 2014 and the women's team, which included Bowe, earning a bronze medal in 2018.

Since long track debuted at the first Olympic Winter Games in 1924 — at least for men; women's events weren't added until 1960 — American skaters have won 29 medals, second only to the powerhouse Dutch team that has 42. Team USA is third all-time in total medals with 68, trailing the Netherlands (121) and Norway (84).
The men's team pursuit should go into Beijing as contenders once again. Earlier this season, the trio of Mantia, Emery Lehman and Casey Dawson set a world record while winning in Salt Lake City. With Ethan Cepuran replacing Mantia, the U.S. team won again in Calgary. Those wins helped propel the Americans to the top of the world cup standings. The U.S. women have yet to field an A-team in the world cup and currently rank eighth.
Often described as a roller derby on an Olympic stage, the mass start didn't debut at the Olympics until 2018. It was worth the wait.

Twenty-four finalists line up in six rows. The race can get crowded and chaotic but never dull. An intermediate sprint has been added to the race at the halfway point of the 16 laps. Points are awarded to the winners of the intermediate sprint, a deciding factor in the case of a close finish.

In addition to Mantia, the eyes of U.S. fans should be on Ian Quinn, who's been outstanding in the event this season. The 28-year-old from St. Louis leads all U.S. men in the mass start with a sixth-place ranking. Mantia is two spots behind him.

Mia Manganello Kilburg is an experienced Olympian who was part of the bronze-winning women's team pursuit in the 2018 Olympics. From Crestview, Florida, the 32-year-old has been excellent in the mass start, where she ranks fifth. Not to be overlooked, Dessie Weigel, a 27-year-old from Boise, Idaho, ranks 18th.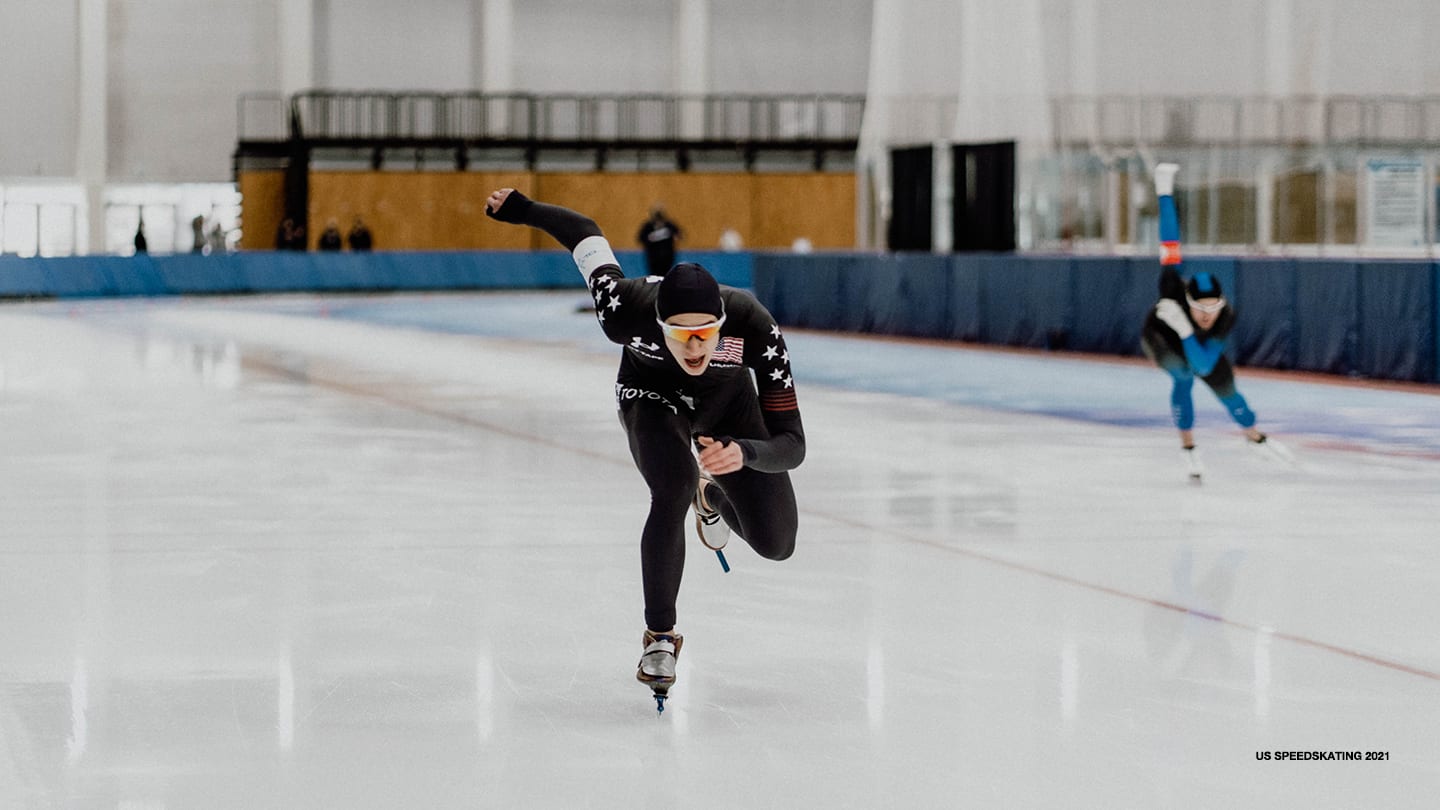 Jordan Stolz competes at the ISU World Cup- Long Track in December 2021 in Salt Lake City, Utah. Photo courtesy of US Speedskating.
If Team USA is to have a breakout star in Beijing, it might just be Jordan Stolz.

Whether it's his graceful efficiency in turning corners or simple supersonic speed, the teenager from Kewaskum, Wisconsin, knows how to race. Unlike many skaters who transfer to the ice from other sports, the 17-year-old started on ice and has never left.

His latest breakthrough came in Calgary, where he broke his own junior world record in the 500-meter while placing seventh, and then broke his junior world record in the 1,000 to finish second and earn his first world cup podium.
Kimi Goetz, a 27-year-old from Flemington, New Jersey, has recorded five top-10 finishes this season. After placing fifth in the 500 and 1,000 at the 2020 world championships, she could be right in the mix in both events in Beijing.

When Lehman isn't training for his third Olympic team, the 25-year-old takes a remote structural engineering course from John Hopkins University. The Chicago native is currently ranked 15th in the 1,500-meter.

Dawson, eyeing his first Olympics, won gold in the 10,000-meter at the 2021 U.S. championships. The 21-year-old is ranked 16th in long distances. The Park City, Utah, native has steadily improved his times since the 2018 trials, becoming more confident and stronger through each world cup.

Cepuran is a former medalist at the junior world championships, winning the mass start silver in 2018. The 21-year-old from Glen Ellyn, Illinois, is trying for his first Olympics.
Kelly Feng is a sports journalist based in Wisconsin. She is a freelance contributor to TeamUSA.org on behalf of
Red Line Editorial, Inc.