McKenzie Browne, Erin Jackson and Kimi Goetz Set American Record In World Cup Team Sprint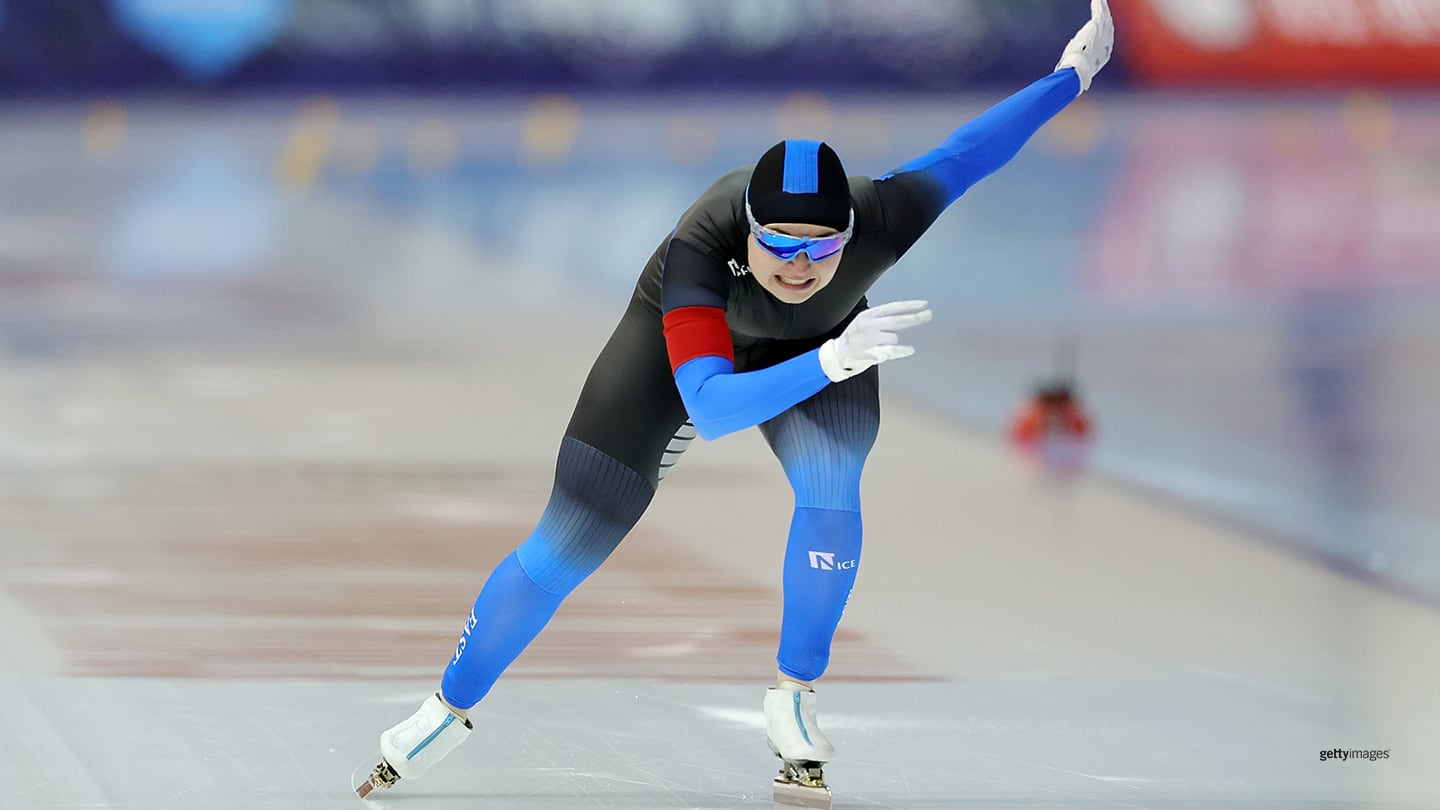 McKenzie Browne competes during the women's 1,000-meter at the 2022 U.S. Speedskating Long Track Olympic Trials on Jan. 6, 2022 in Milwaukee.
McKenzie Browne, Erin Jackson and Kimi Goetz combined to set an American record and were one of two U.S. sprint teams to capture bronze medals at a long track speedskating world cup this weekend in Heerenveen, Netherlands.

Browne, Jackson and Goetz finished Saturday's race in a time of 1 minute, 27.72 seconds and placed third behind the Netherlands and Canada in the non-Olympic women's team sprint. The Dutch are reigning world champions and set the existing world record of 1:24.02 at the Utah Olympic Oval in February 2020.

The Netherlands won with a time of 1:26.57, nearly a second ahead of Canada's 1:27.45.

The record skate by 2022 Olympic gold medalist Jackson, 2022 Olympian Goetz and Browne shattered the U.S. mark of 1:30.47 set last year at the ISU Four Continents Speed Skating Championships by Sarah Warren, Chrysta Rands and Browne.

Jackson, a 30-year-old from Ocala, Florida, who got her start as an inline skater, nearly added a second medal in the 500 meters Sunday. She placed fourth in 37.53 seconds, finishing just .02 seconds behind Jutta Leerdam of the Netherlands.

Austin Kleba, Cooper McLeod and Jordan Stolz posted a time of 1:19.90 to finish third behind China (1:19.55) and Netherlands (1:19.82) in the men's team sprint Sunday. The Americans were just .51 seconds off the national record of 1:19.39 set in 2015.

A week after Stolz became the youngest man to win a long track world cup race at the season opener in Norway in the 1,500, the 18-year-old American missed a podium finish in the 500 by .01 seconds, finishing fourth behind Merijn Scheperkamp of the Netherlands.

The world cup skaters head back to North America for a pair of events, beginning with the Four Continents Speed Skating Championships, Dec. 2-4, in Quebec.
Bob Reinert spent 17 years writing sports for The Boston Globe. He also served as a sports information director at Saint Anselm College and Phillips Exeter Academy. He is a contributor to TeamUSA.org on behalf of
Red Line Editorial, Inc.