Speedskater Jordan Stolz Scores Three Medals, Two Records At Calgary World Cup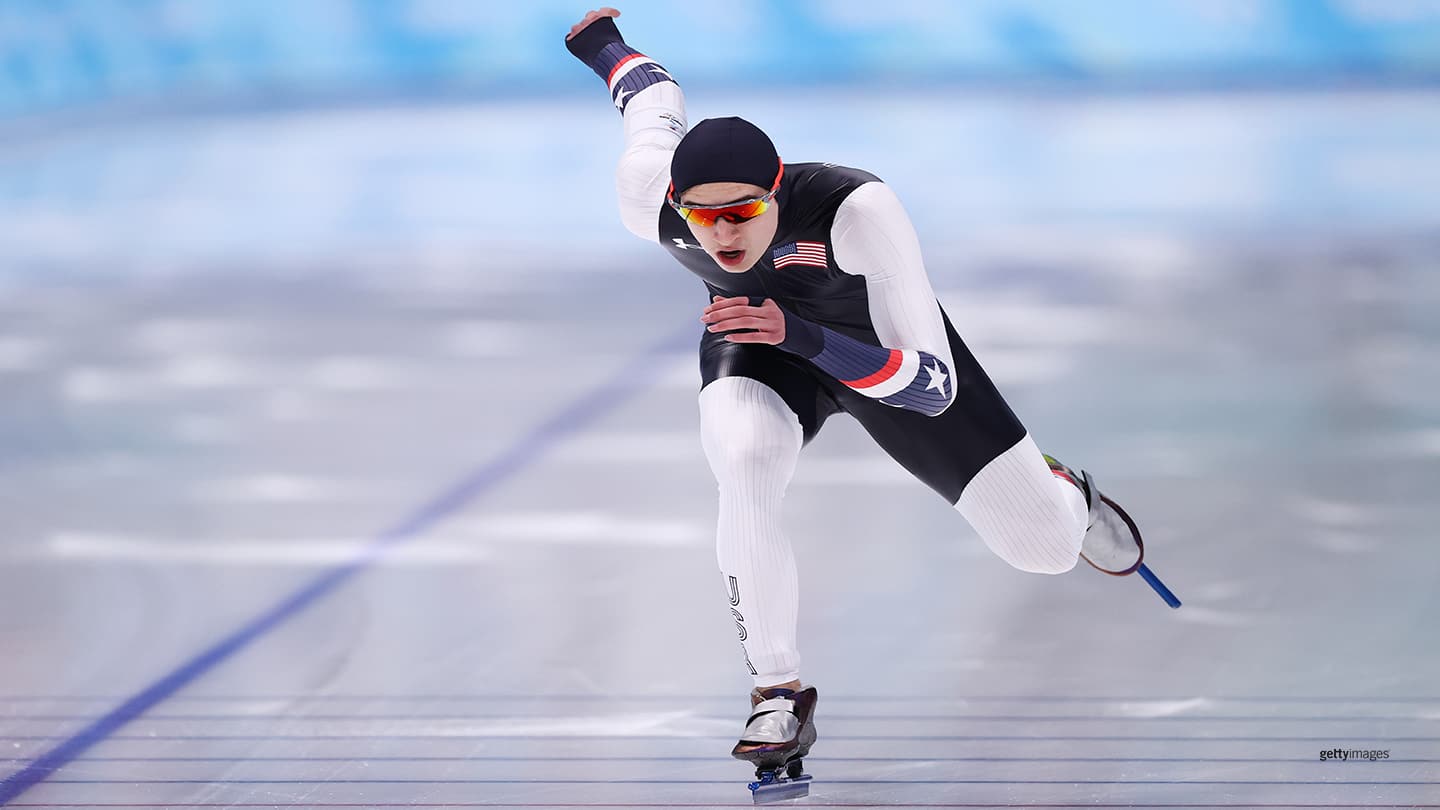 Jordan Stolz skates in the men's 1000-meters during the Olympic Winter Games Beijing 2022 on Feb. 18, 2022 in Beijing.
Wisconsin teenager Jordan Stolz won medals in all three events he entered and set a pair of records in one of them as Calgary, Alberta, hosted a long track speedskating world cup event for the second consecutive weekend.
Fellow Olympians Erin Jackson and Kimi Goetz added a pair of medals in a big weekend for the U.S. team.
Stolz, 18, broke the junior world and American records in taking the silver medal in the men's 500-meter Saturday with a time of 34.08 seconds. Kim Jun-Ho of South Korea won the gold medal in a personal-best 34.07 seconds, just .01 ahead of Stolz.
"I think it was close enough to perfect," Stolz said. "I was really feeling good this week after all the rest. So, I think that definitely played a role going into this."
Stolz began the weekend with a second-place finish Friday in the men's 1,500 and then topped it off with a win Sunday in the 1,000 with a time of 1 minute, 6.72 seconds. He finished just .20 seconds behind world-record holder Kjeld Nuis of the Netherlands in the 1,500.
Erin Jackson, the 2022 Olympic gold medalist in the women's 500, captured third place and her first individual medal of the world cup season in the 500 on Friday. Then, she teamed up with McKenzie Browne and Goetz to win the gold medal in the women's team sprint Saturday. They won with a time of 1:25.68. The U.S. is now tied with the Netherlands and Canada for first place in the world cup team sprint standings.
"We're three really good friends and it's a race with a lot less pressure than our other events," Jackson said. "So it's a nice way to break up the weekend. All the teams who skate it enjoy it."
Jackson had a time of 37.35 seconds in the 500 to win a bronze medal behind South Korea's Kim Min-Sun (36.96) and Japan's Miho Takagi (37.26).
Goetz, a 2022 Olympian, also collected an individual bronze medal, finishing third in the 1,000 on Sunday. She finished with a time of 1:13.58. Jutta Leerdam of the Netherlands won the gold medal in 1:12.53, followed by Takagi (1:13.19).
Two-time Olympic bronze medalist Brittany Bowe just missed the podium in the women's 1,500, finishing in fourth place just .22 seconds off the bronze medal time.
Ethan Cepuran, a 2022 Olympic bronze medalist in team pursuit, placed fifth in the men's mass start.
The world cup schedule resumes in Tomaszów Mazowiecki, Poland, Feb. 10-12.
Bob Reinert spent 17 years writing sports for The Boston Globe. He also served as a sports information director at Saint Anselm College and Phillips Exeter Academy. He is a contributor to TeamUSA.org on behalf of
Red Line Editorial, Inc.