News
Brandon Frazier
Brandon Frazier
Alexa Knierim
Alexa Knierim, Brandon Frazier Produce Best U.S. Pairs Olympic Result In 20 Years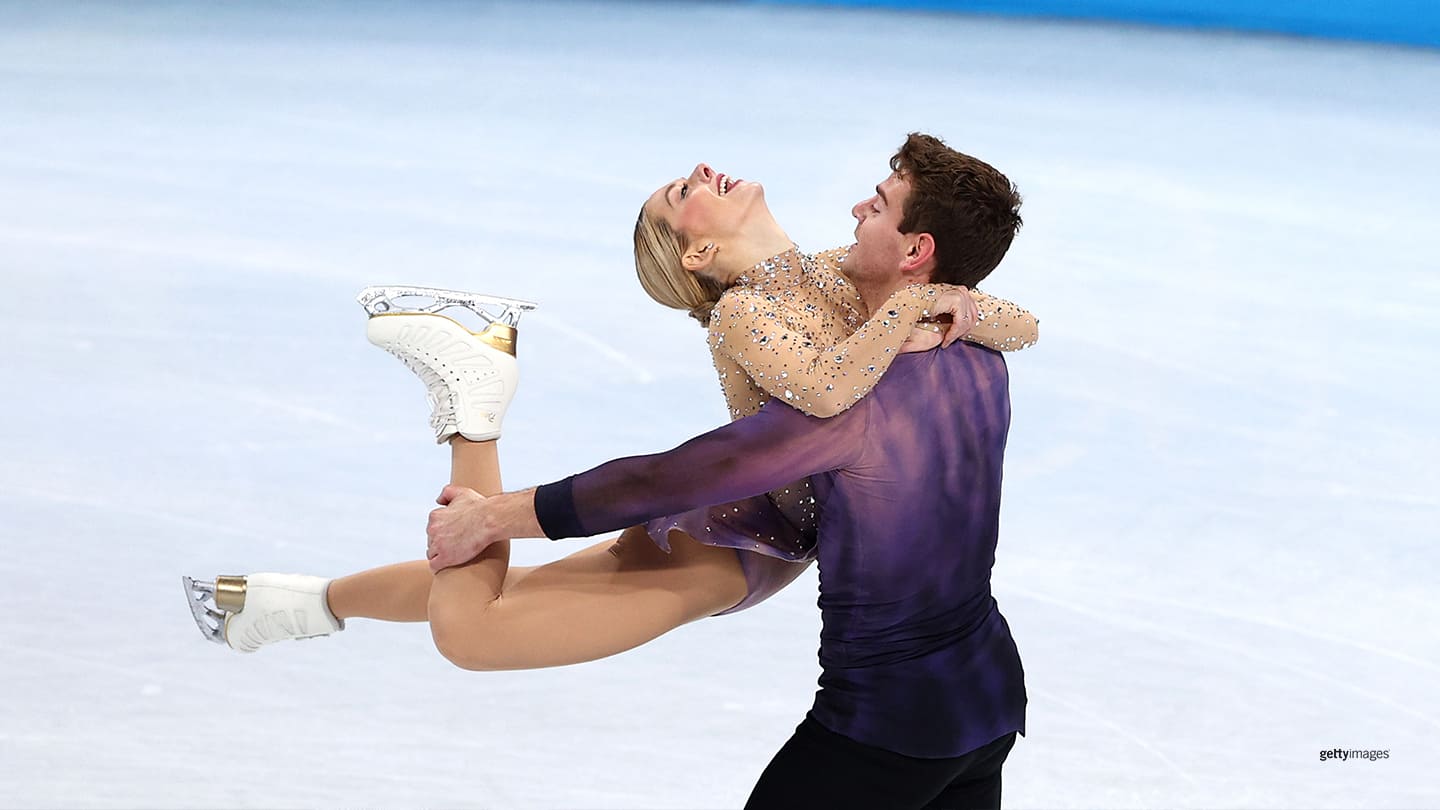 Alexa Knierim and Brandon Frazier during the pair skating free skating during the Olympic Winter Games Beijing 2022 on Feb. 19, 2022 in Beijing.
BEIJING — When Alexa Knierim and Brandon Frazier had their tryout in March 2020, it took just one lap of crossovers for them to think, "Yeah, this is going to work."

They were right. On Saturday at Beijing's Capital Indoor Stadium — less than two years later — the duo placed sixth to record the best U.S. pairs finish at an Olympic Winter Games in 20 years.

"We just threw it all out there," Frazier, 29, said. "We didn't let nerves, or the competitive jitters, get the best of us. I felt the energy from Alexa, and I know she felt it from me. We attacked every part of that program."

Skating to "Fix You," Knierim and Frazier were exhilarating from start to finish, opening with a big triple twist and side-by-side triple toe loop combinations. Choreographed by three-time U.S. ice dance champion Renee Roca, the program built to a climatic final minute including a strong throw triple flip and two rousing lifts. The only noticeable error was Frazier's doubling of an intended triple salchow.

Their 138.45 score — a new personal best — put them seventh in the free skate, and their overall score of 212.68 points was also a new high. They also notched the best U.S. pair result at an Olympics since 2002, when Kyoko Ina and John Zimmerman placed fifth.

"When Brandon and I are in sync with one another mentally and physically, we have some stellar pair elements that are top notch," Knierim, 30, said. "Today we were able to execute them because we were so in sync. Sometimes it can be a little bit more challenging and that's the struggle with pairs skating in general."

"The result is a bonus," Frazier said. "Being top six for a U.S. pair team is huge. I know our whole federation and our (coaching) team is going to keep moving and pushing U.S. pair skating to the next level."

Before the skaters joined forces, both had long, successful careers with their previous partners. Frazier, who hails from Phoenix, won the 2017 U.S. title with Haven Denney. Knierim, from the Chicago area, won three U.S. titles (2015, 2018, 2020) and a team bronze medal in PyeongChang with her husband, Chris Knierim. Chris is now part of the skaters' coaching staff in Irvine, California, along with three-time U.S. pair champions and two-time Olympians Jenni Meno and Todd Sand.

Reporters asked Alexa when she would call Chris.

"As soon as I'm done in the mixed zone," she said. "I will ask him where we are going to dinner when I get home on Monday — husband-and-wife stuff."

Knierim and Frazier had immediate success, winning the 2021 U.S. title and two medals on the Grand Prix circuit. Two weeks ago, they helped Team USA place second in the team figure skating event. Still, nothing compared to their performance on Saturday.

"That's the best we skated a program since we teamed up," Frazier said.

The skaters have yet to decide their competitive future. They are slated to compete at the world championships next month in Montpellier, France, and will take part in a post-Olympic "Stars on Ice" tour.

"The future is some KFC tonight and some ice cream later," Knierim said.

China's Sui Wenjing and Han Cong, silver medalists in PyeongChang, won gold with 239.88 points. Evgenia Tarasova and Vladimir Morozov of the Russian Olympic Committee took silver with 239.25, while their teammates Anastasia Mishina and Aleksandr Galliamov claimed bronze with 237.71.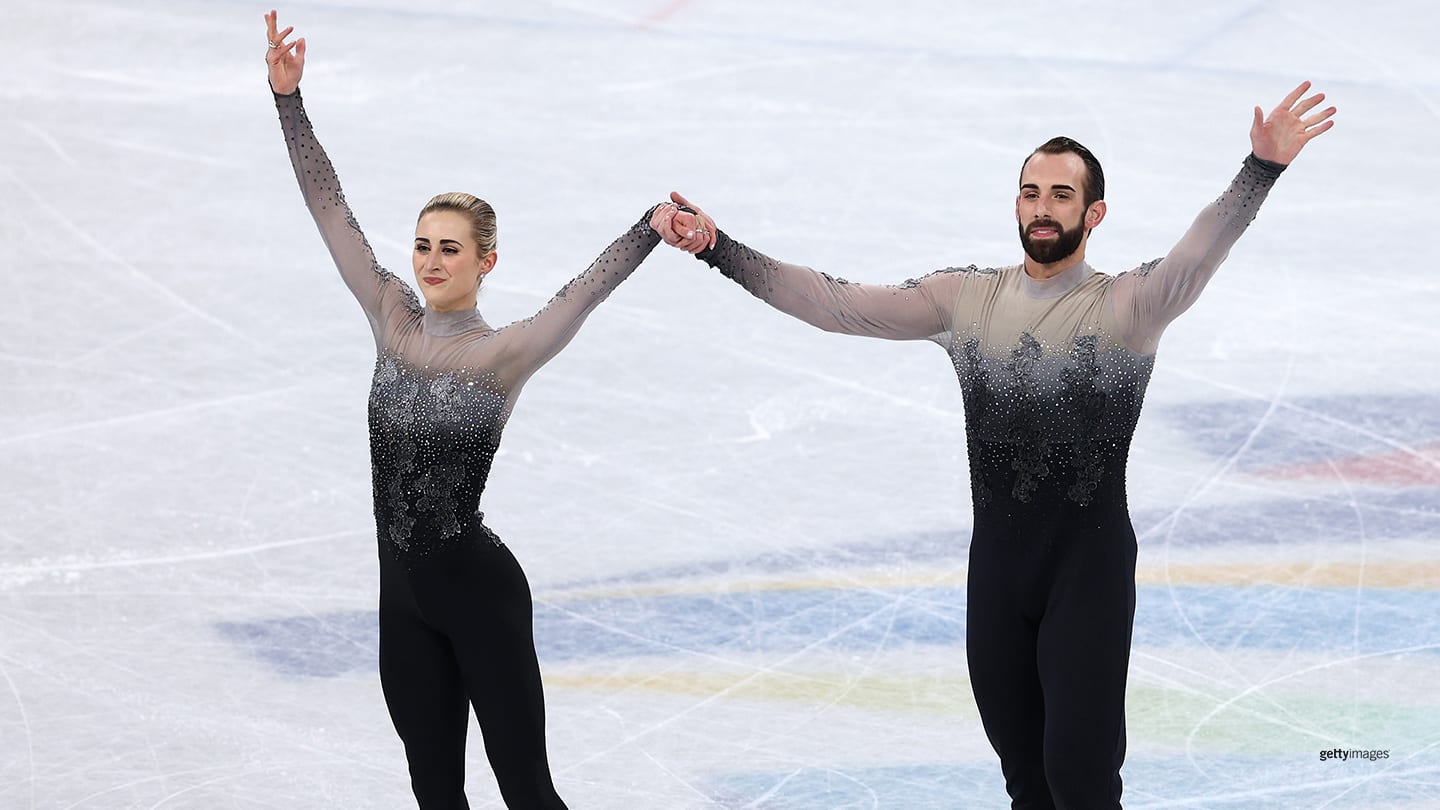 Ashley Cain-Gribble and Timothy LeDuc react after skating during the pair skating free skating during the Olympic Winter Games Beijing 2022 on Feb. 19, 2022 in Beijing.
The other American team of Ashley Cain-Gribble and Timothy LeDuc entered the free skate in seventh place after performing a clean short program on Friday. Hampered by a sprained right ankle suffered in practice earlier on Wednesday, Cain-Gribble could not hang on to the landings of two of her jumps, falling twice in their program set to the "W.E." soundtrack.

Still, the two-time and reigning U.S. pair champions, who train in Plano, Texas, under Cain-Gribble's parents Darlene and Peter Cain, showed three fine lifts as well as a strong throw triple salchow and captivating steps. The choreography displayed their long, well-matched lines to good advantage, and they earned 123.92 for ninth place in the free skate. They finished eighth overall with 198.05 points.

Their performance meant two U.S. pairs teams ended the Olympics within the top 10, something that hadn't been done since the 1998 Winter Games in Nagano, Japan.

"I wasn't going to let anything go, even if it meant really trying to go deep down and fight for everything," Cain-Gribble, 26, said. "I'm happy I went for everything, especially the toe and the loop and the sal(chow), even though I went down. I hope people can look at that and see a lot of grit and fight."

LeDuc — who described the moment as "just joy" — took an extra twirl around the ice, before heading for the kiss-and-cry to hear the marks. By skating in Beijing, LeDuc, became the first openly nonbinary athlete to compete at the Winter Games.

"I remember (the coach) Robin Hughes turning (2002 Olympic champion) Sarah Hughes around at the 2002 Olympics, before she stepped off the ice from her free skate," the 31-year-old skater said. "(Hughes) wanted to run into the kiss and cry and get her marks, she was so excited. But (Wagner) turned her around and said, 'Close your eyes, open them, you were at the Olympics, you just did that, you had this moment.' It was important to have that moment."
Want to follow Team USA athletes during the Olympic Games Beijing 2022? Visit TeamUSA.org/Beijing-2022-Olympic-Games to view the competition schedule, medal table and results.
Lynn Rutherford is a sportswriter based out of New York. She is a freelance contributor to TeamUSA.org on behalf of
Red Line Editorial, Inc.