Breaking Down Team USA's Prospects For The Figure Skating Team Event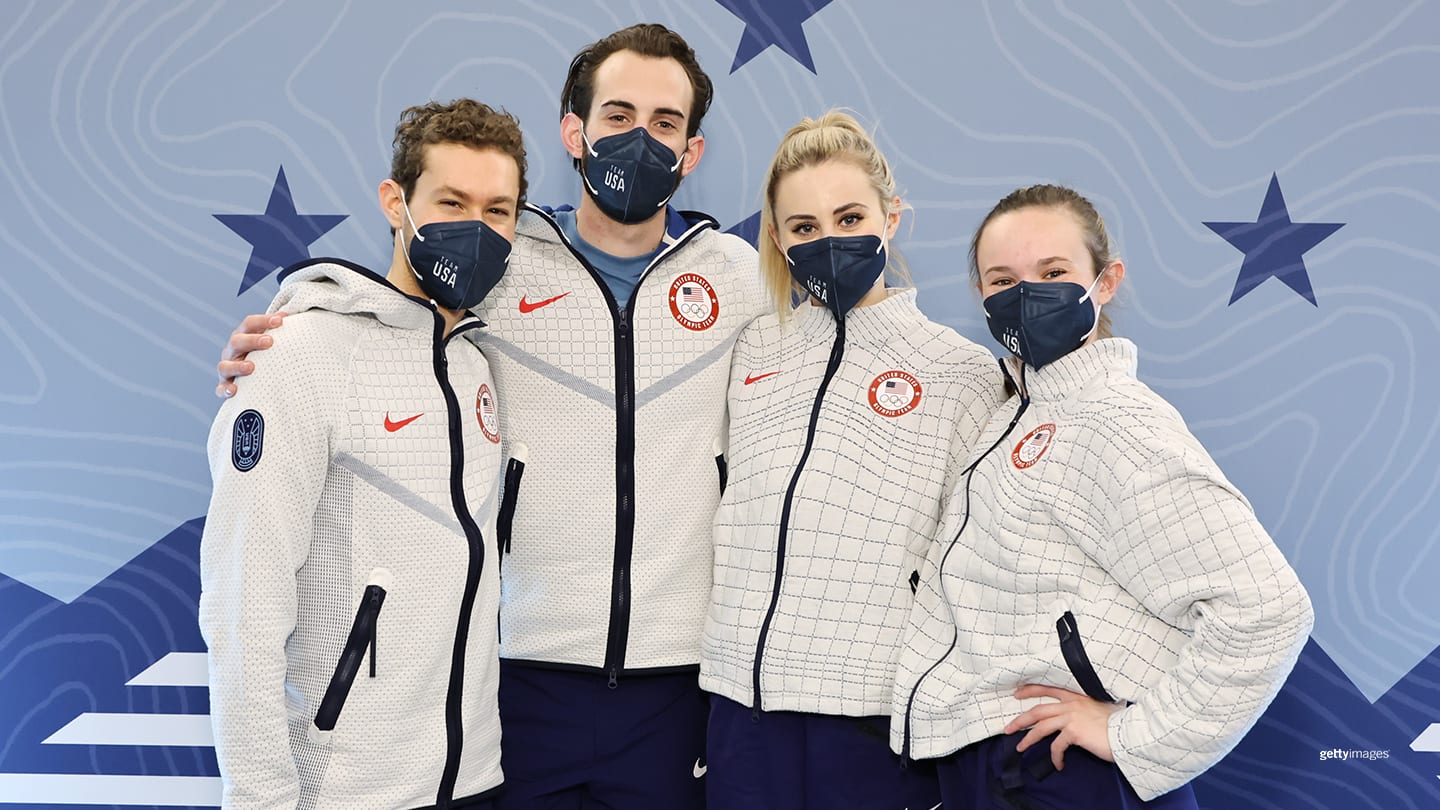 (L-R) Jason Brown, Timothy LeDuc, Ashley Cain-Gribble and Mariah Bell get fitted in Nike ahead of the Olympic Winter Games Beijing 2022 on Jan. 28, 2022 in Los Angeles.
BEIJING — The hallmarks of figure skating — strategy, glamour and a dash of controversy — all come into focus with the team event, which kicks off the sport's schedule at the Olympic Winter Games Beijing 2022 with the men's short program on Friday.

Squads from 10 nations will contend in Beijing, each competing in short programs in the men's, women's and pairs events, plus rhythm dances for the ice dancers.

Winners in each event are awarded 10 points, second place gets nine points, and so on down the line. Results are tallied, and the top five countries qualify for the free skate round. Scores from the short program round carry over. Whoever gets the most points, wins.

With dominance in the women's event plus strength in the other three disciplines, the Russian Olympic Committee is heavily tipped for gold. At the 2021 World Team Trophy, an event with a similar format held last April in Osaka, Japan, Russian skaters defeated Team USA by 15 points.

"I'm certain Team Russia is going to throw down an amazing performance," said Nathan Chen, the three-time defending men's world champ, who is expected to star for Team USA. "World Team Trophy was a pretty good example of that. So, it's going to be a pretty cool event."

Asked which of the quadruple jump equipped ROC women here he favored, Chen replied, "All three of them bring so much to the sport. I'm glad I don't have to compete against them. They are doing spectacular things."

After winning bronze medals in Sochi and PyeongChang, the first two Winter Games to include the team event, the U.S. should have a solid chance for silver in Beijing but must overcome a strong Japanese team. Here are a few key points:


Not Every Skater Gets To
Compete
Team USA brings three men, three women, three ice dance teams and two pair teams to Beijing, but only two single skaters and two teams compete in the team short program and rhythm dance events. Two skaters/teams may be swapped out for the free programs and free dances.
Spots on the team are, naturally, highly coveted. U.S. Figure Skating published a lengthy document explaining its selection process, but it boils down to this: skaters are ranked according to results at the recent U.S. championships, plus international scores over the past few seasons. Top-ranked skaters are given the option of competing in one, or both, segments of the team event, or to opt out entirely.
Participants in the men's and pairs short programs, and the rhythm dance, will be announced Thursday. Competitors in the women's short will be announced Friday. On Sunday, skaters chosen for the free skate and free dance events will be announced.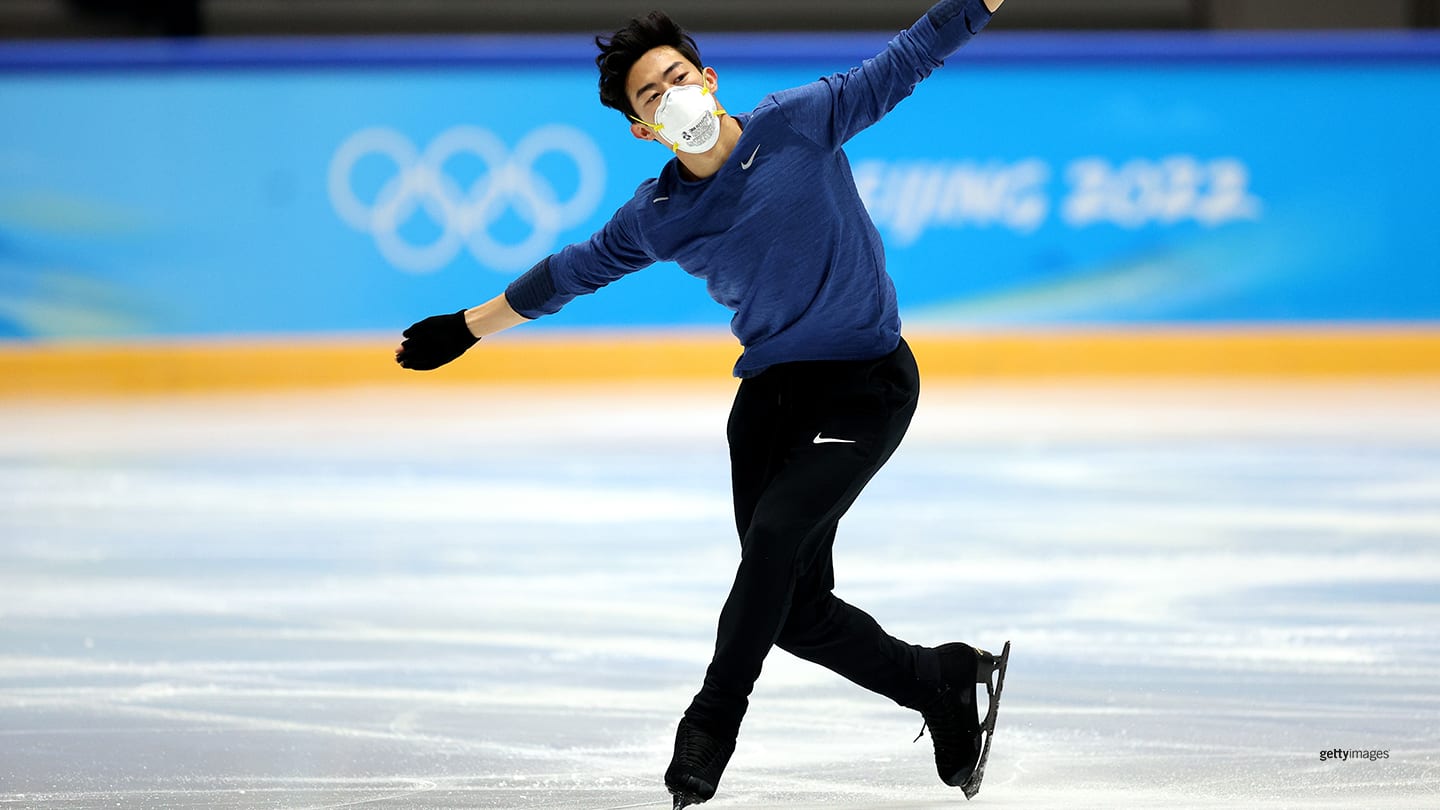 Nathan Chen skates during a practice session ahead of the Olympic Winter Games Beijing 2022 on Jan. 30, 2022 in Beijing.
Individual Event Schedules Come Into
Play
Athletes selected are those with the best potential for peak performances in the team event, as well as the individual event. So don't expect Chen to compete both his short program and free skate in the team event. That's because the men's individual competition begins Feb. 8, just a day after the team event free skates.
Whatever the schedule, 1984 Olympic champion Scott Hamilton thinks competing in the team event could help skaters with their individual contests.
"When I competed my Olympic short, my adrenaline was through the roof," Hamilton said. "I was a mess. The team event takes a little of that away. It's kind of a dress rehearsal. If I had gotten to do a short program in the team event, it would have been a lot easier."
Two of Team USA's three men in Beijing own team bronze medals, with Chen earning his in PyeongChang and Jason Brown in Sochi. Vincent Zhou competed individually in PyeongChang, placing sixth, but was not chosen for the team event.
"We all train for any situation," Brown said. "One of the coolest things about the Olympics is, we all know what the schedule is way, way in advance, so it's something we are able to train (for) and that's something that I've definitely done with my coaches. So, if I am called on to take part, I'm ready, but I also know that any of us are competent in that situation."
Pairs Have It Easier In Beijing Than They Did In
PyeongChang
Four years ago, Alexa Knierim and her husband Chris Knierim had the toughest job. As the only U.S. pair in PyeongChang, the couple competed both the short and free in the team event, then had to turn around a day later for the individual short program.
"It was such a roller coaster of emotions to be competing on Olympic ice for the first time, and then having that down (feeling) that you normally have after a competition," Alexa Knierim said. "It was lingering in our minds and our bodies, and to come back and have to do it all again was a little overwhelming, no matter how prepared we tried to be in that situation. I remember the second competition, Chris and I just feeling a little burned out already."
In Beijing, instead of being the first individual event contested, pairs will be the last, commencing Feb. 18. So, Knierim and current partner Brandon Frazier, or reigning U.S. champions Ashley Cain-Gribble and Timothy LeDuc, will have time to recover.
"It's going to be a very positive situation for whichever pair team is in both events, to have that two-week break in between and be able to refresh, reset and set new goals and focuses for the second competition," Alexa Knierim said.
Karen Chen skates in the women's free skate during the U.S. Figure Skating Championships on Jan. 7, 2022 in Nashville, Tenn.
There Is Bound To Be
Controversy

Given the schedule, it is likely two men and one pair will compete on the team; if a second swap is made, it would be either in women or ice dance.

All three U.S. women can make a claim for inclusion in the team event. Mariah Bell won the U.S. title last month in Nashville. Karen Chen, the 2017 U.S. champion, placed fourth at the world championships last season and owns the highest international ranking. Two-time U.S. champion Alysa Liu was third in the short program in Nashville before withdrawing due to a positive COVID-19 test, but her triple-triple jump combinations and possible triple axel give her the highest scoring potential of the three.

If she is selected for the team, Bell hopes to compete her free skate to "Hallelujah."

"For me, I feel like I'm a strong long (free skate) skater," Bell said. "My scores have been in the same kind of area, competitive internationally. … Looking back at Russia (for the 2021 Rostelecom Cup), I didn't have a triple-triple (jump combination) there, but I scored well in that long program. So, just imagining going to the Olympics with that combination in there, I feel like I could be a great asset to the team."

In PyeongChang, ice dancers Maia Shibutani and Alex Shibutani competed both team event programs, while swaps were made in the men's and women's events. This time around, sentiment is strong that two veteran ice dance teams, Madison Chock and Evan Bates, and Madison Hubbell and Zachary Donohue, each compete in the team event. Both have won three U.S. titles; both have graced the world podium; both are in the mix for the individual ice dance podium in Beijing.

"I think we have a clear understanding we would want each other — depending on the team (needs), of course — to compete," Donohue said. "I think we would want to share the spot with them."

"Yes, and vice versa," Hubbell said. "We've spoken, and I think we both felt a little bit bummed that we haven't gotten the chance (in the team event) yet."
Want to follow Team USA athletes during the Olympic Winter Games Beijing 2022? Visit TeamUSA.org/Beijing-2022-Olympic-Games to view the medal table and results.
Lynn Rutherford is a sportswriter based out of New York. She is a freelance contributor to TeamUSA.org on behalf of
Red Line Editorial, Inc.