News
Madison Chock
Evan Bates
Madison Chock, Evan Bates Soar to Third Title at U.S. Figure Skating Championships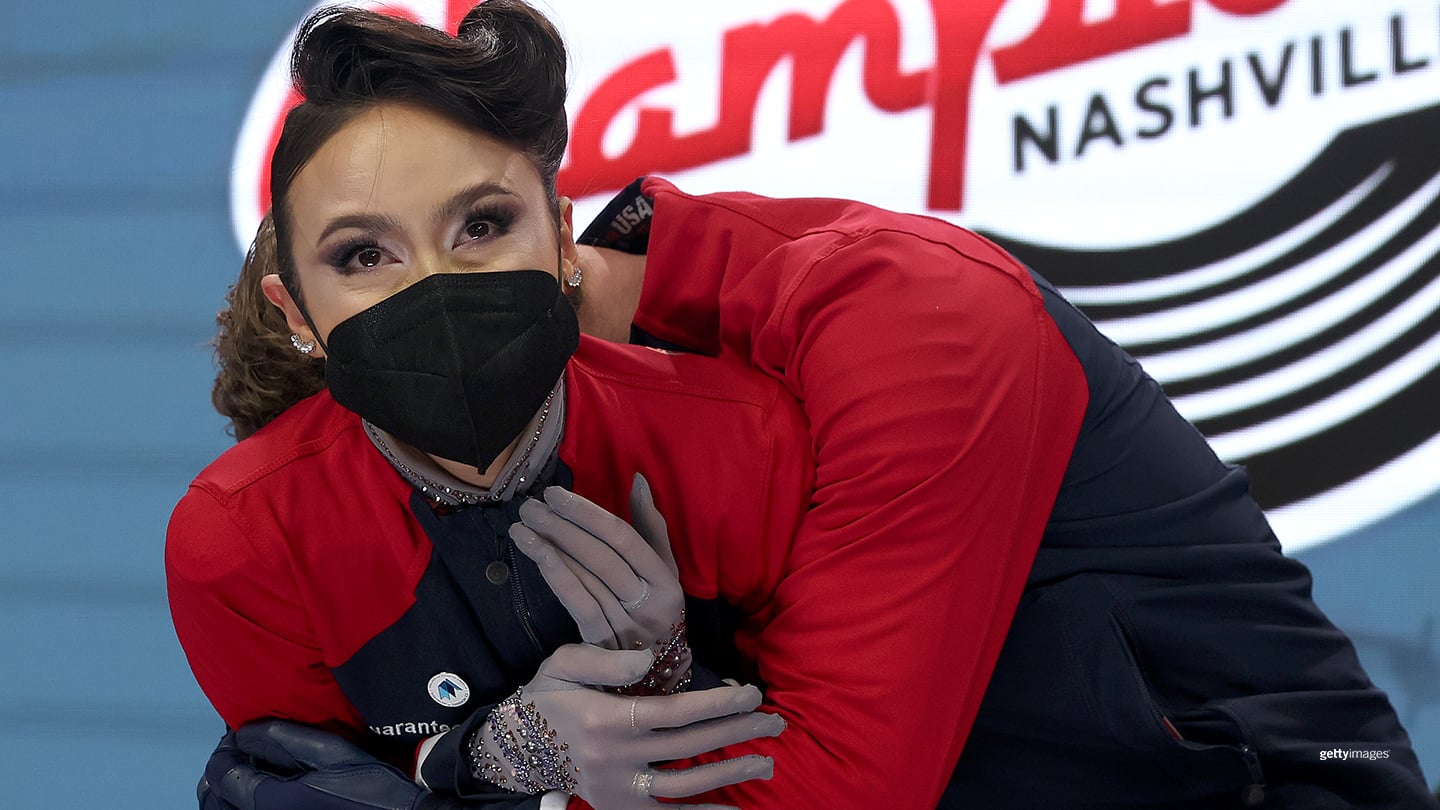 Madison Chock and Evan Bates celebrate in the Kiss & Cry after skating in the Free Dance during the U.S. Figure Skating Championships on Jan. 8, 2022 in Nashville, Tennessee.
NASHVILLE, Tenn. — In a tight decision fitting the decade's long rivalry between the two teams, Madison Chock and Evan Bates edged Madison Hubbell and Zachary Donohue by less than two points Saturday to win their third ice dance title at the 2022 U.S. Figure Skating Championships.

"We've won the national championship again, against some of the toughest competitors we've ever faced, year after year after year," said Bates, 32, nodding to Hubbell and Donohue. "We really had to work hard for it. The training, the preparation — we needed all of it because it wasn't easy and it wasn't necessarily the best performance we dreamt up today, but the hard work we put in showed up."

In essence, the title was decided by Friday's rhythm dance. Chock and Bates led their rivals by 2.55 points after Hubbell and Donohue made minor mistakes on twizzles and a step sequence.
Hubbell and Donohue prevailed in the free dance, but couldn't overcome the deficit. Chock and Bates finished with 227.37 points for the gold, while Hubbell and Donohue took the silver with 225.59.

"Being honest with ourselves, coming into tonight, we knew we would not be able to win the national championships against the competitors we have with a bad skate (in the rhythm dance)," said Hubbell, 30. "We couldn't make up the 2½."

On Saturday, both teams delivered near-perfect performances of dramatically different free dances.

Hubbell and Donohue's program, a sensitive, lyrical routine set to Anne Sila's "Drowning," showed off the couple's greatest strengths: power, speed, and superb ice coverage.

Skating to music from Daft Punk, Chock and Bates' free dance portrayed an astronaut and alien's relationship as it deepens and grows into love. Their superb lifts, considered among the finest in the world, were on full display.

"The core of our program is about finding love and acceptance in someone different than you," said Chock, 29. "As we go to the (Beijing) Games next month, we just want to remind everyone that you can find love with someone that is different than you, and from a different place."

Both couples made their debuts in the 2011-12 season after long careers with other partners, and battled each other for medals ever since. Beginning in 2018, they have trained together in Montreal.

Hubbell and Donohue have announced this is their final competitive season, so the rivalry ends in a 3-3 tie as far as the U.S. Championships: Chock and Bates won in 2015, 2020 and 2022, while Hubbell and Donohue took the honors in 2018-19 and 2021.

"The fact that we are both going to the Games with three U.S. titles is somehow poetic," Hubbell said. "We grew up next to each other, we're always pushing each other, we always have the other (team) right on our heels."

The third U.S. team training in Montreal, Kaitlin Hawayek and Jean-Luc Baker, recovered from a disappointing program Friday to perform a captivating free dance to Chopin selections. The skaters won their fourth straight bronze medal with 205.68 points.

"This means so much to us, it has not been a straight journey for us over the last four years and especially the last six months," said the 25-year-old Hawayek, whose training concussion this summer forced the team to withdraw from several events.

Rachel Green and Michael Parsons, third after the rhythm dance, placed fourth overall with 203.27 points.

On Sunday, U.S. Figure Skating will announce the three teams, plus alternates, it is sending to the Beijing Olympics, with the top three finishers at the U.S. Championships likely to have their tickets punched.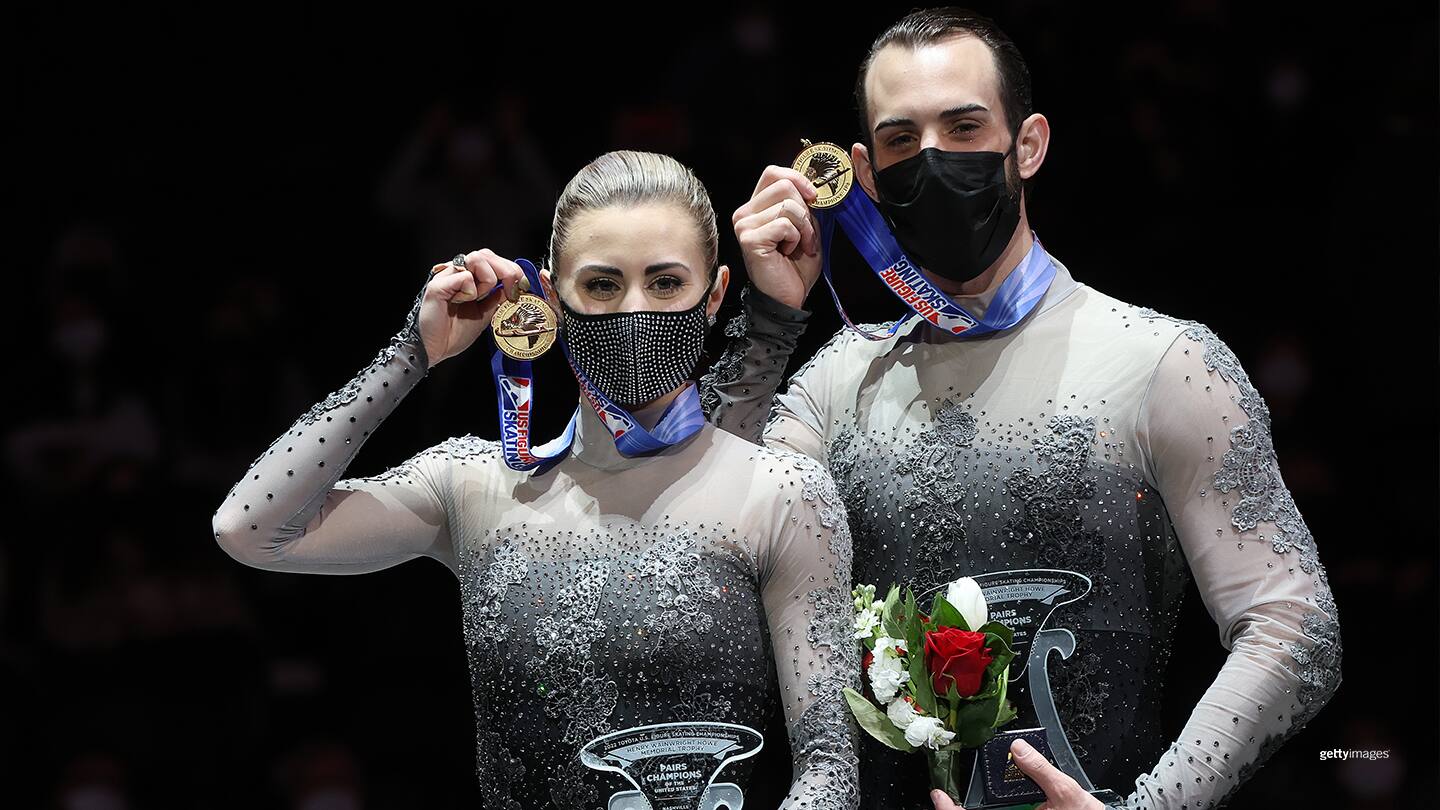 Ashley Cain-Gribble and Timothy LeDuc on the podium after the Pairs Free Skate during the U.S. Figure Skating Championships at Bridgestone Arena on Jan. 8, 2022 in Nashville, Tennessee.
Cain-Gribble, LeDuc win second pairs
crown
Since teaming up in 2016, Ashley Cain-Gribble and Timothy LeDuc have built their partnership on a foundation with three pillars: equality, strength and determination.
Equality of skating and performance skill. The strength to make their own way in a discipline where uniformity is sometimes encouraged. Determination to overcome setbacks, including Cain-Gribble's terrible fall on a lift at a 2018 event and resulting concussion as well as her bout with COVID-19 late last summer.
It all came together for the duo Saturday, when their strong, elegant program to the "W.E." soundtrack earned 145.84 points to win the free skate event and give them 225.23 points total, earning their second U.S. Championships title. They won their first crown in 2019. Jessica Calalang and Brian Johnson were second with 209.87 points.
From the start, Cain-Gribble and LeDuc have defied conventional wisdom. Cain-Gribble, the 2011 U.S. junior pairs champion with Joshua Reagan, competed solely in singles for several seasons when she couldn't find a suitable partner. LeDuc left competitive skating in 2014 to pursue a show skating career before U.S. Figure Skating set up a tryout with Cain-Gribble in spring 2016.
There were whispers at the start of the partnership: At 5-foot-6, Cain-Gribble is taller than the typical female pairs skater, so some questioned the team's ability to execute the most difficult lifts. Others thought, after years away from competitive pairs, there would be too much rust.
"We would like to dedicate this performance, and this title, to all of the people who felt like they didn't belong or were told that they didn't belong in this sport," said Cain-Gribble, 26, who added: "Many times we were told that, when we first teamed up. A lot of people had things to say. The whole time, we stayed authentic to ourselves."
The skaters credit Cain-Gribble's parents, Darlene and Peter Cain, who coach them in Euless, Texas, with believing in them.
Something else sets Cain-Gribble and LeDuc apart: LeDuc is the first out, nonbinary person to win a U.S. title. If, as expected, the pair is named to the Beijing Olympic team, LeDuc will become the first out nonbinary Winter Olympian.
"(The story) isn't focused on me," said LeDuc, 31. "My hope is it shifts to that queer people can be both open and successful in sports. Queer people have always been here, we've always been part of this sport, we've always been part of other sports. It's not always been possible to be open. ... I stand on the shoulders of so many amazing queer people."
Calalang and Johnson, second after the short program, also placed second to Cain-Gribble and LeDuc in the free skate. The Irvine, California-based team's lifts were the best in the event, but they struggled on their triple jumps. It was their third consecutive silver medal at the U.S. Championships.
"This wasn't the performance we wanted," said Calalang, 26. "We haven't been practicing exactly like that."
Audrey Lu and Misha Mitrofanov, fourth at nationals last season, won the bronze with 191.54 points.
U.S. Figure Skating will announce the two pairs selected for the 2022 U.S. Olympic team and alternates Sunday morning. Certainly, Cain-Gribble and LeDuc will snag one of the spots. The second pair is less certain. Alexa Knierim and Brandon Frazier, the reigning national champion pair, withdrew from the U.S. Championships on Wednesday, due to Frazier's positive COVID-19 test. They have petitioned U.S. Figure Skating for a spot on the team.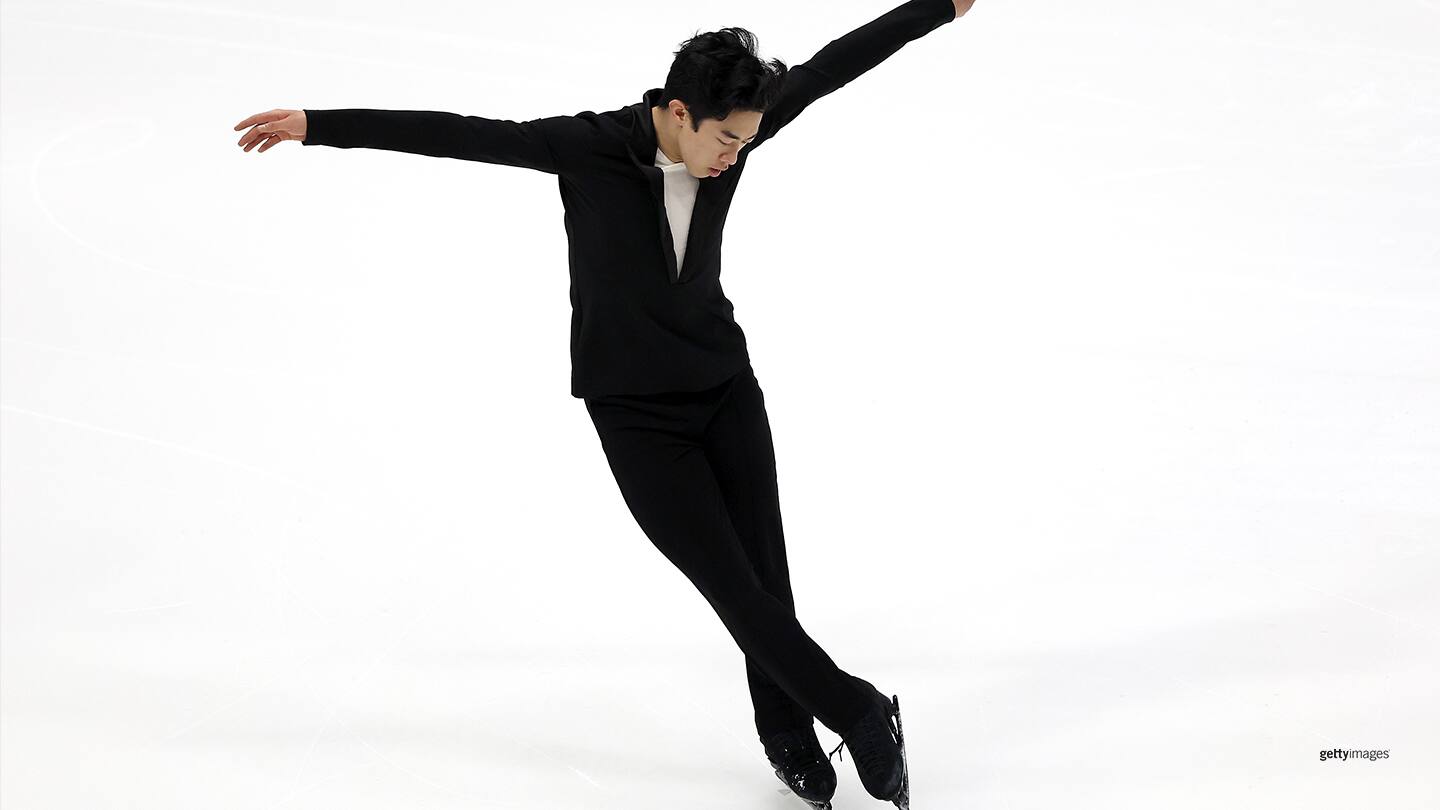 L-R) John Landsteiner, Matt Hamilton, Chris Plys and John Shuster celebrate after winning Game 2 of the U.S. Olympic Team Trials - Curling on Nov. 20, 2021 in Omaha, Neb.
Chen sets record to lead men's
field
Nathan Chen's smooth and inspired short program set a record score and brought the three-time world champion a big step closer to his sixth straight U.S. title.
Performing to French-Armenian singer Charles Aznavour's romantic ballad "La Boheme," the 22-year-old skater landed his quadruple jumps — including an opening quad flip, and a quad lutz-triple toe loop combination in the program's second half — softly and cleanly.
Chen's spins and steps, too, were superb, and his 115.39 points is the highest score in a short program in U.S. Championships history, breaking the previous record of 114.13 he set in 2020. He leads Vincent Zhou, who is second with 112.78 points.
"In my career, this short program was definitely one of the highlights," Chen said.
The performance was only one flash of brilliance from the men Saturday. U.S. Championships personal bests poured in one after the other, prompting the crowd to leap to its feet with standing ovation after standing ovation.
"This U.S. nationals short program was insane," Chen said. "Everyone laid down amazing programs."
Zhou, the three-time U.S. silver medalist who defeated Chen at Skate America early this season, had a brilliant outing to Josh Groban's "Vincent." Like Chen, he landed a quad lutz-triple toe combination and his step sequences overflowed with emotion. His 112.78 points is a personal best at a U.S. Championships.
"For me, to have skated so well and score 112 and not be in the lead, it goes to show the depth of this competition," said Zhou, 21.
Making his U.S. senior debut, Ilia Malinin served notice that he is a force. The 17-year-old landed two quads, including lutz, and showed real flair in his performance to David Cook's rendition of "Billie Jean." His 103.46 points put him third heading into Sunday's free skate.
"It felt good, it gave me a lot of motivation in the long (program) to do the same thing, to keep it clean," said Malinin, a two-time winner on the 2021 Junior Grand Prix circuit who plans four quads in Sunday's free skate.
If Malinin succeeds, it will complicate the outlook for Jason Brown, the 2015 U.S. champion seeking to qualify for his second Olympic team.
Brown performed a stunning program to Nina Simone's rendition of "Sinnerman," earning the event's highest overall program component scores, including those for presentation and musical interpretation.
The 27-year-old, who landed his first quadruple jump in international competition this fall, did not try a quad Saturday. His 100.84 points left him in fourth place.
"I can only win at my own game," Brown said.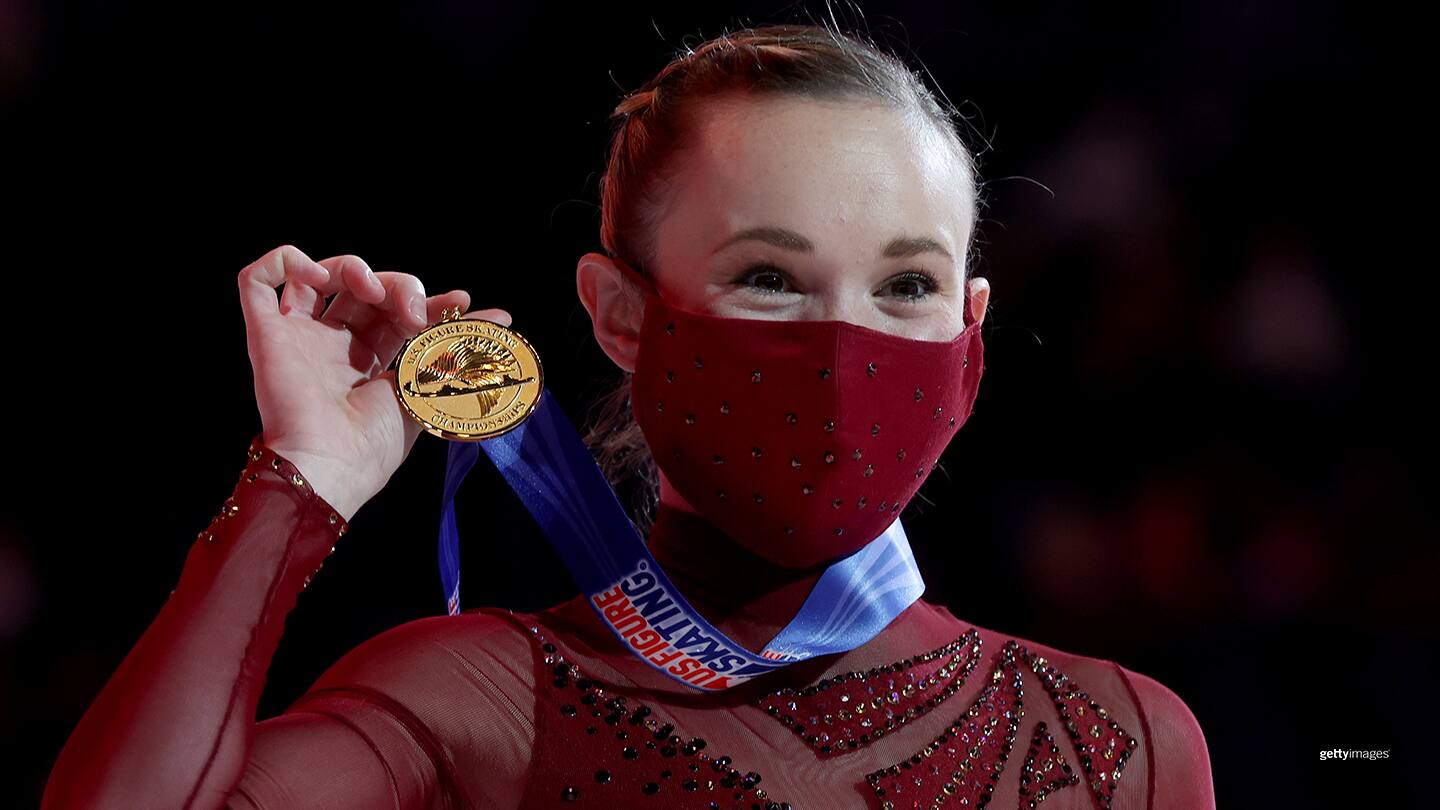 Mariah Bell on the podium after winning the Ladies competition during the U.S. Figure Skating Championships at Bridgestone Arena on Jan. 7, 2022 in Nashville, Tennessee.
Bell, Chen, Liu head to
Beijing


As expected, Mariah Bell, Karen Chen and Alysa Liu to the U.S. women's team that will participate in the Beijing Olympics.


The announcement came less than 24 hours after Bell won her first U.S. Championships in nine tries and, at 25, the oldest women's winner since 1927. It will be Bell's Olympic debut.


"I believe age is just a number and if you truly have a dream, there is no limit on the time you have to achieve that dream," Bell told NBC.


Chen, 22, finished second to Bell at the U.S. Championships and will be in her second Olympics, having finished 11th in PyeongChang. Liu, 16, will make her Olympic debut despite having to withdraw from Friday's free skate after testing positive for COVID-19. Liu petitioned for the spot and earned the spot based on U.S. Figure Skating selection criteria.


Lindsay Thorngren, the 2020 U.S. junior champion who placed fifth in Nashville, is first alternate for the team, while 2021 U.S. Championships silver medalist Amber Glenn, who withdrew from the event after a positive COVID test, is second alternate.
Lynn Rutherford is a sportswriter based out of New York. She is a freelance contributor to TeamUSA.org on behalf of Red Line Editorial, Inc.