New Stars And Returning Favorites Kick Off Figure Skating's Grand Prix At Skate America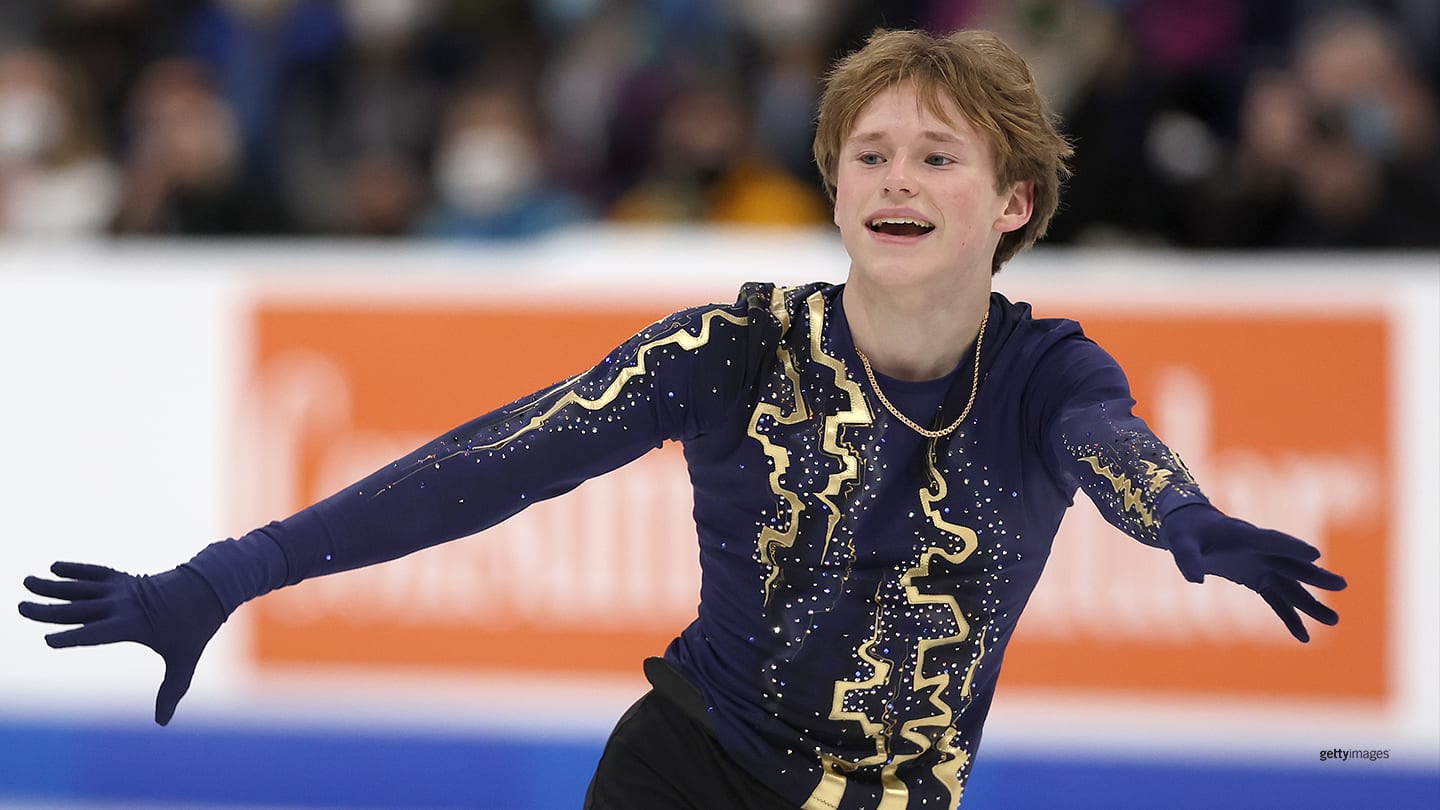 Ilia Malinin competes during the men's free skate at the 2022 U.S. Figure Skating Championships on Jan. 9, 2022 in Nashville.
Each Olympic cycle brings up-and-coming figure skaters to center stage. That will be especially true for Team USA, as six of the 16 athletes who competed at the Olympic Winter Games Beijing 2022 will participate in the six-event 2022-23 ISU Grand Prix Series, which kicks off with Skate America this weekend in Norwood, Massachusetts.

With fast-developing young talent pushing technical boundaries and veterans returning for another chance at glory, these are the storylines to watch at Skate America and beyond.


After six U.S. crowns, three world titles and Olympic gold, Nathan Chen is focusing on his studies at Yale University. Two-time Olympian Vincent Zhou is busy at Brown University. Jason Brown, another two-time Olympian, is not competing this fall, either.

Into the breach leaps 17-year-old Ilia Malinin, the world junior champion who made history last month when he landed the first-ever quadruple axel in competition in his free skate at the U.S. International Classic in Lake Placid, New York. His social media handle, "quadg0d," could not be more apt.

The four-and-a-half revolution axel — the most difficult (and valuable) jump in the sport — along with three other quads vaulted Malinin from sixth after the short program to win the event by more than 20 points over the Lake Placid field. He hopes to repeat the feat at Skate America.

"As of right now, I'm planning to have (the quad axel) in my program with all of the rest of the quads," Malinin told 2014 Olympian Polina Edmunds on her podcast "Bleav in Figure Skating."

Malinin placed second to Chen at the 2022 U.S. championships last season but was left off the 2022 U.S. Olympic Team in favor of Zhou and Brown, who had larger bodies of work over longer careers. At the 2022 world championships in Montpelier, France, in March, Malinin skated a strong short program before a nervous, error-ridden free skate dropped him to ninth place.

Now, the teen from Vienna, Virginia — who trains under his parents, former competitors for Uzbekistan, and Chen's coach, Rafael Arutunian — is ready to lead the charge. Malinin's biggest competition was expected to come from Yuma Kagiyama, Japan's Olympic silver medalist, but he withdrew from Skate America due to injury.

"I'll try to go for a seven-quad layout (in the free skate)," he said. "Physically, I'd say (the quad axel) is pretty easy to do. It's kind of more the mental side. It's kind of scary to go into."


Youngsters in Women's
Field
The women's field has a changing of the guard as well. Two-time U.S. champion Alysa Liu, second in the world last season, has retired, as has 2022 U.S. champion Mariah Bell. Karen Chen, the third U.S. woman in Beijing and a student at Cornell University, has not formally ended her competitive career but is not competing in this season's Grand Prix.

Team USA's clear frontrunner is 15-year-old Isabeau Levito, who like Malinin won the world junior title in April. With a light, ethereal style, as well as consistent if occasionally imperfect triple-triple combinations, Levito makes her senior international debut this season and has already won two smaller events.

Skate America will be the Mount Holly, New Jersey, native's toughest test yet. Russian women, who have dominated in recent years with their quads and triple axels, cannot compete internationally this season due to Russia's invasion of Ukraine. Still, the Norwood field is deep. It includes Japanese powerhouse Kaori Sakamoto, the Olympic bronze medalist and 2022 world champion, as well as three strong South Korean competitors. Team USA's Amber Glenn, a dynamic if unpredictable competitor, could make waves, especially if she hits her triple axel, a jump she has landed in practice but has thus far has been unable to execute in competition.

Lindsay Thorngren, Team USA's 16-year-old world junior bronze medalist, will not compete in Norwood; she makes her senior Grand Prix debut at Skate Canada on Oct. 28-30. A strong jumper, she placed fifth in the U.S. last season and could be Levito's strongest domestic challenger.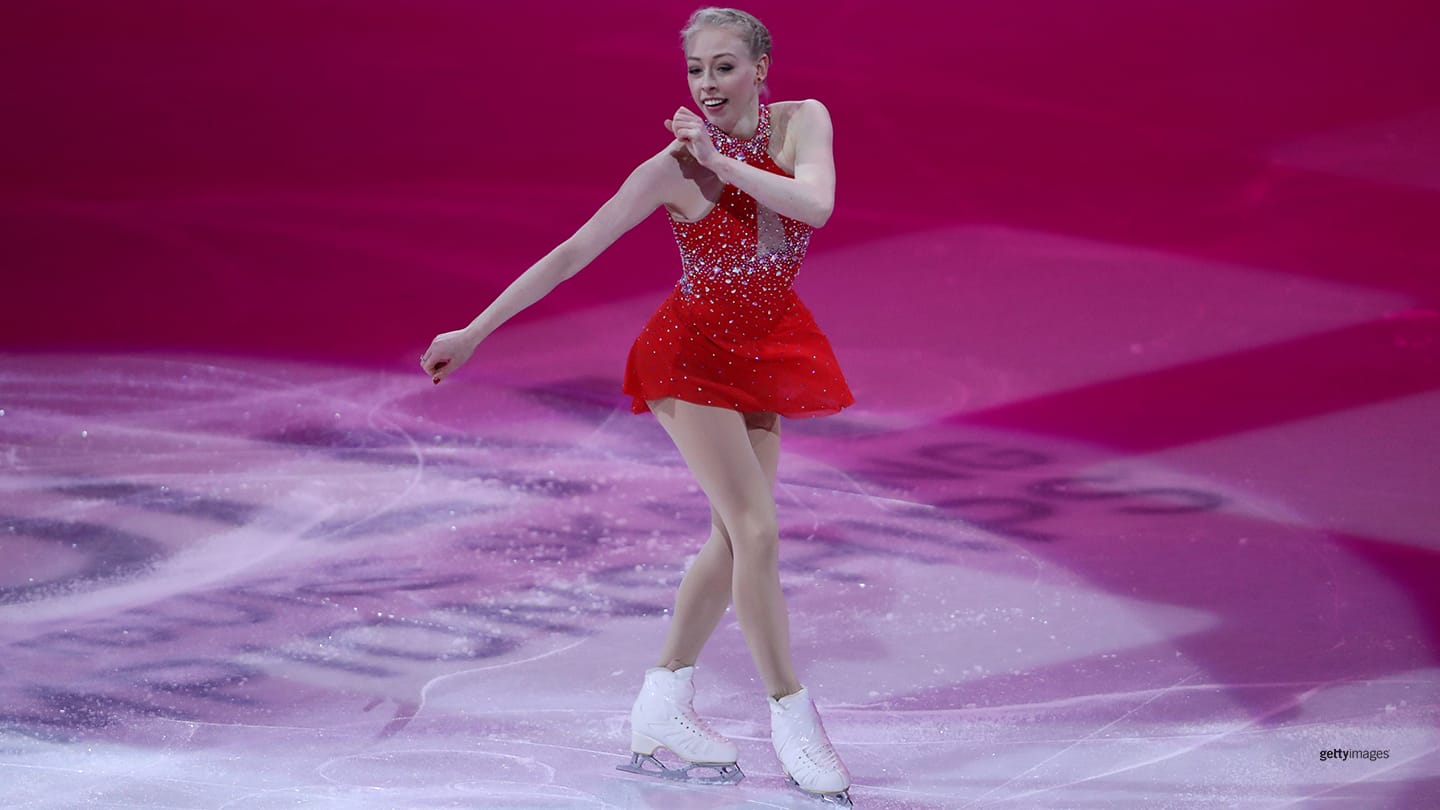 Bradie Tennell competes during the gala exhibition at the 2021 ISU World Figure Skating Championships on March 28, 2021 in Stockholm.
Bradie Tennell burst into the spotlight during the 2017-18 season, winning the U.S. title with two near-flawless routines and earning a spot on the 2018 U.S. Olympic Team, where she helped Team USA win a team bronze medal and landed in the top 10 in the individual event.

The next few seasons, Tennell was consistent and occasionally brilliant, winning her second U.S. crown in 2021. A member of three U.S. world teams, she looked likely to qualify for the Beijing Games until a chronic right foot injury derailed her entire 2021-22 campaign.

"I have seen expert doctors across the country in California, Colorado Springs, Boulder, Portland, Chicago, and Boston," Tennell posted on social media at the time. "I changed boot companies …. I've tried many different treatments, some of which worked for a little bit, some of which didn't work at all."

The 24-year-old from Carpentersville, Illinois, made dramatic changes this summer, leaving Colorado Springs, Colorado, to train full-time in Nice, France, with her longtime choreographer Benoit Richaud, a former ice dance competitor, and jump specialist Cedric Tour. Instagram posts in August showed her hitting triple-triple jump combinations, but an ankle injury forced her to withdraw from the Japan Open in early October.

"While I know it's going to be resolved soon, I also know that it's going to keep me off the ice for a few weeks to be able to heal," she posted.

Tennell is slated to return to competition at the MK John Wilson Trophy, the fourth of the six Grand Prix events set for Nov. 11-13 in Sheffield, England.

Gracie Gold, another two-time U.S. champion will compete at Skate America. The 27-year-old 2014 Olympic team bronze medalist earned her spot at the event with strong programs at a small international event in Philadelphia this summer.


World Pairs Champions Seek More
Gold
After Alexa Knierim and Brandon Frazier won the world pairs title in March, many expected the veteran skaters to bow out on a high note. Instead, the victory inspired them to push for more gold.

"Now that I realize what is actually attainable, I would love to win worlds again," Knierim, 31, said on a recent podcast hosted by two-time Olympic figure skater David Santee. "But more than anything else, I want to show people that, after the break we had (this summer) between shows, we got new material and strong programs. I want people to be excited when they watch us."

The 2021 U.S. champions' world crown was the first for a U.S. pair since Tai Babilonia and Randy Gardner won in 1979. They did not face off against the powerful Russian pairs, or Olympic champions Sui Wenjing and Han Cong of China.

"I didn't think or plan my life to be a world champion, I was just planning to be the best I could be," Knierim said. "I didn't want (the absence of the Russian and Chinese pairs) to make me more nervous or change my overall approach."

Knierim and Frazier, 29, enter the season as heavy favorites to win a second U.S. title. Two-time U.S. champions Ashley Cain and Timothy LeDuc retired from competition, and other top U.S. pairs have ended their partnerships.

Considering the ongoing absence of Russian skaters — and with Sui and Han not expected to compete this season — Knierim and Frazier are firmly in the running for a second world medal, perhaps gold. If they succeed, they will be the first U.S. pair to ever win two world titles. The Irvine, California, skaters kick off their season in Norwood.

"The best thing I've received from skating is the response from others, when they watch us or get excited or emotional, that brings me a lot of fulfillment," Knierim said on the Santee podcast. "I want to have that again, and have people excited we are staying in another season."


Chock and Bates Bid to Cap Career with World
Title
Madison Chock, 30, and Evan Bates, 33, teamed up in 2011 and quickly joined the U.S. ice dance medal ranks, as well as the world top ten. Now engaged to be married, the Montreal-based couple has amassed 10 U.S. medals, including three U.S. titles and three world medals. The three-time Olympians placed fourth in Beijing and performed two of the finest programs of their career to lead Team USA to a team medal.

Long-time Team USA rivals Madison Hubbell and Zachary Donohue, who edged out Chock and Bates for the bronze medal in Beijing, have retired. Two-time Olympic champions Gabriella Papadakis and Guillaume Cizeron of France are taking a break from competition. Russia's strong ice dance contingent will not compete internationally this season. While teams from Italy, Canada and Great Britain also look strong, the time is ripe for Chock and Bates to step up to world gold.

"We're having some of the best years of our career now," Chock said on a recent "Santee on Skates" podcast.

"It shows a lot of resolve and a lot of perseverance and commitment to continue on," Bates added. "Getting back (on top), especially in ice dance, to a world podium is really difficult, especially five or six years apart."

Chock and Bates, who have won Skate America twice, are favorites for a third title in Norwood. Their Montreal training partners Kaitlin Hawayek and Jean-Luc Baker will also challenge for the podium there. The U.S. bronze medalists were 11th at the Beijing Games and eighth in the world last season.
Lynn Rutherford is a sportswriter based out of New York. She is a freelance contributor to TeamUSA.org on behalf of
Red Line Editorial, Inc.