Skating Stars Gather In Nashville For U.S. Figure Skating Championships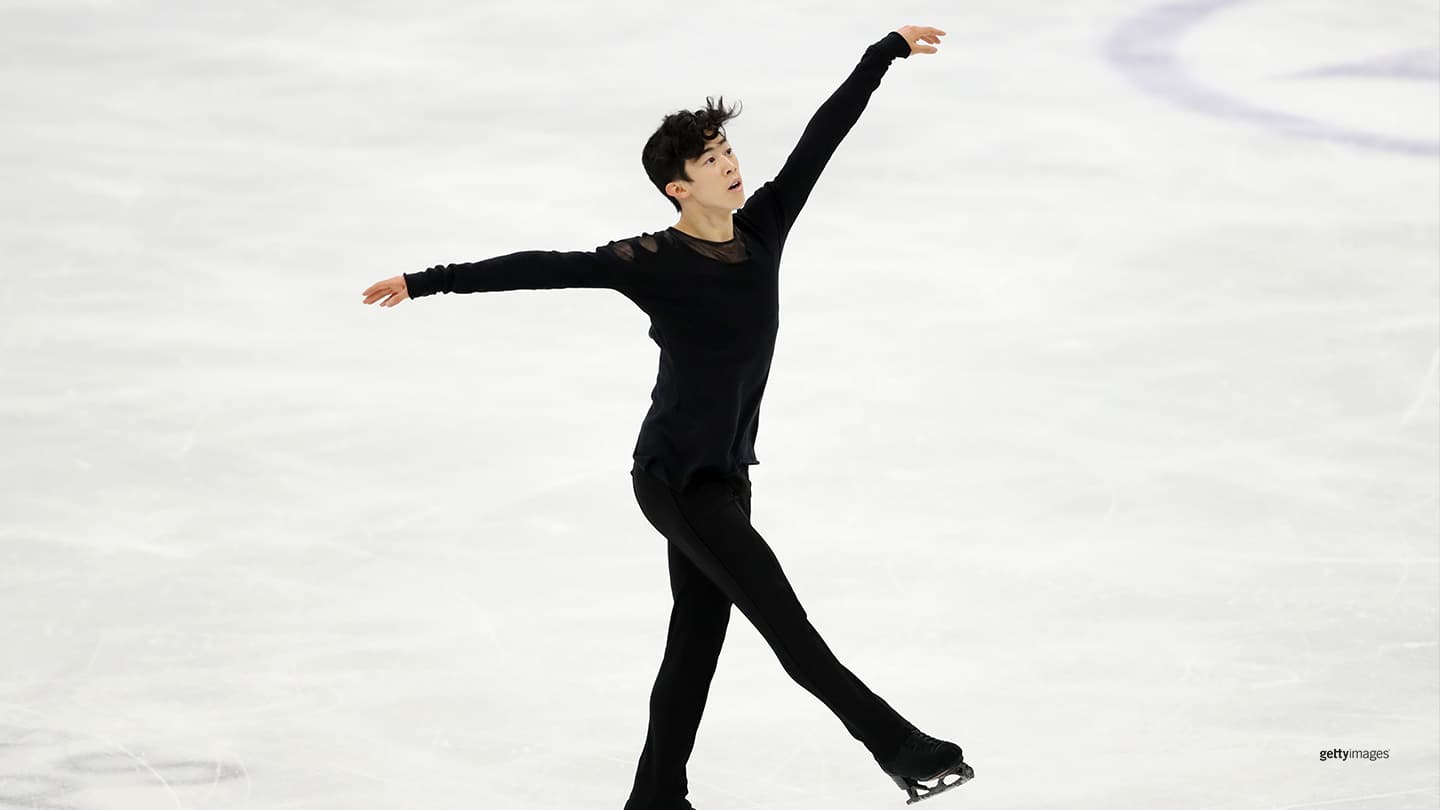 Nathan Chen performs in the men's free skate during the ISU World Figure Skating Championships on March 27, 2021 in Stockholm.
The 2022 U.S. Figure Skating Championships kick off at Bridgestone Arena in Nashville next week, with junior events starting on Tuesday.

Home to the Grand Ole Opry, Nashville is most famous as a country music hub, but newly built rinks have helped to create a thriving figure skating community. When the city hosted the 1997 U.S. Championships, Tara Lipinski won gold a year before her victory at the Olympic Winger Games Nagano 1998 and Todd Eldredge claimed the fourth of his six U.S. titles.

Some 25 years later, here are the storylines to follow:


Nathan Chen Tries For Sixth Straight U.S.
Title
In his teleconference with reporters last week, Nathan Chen made news. The three-time world champion will perform his routines from the 2019-20 season — a short program to Charles Aznavour's version of "La Bohème" and free skate to an Elton John medley, including "Rocketman" — in Nashville.

At least, that's what we think he will do. The five-time U.S. champion was a bit reluctant to reveal his hand.

"I'm still playing around with different programs," Chen, 22, said. "I really like the 2019-20 programs, and I never got the chance to compete them at worlds; the season was ended prematurely (due to the Covid pandemic)."

Both programs were choreographed by Chen's longtime choreographer Shae-Lynn Bourne, the 2003 world ice dance champion.

"All of the content Shae has done these past three seasons has been awesome, there's a lot of fun stuff to play around with, so that's kind of where I'm at right now," Chen said, adding that his programs in Beijing, where the 2018 Olympic team bronze medalist is expected to contend for individual gold, are still "TBD."

Chen competed the "La Bohème" and "Rocketman" programs at the 2019 Grand Prix Final, earning personal best scores for both performances and a total of 335.30 points — an international record that still stands. Early-season performances of his new programs, including a free skate set to Mozart selections, were so-so by his standards. In October, he placed third at Skate America, his first individual loss since the 2018 Olympics, where he placed fifth.

"The program felt a little off," Chen said. "That's not to say it might not feel (better) in the future, but there are other programs I feel a little bit more connected to. Again, it's great to have options."

Chen rebounded from his loss at Skate America to win Skate Canada the following week, landing five quadruple jumps in his free skate. He played coy when a reporter asked about his planned program content in Nashville.

"You'll see what you see," Chen said, adding that his early-season loss did not affect his preparation under coach Rafael Arutunian, or his confidence.

"Even if a great skate happens or a bad skate happens, I don't think wholesale changes should occur," he said. "Stick to your strengths, stick to what you know how to do, keep pushing forward. When something happens, it's really easy to scrap everything. That's definitely not the case (with me). I'm happy with where I currently am."

Vincent Zhou, who defeated Chen at Skate America to win his first Grand Prix title, hinted at boot problems during his teleconference.

"I've had a unique set of challenges and I'm doing my best to work through things and stay on track," he said. "I would prefer to not elaborate too much."

Like Chen, Zhou returned to old programs this season. His brilliant free skate at Skate America to "Crouching Tiger, Hidden Dragon" included five clean quadruple jumps.

Equipment problems or not, he refused to concede the U.S. title to Chen.

"There is no real point in going into nationals thinking the best I can do is second place," said Zhou, a three-time U.S. silver medalist behind Chen. "That's not a helpful mindset."
Three U.S. men's spots in Beijing are on the line, and results in Nashville play a large role in the selection process. Like Chen and Zhou, Jason Brown qualified for the Grand Prix Final and is favored to make his second Olympic team. He won team bronze in Sochi in 2014.
Brown, too, returned to old programs for his Olympic push: a short to "Sinnerman" and free skate to "Schindler's List."
"I did not want to go into this season with any sort of doubt in the programs I was doing, and how they were received, and how I would feel performing them," he said.
Other men to watch include Ilia Malinin, a 17-year-old who won two Junior Grand Prix events this fall; veteran Jimmy Ma, who has earned his best international results this season; and Yaroslav Paniot, fourth in the U.S. in 2021.
Alysa Liu skates in the ladies short program during the U.S. Figure Skating Championships on Jan. 14, 2021 in Las Vegas, Nev.
Alysa Liu Is Favored, But Contenders Abound In Women's
Event
Storylines are plentiful in the women's event.
After placing fourth at NHK Trophy in November, two-time U.S. champion Alysa Liu announced a coaching change, moving to Colorado Springs, Colorado, to train under Christy Krall, Drew Meekins and Viktor Pfeifer. It is her second coaching change in less than two seasons.
"It's going pretty well now," Liu, 16, said on her teleconference last week. "At first, it was such a sudden change for me, I wasn't dealing with it that well. Then after a week or two, I was (better) again. I have the support of a lot of people on my team."
Competing internationally as a senior for the first time, Liu has been unable to land clean triple axels, the jump that led her to the 2019 and 2020 U.S. titles. This may have led to her coaching change.
Asked whether her triple axel was growing more consistent in practice, Liu responded, "I've been training it a lot, so I hope so." Although she landed quadruple lutz jumps in junior competition, she does not plan to try one in Nashville.
While Liu, with consistent triple-triple jump combinations, earned the highest technical scores this season, Mariah Bell's 210.35 points at Rostelecom Cup in late November in Sochi, Russia, was the highest total Grand Prix score for a U.S. woman.
With a captivating free skate to k.d. lang's rendition of "Hallelujah," first used during the 2019-20 season, the 25-year-old capitalized on her maturity and artistry. She did not try a triple-triple combination in Sochi but plans to include it in Nashville.
"There's no doubt, no question," Bell said. "You have to go to nationals in the best shape and put your best out. That's what is so exciting about nationals: it's an event when everyone is peaking."
Karen Chen, the 2017 U.S. champion and 2018 Olympian, had a mediocre fall but is known to peak in the second half of the season. Her fourth-place finish at the 2021 world championships was key in securing three U.S. women's spots for Beijing.
Then there are up-and-comers: Lindsay Thorngren, the 2020 U.S. junior champion, placed sixth in the U.S. last season and won a Junior Grand Prix event this season. At age 14, reigning U.S. junior champ Isabeau Levito is not eligible for the Olympic team, but her strong triple-triple combinations could land her on the podium.
Two-time and defending U.S. champion Bradie Tennell has battled a chronic right foot injury for six months. Still, the 23-year-old hoped to compete in Nashville, telling reporters two weeks ago, "Training has been up and down, but things are looking up."
Several days later, though, Tennell made the difficult decision to withdraw, announcing via social media: "I have to listen to what my body is telling me and accept that I won't be able to compete next week. I will keep working to get healthy, and I wish everyone the absolute BEST of luck next week. I will be cheering my hardest for ALL of Team USA as they head to Beijing."
Alexa Knierim and Brandon Frazier perform in the pairs free skate during ISU World Figure Skating Championships on March 25, 2021 in Stockholm.
Knierim, Frazier Will Fight For Second Pairs
Crown
Solid performances this fall, including a bronze medal at Internationaux de France in November, make Alexa Knierim and Brandon Frazier favorites to win their second straight U.S. pairs title, but their frontrunner status isn't quite as clear as it was several weeks ago.
After a subpar free skate, the U.S. champions placed fifth at Golden Spin of Zagreb, an ISU Challenger Series event held in Croatia Dec. 7-11. Audrey Lu and Misha Mitrofanov, fourth in the U.S. last season, skated career-best programs to win the competition.
Knierim attributed the disappointing result in part to exceptionally cold temperatures in the rink.
"I was very prepared for this event, Brandon and I were skating very consistently," Knierim, 30, said. "The training going in was strong. It was building, from Skate America to France to Croatia. And every time I was into that rink, I was not able to execute. What I learned from that is I need to be better prepared for all situations. There is no excuse."
"We've been training very well, we've been very consistent in our practices," Frazier, 29, said. "There are still some things we can tighten up and do better. You can't be your best at every single event."
Since returning to their training base in Irvine, California, the skaters have focused on jump drills and working with Chris Knierim, Alexa's husband and former partner, to improve their triple twist.
"It's gotten more comfortable," Alexa Knierim said. "We've mended our timing and it's lighter and a little more effortless. I feel like it's coming together at the right time."
Two spots are open for U.S. pairs in Beijing, and competition will be fierce. With a bronze medal at Skate Canada and solid fourth-place at NHK Trophy, 2019 U.S. champions Ashley Cain-Gribble and Timothy LeDuc arrive in Nashville with an edge, but will be challenged by Jessica Calalang and Brian Johnson, second in the U.S. last season, as well as Lu and Mitrofanov.
Madison Chock and Evan Bates compete during the ice dance short program during the ISU Grand Prix of Figure Skating - Skate America on Oct. 23, 2021 in Las Vegas, Nev.
Final U.S. Showdown For Top Ice Dance
Teams
Nashville marks the final time Madison Hubbell and Zachary Donohue, and Madison Chock and Evan Bates, will square off for the U.S. ice dance title.
Both teams began their partnerships in 2011 and have met each year at the U.S. championships since then. Hubbell and Donohue own three U.S. crowns (2018-19, 2021) while Chock and Bates have won two (2015, 2020). Along the way, Hubbell and Donohue have won three world medals, including bronze last season, while Chock and Bates have stood on the world podium twice.
On the cusp of qualifying for their second Olympic team, Hubbell and Donohue have announced this is their final competitive season.
"Right now the job is a lot bigger than the daunting, if you want to call it that, feeling of it being our last season," Donohue, 30, said. "It's gone to a point where we are appreciating everything …. We have so much we are pushing for, right to the end. There isn't a moment we are kind of resting or riding it out."
"Everybody deals with it differently," Hubbell, 30, said. "Certainly if I chose to carry it as my last chance to be a national champion or my last chance to be an Olympic medalist, that could be very heavy. But with experience I also know that no outcome is really that bad."
Hubbell and Donohue won a close decision over Chock and Bates at Skate America in Las Vegas in October, winning by 1.31 points. They went on to claim silver at the Italian Grand Prix behind three-time world champions Gabriella Papadakis and Guillaume Cizeron of France.
"We're feeling very healthy, and since the Grand Prix Final was cancelled, we were able to give our bodies a rest heading into these U.S. championships," Hubbell said, adding that feedback from officials in Italy led them to tweak a step sequence in their hip-hop themed rhythm dance, as well as choreographic elements in their free dance to Anne Sila's "Drowning."
Chock and Bates won a second Grand Prix silver medal behind reigning world champions Victoria Sinitsina and Nikita Katsalapov of Russia at NHK Trophy in November. Like their longtime rivals, they tweaked their programs and told reporters they arrived in Nashville fit and confident.
"We made some adjustments and smoothed things over and fine tuned ourselves, leading into the U.S. championships," Chock, 29, said. "There really hasn't been anything major we have changed. It's really about finetuning some steps that were maybe a little uncomfortable or not as organic as we would have liked them to feel, making them as musical and nuanced as we can."
The on- and off-ice couple have no plans to retire, saying they will make that decision after this season.
"There are certainly no plans to stop at the moment," Chock said. "We feel like we are in the best shape and as motivated as we have ever been …. We are both super passionate about what we do, we feel good, we are both sharing in that love for skating, so we'll see."
Kaitlin Hawayek and Jean-Luc Baker made a successful return to competition early this month, winning Golden Spin of Zagreb after withdrawing from their Grand Prix assignments due to Hawayek's recovery from a concussion suffered in training in July. The three-time U.S. bronze medalists look strong to claim a spot on the podium in Nashville and the third U.S. ice dance spot in Beijing.
Lynn Rutherford is a sportswriter based out of New York. She is a freelance contributor to TeamUSA.org on behalf of
Red Line Editorial, Inc.