Where Team USA Figure Skaters Stand Mid-Season Looking Ahead To The Winter Olympics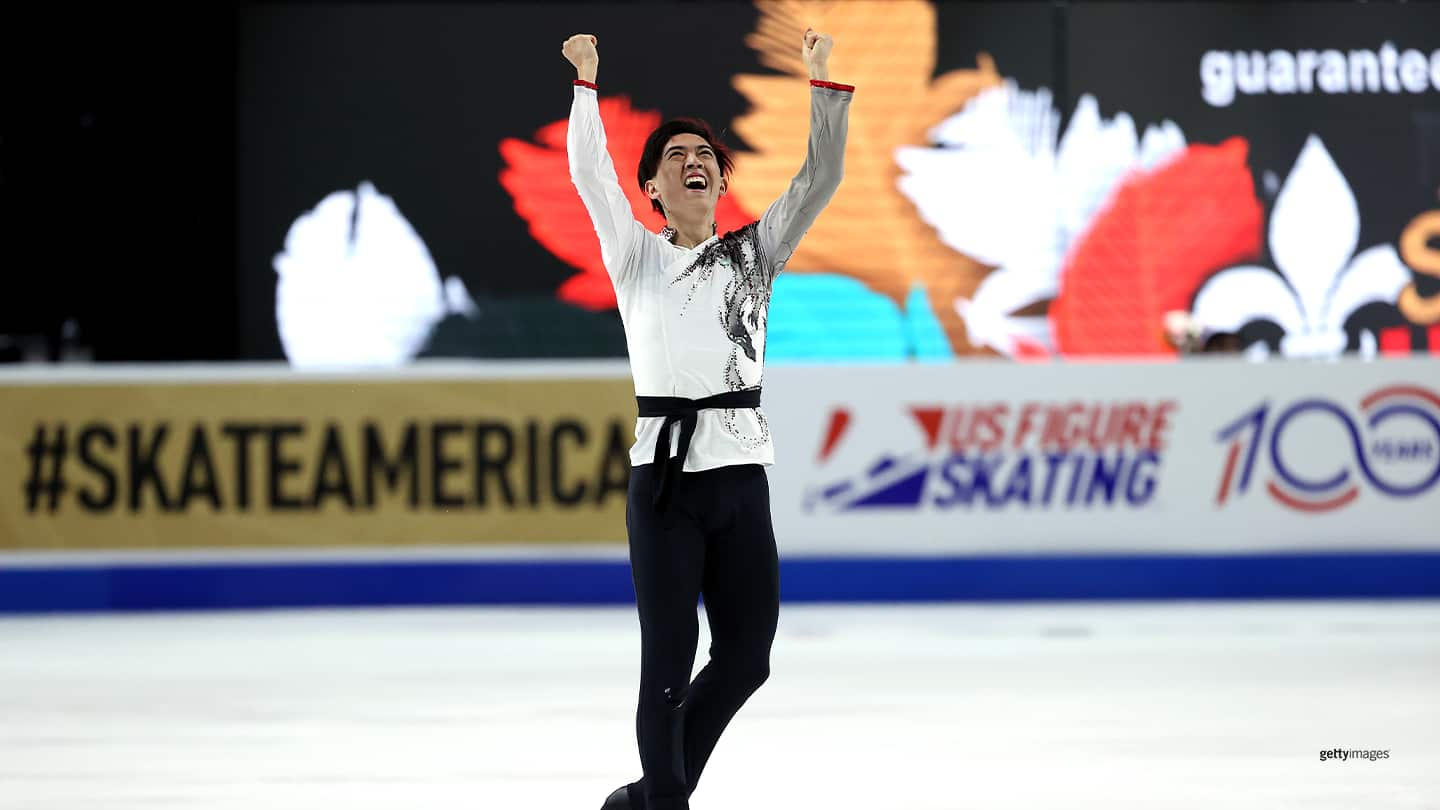 Vincent Zhou celebrates after competing in the men's free program during the ISU Grand Prix of Figure Skating - Skate America on Oct. 23, 2021 in Las Vegas, Nev.
On Thursday, Team USA figure skaters awoke to the news that the Grand Prix Final, scheduled for Dec. 9-12 in Osaka, Japan, will not take place due to the COVID-19 pandemic.

"Considering the complicated epidemic situation involving travel restrictions, quarantine requirements, safety concerns and logistical challenges, the organization of the event was extremely challenging," the International Skating Union (ISU) relayed in a statement. "The Japan Skating Federation and the local organizing committee tried their best to find solutions but ultimately concluded that, regrettably, they are unable to organize and hold the event as planned."

Anticipated showdowns — including Nathan Chen versus U.S. rivals Vincent Zhou and Jason Brown as well as Japanese stars Yuma Kagiyama and Shoma Uno — are postponed until the 2022 U.S. Figure Skating Championships, set for Jan. 3-9 in Nashville, Tennessee, or the Olympic Winter Games Beijing 2022.

There are positives and negatives for those who qualified to compete in Osaka. On one hand, they now have additional training time, uninterrupted by long flights; on the other, they lose a chance to compete in front of international judges, gain mileage on their programs and earn international ranking points and prize money.

With Beijing two months away, here's a look at the season thus far:


Chen: Not unbeatable, but still favored for Olympic
gold
Chen's loss to Zhou at Skate America in Las Vegas in October, an event he had won four straight times, snapped a winning streak that dated back to the 2018 World Figure Skating Championships. The three-time world champion's usually consistent jumps, including his quadruple Lutz, failed him in Las Vegas, opening the door to not only Zhou, but to Japan's Uno, who won silver.
A week later, Chen righted the ship, winning Skate Canada gold with 295.56 total points, the most earned by a man on this season's Grand Prix circuit. He also seemed unperturbed at the loss, telling reporters, "It was inevitably going to end, right, at some point in time. … I'm proud of what I've accomplished in the past, but at this point in time the only thing I can do is move forward. That's where my mind's at."
The 22-year-old will arrive in Nashville an overwhelming favorite to win his sixth straight U.S. title, although Zhou has proven that, when he is at his best, he can match Chen jump-for-jump. Barring injury, all three qualifiers for the Grand Prix Final — Chen, Zhou and Brown — should also qualify for Beijing.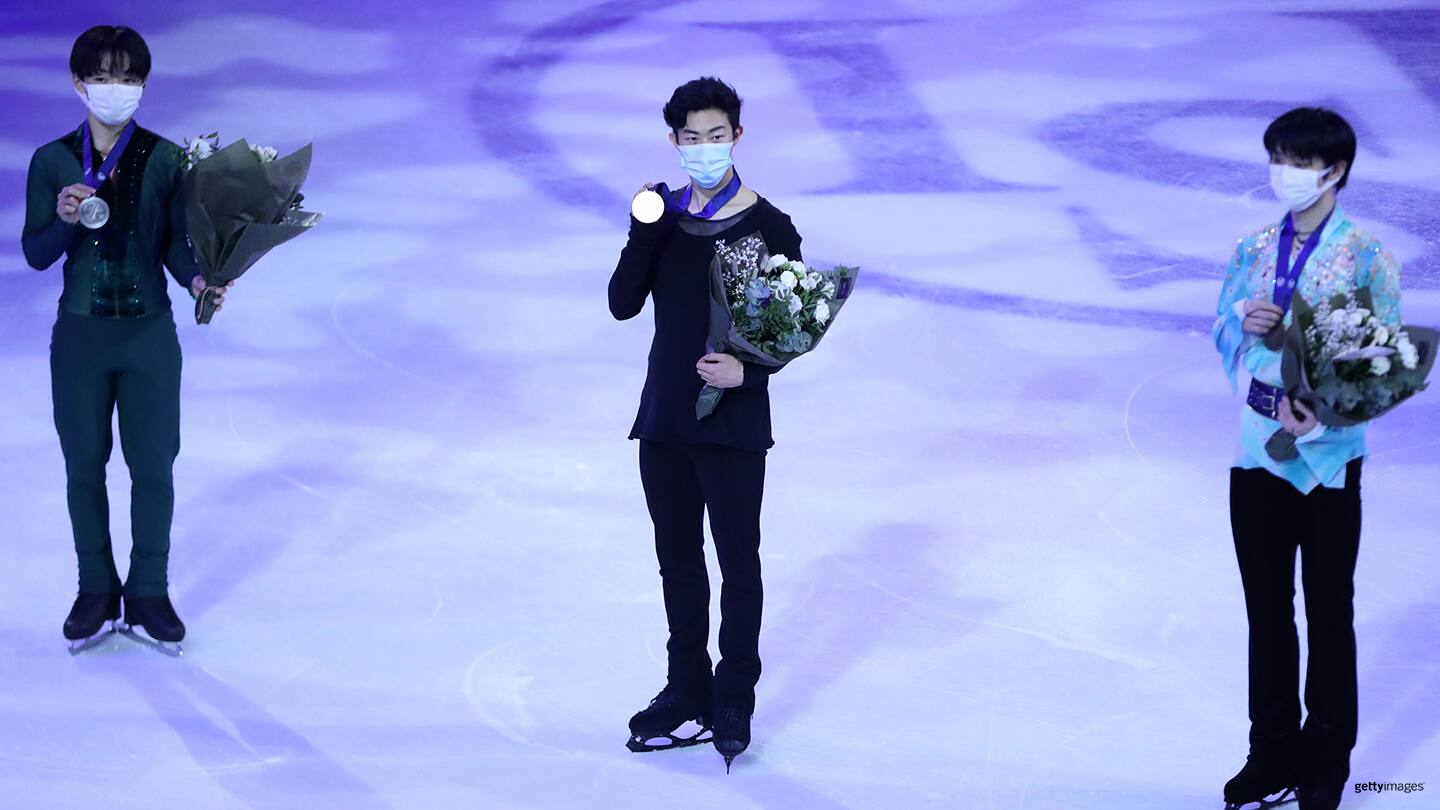 (L-R) Yuma Kagiyama of Japan, Nathan Chen of the United States and Yuzuru Hanyu of Japan pose for a photo during the medal ceremony for men short program and men free skating during the ISU World Figure Skating Championships on March 27, 2021 in Stockholm.
Questions swirl around
Hanyu
The biggest threat to Chen's gold in Beijing has long been assumed to be two-time Olympic champion Yuzuru Hanyu. But the Japanese star withdrew from his Grand Prix events with a right ankle injury and has yet to compete this season. He may compete at the Japan Figure Skating Championships, if that event takes place as scheduled Dec. 22-26; or, Japan could nominate him for Beijing without a qualifying competition. Hanyu, though, has yet to announce whether he will seek a third straight Olympic title.
In his absence, Japanese teammates Kagiyama, a rising 18-year-old who won both of his Grand Prix events this fall, and a resurgent Uno, the 2018 Olympic silver medalist, look to be Chen's likeliest international challengers.
Russian women still
dominant
It's an old story, but still as compelling as ever: Russian women are crushing their international rivals. They dominated this Grand Prix season, winning five of six events and capturing five spots at the Grand Prix Final (Japan's Kaori Sakamoto won the NHK Trophy, where no Russian women competed).
This season's standout is Kamila Valiyeva, just 15, who notched a record 272.71 points in winning the Rostelecom Cup last month, including three quadruple jumps in her free skate. Her score was more than six points higher than that of Georgia's Morisi Kvitelashvili, winner of the Rostelecom's men's event. Women cannot include quads in their short programs, or Valiyeva's score would likely have been even higher.
Valiyeva has plenty of Russian teammates: Anna Shcherbakova, Elizaveta Tuktamysheva, Maliya Khromykh, Alena Kostornaia, and Alexandra Trusova are all considered Olympic medal threats. All of them, save for Tuktamysheva, train in Eteri Tutberidze's school in Moscow; Tuktamysheva is coached by Alexei Mishin, who trained 2006 Olympic champion Evgeni Plushenko.
U.S. women shut out of Grand Prix
medals
For the first time ever, no U.S. woman qualified for the Grand Prix Final, and none won a Grand Prix medal this fall. The top performers were two-time U.S. champion Alysa Liu, who placed fifth at Skate Canada and fourth at the NHK Trophy, and Mariah Bell, who earned an impressive 210.35 points to finish fourth at the Rostelecom.
Both skaters made important adjustments this season. Liu, seeking to improve consistency on her triple Axel and to regain her quad Lutz, moved to Colorado Springs, Colorado, to train under a team headed by noted jump technician Christine Krall. Bell changed both of her programs, including a return to her 2019/2020 free skate, set to k.d. lang's rendition of "Hallelujah."
Another top U.S. hope, two-time U.S. champion Bradie Tennell, withdrew from her fall events due to an ongoing foot injury. Karen Chen, fourth in the world last season, had an inconsistent fall, placing 10th at Skate Canada but improving to fifth place at Internationaux de France.
With several other women in the mix — and three spots available for Beijing — a lot will ride on next month's U.S. championships.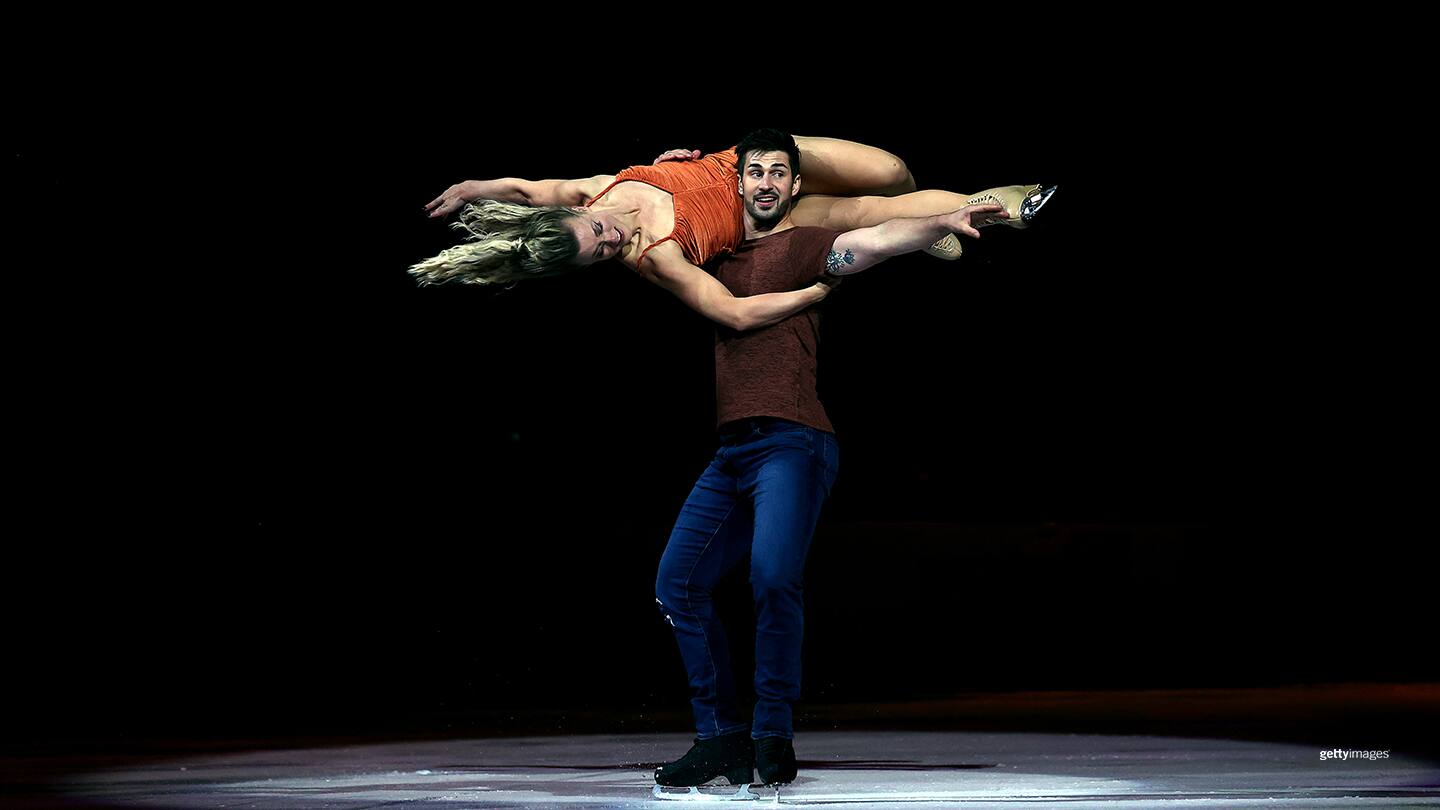 Madison Hubbell and Zachary Donohue perform in the exhibition program during the ISU Grand Prix of Figure Skating - Skate America on Oct. 24, 2021 in Las Vegas, Nev.
U.S. ice dancers are in the mix for Beijing
podium
Both top U.S. ice dance teams — Madison Hubbell and Zachary Donohue, and Madison Chock and Evan Bates — had strong Grand Prix seasons, qualifying for the Grand Prix Final.
The biggest story in ice dance, though, is the successful return of Gabriella Papadakis and Guillaume Cizeron of France. The four-time world champions, who did not compete last season, easily won both of their Grand Prix events, defeating Hubbell and Donohue at the Gran Premio d'Italia. After a narrowly losing to Canada's Tessa Virtue and Scott Moir in PyeongChang four yours ago, the couple looks strong for gold in Beijing.
Reigning world champions Victoria Sinitsina and Nikita Katsalapov of Russia defeated Chock and Bates at the NHK Trophy, with the U.S. team settling for silver. They, along with the two top U.S. couples and Canadians Piper Gilles and Paul Poirier, will likely battle for the podium in Beijing.
A near-miss Grand Prix season for Knierim and
Frazier
U.S. pair champions Alexa Knierim and Brandon Frazier had solid performances at their Grand Prix events, narrowly missing the podium at Skate America and winning bronze at Internationaux de France. They qualified as second alternates for the Grand Prix Final.
2019 U.S. champions Ashley Cain-Gribble and Timothy LeDuc also performed well, winning bronze at Skate Canada and performing a personal-best free skate at the NHK Trophy, where they placed fourth.
Still, the U.S. pairs' strongest score — a personal-best 202.97 points, earned by Knierim and Frazier at Skate America — was well behind that of Russia's reigning world champions, Anastasia Mishina and Aleksandr Galliamov, as well as China's two-time world champions Sui Wenjing and Han Cong, and several other top Russian pairs.
Lynn Rutherford is a sportswriter based out of New York. She is a freelance contributor to TeamUSA.org on behalf of
Red Line Editorial, Inc
.