News
Brandon Frazier
Brandon Frazier
Alexa Knierim
Alexa Knierim, Brandon Frazier Lead Pairs Field At Figure Skating World Championships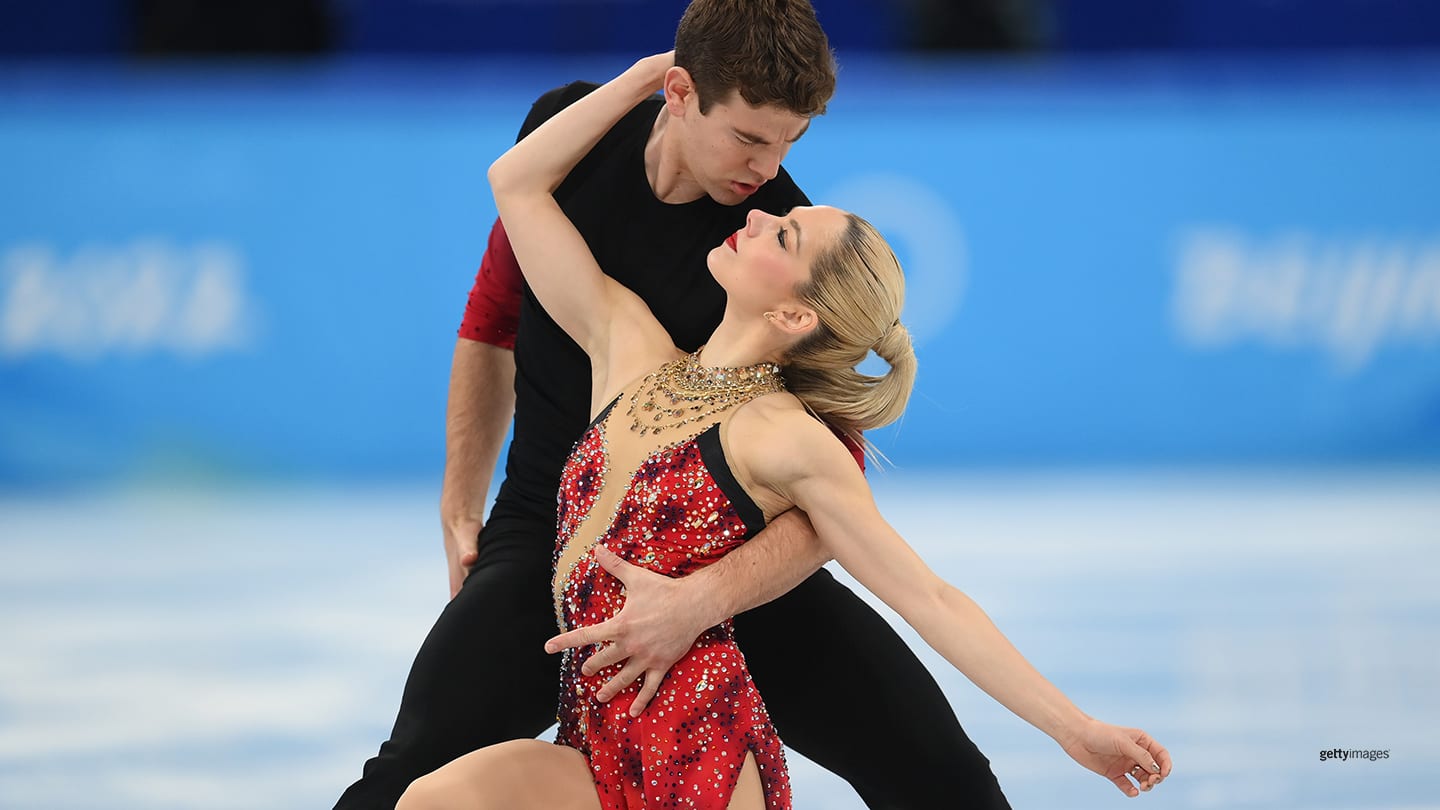 (L-R) Alexa Knierim and Brandon Frazier compete during the pairs short program at the Olympic Winter Games Beijing 2022 on Feb. 18, 2022 in Beijing.
Team USA's pairs and women's medal hopes soared at the 2022 World Figure Skating Championships in Montpellier, France, on Wednesday.

First, Mariah Bell skated a personal best program to place third in the women's short, the first time since 2016 a U.S. woman has landed in the top three entering the free skate.

A few hours later, Alexa Knierim and Brandon Frazier performed a career-best short program to lead teammates Ashley Cain-Gribble and Timothy LeDuc by 1.03 points, putting a U.S. pair on the cusp of winning a world pairs title for the first time since 1979.

"Every time we come out and compete, we're trying to grow each program," Frazier, 29, said. "It's a great way to finish this short program off for the season."

In a dynamic performance to "House of the Rising Sun," the 2021 U.S. champions nailed all seven of their elements, including a big, opening triple twist, side-by-side triple toe loop jumps and a strong throw triple flip. Their 76.88 points is nearly two points higher than their previous personal best score, earned during their sixth-place finish at the 2022 Olympics.

"Going out and skating well — skating like we do at practice — is very fulfilling," Knierim, 30, said.

Cain and LeDuc, two-time and reigning U.S. champions, notched a new personal best of 75.85 points with an elegant and sophisticated program to "The White Crow" soundtrack, highlighted by smooth, intricate steps and a solid throw triple lutz. Their only error was Cain's hand down on the landing of a triple loop.

"We've been training really strong all season, we've been building, building, building," LeDuc, 31, said. "We've put in so much training, we just want that to show, so we're ready to go out there and execute like we do in practice."

While both pairs' programs would be competitive at any championships, U.S. medal hopes are undeniably aided by the absence of Russian and Chinese pairs, who took the top five spots at the Olympic Winter Games Beijing 2022 last month. The International Skating Union barred Russia's participation, due to its invasion of Ukraine. It is not known why China elected not to send any competitors to Montpellier.

"At the end of the day, we can't control circumstances," Frazier said of the lack of Russian and Chinese competitors. "We just come in and focus on ourselves, just try to do our best. For us, we view the opportunity as just another event after the Olympics to come out perform and (live up to) our potential."
Japan's Riku Miura and Ryuichi Kihara, seventh at the Olympics, placed third in the short program with 71.58 points.

The pairs event concludes on Thursday when skaters take the ice for their free skates.

Bell arrived in Montpellier without either of her regular coaches, Rafael Arutunian or Adam Rippon, but that didn't stop the U.S. champion from skating a personal best short.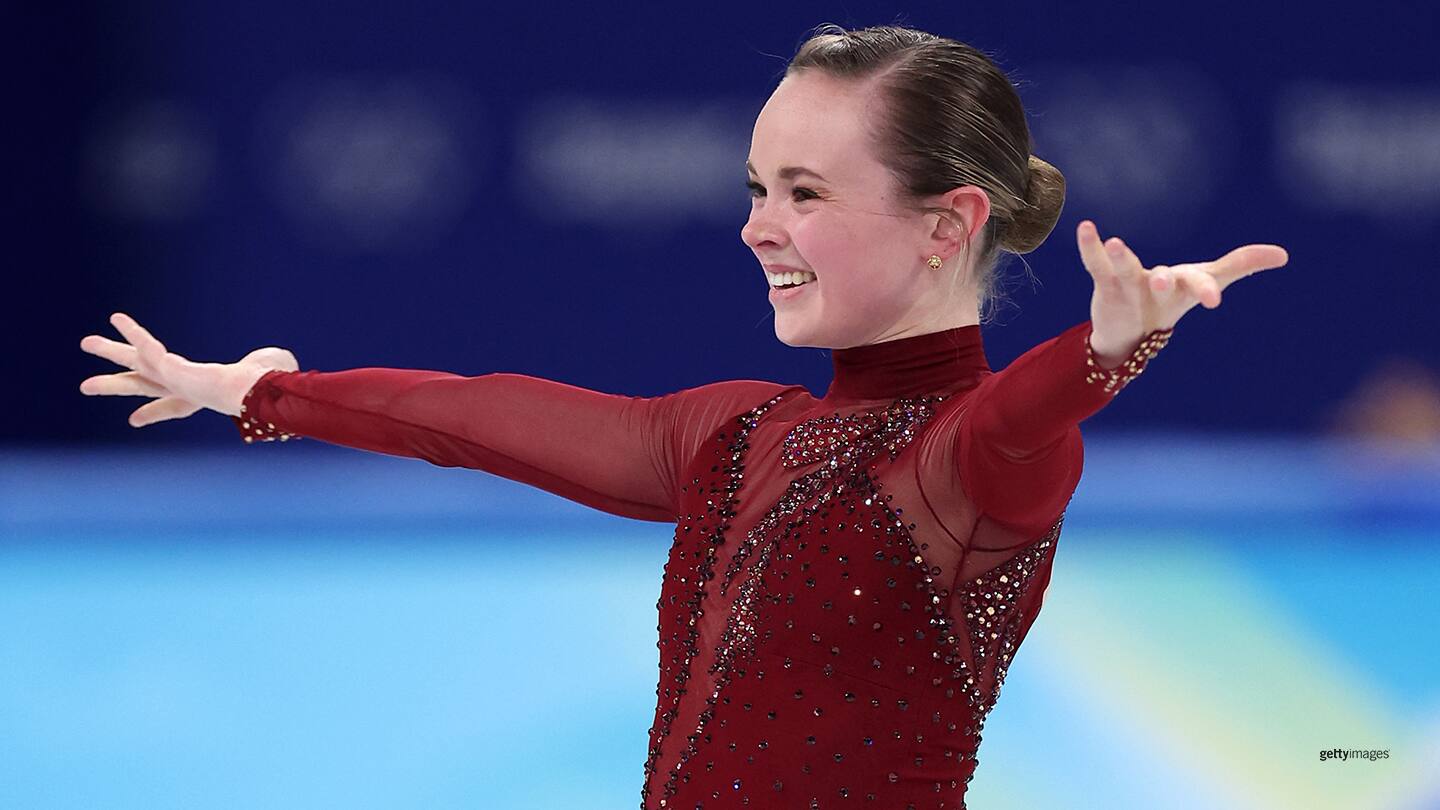 Mariah Bell reacts after skating the women's single free skate at the Olympic Winter Games Beijing 2022 on Feb. 17, 2022 in Beijing.
The 25-year-old from Tulsa, Oklahoma — who proudly reminded reporters she will turn 26 on April 18 — landed the triple flip, triple toe loop combination that eluded her at the Olympics, where she placed tenth. Everything else in her performance to Yiruma's "A River Flows in You" was clean and sparkling, adding up to 72.55 points.


"I didn't expect to have that much fun," Bell said, adding, "I was really enjoying myself and I felt really in the moment. I wasn't thinking too much about points or how I felt at the end."


As she got her marks, the skater held up her phone in the kiss-and-cry to share her excitement with Rippon.


"Rafael was just a little too tired to travel, he just came back from winning the Olympics with Nathan (Chen)," Bell said. "Adam was never able to come, because of his work schedule. It was just nice to have him on FaceTime — it felt like he was here and I could feel his energy through the phone."


The absence of Russian women, who have won five of the last six world titles and took gold and silver at the 2022 Olympics, has opened up the field. Japan's Olympic bronze medalist Kaori Sakamoto is first with 80.32 points, while Loena Hendrickx of Belgium is second with 75 points.


After a clean, speedy performance to "Gypsy Dance," including a solid triple lutz, triple toe loop combination, Alysa Liu left the ice in tears. But, as at the Olympics last month, they were tears of joy.


"I was relieved and happy, I was very emotional," Liu said. "It was not tears of sadness."


Competing at her first senior world championships, the 16-year-old from Richmond, California, sits fifth with 71.91 points. She told reporters she would not let thoughts of the podium enter her head.


"I don't really think about the medals, no one knows until we compete," Liu said. "It's undecided till we skate, so I don't think about it."


In 2019 and 2020, Liu landed triple axels to win U.S. titles. While she has not landed the jump cleanly this season, she told reporters it feels good in practice, and plans to try it in Saturday's free skate.


"I took a week off skating after Olympics and I had a break," Liu said. "When I got back to skating I was doing run-throughs, I had time to work on my programs. I didn't have the down time (emotionally) after the Olympics like many people said I would."


The third member of Team USA, Karen Chen, popped an intended triple loop jump into a single in her otherwise fine short program. The U.S. silver medalist sits eighth with 66.16 points.


While the loop is usually a solid jump for Chen, it also troubled her at last month's Olympics, contributing to a disappointing 16th place finish. In the weeks leading up to worlds, the skater and her coach, Tammy Gambill, modified the entry to the jump.


"I (wish) I had had another week to really rehearse this new setup (into the loop) again and again, so I'd have more confidence," Chen, 22, said. "I'm kind of in this gray area where I have to think and it's not quite muscle memory yet."


The women next take the ice on Friday for their free skates.
Lynn Rutherford is a sportswriter based out of New York. She is a freelance contributor to TeamUSA.org on behalf of
Red Line Editorial, Inc.