Mariah Bell, Cain-Gribble/LeDuc Lead After Short Programs At U.S. Championships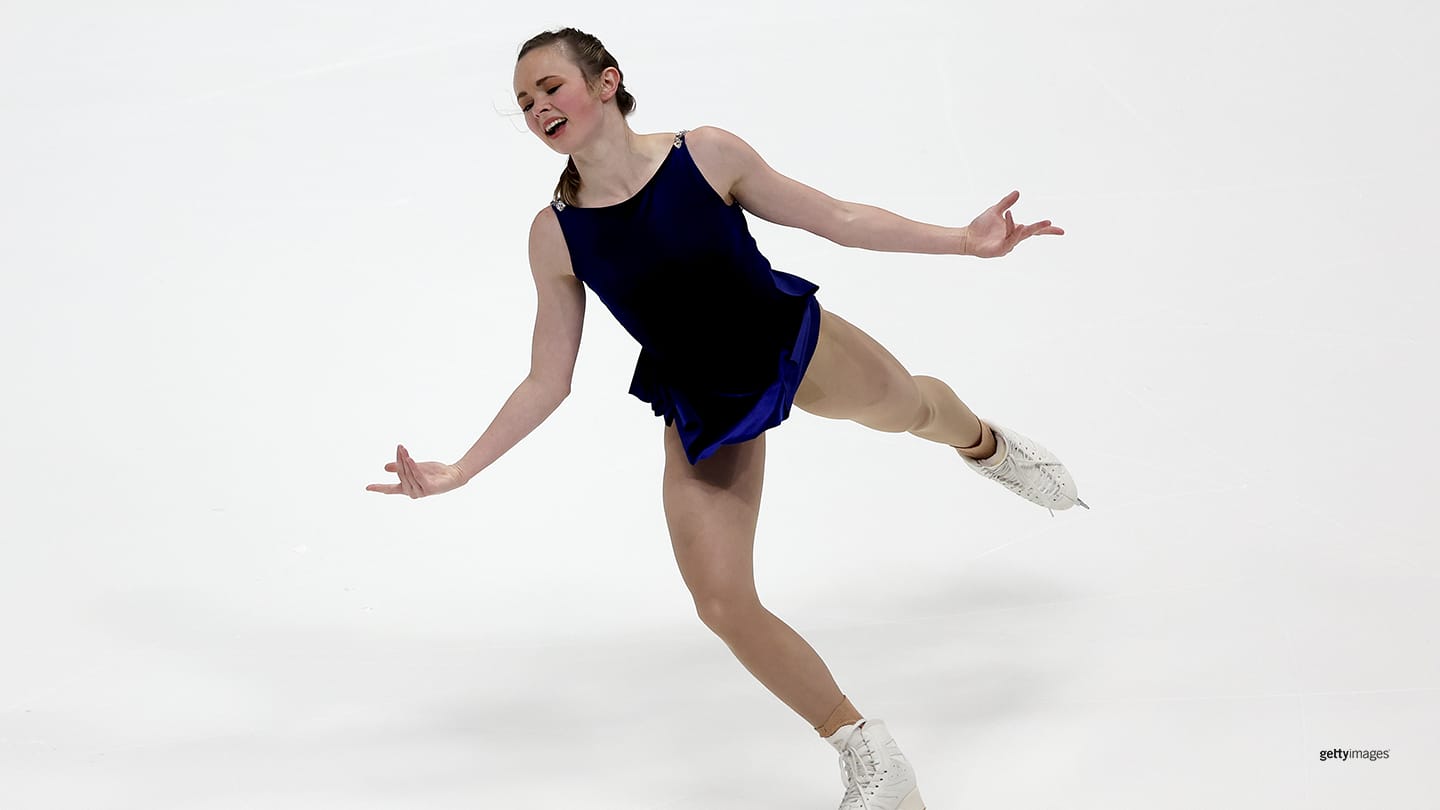 Mariah Bell competes in the women's short program at the U.S. Figure Skating Championships on Jan. 6, 2022 in Nashville, Tenn.
NASHVILLE, Tenn. — For the first time in her nine years as a senior competitor at the U.S. Figure Skating Championships, Mariah Bell leads after the women's short program.

The 25-year-old skater still has a lot of work to do in Friday's free skate, though, to win her first U.S. title.

Karen Chen, the 2017 U.S. champion, is just a point behind Bell. Two-time U.S. champion Alysa Liu (2019, 2020) is four points off the lead.

But Thursday night in Nashville belonged to the effervescent Bell, who skated a light, joyful program to "River Flows in You," a piano composition by Korean musician Yiruma.

The Southern California-based skater opened with a key element that eluded her earlier this season: a clean triple flip-triple toe loop combination. She added a strong triple Lutz in the second half of her program, as well as nifty spins and steps, to earn 75.55 points.

"I've been in pretty much every position possible going into the long program, and the goal is always the same," Bell said. "But definitely, I feel like I have good confidence heading into the free."

Much of that confidence is likely rooted in the strong triple-triple, which earned a solid 10.33 points.

"It's the first triple-triple I've delivered this season, so of course, it's the best," Bell said. "I learned from the Grand Prix, figured out what we needed to do better. … And then here, it was a matter of attack."

Adam Rippon, one of Bell's coaches, emphasizes there is a lot more to Bell's skating than one jump element.

"She's in great shape, she's super solid, and the quality of all of her elements is where her points lie," Rippon, a 2018 Olympic team bronze medalist, said.

"Her triple-triple (combination) hasn't been great all year, (but) she's worked on it a lot and she's giving her best attempts here," he added. "Aside from that, it's one element in a stew of elements. The only thing she has to do is focus on one element at a time."

About that, Bell surely agrees.

"I've really worked, the last couple of years, on trying to stay in the moment throughout the program," she said. "When things are going well, there's an excitement that's building, but years ago I fell on my footwork because I was a little ahead of myself, so I was trying to keep myself mellow today. … I remember thinking on my last two spins, 'Hey, just don't trip here.'"

Chen arrived in Nashville with a new program set to "Requiem for a Dream," music she first used during the 2014-15 season.

The skater, who is known for frequently changing her programs, decided to make the switch soon after her Grand Prix event in France. It worked: skating with speed and confidence, Chen performed a near-clean routine, including a triple Lutz-triple toe combination and the best spins of the event.

"I wasn't feeling my other short anymore," Chen, 22, said, adding, "I remembered how much I loved skating to ("Requiem for a Dream") and how fearless I was (in 2015). It was my first year skating senior. I wanted to embrace that fearlessness and chase my goals and dreams with courage. That's what I wanted to embody."

After some consideration, Chen's longtime coach Tammy Gambill, who trains the skater in Colorado Springs, Colorado, endorsed the change.

"Karen didn't feel that energy coming from her last short program (and) she has always had a great connection to this music," Gambill said. "I said, 'Let's see how you skate to it. You're a different skater now, you're much more mature (than in 2015).' So, she brought it in, played around with it, and it was amazing. Right away I knew it was great, especially since she had such a good feeling about it. … I actually had goosebumps when she finished the program."

Liu took a risk: instead of playing it safe with a double Axel — which may have given her a clean program, and the lead heading into Friday's free skate — she tried a triple Axel, a jump she has not landed cleanly all season. She fell on the attempt, losing at least four to five points.

The rest of her energetic program, set to the fast-paced "Gypsy Dance" from the ballet "Don Quixote," was clean and crisp, including a triple Lutz-triple toe combination.

"Of course, I want to land my triple Axel," Liu said. "It's satisfying to land jumps, it's not really satisfying to fall on jumps."

The 16-year-old arrived in Nashville with a new look — bangs cut straight across her forehead — and a new coaching team. In late November, she announced she had moved from her home training site in Oakland, California, to Colorado Springs, where she is coached by Christy Krall, Drew Meekins and Viktor Pfeifer.

According to Meekins, the focus of Liu's coaching team in Colorado is improving the skater's stamina and conditioning, to enable her to land consistent, high-quality jumps.
"I think the biggest thing that has helped her has been a stronger structure to her training and a little bit more intense regimen to running the program, doing sections (of the program), running jump drills," Meekins said. "She has a strong technical foundation, so getting the jumps higher and cleaner has been about getting her consistency up through repetitions and training structure. That's been the biggest thing we've focused on in the last six weeks."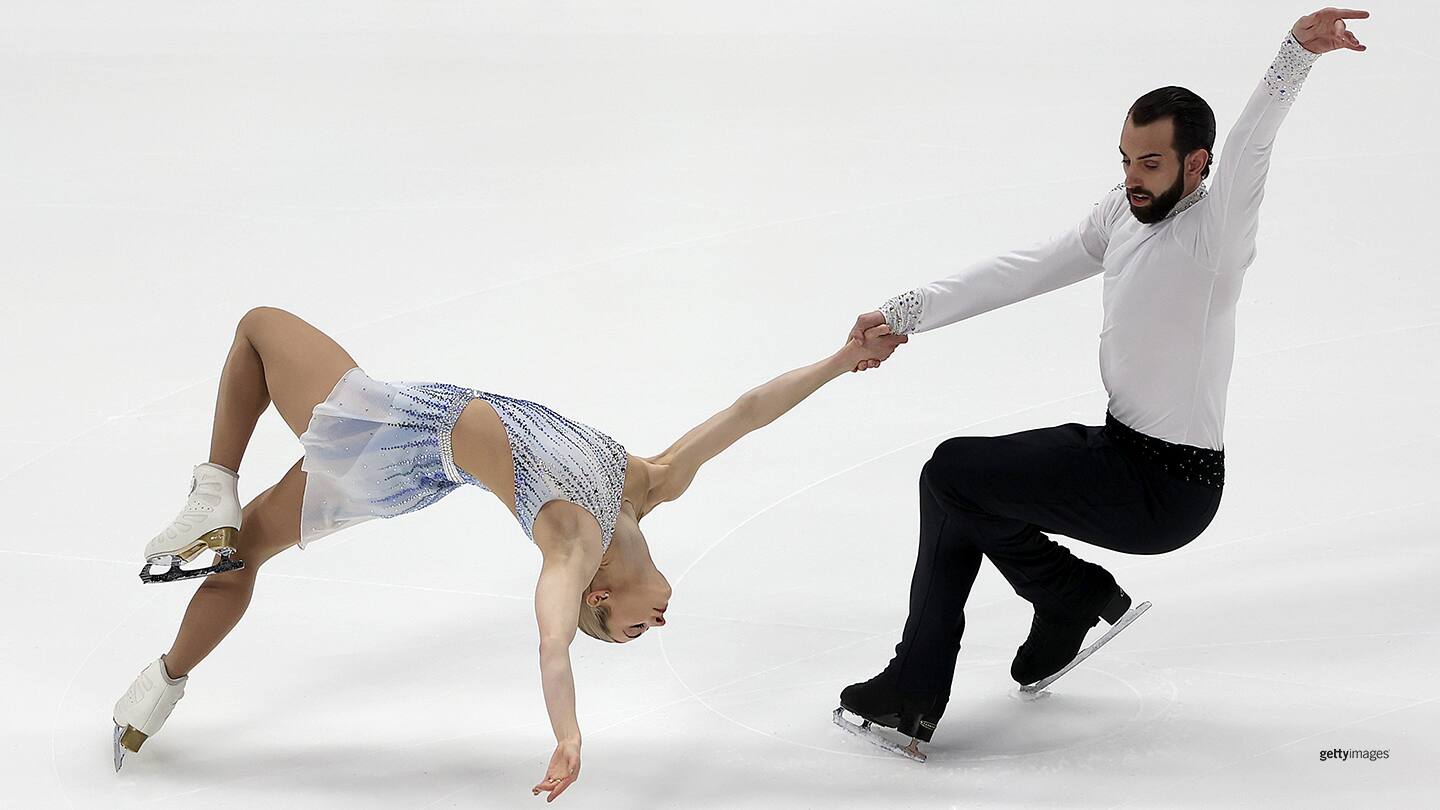 (L-R) Ashley Cain-Gribble and Timothy LeDuc compete in the pairs short program at the U.S. Figure Skating Championships on Jan. 6, 2022 in Nashville, Tenn.
Two up-and-coming teenagers, Isabeau Levito and Lindsay Thorngren, skated strong programs to place fourth and fifth, respectively.
Two-time U.S. champion (2014, 2016) Gracie Gold skated her best short program in years, landing a triple Lutz-triple toe loop combination. The 2014 Olympic team bronze medalist earned 67.61 points for sixth place and a standing ovation from the Nashville crowd.

Gold, who has been candid about her mental health struggles and subsequent fight to return to form following a disappointing finish at the 2016 world championships, called the moment "really amazing."

"I felt a little more tense than I wanted to, and then I thought, 'Calm down, you're not doing this again. You're not doing another bad short at nationals,'" she said. "I did not train double run-throughs at age 26, to mess up another short at nationals. … I think the last clean short I did at nationals was in 2014, and I'm 98 percent sure that I haven't landed the triple-triple in the short since 2014."


Cain-Gribble And LeDuc Lead Pairs After Record-Setting Program
Ashley Cain-Gribble and Timothy LeDuc's short program had it all, served up with equal portions of grace and power.
Gently landed side-by-side triple loop jumps. Powerful triple twist. Near-perfect unison, especially on the "falling leaf" leaps punctuating their challenging step sequence.
It was so good, that when judges entered the marks for their 2-minute, 40-second routine to the soundtrack of "The White Crow," they totaled 79.39 points — a new U.S. record for a pairs short program.
"We did what we do in practice," LeDuc, 31, said.
"We have prepared in every way possible to be ready for anything that happens at these championships," Cain-Gribble, 26, said. "We have set ourselves up every day in practice to not be surprised by anything."
The 2019 U.S. champions, who train in Plano, Texas, under Cain-Gribble's parents, Darlene and Peter Cain, proved that point by taking a bit of off-ice drama in their stride. An unusually heavy snowstorm caused traffic problems throughout Nashville, where many drivers are unaccustomed to icy conditions. The practice rink in Bellevue is about 15 miles outside of the city; on a normal day, driving there takes a little over 20 minutes. On Thursday morning, it took far longer.
"One of our strong points, I think, is our adaptability," LeDuc said. "Because of the weather, we weren't able to get to the practice rink in time to do our off-ice warm-up. So, we had to basically jump on the ice and do (our practice) without our warm-up."
Cain and LeDuc's greatest strength is their presentation, and "The White Crow" routine — choreographed by Misha Ge with emphasis on elegance and interesting shapes — fully capitalizes on their musicality and commitment to their material.
"We feel it's a really good vehicle that showcases everything that makes us special as a team," LeDuc said. "Its lyrical, but it also picks up at the end with the footwork. We are just hopeful that people watching saw two really strong athletes coming together to make something unique."
In addition to the U.S. record they set in Nashville on Thursday, the skaters may be poised to make another kind of history: LeDuc is non-binary and uses "they/them" pronouns. If they and Cain-Gribble are selected for the Beijing figure skating squad, they will be the first out non-binary athlete to compete at a Winter Olympics.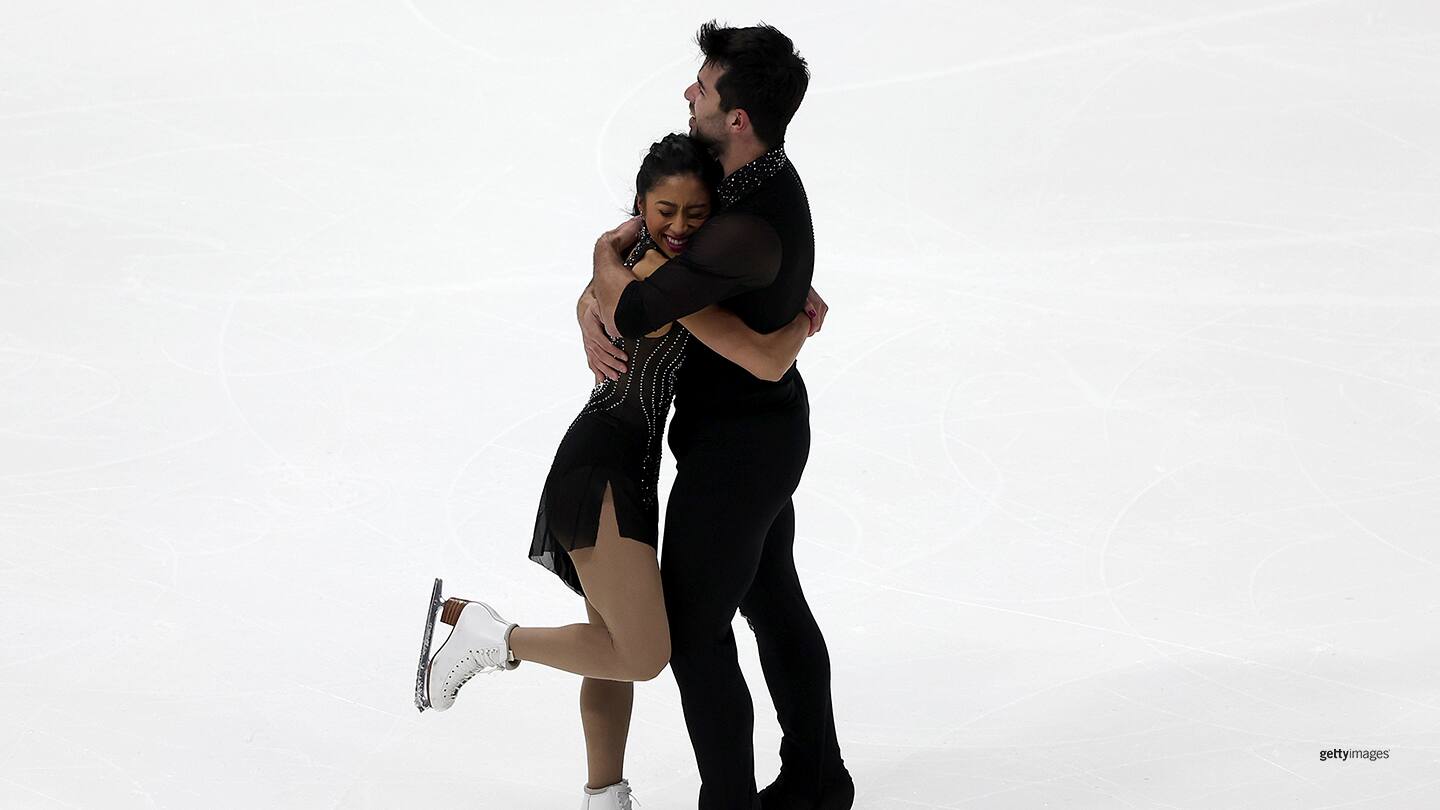 (L-R) Jessica Calalang and Brian Johnson celebrate after the pairs short program at the U.S. Figure Skating Championships on Jan. 6, 2022 in Nashville, Tenn.
It was also a good afternoon for two-time U.S. silver medalists Jessica Calalang and Brian Johnson, who sit less than two points behind the leaders with 77.48 points.

Skating to a hard-rock version of The Beatles' "Come Together," the California-based pair executed their elements, including triple Salchows, side-by-side spins and a high-flying triple twist, with flair, gaining the highest possible levels. They closed a trademark dramatic lift, drawing gasps from the Nashville crowd.

The skaters and their coaches, three-time U.S. champions Jenni Meno and Todd Sand, were ecstatic with the score. Hearing it, Johnson, 26, thrust his fists into the air in the kiss-and-cry. Asked whether the program was the best they've ever skated a short, he answered simply, "Yes."

The performance was especially sweet, considering Calalang and Johnson were uncertain whether they would be eligible to compete this season. After being nominated to the U.S. team for the 2021 World Figure Skating Championships, they withdrew due to personal reasons. Months later, it was revealed Calalang had tested positive for 4-CPA, a metabolite of a banned stimulant. Eventually, the United States Anti-Doping Agency determined substances in Calalang's cosmetics also metabolize into the stimulant, and she was cleared.

"It was a really hard time for me, knowing that we are a partnership, and for something like that to happen that was solely on me, was really hard to keep going through the year," Calalang, 26, said. "I'm just very thankful that Brian is the person that he is. He came every day into the rink, and he knew that everything was going to be fine. Meanwhile, I didn't know that everything was going to be fine."

Audrey Lu and Misha Mitrofanov, who train in Norwood, Massachusetts, put out a clean and energetic short to a medley from 2WEI, earning 68.11 points for third place.

Last month, the pair — fourth in the U.S. last season — gained a surprising victory at Golden Spin of Zagreb, where they defeated U.S. champions Alexa Knierim and Brandon Frazier as well as Calalang and Johnson.

"(The win) definitely gave us confidence going into nationals," Mitrofanov, 24, said. "At the same time, we wanted to step away from it, because every competition is different, and (we have to) move forward."


Knierim, Frazier To Petition For Spot On Beijing Team
Which two U.S. pairs compete in Beijing will partially be decided off the ice. Knierim and Frazier withdrew from the event on Wednesday due to Frazier's positive COVID-19 test.
Selection for the Olympic team is based on criteria including the U.S. Championships as well as international scores over the past several seasons. The goal is to select athletes most likely to qualify in the top five at the Olympic Winter Games. The pairs selection will be decided by U.S. Figure Skating's selection after the free skate on Saturday and announced on Sunday.
Knierim and Frazier won a bronze medal at the Grand Prix in France in November and earned the highest international score among U.S. pairs this season. They were the highest-placing pair at the world championships last season, where they finished seventh.
Lynn Rutherford is a sportswriter based out of New York. She is a freelance contributor to TeamUSA.org on behalf of
Red Line Editorial, Inc.