Speedskater Erin Jackson Makes History With Olympic Gold Medal In 500-Meter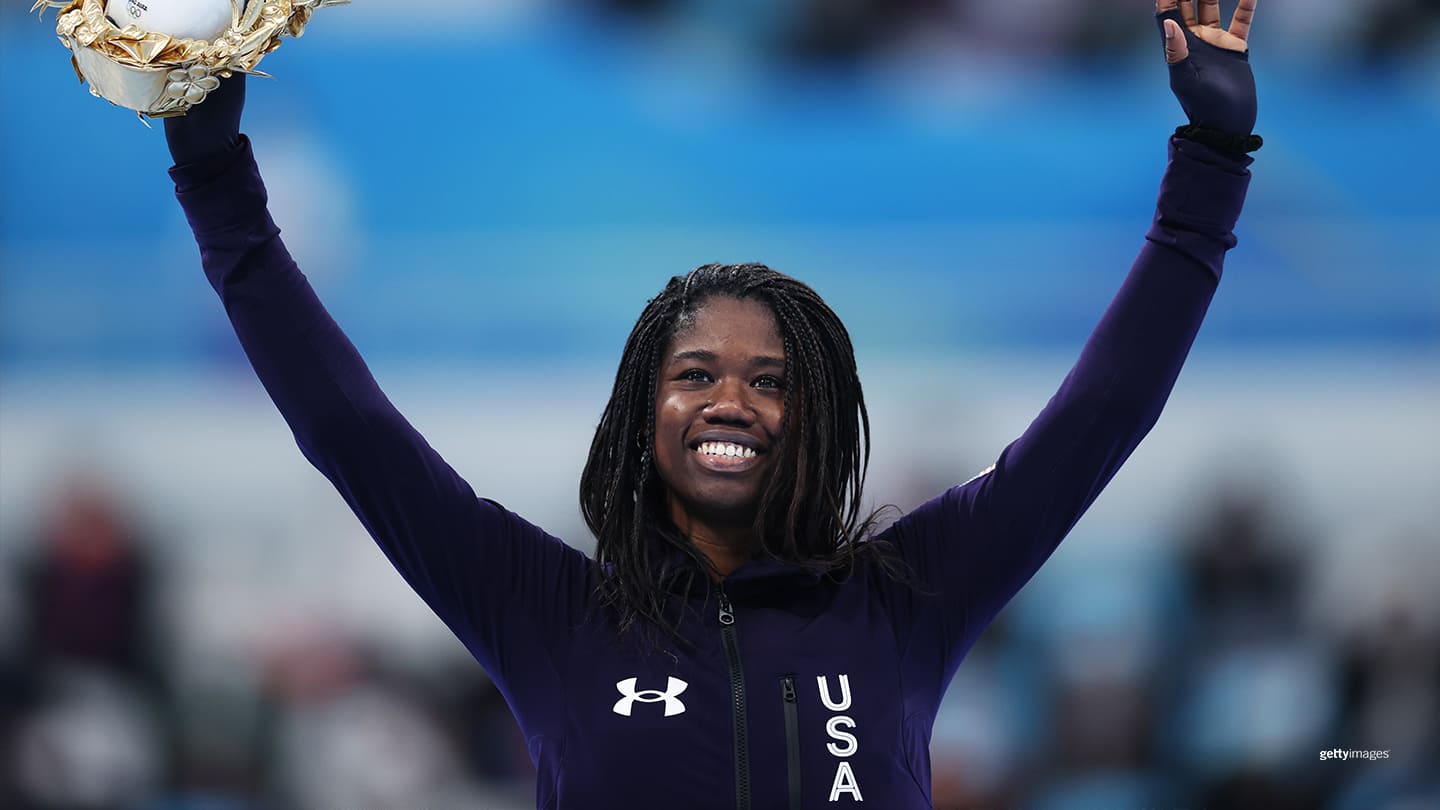 Erin Jackson celebrates after winning the Gold medal during the women's 500-meter during the Olympics Winter Games Beijing 2022 on Feb. 13, 2022 in Beijing.
BEIJING — Erin Jackson went from total speedskating novice in 2017 to first-time Olympian just months later to world cup dominator in 2021 to now dramatically, historically, an Olympic champion.

The world's No. 1 woman at 500 meters lived up to all the hype and more Sunday night at the National Speed Skating Oval, topping the field with a time of 37.04 seconds. Skating in the penultimate pair to go, Jackson knew when she crossed the line first that she was assured of at least a medal finish. When the final pair failed to knock her off, that's when it hit her.

"I think I cried immediately," said Jackson, 29. "Just like a big release of emotion. A lot of shock, a lot of relief, and a lot of happiness."
Speedy looking extra speedy. 🌬️@USSpeedskating x #WinterOlympics pic.twitter.com/5Z1BgHsjKS


— Team USA (@TeamUSA) February 13, 2022
It's the first speedskating gold medal for Team USA since 2010, when Shani Davis won in the men's 1,000-meter. Like Davis made history by becoming the first Black American to win an Olympic Winter Games individual gold medal, Jackson made some history of her own by becoming the first Black woman to medal in speedskating.

Jackson is already a trailblazer, the first Black American woman to qualify for an Olympic team in 2018 and the first to win a world cup, and wants to be a role model for people of color to try not just speedskating but all winter sports.

"Hopefully it has an effect," Jackson said. "Hopefully we can see more minorities, especially in the USA, getting out and trying some of these winter sports. And I just always hope to be a good example like especially with helping kids see that they don't have to just choose one between school and sports."

The latter case is especially relevant to Jackson. Despite already being a graduate of the University of Florida, she's taking advantage of an opportunity through US Speedskating to take tuition-free classes at a community college near where she trains in Salt Lake City. She's already completed one associate's degree and is working on another.

U.S. national team coach Ryan Shimabukuro knows that Jackson is a great student on the ice, too. She'd have to be to go from purely an inline skater, albeit a champion one, in 2017 to an Olympian the next year in PyeongChang. Jackson placed 24th that year in the infancy of her career.

"She knows how to move on skates pretty well," Shimabukuro said. "Even though in the beginning it took a while for her to unlearn the technique on wheels, she immersed herself in anything and everything that it took to apply her skating knowledge to ice. And even to this day we're still working on the finer points of speedskating technique on ice. And she never took that for granted. She never came in with an ego that, 'Oh I've already been at the top of this, I got it.' No, she was very humble, she was willing to start off at square one."
Want to follow Team USA athletes during the Olympic Games Beijing 2022? Visit TeamUSA.org/Beijing-2022-Olympic-Games to view the competition schedule, medal table and results.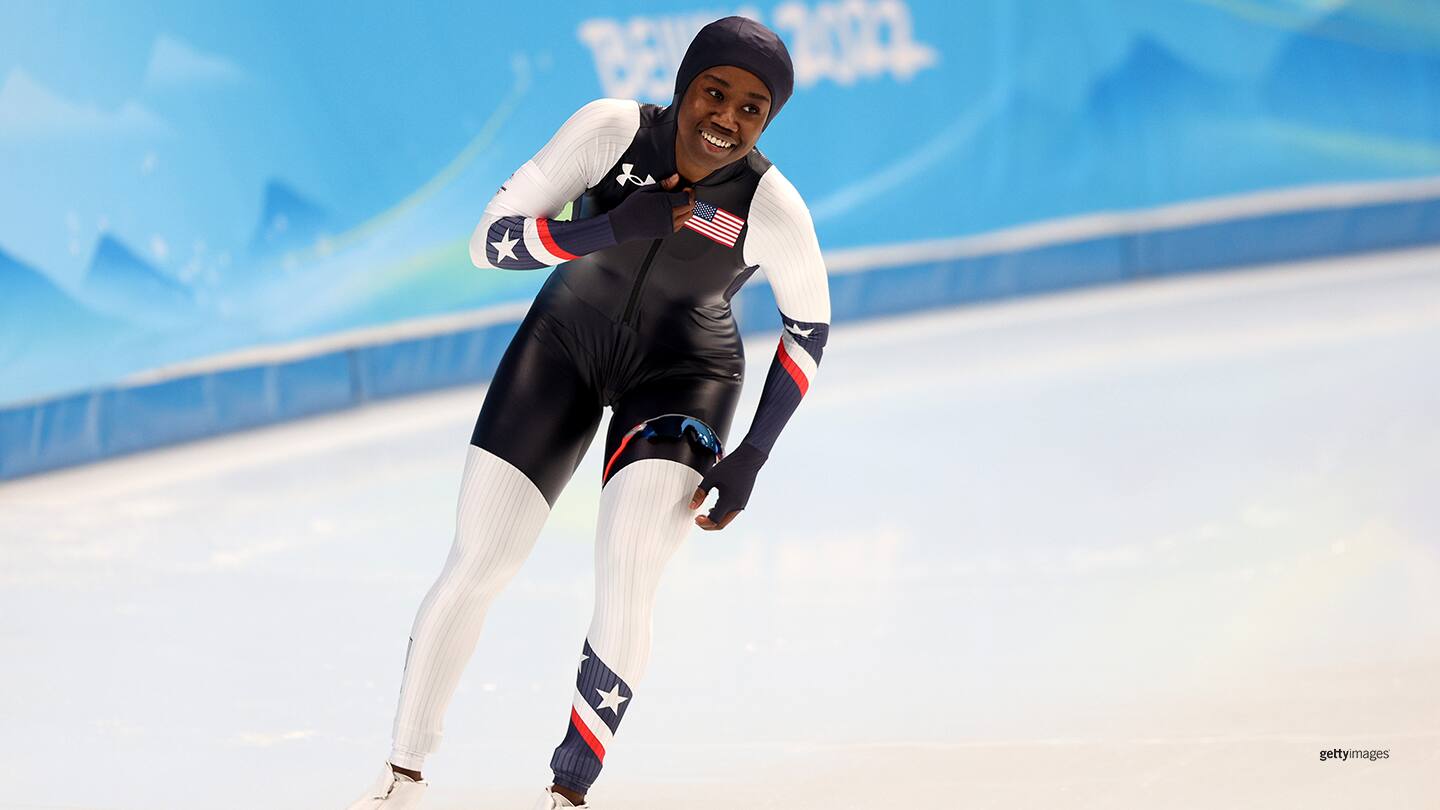 Erin Jackson celebrates after winning the Gold medal during the women's 500-meter during the Olympics Winter Games Beijing 2022 on Feb. 13, 2022 in Beijing.
And Sunday almost didn't happen. Jackson was cruising to a spot on the Olympic team this season, having won four times in the 500 on the world cup circuit and occupying the top spot in the rankings. But she still needed to race her way in at the U.S. Olympic Team Trials, needing to finish in the top two. A slip caused her to finish third and leave her on the outside looking in. But teammate and fellow Ocala, Florida, native Brittany Bowe, who had won the 500, offered her place instead. The U.S. would eventually earn a third quota spot, allowing Bowe to race with her friend and teammate Sunday.

"Words cannot explain how proud I am of her," said Bowe, who finished 16th. "I knew she had the chance to do something really special and she just showed the world why she deserved to be here, and she's Olympic champion."

Bowe was one of the first people Jackson celebrated with after the final race.

"Yeah she hugged me, and we cried, and she said she's really proud of me and I said a lot of thank yous," Jackson said. "... At the time when she gave up her spot, she didn't know that we would be getting a third one. So she made a really big sacrifice for me and I'll be grateful to her forever."

The journey to arriving at the top of the medal stand was one that Jackson admitted has been a bit of a roller coaster. From her success early in the season when she began to think an Olympic medal was a real possibility to nearly being out of the Olympics to being back in again, it's all been a part of her unique road to the gold medal.

"It was like happiness, and then stress, and then happiness again," said Jackson. "It's all come together, and yeah it's been a wild ride, but I think that makes it even sweeter."
Todd Kortemeier is a sportswriter, editor, and children's book author from Minneapolis. He is a freelance contributor to TeamUSA.org on behalf of
Red Line Editorial, Inc.