Your Guide To Watching The 2022 Olympic Winter Games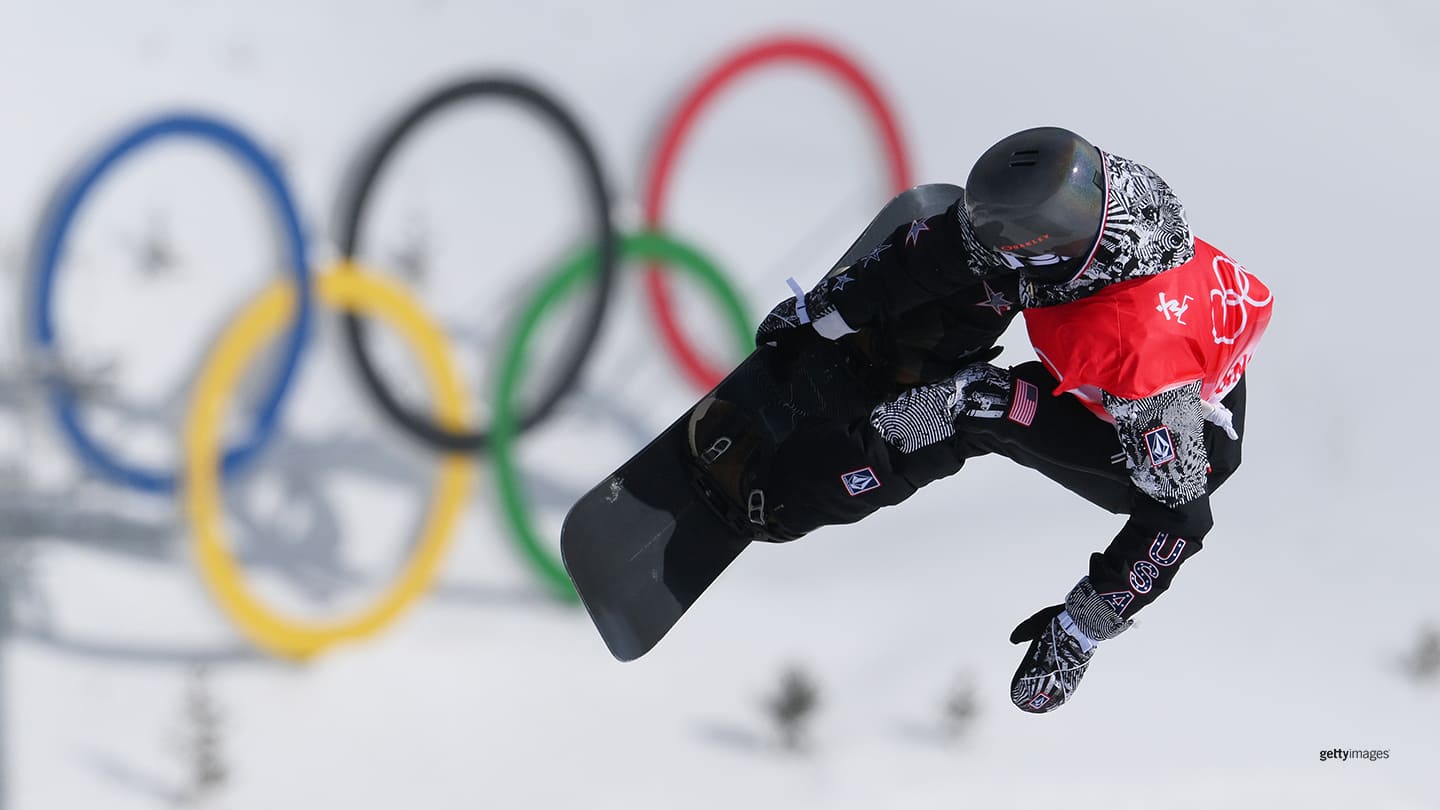 A Team USA athlete performs a trick during the snowboard slopestyle training session ahead of the Olympic Winter Games Beijing 2022 on Feb. 3, 2022 in Zhangjiakou, China.
The Olympic Winter Games are taking place halfway around the world, but with the amount of coverage that's going to be available from Beijing there's no reason why you can't catch all the action.
NBC will have more than 2,800 hours of coverage across NBC, USA Network, CNBC, NBCOlympics.com and the streaming app Peacock. Peacock's coverage will be the most extensive, because for the first time ever it will have all events both live and on demand.

For the most popular events, the TV channels should have you covered. And with the time difference and several morning events scheduled in Beijing, many of them will take place live in primetime here, so you won't have to stay away from your screens all day in order to avoid spoilers. But if you're the kind of person who doesn't want to miss a minute of your favorite sport, even if it's taking place while the moon's still out, streaming through NBCOlympics.com, the NBC Sports app and Peacock is the way to go.

If you're planning to focus on the curated selections TV has to offer, though, have no fear. We've got you covered with the highlights for each day in Beijing on the NBC channels. All times are in Eastern Standard Time:


The Opening Ceremony is live from 6:30 to 9:30 a.m. on NBC, but if you're not inclined to wake up that early you can catch it all again in primetime starting at 8 p.m. The USA Network will also be showing team figure skating in their coverage from 2 to 8 p.m.


The first full day of Olympic action doesn't pull any punches. NBC's primetime coverage goes right into live action from the figure skating team event and the men's alpine skiing downhill race. Figure skating will include the women's short and men's free programs. If you're too jazzed to go to sleep after that, night owls can stay up to watch the women's snowboard slopestyle final to see if Jamie Anderson can win her third consecutive gold medal during NBC's 12 to 1:30 a.m. window.


Primetime on NBC includes pairs' free skate, free dance and women's free skate in the team figure skating competition. Midnight to 2 a.m. coverage includes the women's alpine skiing giant slalom final run live, where Mikaela Shiffrin will be looking for gold, as well as the men's snowboarding slopestyle final, where Red Gerard looks to defend his gold medal.


With the figure skating team titles awarded, NBC will be the place to be during primetime for the start of the individual figure skating contests. It begins with three-time world champion Nathan Chen in the men's short program, while men's alpine skiing super-G and women's freestyle skiing big air final (making its Olympic debut) are also live during the 8 p.m. to 12:30 a.m. window. Over on CNBC, the mixed doubles curling semifinals will be on most of the night and you can ring in the new day with the USA Network, where the U.S. and Canada will meet in the preliminary round of the women's hockey tournament, starting at 11:10 p.m.


Mikaela Shiffrin goes after another gold medal in her signature event, the slalom, to highlight NBC's live primetime coverage. Viewers can also watch defending champs Chloe Kim and Shaun White take on their respective halfpipe snowboarding qualifiers, while the first gold medal in men's big air skiing will be also be live. And if you missed the curling mixed doubles final, CNBC has got you covered with the medal games at 5 and 8 p.m.


CNBC will continue its coverage of curling with a replay of the U.S. men versus Russian Olympic Committee at 5 p.m. and the U.S. women versus the same opponent live starting at 8 p.m. That should be a nice warm up for a big night on NBC, with the women's halfpipe final and men's figure skating free skate both live and in primetime. Earlier in the day, NBC's 2 to 5 p.m. coverage will include the women's snowboardcross final, where five-time Olympian and five-time world champ Lindsey Jacobellis hopes to earn her first gold medal.


John Shuster and the guys on the U.S. curling team are waking up early so you don't have to. Their round-robin game against Great Britain will be shown live on CNBC at 8 p.m. If early mornings are your thing, USA Network has you covered with the new mixed team aerials event live at 6 a.m. Over on NBC, the big story in primetime will be whether Shaun White can close out his Olympic career with a fourth gold medal in men's halfpipe snowboarding.


Kristen Santos could become the first U.S. women's short track speedskater to win a medal since 2010 when she races the 1,000-meter event, which the USA Network will carry live in its 6 to 9:40 a.m. window. If Lindsey Jacobellis falls short of gold in the women's snowboardcross event, she could have another shot in the new mixed team event that leads NBC's primetime coverage. She and fellow Olympian Mick Dierdorff won a world title in the event in 2019.


What better way to bookend your day than by watching the women's cross-country relay live starting at 2:30 a.m. on USA Network, then wrapping up with the big U.S. versus Canada men's curling match starting live at 11 p.m. on CNBC? In between, the powerhouse U.S. ice dance teams, Madison Hubbell-Zachary Donohue and Madison Chock-Evan Bates begin their individual competition with the rhythm dance starting at 6 a.m. on NBC.


Can Erin Jackson complete her rapid ascent in the women's 500-meter speedskating event with an Olympic gold medal? Find out live on NBC starting at 8 a.m., then stick around for the record-setting men's team pursuit qualifying race. For the late-night crowd, the ice dance medals will be decided in the free dance beginning at 10:45 p.m. (This is the one day that NBC won't have primetime programing. Something about a football game.) Meanwhile, a full day of action on USA Network includes a lot of hockey and curling.


Gather your sweetheart for some Valentine's Day Olympic viewing. The first women's hockey semifinal started at 11:10 p.m. the night before on USA Network. If the U.S. women aren't in that one, the same channel will air the second semifinal at 8 a.m. on Monday. Switch over to NBC midday, where the 2 to 5 p.m. window will include the final runs in the new women's monobob competition that should include defending world champion Kaillie Humphries and, if she's able to get out of COVID protocol, Elana Meyers Taylor. Stay around for the women's downhill ski race live on primetime, plus the women's snowboard big air final live from Big Air Shougang, the world's first permanent big air ramp.


One of the marquee events of any Olympic Winter Games, the women's figure skating event, begins at 4 a.m. on the USA Network with the short program, where Mariah Bell, Karen Chen and Alysa Liu will aim to stick with an ultra-talented group of Russian Olympic Committee women. (If you can avoid the spoilers, the event will be shown again as part of NBC's primetime coverage.) USA Network will have a ton of daytime programming including Nordic combined, biathlon, bobsled, aerials skiing and more before picking up men's hockey quarterfinals live starting at 1:30 a.m. Meanwhile, CNBC will have U.S. men's and women's curling during the evening.


Short track fans can catch the women's 1,500-meter final live on the USA Network in the early morning hours. That 6-8:30 a.m. window also includes a big one when the cross-country ski teams take on the team sprint. You might remember from 2018 when Kikkan Randall and Jessie Diggins — of "Here comes Diggins!" fame — raced to Team USA's first gold medal in the sport in this same event. Another U.S. superstar, Mikaela Shiffrin, will be back on USA at 10:30 p.m. for the slalom portion of the alpine combined, for which she's the defending silver medalist. And if this day wasn't already big enough, the U.S. women's hockey team will hopefully be defending its gold medal starting at 11:05 p.m. on NBC.


The second Thursday of the Olympics is the time when seasoned Games-watchers are putting a couple extra scoops in their coffee but by no means slowing down. After all, the women's figure skating free skate is live from 5 to 9 a.m. on USA Network (and on NBC primetime that night). Primetime also includes the live women's halfpipe skiing final. Don't sleep on the women's 1,000-meter long track speedskating final, though. Brittany Bowe's signature race is live on USA Network in the 2 to 5 a.m. window. The day wraps up with a men's hockey semifinal on USA Network at 11:10 p.m.


That second men's hockey semifinal airs at 8:45 a.m. on USA Network, just after the pairs figure skating short program. NBC primetime has you covered if you want to watch the skating at night, and that's also the time to check out the live men's halfpipe skiing final. And if you're not on the east coast, the grueling men's 50-kilometer cross-country race is still on Friday, beginning at midnight EST on USA Network.


CNBC will be replaying a lot of curling during the primetime hours throughout the Games. On this day, however, it's got two big ones live: The men's curling bronze-medal game at 8 a.m. and the women's gold-medal game at 8 p.m. Over on USA Network, the women's biathlon 12.5-kilometer mass start is live at 4 a.m., giving us possibly our last opportunity to watch Susan Dunklee and Clare Egan in Olympic action. That leads into the pairs free skate at 6 a.m. NBC picks up a replay that night, but the night's coverage also includes the live final runs in the four-man bobsled. Finally, you can end your night with the men's hockey gold-medal game live at 11:10 p.m. on the USA Network.


The true hardcores are staying up from 1:30 to 3:30 a.m. to watch the women's cross-country 30-kilometer race, the last live event being shown on TV. Or sleep in and watch the replay that afternoon on NBC before wrapping up with the closing ceremony at 8 p.m.

After that? Start getting excited for the upcoming Paralympic Winter Games Beijing 2022 that starts Friday, March 4.
Karen Price is a reporter from Pittsburgh who has covered Olympic and Paralympic sports for various publications. She is a freelance contributor to TeamUSA.org on behalf of
Red Line Editorial, Inc.