Top Performances By Team USA Women At The Winter Games
At the Olympic Winter Games Beijing 2022, the women of Team USA played a role in 17 of the country's 25 total medals, including six gold, six silver and five bronze medals. But hardware does not tell the full story. Here is a look at ten of the women who gave it their all.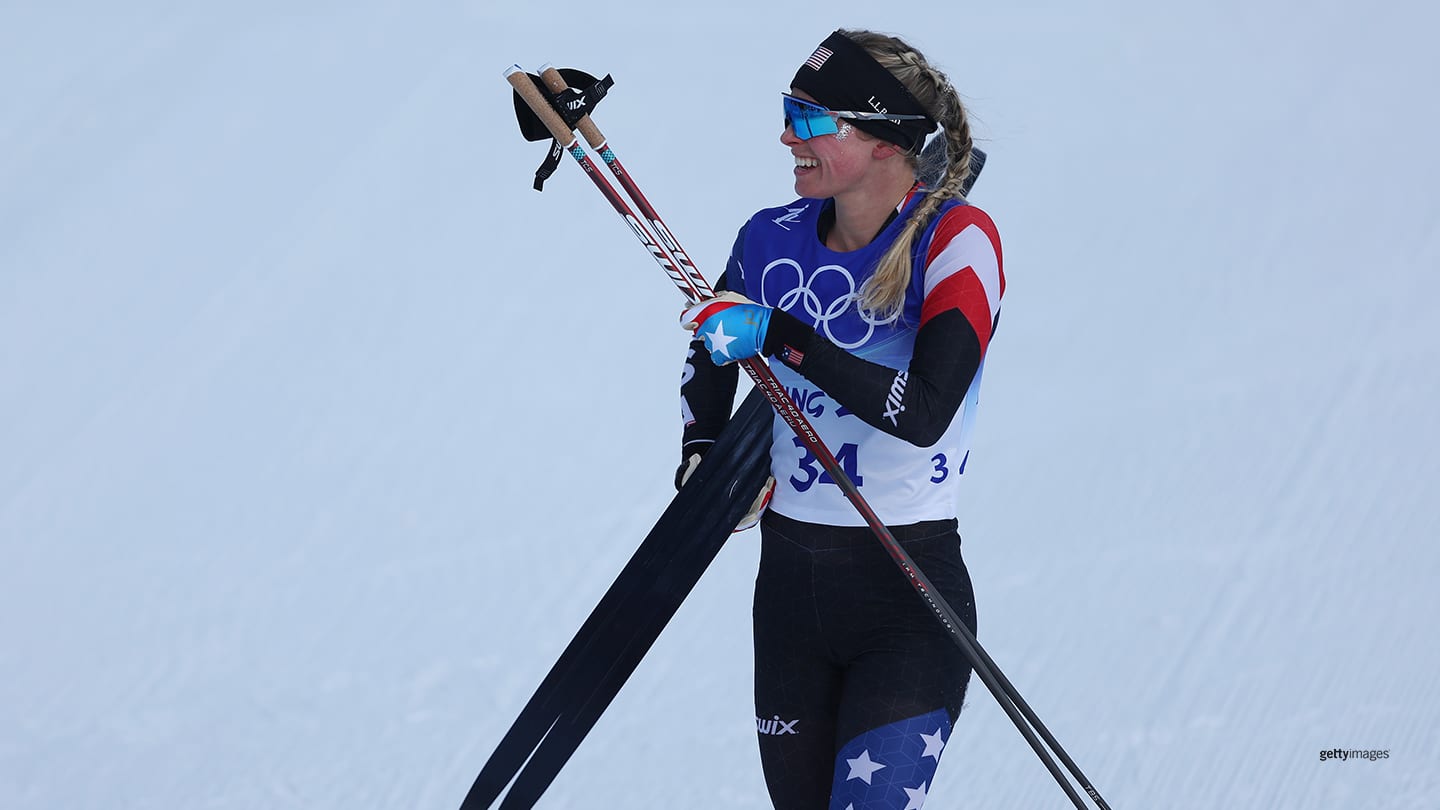 Jessie Diggins reacts after finishing the women's cross-country 10K classic at the Olympic Winter Games Beijing 2022 on Feb. 10, 2022 in Zhangjiakou, China.
Jessie Diggins (Cross-Country
Skiing)
When Diggins and Kikkan Randall won the freestyle team sprint in 2018, they became the first Americans to earn a gold medal in the sport, and the first to earn any medal in cross-country skiing since 1976. At the Beijing Games, Diggins not only placed in the top eight in all five of her races but became the first American to win multiple cross-country skiing medals at the same Olympics: bronze in the freestyle sprint and silver in the 30-kilometer freestyle mass start — the first time a non-European skier has medaled in the event. Her two medals in Beijing, added to her gold in 2018, make the three-time Olympian from Afton, Minnesota, the most decorated American in cross-country skiing.
Kaillie Humphries
(Bobsled)
Humphries has long fought for equality in bobsled, so it seems only fitting that she won the first-ever Olympic gold medal in monobob, an individual event exclusive to women. A three-time Olympian and three-time Olympic medalist for Canada, the 36-year-old immigrated to the U.S. and received a green card through marriage (her husband is former U.S. bobsledder Travis Armbruster).

She began sliding for Team USA in 2019 but did not receive her citizenship until about two months before the Games. "I had to resign myself to the fact that it might not come through, and I had to be okay with that fact," Humphries said. "I think that's what allowed me to be so strong here. As soon as I got my citizenship, the motivation went through the roof."
Competing in a sport long dominated by Norway and Germany, the 29-year-old Irwin arrived in Beijing with two goals: to qualify for biathlon's pursuit, then help her teammates in the women's relay. Although the member of Vermont's Army National Guard only began competing in biathlon five years ago, she both of those and more.

Irwin ended up finishing the women's 15-kilometer individual race in seventh place — the best finish ever for a U.S. biathlete at an Olympics. She also qualified for the 12.5-kilometer mass start, a race in which only the top 30 biathletes compete, finishing a respectable 23rd. "To get a top 10, make the pursuit, have an awesome relay with my teammates and make the mass start, it was just way more than I expected," Irwin said.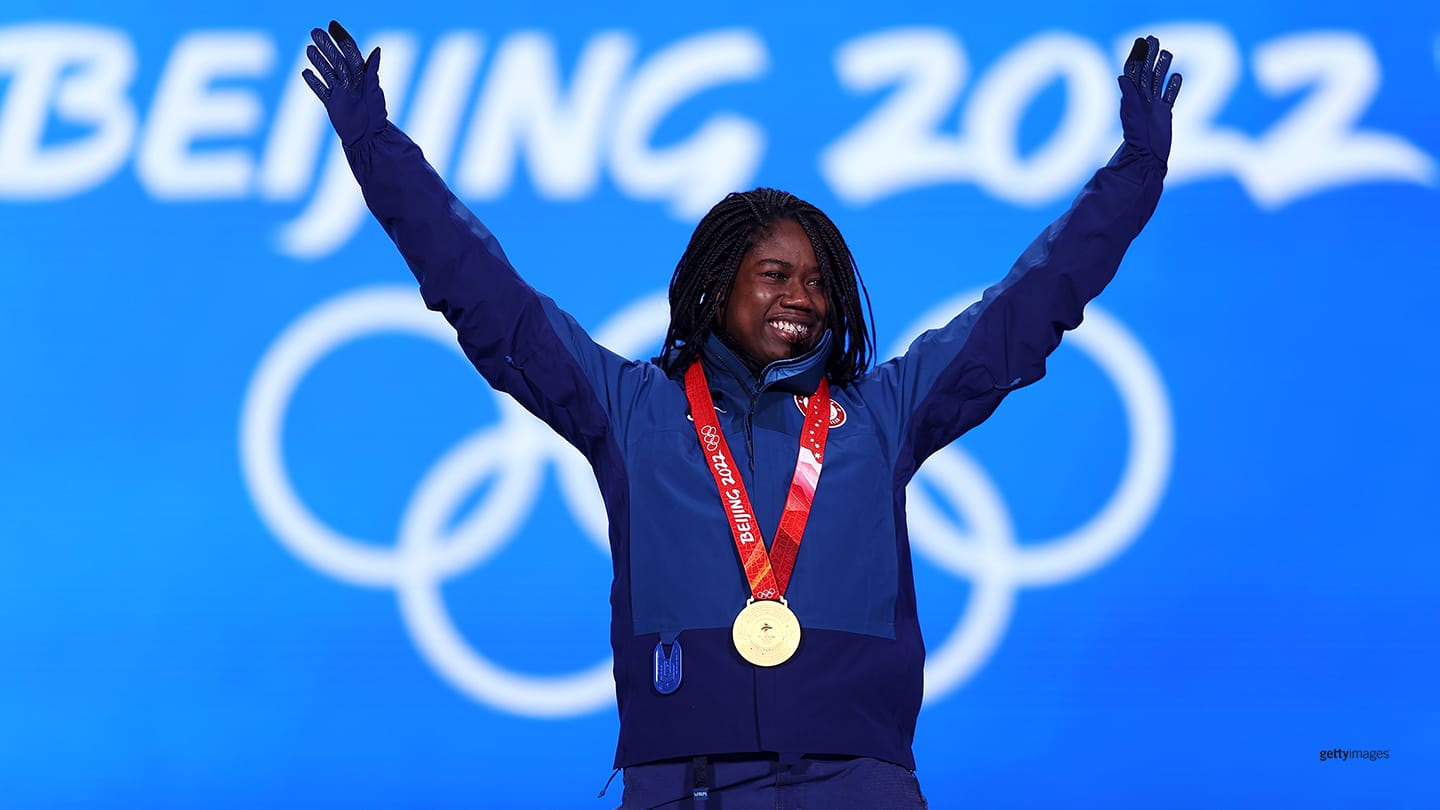 Erin Jackson poses during the medal ceremony after the women's 500-meter at the Olympic Winter Games Beijing 2022 on Feb. 14, 2022 in Beijing.
Erin Jackson
(Speedskating)
The 29-year-old from Ocala, Florida, leaves Beijing as the first American woman to win gold in speedskating in 20 years, and the first Black woman ever to win individual gold at a Winter Olympics. It was not an easy path for her to get there. The world's top-ranked woman in the 500 meters, Jackson slipped in the race at the U.S. trials and placed third. Trials winner Brittany Bowe, wishing to increase Team USA's medal chances, ceded her Olympic spot in the 500 to Jackson (Bowe eventually got a spot in the 500 when another country withdrew; she also won bronze in the 1,000 meters in Beijing).

A University of Florida graduate, Jackson wants to be a role model for people of color to try not just speedskating, but all winter sports: "And I just always hope to be a good example, especially with helping kids see that they don't have to just choose one between school and sports," she said.
Jacobellis competed in four Olympics before she won gold, and in Beijing, she did it twice: in women's snowboardcross and mixed team snowboardcross. Famously, as a 17-year-old, she was on her way to victory at the Olympic Winter Games Torino 2006 when a fall in the final 100 meters bumped her down to silver.

After five world championships wins — and fifth-, seventh- and fourth-place finishes at the three intervening Games — the now 36-year-old from Roxbury, Connecticut, crossed the finish line first at Genting Snow Park, becoming Team USA's oldest female Winter Olympic gold medalist. Then a few days later she did it again with Nick Baumgartner in the new mixed team event.

Said Jacobellis: "They can keep talking about (2006) all they want, because it really shaped me into the individual that I am, kept me hungry and really helped me keep fighting in the sport."
Kauf, 25, went to the Olympic Winter Games PyeongChang 2018 as the world's top-ranked moguls skier, favored for gold. A mistake at the top of her second run cost her, and she placed seventh. "My career is not over," she said, going on to win a silver medal at the world championships in 2019 and ranking in the top five her last four seasons on the world cup.

At her second Games, Kauf vowed to fend off distractions and just have fun, taking her parents' advice to "just do my thing." It brought the Alta, Wyoming, native a silver medal.
After winning a series of events in 2021, she spent most of her time training ahead of the Olympics, as opposed to competing, but won the only event she entered this world cup season in Laax, Switzerland. In Beijing, she overcame poor practice runs to nail her first run at Genting Snow Park and earn 94 points to defend her Olympic title, the first female snowboarder ever to do so.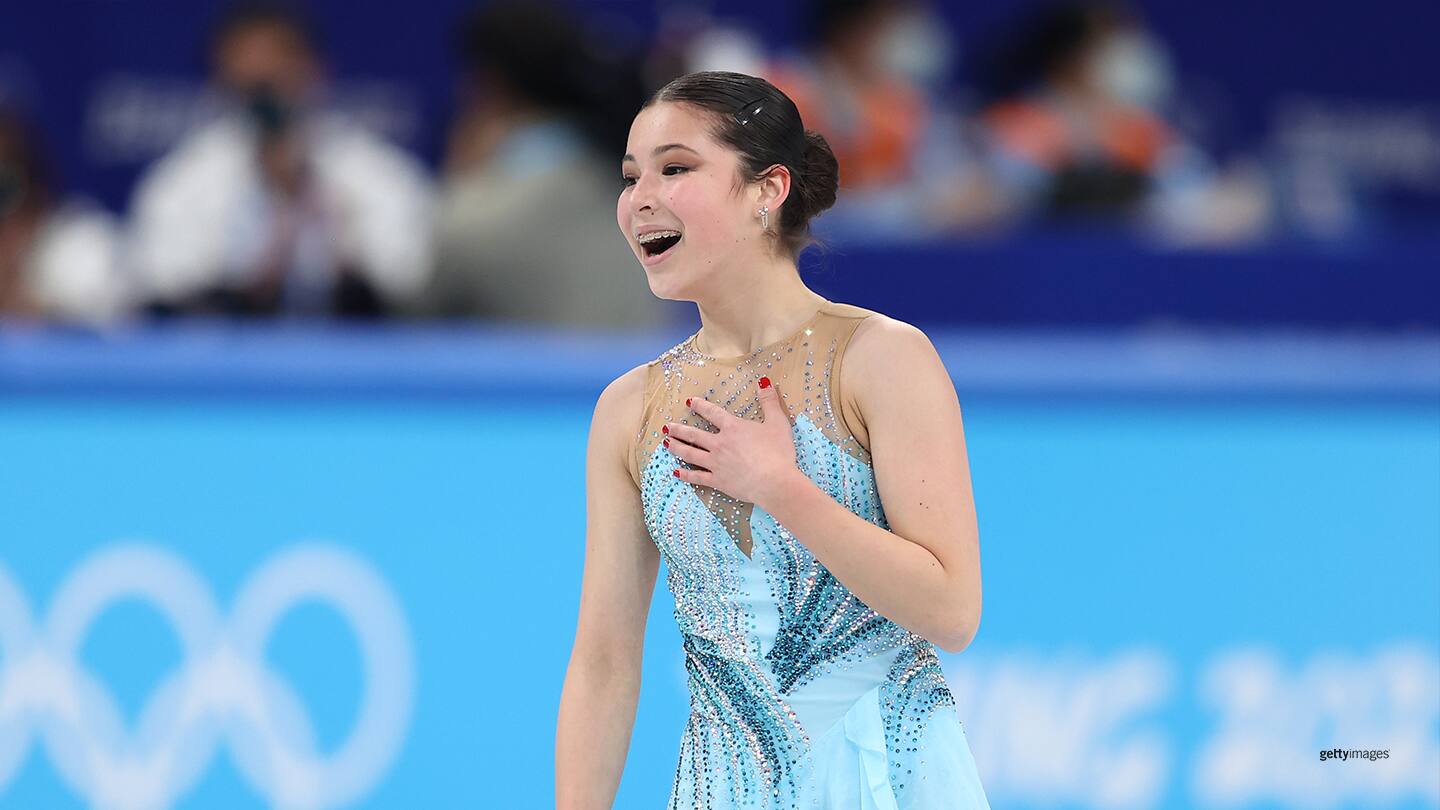 Alysa Liu reacts after the women's single free skate at the Olympic Winter Games Beijing 2022 on Feb. 17, 2022 in Beijing.
Competing at her fourth Olympics, the 32-year-old University of Wisconsin graduate played in her 22nd career Olympic game, surpassing Jenny Potter and Angela Ruggiero for most Olympic games played in U.S. women's hockey history. Knight led Team USA with 10 points — six goals and four assists — picking up slack after fellow star forward Brianna Decker suffered a broken leg in the first game of the tournament against Finland.

Knight kept it close in the gold-medal game against long-time rival Canada, scoring an impressive short-handed goal, but the Americans fell, 3-2. She won a third silver medal, to go along with the gold won in PyeongChang. Her words of advice for younger teammates? "Come back with a vengeance and a chip on their shoulder to do better and to do more. It's always a special moment when you can represent your country on a world stage."
Alysa Liu (Figure
Skating)
The 16-year-old from Richmond, California, proved, once again, that the Olympics are not solely about medals, but about performing your best on the world's biggest stage and enjoying yourself while doing it. A difficult few seasons — including a growth spurt, multiple coaching changes and relocation to Colorado Springs, Colorado — culminated in the two-time U.S. champion having to petition her way on to the Olympic figure skating team after a positive COVID-19 test forced her to withdraw from the 2022 U.S. Championships. But the teen arrived in Beijing determined to throw off the stress, live in the moment, make friends and put out her best performances of the season. Her seventh-place programs were clean, musical and a joy to watch.
Elana Meyers Taylor
(Bobsled)
Meyers Taylor's fourth Olympics had as many twists and turns as the Yanqing bobsled track, and the 37-year-old mother from Douglasville, Georgia, bore it all with strength and humor. After testing positive for COVID-19 upon arrival in Beijing, she isolated for more than a week, away from husband Nic and almost two-year-old son, Nico.

Elected flagbearer by her fellow athletes, she watched the Opening Ceremony on television. Yet on Feb. 14, she won silver in the Olympic debut of monobob, right behind teammate Kaillie Humphries. Five days later, she and brake woman Sylvia Hoffman took bronze in the two-woman bobsled. Now the most decorated Black athlete in Winter Olympics history with five medals, Meyers Taylor carried the U.S. flag in the Closing Ceremony.
Julia Marino poses during the medal ceremony after the women's snowboard slopestyle finals at the Olympic Winter Games Beijing 2022 on Feb. 6, 2022 in Zhangjiakou, China.
Of course, that group only scratches the surface.

There was Julie Marino, skiing the run of her life to win silver in slopestyle …. Madison Hubbell skating an electrifying hip-hop short dance with partner Zachary Donohue to help Team USA place second in team figure skating, and then returning with Donohue to take bronze in individual ice dance …. The supremely elegant Madison Chock and her partner, Evan Bates, winning the team free dance to cinch second place for Team USA …. Megan Nick grabbing aerials bronze with a back full-double full in the super final …. Ashley Caldwell pushing herself to new heights to edge out favorite China and win the inaugural mixed team aerials goal, with teammates Chris Lillis and Justin Schoenefeld …. Gritty Kristen Santos, who competed in five races only to lose her best chance at a medal in the 1,000 meters when another skater penalized her with one lap to go. And many more.
Lynn Rutherford is a sportswriter based out of New York. She is a freelance contributor to TeamUSA.org on behalf of Red Line Editorial, Inc.