Brittany Bowe Relinquishes 500-Meter Spot, Clearing Olympic Path For Erin Jackson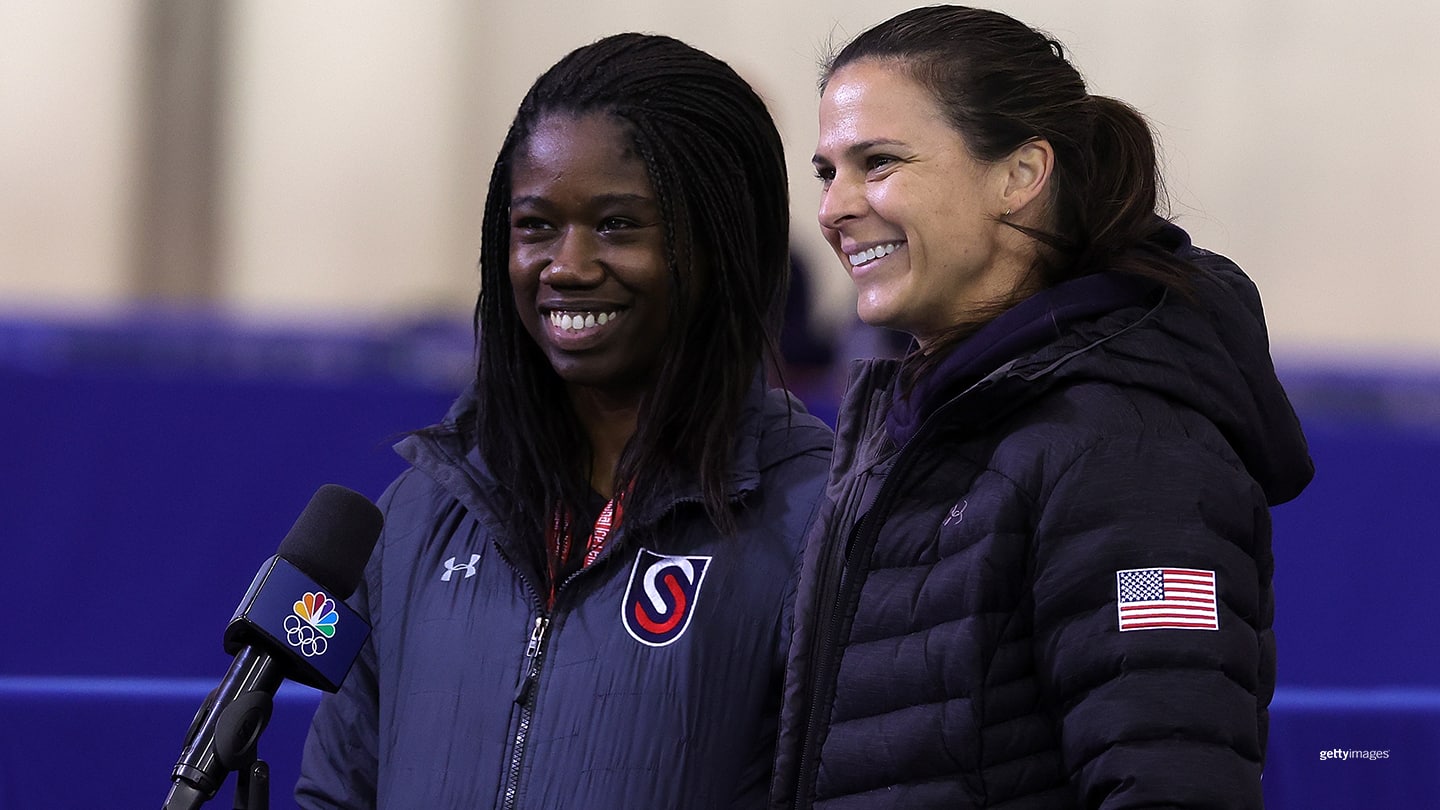 Erin Jackson and Brittany Bowe speak to the media during the 2022 U.S. Speedskating Long Track Olympic Trials on Jan. 9, 2022 in Milwaukee, Wisconsin.
Erin Jackson will be going to the Olympic Winter Games Beijing 2022, thanks to a gracious gesture by her teammate and friend Brittany Bowe.

Bowe, winner of the 500-meter and two other events at U.S. Olympic Team Trials — Long Track Speedskating, relinquished her 500-meter spot to Jackson, the world's top-ranked skater in the event.

Jackson, who has won four of eight world cup races at the distance this season, was a huge favorite to win the race at the trials in Milwaukee. But on Friday, skating after Bowe, Jackson caught her skate in the second straightaway and finished third, missing out on her second Olympic Winter Games.

Bowe, 33, a heavy favorite for the second spot, clocked in at 37.81, winning the race. Kimi Goetz raced in the final pair and finished just behind Bowe at 37.86 seconds, edging Jackson's time of 38.24.

The turn of events set in a roller coaster of emotions for Jackson, Bowe, the speed skating team, and staff members. With Team USA holding two quota spots in the 500, it would take a third allocated spot at a later date, or one of Jackson's teammates giving up her spot for her to race in Beijing.

On Sunday, Bowe reflected on Friday's unfolding events saying there was never any question in her mind that if it came down to her, she would give Jackson her spot.

"In my heart, there was never a question that I would do whatever it took — if it came down to me — to get Erin to skate at the Olympics," she said.

When Bowe received a text last night telling skaters to be at the rink later Sunday for the team announcement and champagne celebration, she set things in motion.

"At that time, I had to make my official call because I couldn't have a celebratory time without Erin out there tonight," Bowe said.

Jackson didn't fully commit to skating on ice until 2017, utilizing her 15 years of inline skating experience to quickly transition to the ice. After only four months of training, she earned a spot on the 2018 Winter Games in PyeongChang, becoming the first Black American woman named to an Olympic long track team.

Since then, Jackson has soared upward on a steep winning trajectory and tops the 500-meter world cup rankings this season.

Jackson was 10 when she met her fellow inline skater and fellow Ocala, Florida, native Bowe, four years her senior.

"Brittany and I go far back. Just for her to do something like this for me. It's amazing. It's awesome. I'm really grateful. Really humble. She's just an amazing person," said Jackson.

It wasn't lost on Bowe that Jackson was the Olympic gold medal favorite in the sprint.

"Erin has earned her right to be on this 500-meter team. She's ranked No. 1in the world. No one is more deserving than her to get an opportunity to bring Team USA home a medal," said Bowe, a 2018 Olympic bronze medalist in team pursuit. "After that unfortunate slip, I knew in my mind before that night was even over, if it had to come down to a decision of mine, she would have my place."

Jackson said the world knows Bowe is an incredible athlete, but now they know she's an incredible person.

"I grew up with Brittany," Jackson said. "I have known her almost my whole life. Growing up, looking up to her in Ocala. I have always known what an incredible person she is. She's always been there for me, even when I was the new kid on the block. It's an amazing relationship."

Bowe believes her decision is more significant than herself, and it's also a decision for Team USA.

"It's just the spirit of the Olympics and being a great teammate," she said. "Erin has a shot to bring home a medal, hopefully, a gold medal. It's my honor to give her that opportunity. She's earned it, and she deserves it."
Kelly Feng is a sports journalist based in Wisconsin. She is a freelance contributor to TeamUSA.org on behalf of Red Line Editorial, Inc.