Best Men's Cross-Country Olympic Finish In 46 Years: Scott Patterson Takes 8th In 30k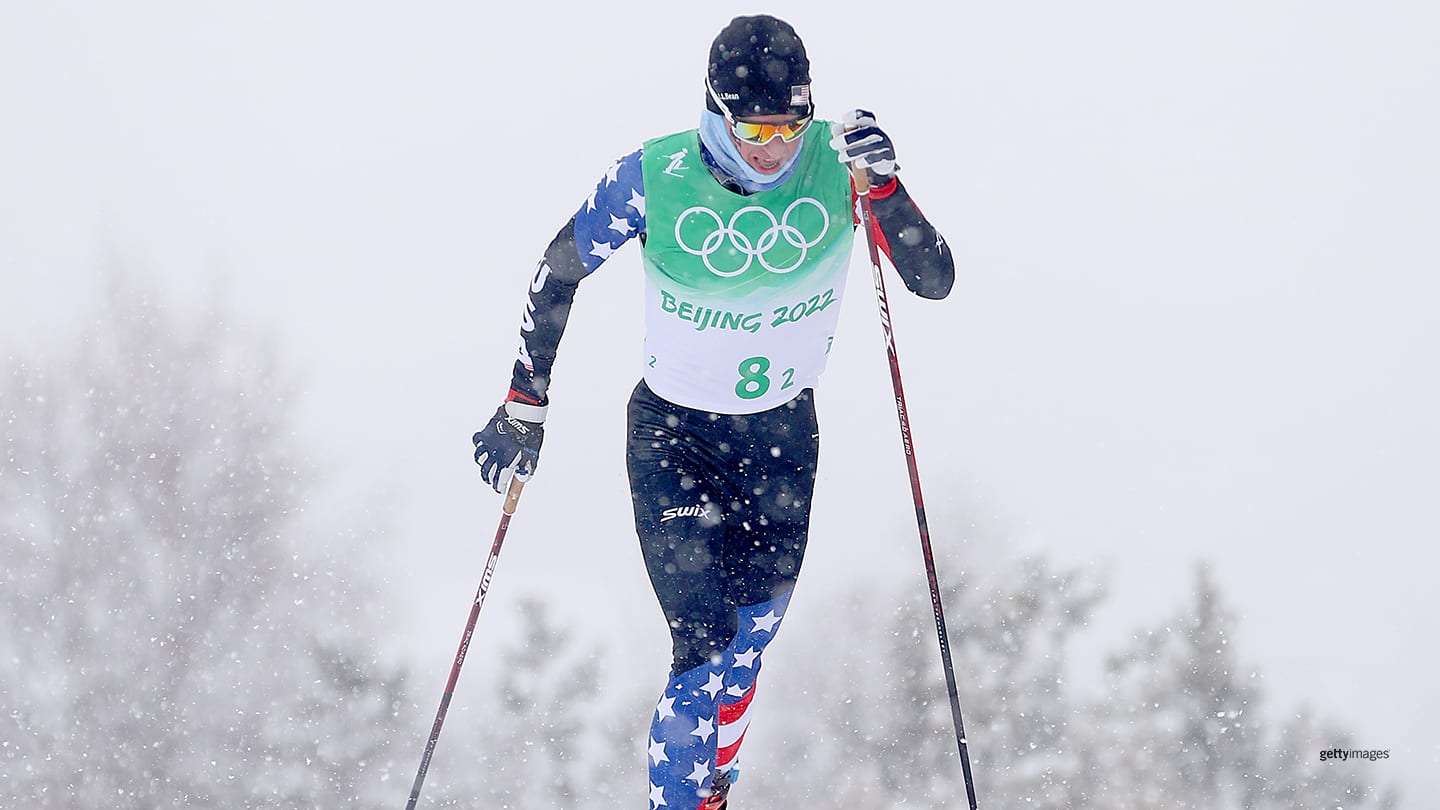 Scott Patterson competes during the Men's Cross-Country Skiing 4x10km Relay at the Olympic Winter Games Beijing 2022 on Feb. 13, 2022 in Zhangjiakou, China.
ZHANGJIAKOU, China — Scott Patterson has dreamed of winning an Olympic medal in cross-country skiing. In Saturday's men's 30-kilometer freestyle race at the Olympic Winter Games Beijing 2022 (shortened from 50k due to the weather), he came closer than any U.S. male cross country skier has in nearly 50 years.

Patterson finished eighth, just 33.9 seconds from the win.

"Eighth is pretty special," he said after another cold, windy race in Zhangjiakou.

It was three places better than his 50k finish at the 2018 Olympic Winter Games. A classic race back then, 11th place was the best finish for a U.S. male cross-country skier in a distance race since Bill Koch won a silver medal in the 30k at the 1976 Olympic Games.

Last year, at world championships, Patterson finished 10th in the 50k.

Then in the 2022 Olympic skiathlon last week, he finished 11th again. He hoped to do even better in the 50k.

But an hour before the race, organizers shortened the event from 50 to 30 kilometers. Conditions were deemed too cold and windy. But the cold did not faze the 30-year-old Alaskan.

Patterson trains with Alaska Pacific University's Nordic Team and works as an engineer in Anchorage. He graduated from the University of Vermont with a degree in mechanical engineering and skied for the Catamounts, collecting 13 wins and 19 podium appearances.

"The 50 is kind of iconic, and it feels like a half measure to run a 30k," said Patterson. "But in the end, I'm not exactly sure it would have changed the results a ton. Those top guys were strong, and they probably would have been strong with 20 more kilometers."

Alexander Bolshunov from the Russian Olympic Committee skied away with the win in 1:11:32.7. His ROC teammate Ivan Yakimushkin held off Norway's Simen Hegstad Krueger for the silver medal (1:11:38.2). Krueger cruised in for the bronze in 1:11:39.7.

After a chaotic first lap in this mass start race, Patterson settled into the lead group of skiers, which whittled down to 10 guys, then eight. He looked around and was with the top cross-country ski racers in the world.

"Me and a couple of Norwegians and some Russians, one French," he said, a little in awe. "It's like yeah, that's awesome. We're right in the mix."

At times, Patterson looked like he was in medal contention, gliding stride for stride with this group of multiple Olympic medalists.

"It was just great racing," he said. "I felt pretty strong, felt pretty relaxed. I tried not to lead but be in a comfortable position and not take too much out of my energy. We had great skis out there, felt like I could move up on all the downs if I wanted to."

Patterson also hoped the race would remain at 50 kilometers because he likes the grind — a hard but steady pace around the course. He hung with the leaders until about 5k to go. Then Bolshunov punched it.

"I didn't have a ton of response for that," Patterson said. "I hung on for a couple [punches] but then wasn't the best at pushing over some hills. So we lost ground, we caught back up, and they broke away again."

Patterson crossed the line in 1:12:06.6, less than half a minute from a bronze medal. In the 50k in PyeongChang four years ago, he was almost five minutes back.

"I'm happy," he said. "I came in wanting a top 10 and got it today. It's a little tantalizing to be in eighth. I mean, 33 seconds back from the win!"
Want to follow Team USA athletes during the Olympic Games Beijing 2022? Visit TeamUSA.org/Beijing-2022-Olympic-Games to view the competition schedule, medal table and results.
An award-winning freelance writer based in Vermont, Peggy Shinn is in Beijing covering her seventh Olympic Games. She has contributed to TeamUSA.org since its inception in 2008.