Biathlete Deedra Irwin Exceeded Her Goals In Her First Olympic Games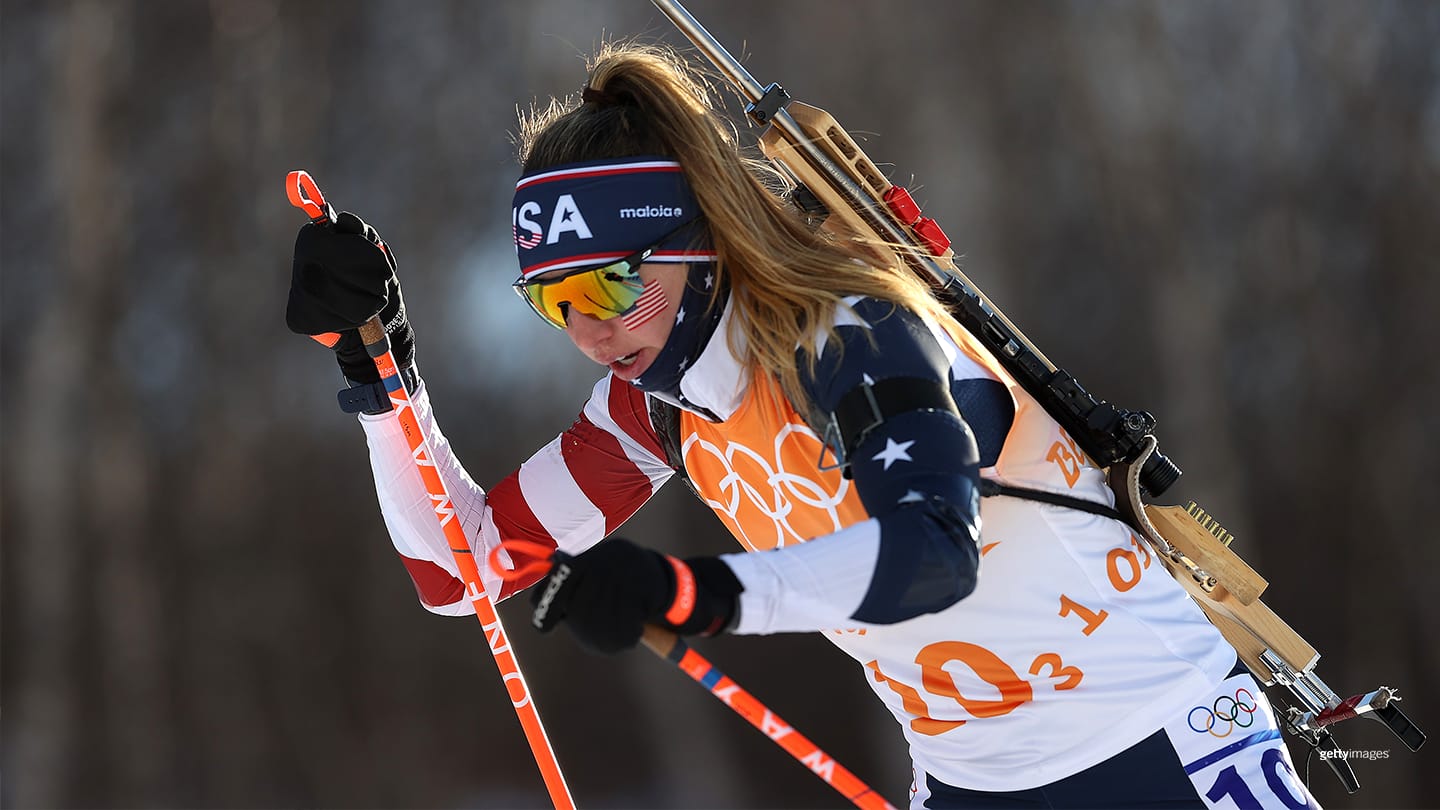 Deedra Irwin competes during the women's biathlon 4x6-kilometer relay at the Olympic Winter Games Beijing 2022 on Feb. 16, 2022 in Zhangjiakou, China.
ZHANGJIAKOU, China — Deedra Irwin came to the Olympic Winter Games Beijing 2022 with two goals: to qualify for biathlon's pursuit, then help her teammates in the women's relay.

The 29-year-old biathlete ended up finishing the women's 15-kilometer individual race in seventh place — the best finish ever for U.S. Biathlon at an Olympic Games. She also qualified for the 12.5-kilometer mass start — a race in which only 30 biathletes compete.

"To get a top 10, make the pursuit, have an awesome relay with my teammates and make the mass start, I mean, it was just way more than I expected," she said after finishing the mass start today in 23rd place, making up six places on her start position.

It was the first mass start race for Irwin, who took up biathlon just five years ago.

"I'm still processing everything that's happened in these last couple weeks at the Olympics," she said. "Definitely during the race, skiing next to some of the best women in the world … wow … I am still speechless."

A month ago, few would have guessed that Irwin, 29, would do so well at her first Olympic Games. She had come late to cross-country skiing and biathlon, and she was only in her second season competing on the full world cup tour.

From Pulaski, Wisconsin — about 20 miles northwest of Green Bay — Irwin took up cross-country skiing in high school to stay in shape for track and cross-country running. Her senior year, she won the Wisconsin Nordic State Championships and was sprint champion as well.

Irwin went to Michigan Tech in the fall of 2010 and competed at the NCAA Ski Championships for the Huskies. She also competed at the 2015 world junior Nordic championships in Kazakhstan, finishing 31st in the sprint and 34th in the skiathlon.

With a big aerobic engine, Irwin also ran track in college, competing in middle and long-distance running, as well as steeplechase. She broke school records in the 800, 1500, 5,000 and 10,000 meters and was on a school-record 4x400 relay squad.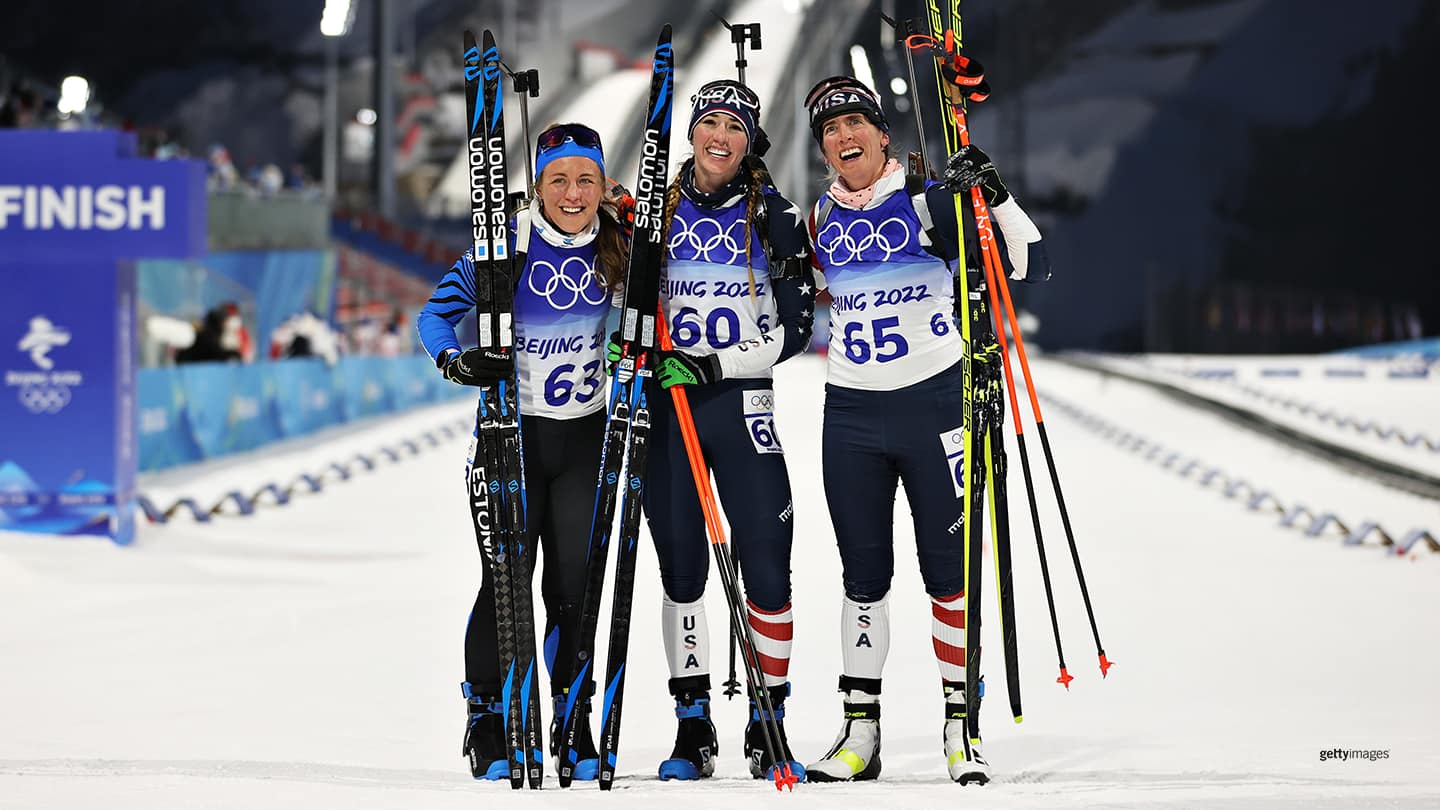 (L-R) Johanna Talihaerm (Estonia), Deedra Irwin and Susan Dunklee pose after the women's biathlon 7.5-kilometer sprint at the Olympic Winter Games Beijing 2022 on Feb. 11, 2022 in Zhangjiakou, China.
After graduating in 2015 with a degree in exercise physiology and a coaching license, with a minor in Spanish, Irwin moved to Sun Valley, Idaho, to ski full-time with the Sun Valley Ski Education Foundation XC Gold Team and try to fulfill her Olympic dreams. She competed in cross-country skiing for two seasons, winning the 2016 Birkebeiner Classic — 55 kilometers of classic skiing — and finishing second in a NorAm Cup 5km race in Canmore, Alberta.

Her results were good. But not good enough to make the U.S. Ski Team. In 2017, she gave biathlon a try at a talent ID camp in Lake Placid, New York. She had never held a rifle before but was a quick learner.

"They take talented skiers and give them a shot — literally," she once said. "I haven't looked back from biathlon since then."

The switch proved to be a good move for Irwin. The following year, she was competing internationally, even in a couple of world cup relays.

In 2019, Irwin enlisted in the Vermont Army National Guard as a human resource specialist. She wanted to serve her country, and the National Guard program would allow her to focus on biathlon.

"I didn't have to fundraise for myself anymore and try to figure out how to afford this sport," she said.

The Guard helped in other ways too.

"Coming back to biathlon after Army basic training, I noticed that my shooting had improved a ton," Irwin told the National Guard news bureau. "I was much more relaxed on the range. I was able to focus a lot better than before I went to basic. I remember coming back, and my coach was like, 'We need to send everybody there. You're shooting so well.'"

The Guard, she said, helped her make the biggest jump in her biathlon career, and soon, she was competing full-time on the world cup tour. This season, a month before the 2022 Olympic Winter Games, she scored her best world cup finish yet: 15th place in a sprint.

At the Winter Games, her only goals — besides making the U.S. Olympic Team — were to qualify for the pursuit (by finishing in the top 60 in the sprint) and to do her part in the relay.

In her first Olympic competition, the 15-kilometer individual (a race against the clock), Irwin finished seventh, with just one missed target. In the individual, biathletes receive an extra minute for each missed target, and Irwin was just over one minute behind gold medalist Denise Hermann from Germany. Had Irwin shot 20 for 20, she would have won U.S. Biathlon's first Olympic medal.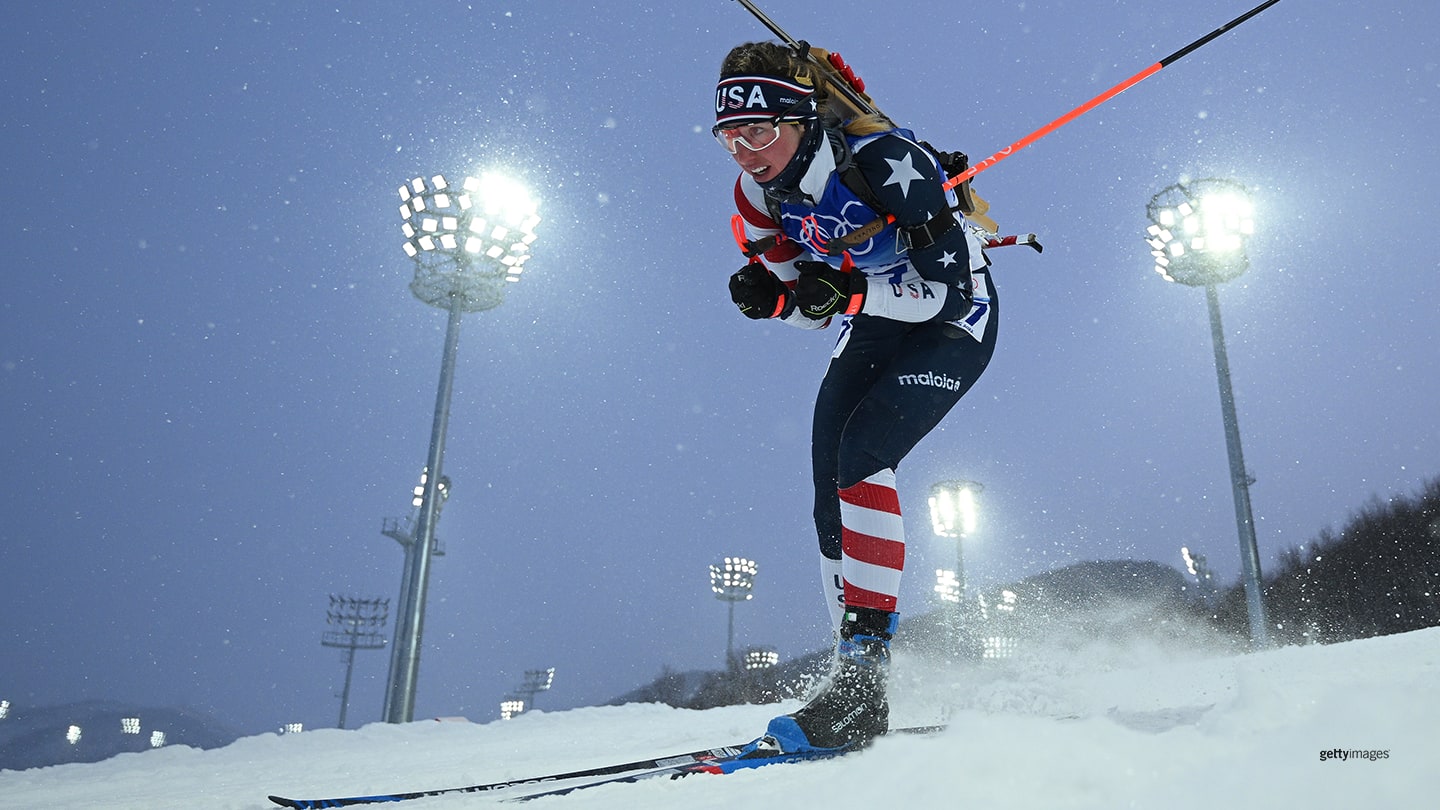 Deedra Irwin competes during the women's biathlon 10-kilometer pursuit at the Olympic Winter Games Beijing 2022 on Feb. 13, 2022 in Zhangjiakou, China.
Asked how she felt after the individual race, Irwin was emotional.

"I don't know," she said, smiling and crying. "My hands are so cold."

Over a week later, she still had not fully absorbed what she had accomplished.

"I haven't really reflected on the significance of it for the U.S. and U.S. Biathlon," she said. "But reflecting on it for myself, just realizing how … how crazy biathlon is and how if you just put in the work, anything can happen."

Irwin ended up finishing the sprint in 37th and the pursuit in 47th. Combined with her individual finish, she qualified for the mass start in 29th. It was the first time since 2014 that a U.S. woman had qualified to compete in the 30-woman mass start.

On another frigid day in Zhangjiakou, with gusty winds causing everyone to miss targets in the shooting range, Irwin climbed as high as 16th in the race. Then in the second prone stage, she missed three targets and dropped back after having to ski the penalty loop three times. But the last two stages in the range were standing, and Irwin missed only one target each time — while some of the best biathletes in the world missed two.

"I just tried to really focus on having a good process and just trusting my instincts," she said. "Having three out of four decent stages, I was pretty happy. … To be able to come back and only miss one standing on a really windy day was really cool."

Irwin's take-away from these Games is boosted confidence that she can compete with the best. And memories — of getting her nails done in the Olympic Village salon, hanging in the lounge and meeting athletes from other sports and other countries, trading pins, and celebrating the best of what sport can be about.

"I'm just honored to be here and be able to perform on such a big stage," she said, "and show off what U.S. biathlon has got coming in the future."

Want to follow Team USA athletes during the Olympic Games Beijing 2022? Visit TeamUSA.org/Beijing-2022-Olympic-Games to view the competition schedule, medal table and results.
An award-winning freelance writer based in Vermont, Peggy Shinn is in Beijing covering her seventh Olympic Games. She has contributed to TeamUSA.org since its inception in 2008.