Ice Dancers Hubbell, Donohue End Their Olympic Career With Bronze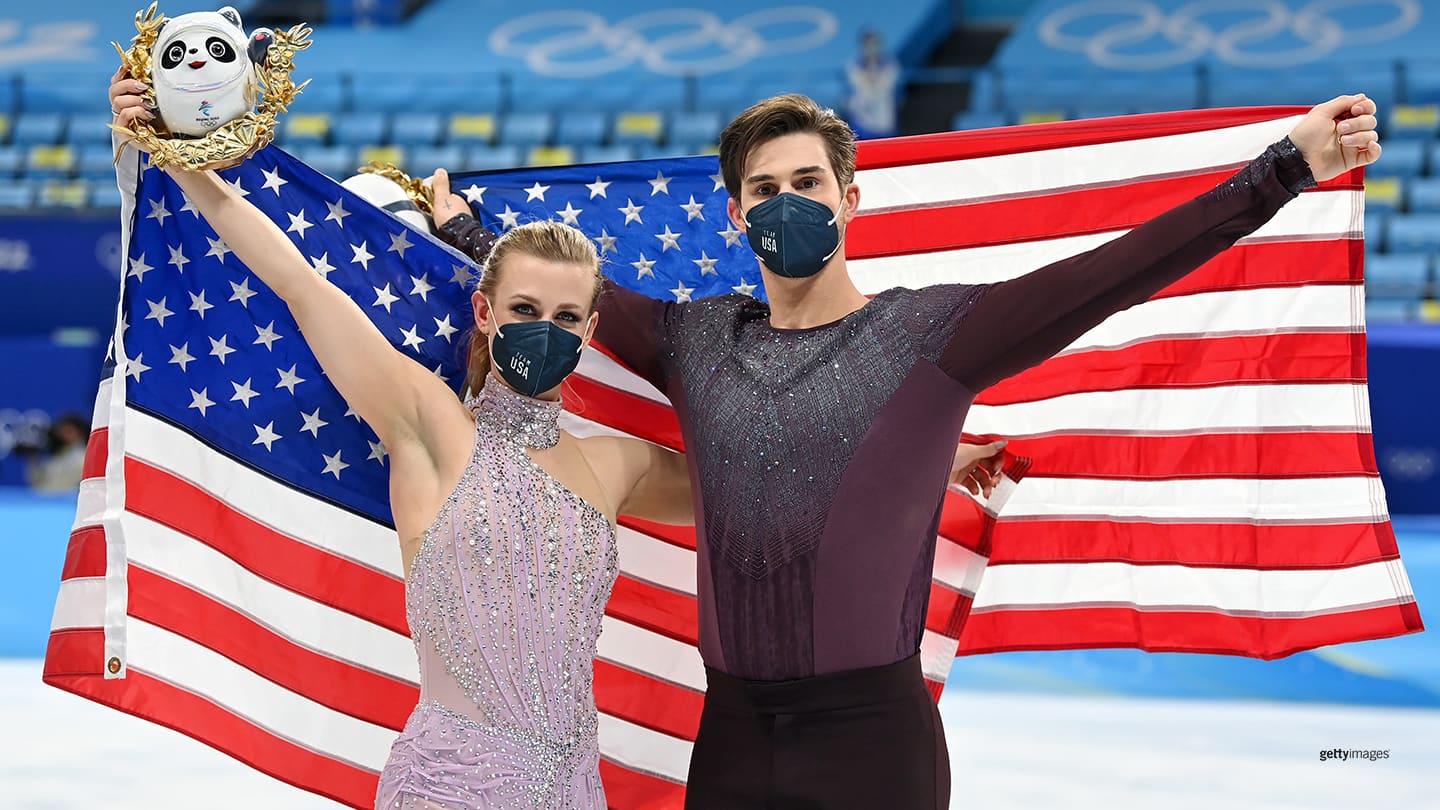 Madison Hubbell and Zachary Donohue celebrate during the Ice Dance Free Dance flower ceremony at the Olympic Winter Games Beijing 2022 on Feb. 14, 2022 in Beijing, China.
BEIJING – A journey they began together in Detroit, Michigan 11 years ago – one that survived a romantic break-up, Olympic disappointment, relocation to Montreal and countless ups-and-downs in between -- culminated in a bronze medal for Madison Hubbell and Zachary Donohue at the Olympic Winter Games Beijing 2022 on Monday.
"You work your whole career for the dream of going to the Olympics, and it's so much more than any other competition," Donohue, 31, said. "It's a lot more draining, and wondering, a lot more pressure building up during the year as you lead into it. It's a moment of appreciation, a moment of taking it in, and for us, being able to close the chapter and fold everything in."
The three-time U.S. champions (2018-19, 2021) landed on the podium after one of the finest free dances of their career, a sensitive performance to Anne Sila's "Drowning."
What a way to close out the free dance competition at the #WinterOlympics! 🥉@MadiHubbell x @ZachTDonohue
pic.twitter.com/fkpnVxaeDB

— Team USA (@TeamUSA) February 14, 2022
The challenging routine featured impressive lifts, including a combination lift with Hubbell achieving a near-overhead position before a flip-over exit, as well as the duo's trademark speed and power. The depth of emotion displayed by the skaters matched the depth of their edges, and the program earned 130.89 points, a new personal best. Their total score, 218.02, is also a new high.
"We knew we had to be very focused and in the moment during the performance and rely that it would be sufficient, it would be enough," Hubbell, 30, said.
"We didn't feel like we left anything undone," she added. "The athlete in us has to avoid the desire to nitpick, and (think), 'Oh well, it was one point (deducted) for the extended lift' and 'In the (rhythm dance) if I had gotten a Level 4 on the twizzles.' Every single athlete that skated today has the same 'what ifs' and it would probably be a similar result, if we had all skated absolutely perfectly."
Beijing marks the fifth consecutive Olympics a U.S. team has stood on the ice dance podium. Four-time world champions Gabriella Papadakis and Guillaume Cizeron of France won gold with 226.98 points. Victoria Sinitsina and Nikita Katsalapov, reigning world champions representing the Russian Olympic Committee (ROC), took silver with 220.51.
Madison Chock and Evan Bates, the three-time U.S. champions (2015, 2020, 2022) who train alongside Hubbell and Donohue in Montreal, placed fourth with 214.77 points.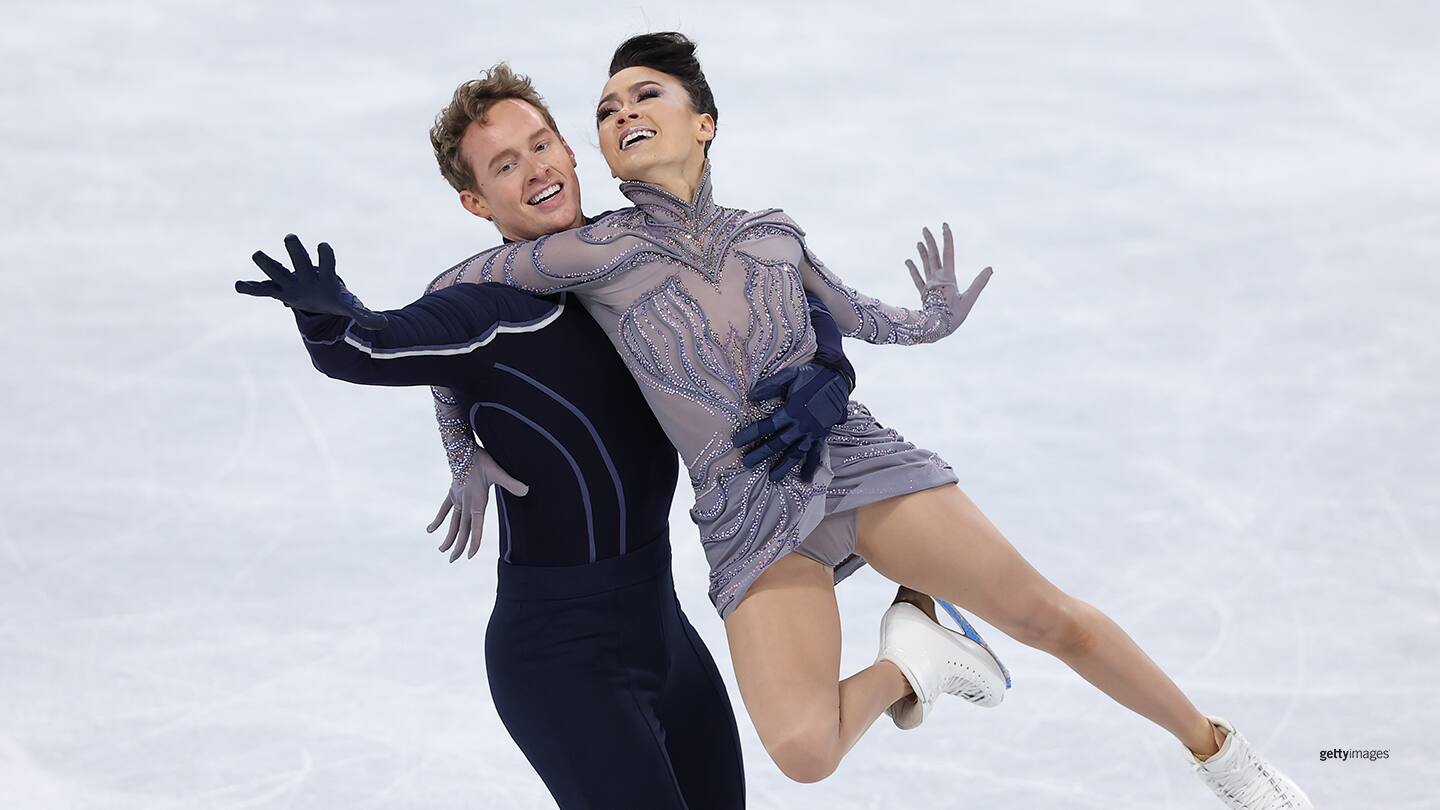 Madison Chock and Evan Bates skate during the Ice Dance Free Dance at the Olympic Winter Games Beijing 2022 on Feb. 14, 2022 in Beijing, China.
They, too, notched a new personal best free dance score, earning 130.63 points for an otherworldly routine set to music from the French electronic duo Daft Punk. Supreme storytellers, the couple portrayed an astronaut (Bates) who travels to another planet and falls in love with a resident (Chock).
They took off! 💫 #WinterOlympics @Evan_Bates x @chockolate02
pic.twitter.com/50ulO4tYYD


— Team USA (@TeamUSA) February 14, 2022
Their lifts were the most spectacular of the event, but both their technical scores and program components were a shade lower than Hubbell and Donohue's.
"It felt really good, the way we skated today, even when the scores came up," Bates, 32, said. "That's the first time we've been over 130 points …. We had our best score and our best skate. We're really happy with what we did."
In PyeongChang 2018, Chock and Bates finished ninth, while Hubbell and Donohue placed fourth. Team USA's Maia Shibutani and Alex Shibutani won the bronze medal.
This time, it was Chock and Bates' turn to miss the podium by a hair.
"Given the depth of ice dance and how fierce the competition is, we knew coming in we would need the best from ourselves to be on the podium," Bates said. "We are really proud of what we did and proud of the way our competitors skated …. Of course, we wanted to be on the podium, too, but it didn't happen. That's part of sport and that's what makes these Olympics so entertaining for folks at home and so motivating for the athletes."
This is the third Olympics for Chock, and the fourth for Bates, who competed at the 2010 Vancouver Games with former partner Emily Samuelson. Like Hubbell and Donohue, they will compete at the 2022 world championships, but they are undecided about whether they will continue beyond that.
"We will probably reconvene and reflect on our season and our career, and see what's next for us," Chock, 29, said. "It's possible we could continue skating, but it's also possible we will do other things. That's a decision we haven't made yet."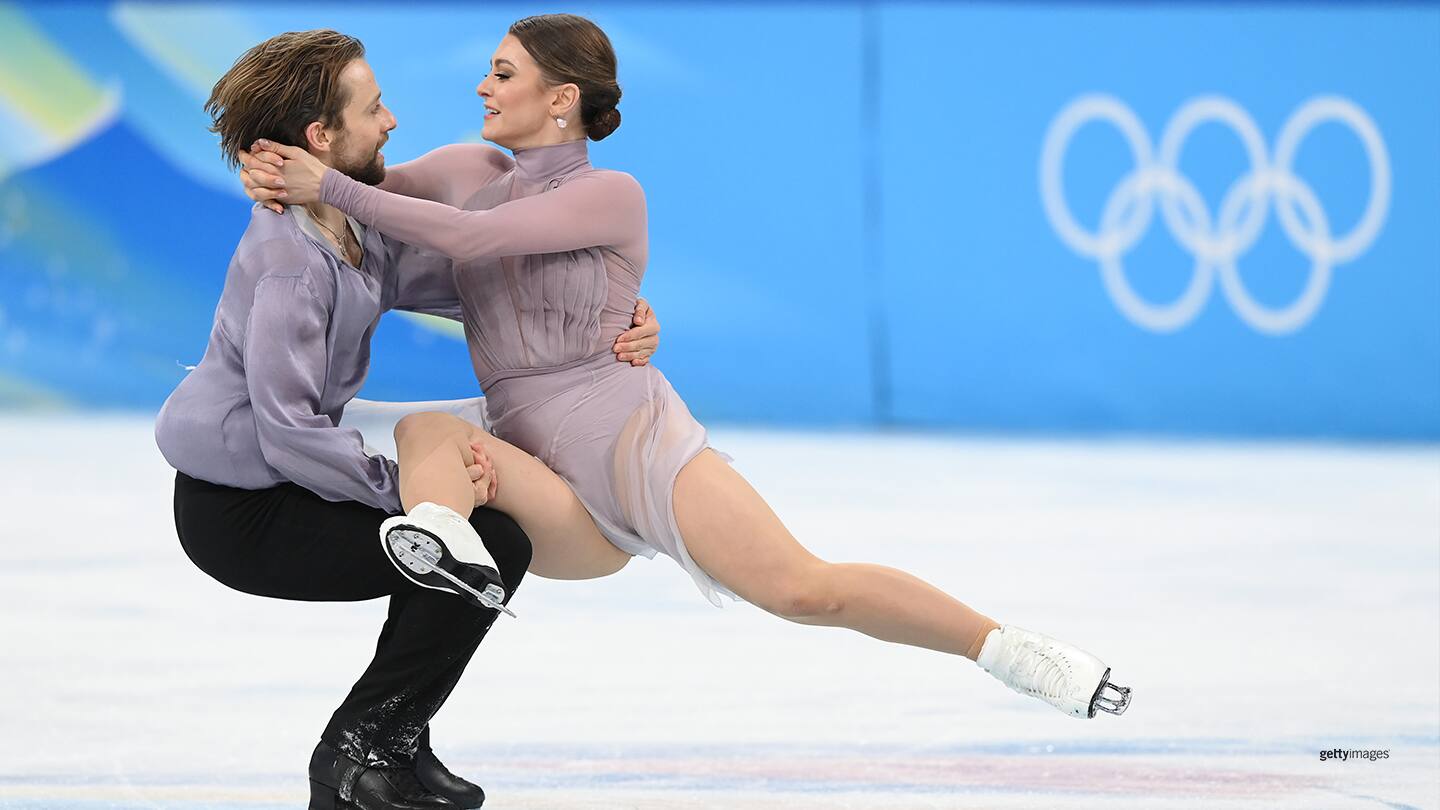 Kaitlin Hawayek and Jean-Luc Baker skate during the Ice Dance Free Dance at the Olympic Winter Games Beijing 2022 on Feb. 14, 2022 in Beijing, China.
Kaitlin Hawayek and Jean-Luc Baker, three-time U.S. bronze medalists who also train in Montreal, performed an elegant, flowing free dance to Chopin selections, highlighted by creative positions in the lifts and spin. It earned 115.16 points for tenth place in the segment, and the couple placed 11th overall with 189.74.
"We were really proud of the performance we put out today," Hawayek, 25, said. "We felt like we did what we could today."
Baker's mom, Sharon Jones, is a four-time British ice dance champion (with Paul Askham) who placed 13th at the 1988 Calgary Games.
"To be able to call ourselves Olympians, it feels amazing," Baker, 28, said. "I can't imagine that many people, other than Ashley Cain-Gribble and Ivan Bukin (who also have an Olympian as a parent) can share that experience with a family member, particularly your mother, in the same discipline even."
This was the next to last competition for Hubbell and Donohue, who will retire following the 2022 World Figure Skating Championships in Montpellier, France (March 21-27). They plan to continue performing together in shows.
"It's heartbreaking to walk away," Hubbell said. "Skating and the things we experienced together, are irreplaceable. We are leaving at our happiest, at our most successful, at our peak in every way, so it is hard to walk away. But even the best choices can be hard sometimes."
Want to follow Team USA athletes during the Olympic Games Beijing 2022? Visit TeamUSA.org/Beijing-2022-Olympic-Games to view the competition schedule, medal table and results.
Lynn Rutherford is a sportswriter based out of New York. She is a freelance contributor to TeamUSA.org on behalf of
Red Line Editorial, Inc.