News
Evan Bates
Madison Chock
Chock And Bates' Competitive Fire Still Burns Bright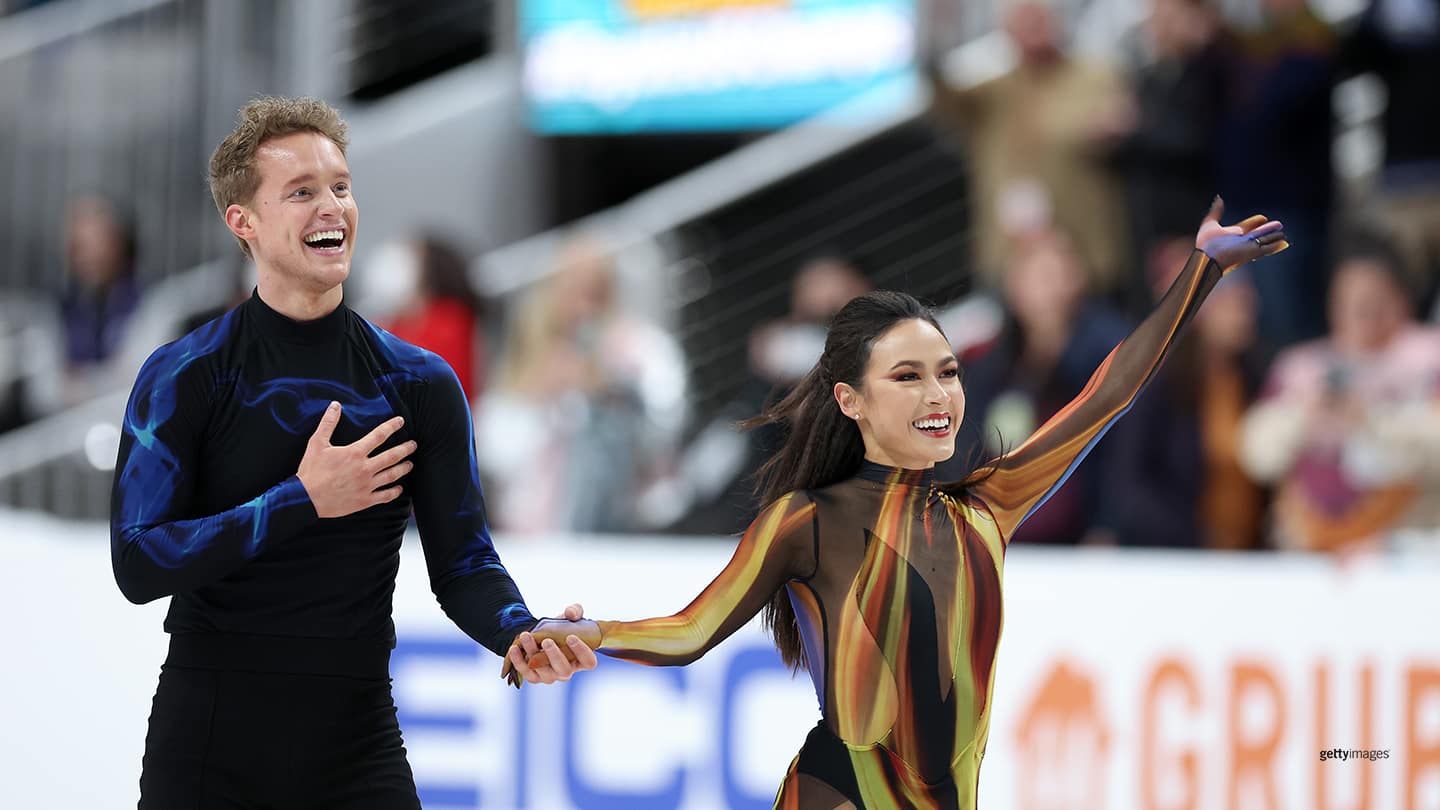 (L-R) Evan Bates and Madison Chock wave to the crowd after skating in the championship free dance during the Toyota U.S. Figure Skating Championships on Jan. 28, 2023 in San Jose, Calif.
COLORADO SPRINGS, Colo. – In the storyline of Madison Chock and Evan Bates' free dance, a captivating routine set to an otherworldly mix of vocals, piano and electronic music, Chock is flame, and Bates is air. Or, maybe, Chock is fire, and Bates is ice. Figure skating fans go back and forth.
"Any of that works for me," Bates says.
"It's open for some interpretation, and I like that," Chock adds.
How about "Fire and Wind"? Bates supplies power, strength and speed, while his magnetic partner ignites sparks and captivates the audience.
"In the beginning, Evan kind of awakens my eternal flame, and then we grow together, see what we can create together," Chock said of the program's choreography, done by one of their coaches, Marie-France Dubreuil. "By the end, I become larger than you can control, because fire can consume everything. Then it's his job to kind of rein in the flames."
On Feb. 12 at the Broadmoor World Arena in Colorado Springs, Colorado, the skaters' fiery performance gained them a third ISU Four Continents ice dance title, adding to the crowns they won in 2019 and 2020.
The three-time Olympians and off-ice couple did it in commanding style, performing a seamless, intricate program set to selections from Orange Blossom and Jorane. Their movements begin as a flickering flame, build intensity and, around the three-minute mark, reach a blaze, before being gently quelled. Highlighted by daring lifts, the routine earned top technical and program component scores from all nine judges to earn 133.14 points, a new personal best and the highest free dance score awarded at any international event this season.
When added to the personal-best 87.67 they earned for their samba and rumba rhythm dance on Feb. 10, it gave Chock and Bates a 220.81 total, nearly seven points more than Canadians Laurence Fournier Beaudry and Nikolaj Sørensen. Marjorie Lajoie and Zachary Lagha of Canada took bronze with 200 points.
"I would say (the free dance) is a very good metaphor for our relationship — how wind and fire interact and can grow stronger together, and how they have the power to create," Chock said. "And so for us, it was just about kind of looking into that relationship on the ice and how we interpret it."
"I think it's fun when a concept of a free dance reflects real life," Bates added. "In our case, it is true for this program. Since the beginning, we always had a lot of different strengths. And we started to kind of fill in each other's gaps, (because) our strengths complemented each other. … That's kind of a unique thing that we've turned into real power as a couple."
(L-R) Madison Chock and Evan Bates skate in the championship free dance during the Toyota U.S. Figure Skating Championships on Jan. 28, 2023 in San Jose, Calif.
Chock, 30, and Bates, who turns 34 this month, belong to Team USA's ice dance dynasty, a medal-winning tradition that starts with 2006 Olympic silver medalists Tanith Belbin and Ben Agosto, continues with 2014 Olympic champions Charlie White and Meryl Davis, through 2018 Olympic bronze medalists Alex Shibutani and Maia Shibutani, and 2022 Olympic bronze medalists Madison Hubbell and Zachary Donohue. The skaters shared the same coaches during portions of their careers, sometimes trained side-by-side and, together, made the U.S. an ice dance powerhouse.
With three-time U.S. champions Hubbell and Donohue's retirement after last season, only Chock and Bates remain in the competitive ranks. For the first time in their long career, they are indisputably the country's top ice dancers.
"I think my first year going to big nationals (the U.S. Championships) was Tanith and Ben's first year winning the U.S. title (2004)," Bates said. "And then they were the first team to medal at worlds (2005) in a long, long time.
"I remember they came and did my club show in Ann Arbor (Michigan), and as a young skater I shared the ice with them. I just think, how lucky I am, to have come up in that time period."
"We're so used to going to nationals and seeing Maddie and Zach, who have been our fierce competitors and our fierce friends," Chock said of Hubbell and Donohue, their former training partners in Montreal. "Now, it feels like we're in a different era of our skating. … It's a reflection of all the work that we've put in over the years, kind of compounding and unfolding in a very magical way."
Since teaming together in 2012 after successful careers with former partners, Chock and Bates have had their competitive ups-and-downs. There was a five-year gap between their first U.S. title in 2015 and their second in 2020, and a six-year world championships medal drought between 2016 and 2022, when they won bronze. They placed fourth at the Beijing Games, just behind Hubbell and Donohue; both couples contributed to Team USA's medal in the team event.
Their nadir was the 2017-18 season, which Chock skated in pain due to a right ankle injury that would require surgery and several months rehabilitation. The couple placed a disappointing ninth at the 2018 Olympics and contemplated retirement before relocating to Montreal, where they train at Ice Academy of Montreal under Dubreuil, Patrice Lauzon and Romain Haguenauer.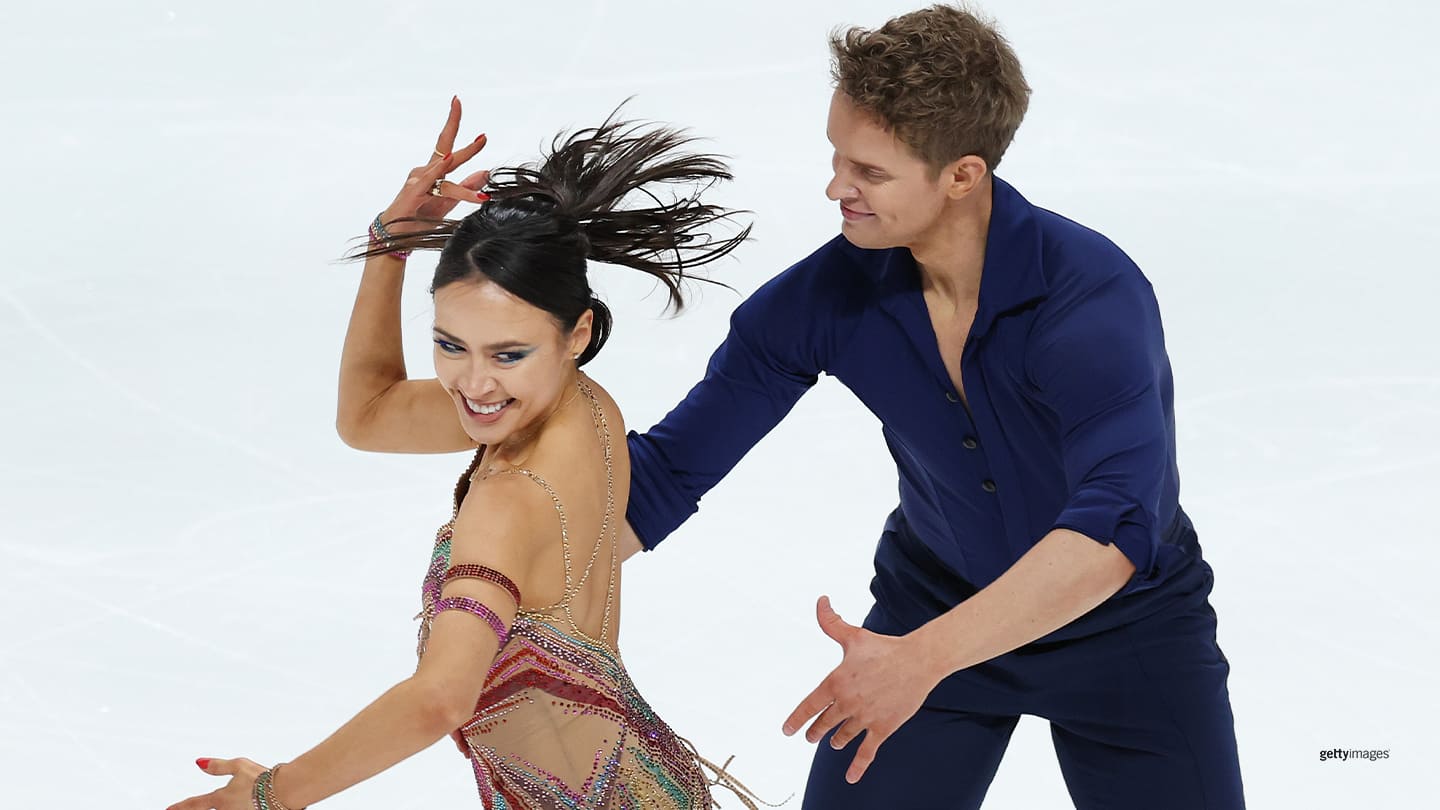 (L-R) Madison Chock and Evan Bates skate in the championship rhythm dance during the Toyota U.S. Figure Skating Championships on Jan. 26, 2023 in San Jose, Calif.
The Four Continents' silver and bronze medal-winning teams also train at I.AM, as do four-time U.S. bronze medalists Kaitlin Hawayek and Jean-Luc Baker. The school trained the 2018 and 2022 Olympic champions and all three world ice dance medalists last season.
"In order to be the best, we have to compete in a healthy way at home every day," Fournier Beaudry said of sharing the ice with Chock and Bates. "It brings all of us to a higher level. It makes us better competitors and better human beings."
Since moving to Montreal, the skaters have worked with Dubreuil and her choreographic partner Samuel Chouinard to create memorable free dances, including the sensuous "Egyptian Snake Dance" routine and last season's "Lovers from Outer Space."
"Over the years, we've taken more ownership of (our material), and I think that's why our programs have resonated so much with people, because we've really put ourselves into them," Chock said. "They're more organic, and our coaches do a magnificent job of fostering that in all of their teams."
"Fire and Wind" did not have the immediate impact of previous free dances. A heavy post-Olympic touring schedule left little time to prepare for the 2022-23 season, and the couple hit the Grand Prix circuit without competing in a warm-up event. They edged past Hawayek and Baker to win gold at Skate America in October but placed second to Fournier Beaudry and Sørensen at NHK Trophy in November. At the Grand Prix Final in December, they took silver behind Canadians Piper Gilles and Paul Poirier.
Now, with additional mileage, plus some edits to music and choreography, the program is rounding into top form well in time for the world championships in Saitama, Japan, the third week of March.
"This competition sets us up really well for the world championships, and for our goal of winning worlds," Bates said. "We really loaded up on the training in December and we made some changes. Honestly, from where we started at Skate America with this program in particular, I could not have imagined the form it's taken on."
On their competitive future after worlds, the couple is undecided, saying they are taking things "season by season." Bates slipped a vintage Cartier engagement ring on Chock's finger during a vacation in Thailand last June, and they plan a wedding next year.
"I couldn't have predicted how this season unfolded," Chock said. "But that's what keeps it interesting, and that's what keeps us hooked — our love of the sport, our love of growth. That we get to do it together on a daily basis is even better.
"And so long as we have that love, that drive, that fire, we will continue."
Lynn Rutherford has covered five Olympic Games, including the 2022 Winter Games in Beijing for TeamUSA.org. Based in New York, she is a freelance contributor to TeamUSA.org on behalf of
Red Line Editorial, Inc.