Team USA Ice Dancers Sit Third And Fourth After Rhythm Dance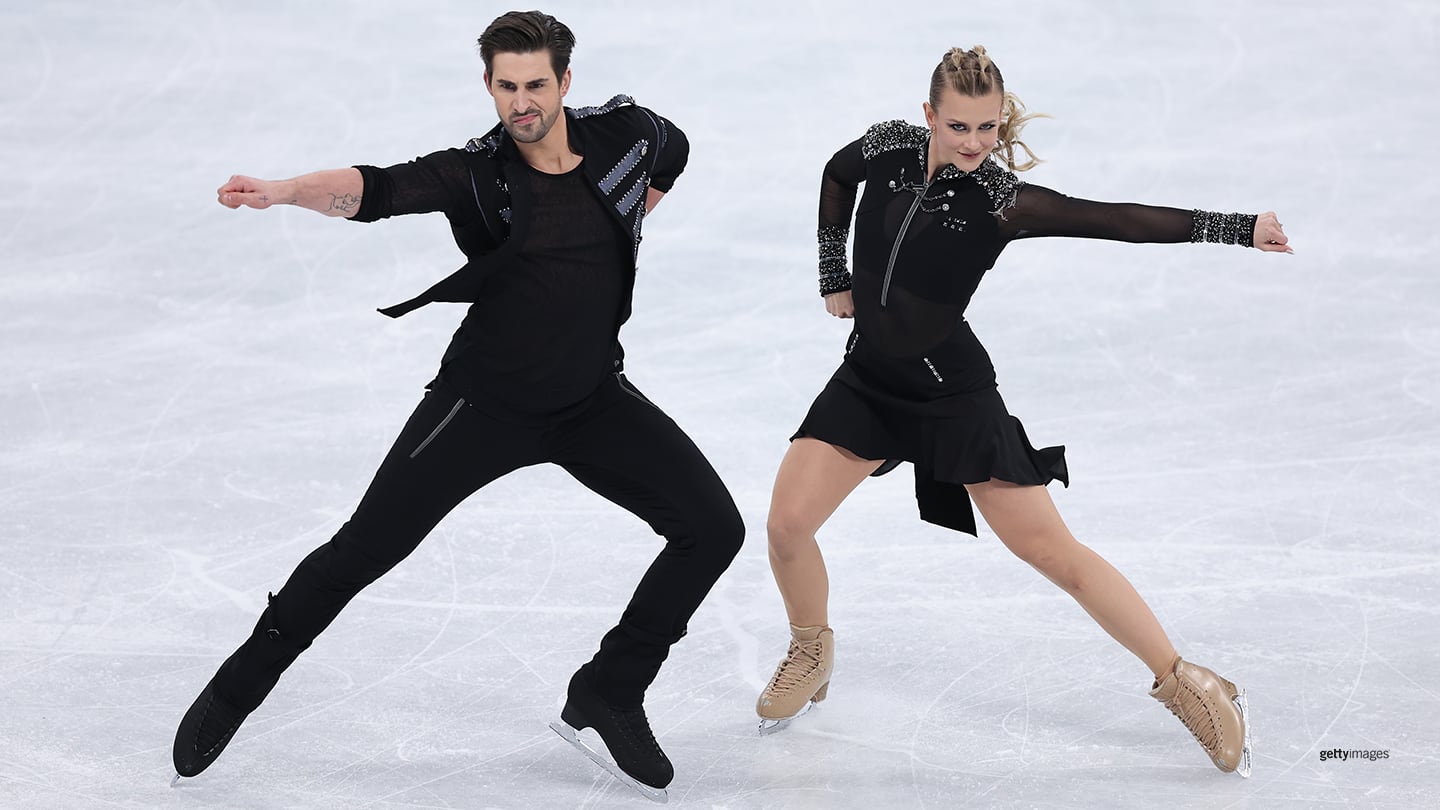 Madison Hubbell and Zachary Donohue skate during the ice dance rhythm dance during the Olympic Winter Games Beijing 2022 on Feb. 12, 2022 in Beijing.
BEIJING — Four years ago in PyeongChang, Madison Hubbell and Zachary Donohue sat third after the rhythm dance, an Olympic medal dangling before them. Then, in the closing moments of their free dance, a fall.

They finished fourth — close to the podium, yet a step below.
"I went into the last Olympics holding on to a lot of cliches," Hubbell, 30, said. "You know, medaling is everything, it's life changing, you're going to all of a sudden believe in yourself, it's magical. And fourth place is the worst."

Hubbell cried for two days, then had an epiphany: fourth place isn't so bad.

"We were at that place in our career where we were going for a medal, and we were very close to it, and we didn't quite do it," she said. "But we were incredibly proud of the work we did with our team. I'm sure if we had never gone to (train in) Montreal, we would have never set foot on Olympic ice."

On Saturday at Beijing's Capital Indoor Stadium, Hubbell and Donohue again placed third in the Olympic rhythm dance, 3.70 points off the lead and three points ahead of their teammates Madison Chock and Evan Bates, who are fourth.
So dynamic. @MadiHubbell and @ZachTDonohue spin into third place. #WinterOlympics pic.twitter.com/NBxG3QxOqF


— Team USA (@TeamUSA) February 12, 2022
Gabriella Papadakis and Guillaume Cizeron, the four-time world champions from France, are first with 90.83 points. Reigning world champions Victoria Sinitsina and Nikita Katsalapov of the Russian Olympic Committee sit second with 88.85.

Both top U.S. couples — as well as Team USA's Kaitlin Hawayek and Jean-Luc Baker, who placed 11th — train at the Ice Academy of Montreal (I.AM), as do eight other teams in the field of 23. Hubbell and Donohue moved there in 2015, with the other two couples making the move in 2018.

"It's similar (in Beijing) to what they are used to at home, anyways," Marie-France Dubreuil, one of I.AM's primary coaches and choreographers, said. "They are used to training together, so we try to keep it as natural and flowy as possible, so everybody gets attention. The situation is familiar, and we have five coaches, so we are able to manage a rotation that makes sense for everyone."

"We focus on having an environment that is fun, holistic, safe," Patrice Lauzon, Dubreuil's husband and another of the I.AM coaches, said. "It pushes (each team) to a higher level."

The rhythm dance — which lasts 2 minutes, 50 seconds, give or take 10 seconds — is more restrictive than the free dance, which will be contested on Monday. This season, skaters have their choice of "street dance" rhythms, including hip hop, jazz, blues and disco, among others.

Couples must also execute a sequence of the Midnight Blues pattern dance, a series of prescribed steps that require deep knee bends, strong edges and a smooth, relaxed style. There are certain "key points" the skaters must hit in the pattern; often it's here where points are gained, or lost.
Hubbell and Donohue, the reigning world silver medalists and winners of three U.S. crowns (2018-19, 2021), were electric performing to an old-style hip-hop medley from Janet Jackson. Their angular movements were perfectly in sync, as were their steps and twizzles, and they earned 87.13 points, a new personal best.

At the end of the skate, Donohue let out a happy howl.

"Being able to connect the way we do, and not just execute choreography and steps but genuinely be able to feel a palpable connection between the two of us, it's exhilarating," Donohue said.

"It felt like they were having fun, just performing, not competing," Lauzon said. "I think that was the best they've ever skated that program."
Want to follow Team USA athletes during the Olympic Games Beijing 2022? Visit TeamUSA.org/Beijing-2022-Olympic-Games to view the competition schedule, medal table and results.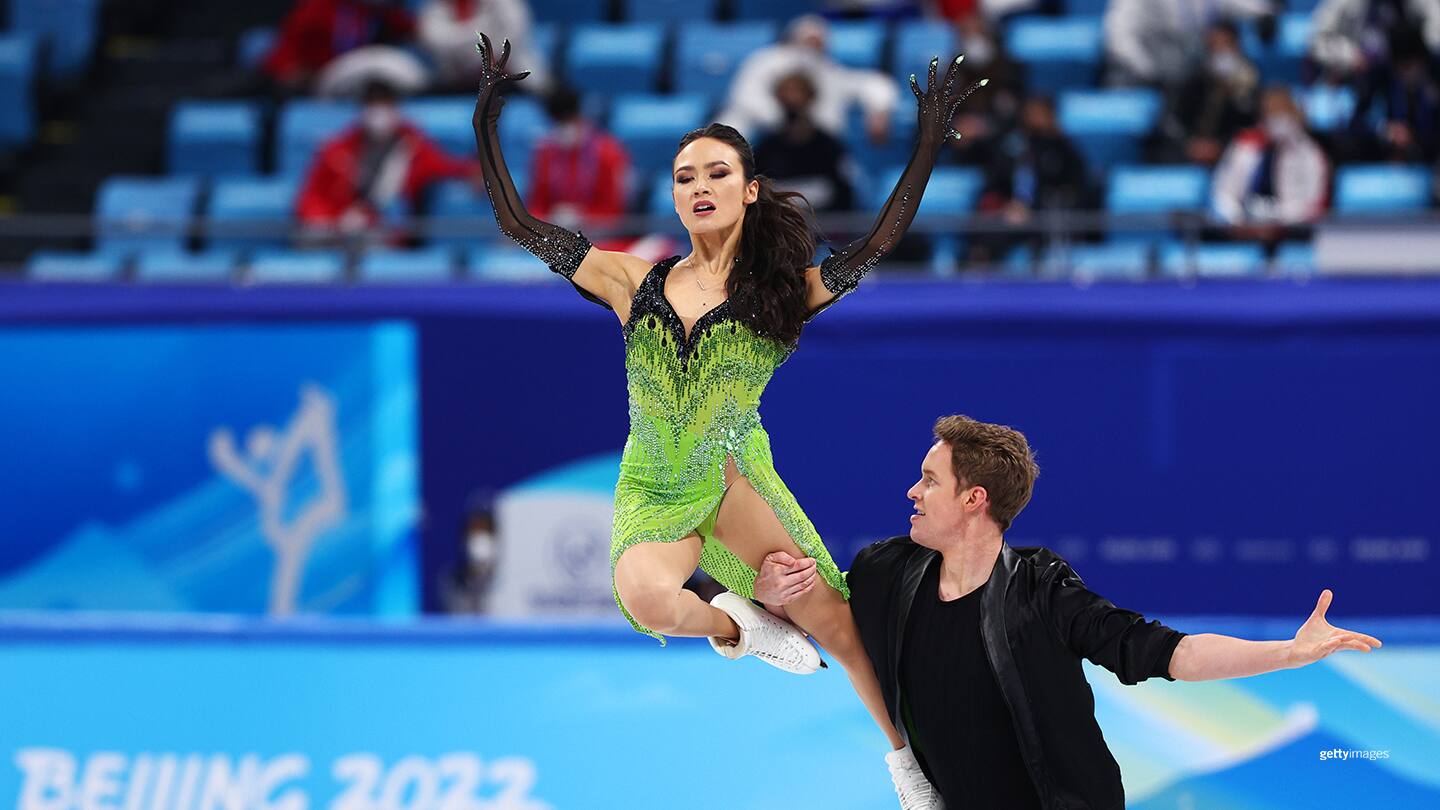 Madison Chock and Evan Bates skate during the ice dance rhythm dance during the Olympic Winter Games Beijing 2022 on Feb. 12, 2022 in Beijing.
Chock and Bates, who also hold three U.S. titles (2015, 2020, 2022), took a more subtle approach with a polished program set to a techno-pop and hip-hop medley of Billie Eilish tunes, smoothly executing the event's most stunning lift. It earned 84.14 points.

"We're certainly not disappointed," Chock, 29, said. "If anything, it gives us a little fire in our bellies for the free dance."

"There was one obvious moment that was a slip, on an element (steps), but overall, it was still good," Bates, 32, said. "In the big picture, we are still podium contenders."
Defying gravity. @chockolate02 and @Evan_Bates move into third with 84.14 points. #WinterOlympics pic.twitter.com/NaNeTVDXpF


— Team USA (@TeamUSA) February 12, 2022
Hawayek and Baker, the U.S. bronze medalists, had an entertaining and fluid performance to a modern remix of Donna Summer hits that earned 74.58 points.
"That was one of the most fun times I've ever had performing," Hawayek, 25, said. "It felt like both of us were so present in every second of the performance. When we finished, at that moment, (the scores) didn't matter to me."
"We've had one heck of a journey to get to this point," Baker, 28, said. "We follow in the footsteps of such great American ice dancers. We've been top four in the U.S. the past seven or eight years, top three the past three years. We've been striving for this moment, from the moment we met each other.
FIERCE. ✨@jeanlucbaker and @KaitlinHawayek brought it for the rhythm dance. #WinterOlympics pic.twitter.com/twAehn2Snf


— Team USA (@TeamUSA) February 12, 2022
Team USA ice dancers have earned individual medals at the last four Olympic Winter Games, a feat unmatched by Americans in any of the other figure skating events. In 2014, Meryl Davis and Charlie White brought home gold from Sochi.
"I think (2006 Olympic silver medalists) Tanith (Belbin) and Ben (Agosto) started opening up the door," Baker said. "Then Meryl and Charlie stepped into that role and paved a very strong way. … We are some of the best in the U.S., and if you look at our national championships, there are some very good skaters coming up right behind us."
Lynn Rutherford is a sportswriter based out of New York. She is a freelance contributor to TeamUSA.org on behalf of
Red Line Editorial, Inc.