Jason Brown Lands Quadruple Jump To Win Grand Prix Medal In France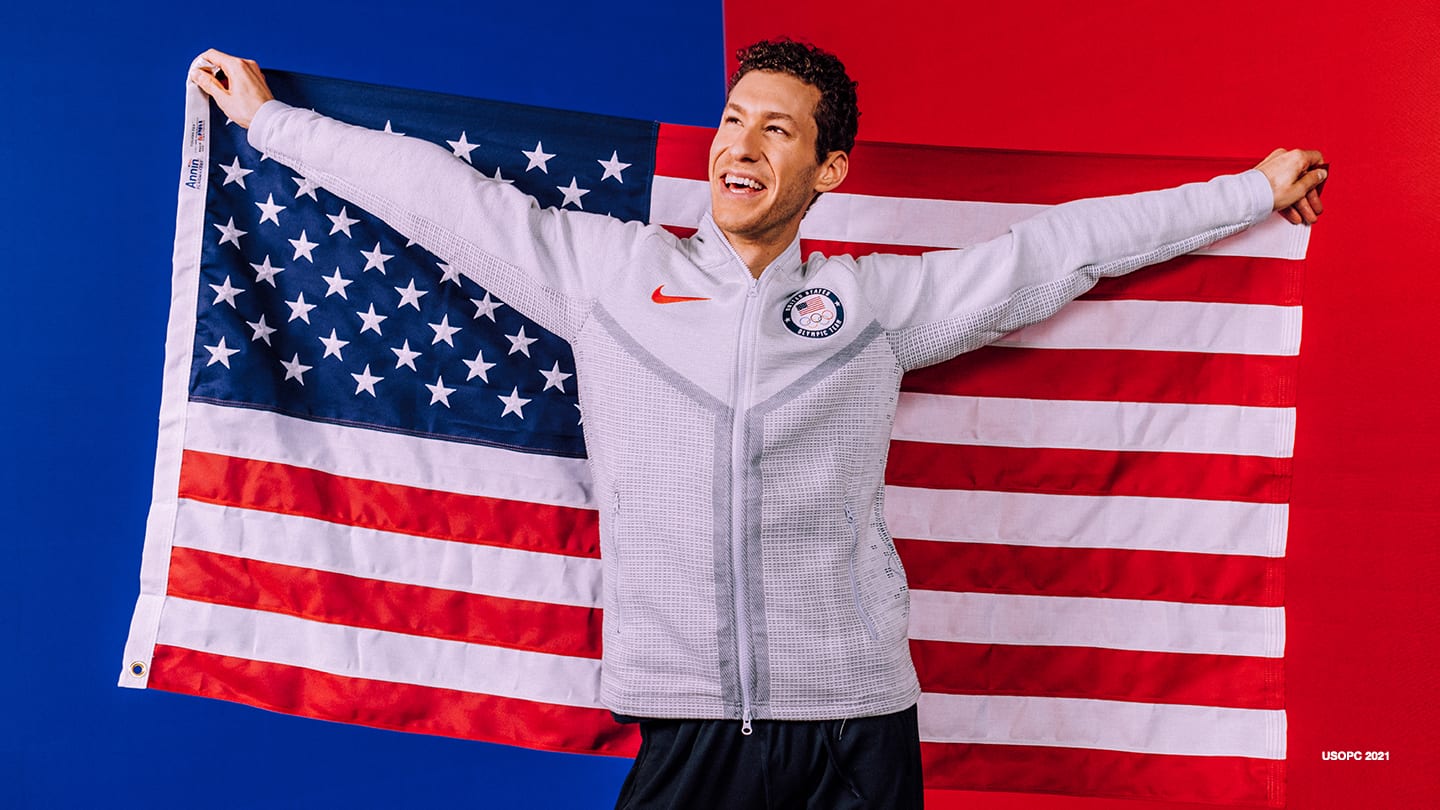 Jason Brown poses for a portrait during the Team USA Beijing 2022 Olympic shoot on Sept. 12, 2021 in Irvine, Calif.
Jason Brown ended a near decade-long quest to land a fully rotated quadruple jump in international competition on Saturday when he won a bronze medal at the Internationaux de France in Grenoble.

After placing third in Friday's short program, the 26-year-old skater opened his free skate with a quad Salchow, followed by a triple Axel combination and a second triple Axel. While errors on two other jumps put him fourth in the free, his sensitive yet powerful interpretation of "Schindler's List" gained the event's highest program component scores, and his 264.20 point total gave him the bronze medal.

While saying he was "excited" to land the quad, the 2015 U.S. champion admitted to being disappointed in his free skate overall.

"I'm really happy to be up on the podium today," Brown said. "My second half (of my program) was a bit rough but I am proud of the first half. It's definitely learning a lot as the season goes on and trying to kind of take every step along the way and grow from them and bring it into the next competition."

This is Brown's second Grand Prix podium this fall, following a silver medal at Skate Canada last month. His chances to qualify for the Grand Prix Final, to be held in Osaka, Japan, Dec. 9-12, depend on the men's results at the sixth and final Grand Prix event, Rostelecom Cup, to be held in Sochi, Russia, next week.

Japan's rising young star Yuma Kagiyama, the reigning world silver medalist, won gold with 286.41 points. Another Japanese teenager, Shun Sato, claimed silver with 264.99 points.

In the pairs event, U.S. champions Alexa Knierim and Brandon Frazier won bronze, their first medal in a truly international Grand Prix. The skaters, who teamed up in the spring of 2020, won last season's Skate America, which due to COVID-19 concerns was largely restricted to U.S. athletes.

Knierim and Frazier entered Saturday's free skate in fourth place. A stirring performance of their "Fix You" program — including side-by-side triple Salchow jumps, strong lifts and two solid throw triple jumps — lifted them to the podium. With just one major error, Frazier's fall on a triple toe loop, they earned 131.54 points and ended with a 201.69 total.

Reigning world bronze medalists Aleksandra Boikova and Dmitri Kozlovskii of Russia won pairs gold with 216.96 points, while their teammates Iuliia Artemeva and Mikhail Nazarychev earned silver with 201.69 points.

Two U.S. women expected to contend for berths on the 2022 Olympic team, Karen Chen and Mariah Bell, placed fifth and sixth, respectively, in Grenoble.

Chen, the 2017 U.S. champion, performed two elegant, mature programs, but fell on a triple flip in her free skate to "Butterfly Lovers." Still, her 194 point total was a big improvement over her tenth-place finish at Skate Canada.

"Practices went really well recently and my jumps have been more consistent than ever before," the 2018 Olympian said. "I just have to figure out how to transfer it to competition."

Bell had a disappointing short program on Friday, falling on the second jump in her triple flip-triple toe loop combination and placing tenth, but fared far better in Saturday's free skate. Returning to the "Hallelujah" program she used during the 2019/2020 season, when she won the U.S. silver medal, she omitted a triple-triple combination but performed a near-clean program to finish fourth in that segment. Her total was 190.79 points.

"The scores are a bit low but I will have to (check the protocol)," Bell said. "Yesterday I was hesitant instead of attacking, and today I attacked more."

Team USA's Starr Andrews withdrew from the event during her short program on Friday due to injury. She posted on Instagram on Saturday, telling fans she was "doing OK."

Anna Shcherbakova of Russia, the reigning world champion, won her second Grand Prix gold medal of the season with 229.69 points. Alena Kostornaia, also from Russia, took silver with 221.85 points while Japan's Wakaba Higuchi climbed from sixth place after the short program to claim bronze with 204.91 points.

Anthony Ponomarenko and Christina Carreira, fourth in U.S. ice dance last season, placed fifth in Grenoble with 175.91 points. As expected, four-time world champions Gabriella Papadakis and Guillaume Cizeron of France dominated the event, winning with 221.25 points. Canada's Piper Gilles and Paul Poirier took silver with 203.16 while Alexandra Stepanova and Ivan Bukin of Russia claimed bronze with 200.29 points.

Qualifiers and alternates for the Grand Prix Final will be determined when the Grand Prix series concludes in Sochi next week. In addition to Bell, Team USA's Camden Pulkinen will compete in the men's event while Audrey Lu and Misha Mitrofanov will represent the U.S. in pairs. Ice dancers Kaitlin Hawayek and Jean-Luc Baker, who withdrew from their events earlier this season due to Hawayek's ongoing recovery from a concussion, are slated to make their season debut.

Three-time world champion Nathan Chen, winner of three consecutive Grand Prix Finals, has qualified for Sochi, as has U.S. men's silver medalist Vincent Zhou. Team USA's top two ice dance couples, Madison Hubbell and Zachary Donohue, and Madison Chock and Evan Bates, have also qualified. Hubbell and Donohue won the event in 2018, while Chock and Bates are three-time Grand Prix Final silver medalists.
Lynn Rutherford is a sportswriter based out of New York. She is a freelance contributor to TeamUSA.org on behalf of Red Line Editorial, Inc.