News
Madison Chock
Evan Bates
Madison Chock And Evan Bates Passionately Locked In With U.S. Ice Dance Legacy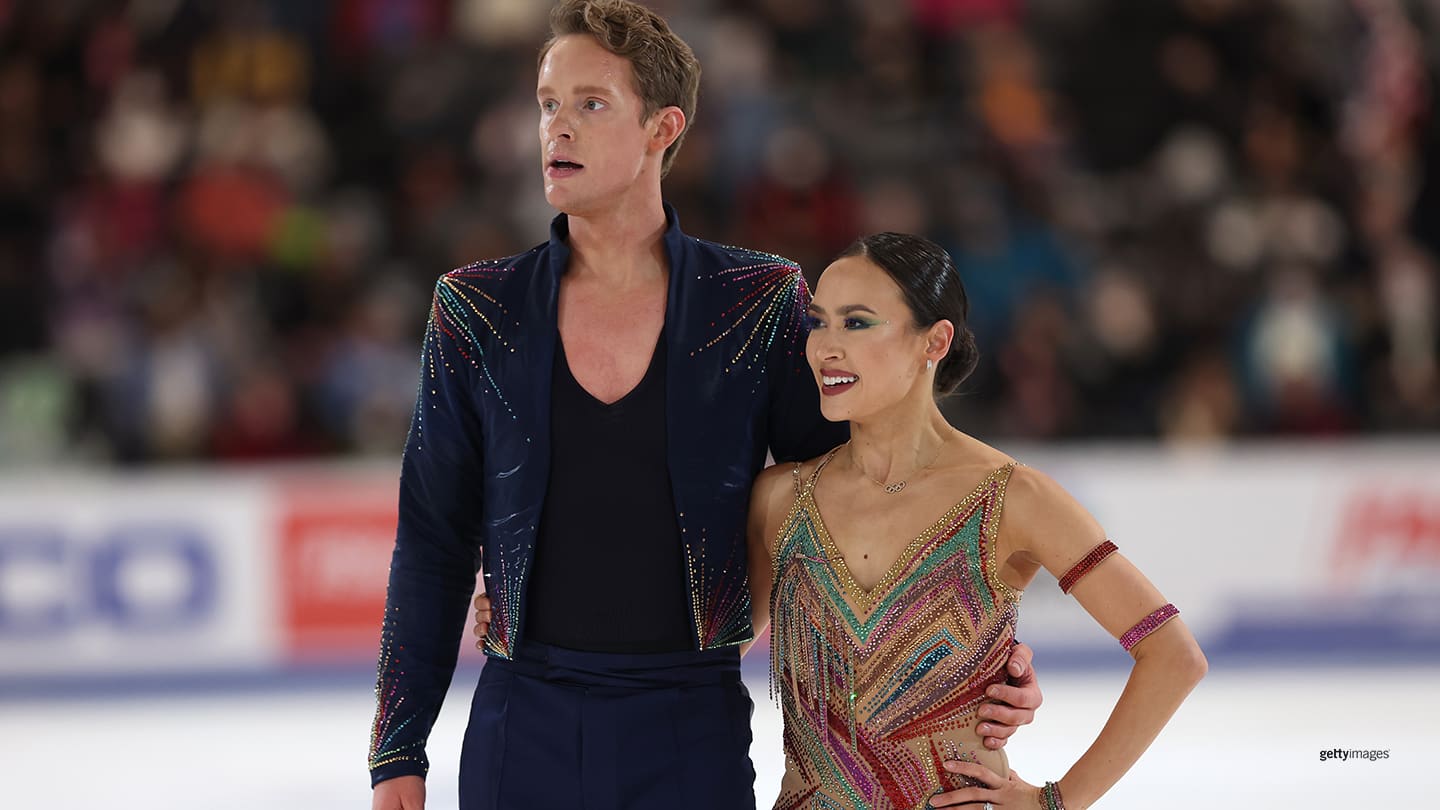 (L-R) Evan Bates and Madison Chock compete during the ice rhythm dance at the 2022 ISU Grand Prix - Skate America on Oct. 22, 2022 in Norwood, Mass.
NORWOOD, Mass. – At a training camp in Detroit this summer, Madison Chock and Evan Bates were on the ice, presenting this season's programs to U.S. Figure Skating officials for critique and, hopefully, endorsement.

Standing along the boards surrounding the rink were Madison Hubbell, Charlie White, Tanith Belbin White and Greg Zuerlein – skaters the couple grew up with, trained alongside, competed against. Chock won the 2009 world junior title while she partnered with Zuerlein.

Those gathered that day at Detroit Skating Club – with their respective partners, Zachary Donohue, Meryl Davis and Benjamin Agosto – won a combined four individual Olympic medals and 15 world medals, starting in 2005 and running through 2022. Along with 2018 Olympic bronze medalists Maia Shibutani and Alex Shibutani, they collectively built a golden age of U.S. ice dance.

"We have known them almost our entire lives and they were all at the boards," Bates said. "Even though they are not all directly on our coaching team, we felt their support behind us and we really appreciate the legacy they've established."

At ages 30 and 33, respectively, Chock and Bates continue to contribute to that legacy. The three-time Olympians (2014, 2018, 2022) own three U.S. titles, three world medals and an Olympic team medal. And they think they are just now hitting their peak.

"These are the most enjoyable years of our career," said Bates, who made his Olympic debut in 2010 with Emily Samuelson. "We're not ready to step away from competitive ice just yet. There are a lot of factors that go into our decision to continue skating, but the crux of it is, we love it. We are able to do it and we don't take for granted the opportunity to compete, to test ourselves against the best skaters in the world, to go out and continue the journey."

Hovering alongside that love is a tantalizing prize: a world title. Their strong record – they won world bronze last season – along with shifts in the competitive ranks, including the retirement of longtime rivals Hubbell and Donohue, make Chock and Bates early favorites for the gold medal at the 2023 world championships next March in Saitama, Japan. If they triumph, they will be only the second U.S. ice dance team to do so, behind Davis and White (2011, 2013).

"It's definitely a big goal of ours and it always has been, so that hasn't changed," Chock said. "As far as the season goes, I think we've made a lot of progress in our own skating and experienced a ton of growth over the spring and summer. Showcasing that is our main focus."

Bidding for a third Skate America title this weekend in Norwood, Massachusetts, the couple won Saturday's rhythm dance with a sharp and sophisticated routine set to a remix of David Bowie's "Let's Dance," including samba and rhumba rhythms. Despite uncharacteristic trouble on the rotational lift, it earned 82.63 points.

"I feel like it has loads of potential," Bates said. "This is our first outing and we had some technical issues, especially on the lift. But it was still a good start."

The skaters, who live and train in Montreal under Marie-France Dubreuil, Patrice Lauzon and Romain Haguenauer, usually compete at a warm-up event before their first Grand Prix competition of the season. But after winning a bronze medal at the 2022 world championships, they undertook a heavy touring schedule, performing in 40 shows.

"We decided to forgo Challenger competitions this season because we had such a busy spring and summer," Chock said. "We traveled for three months after worlds and that didn't leave us enough time to prepare for a Challenger, but it left us just enough time to prepare for Skate America."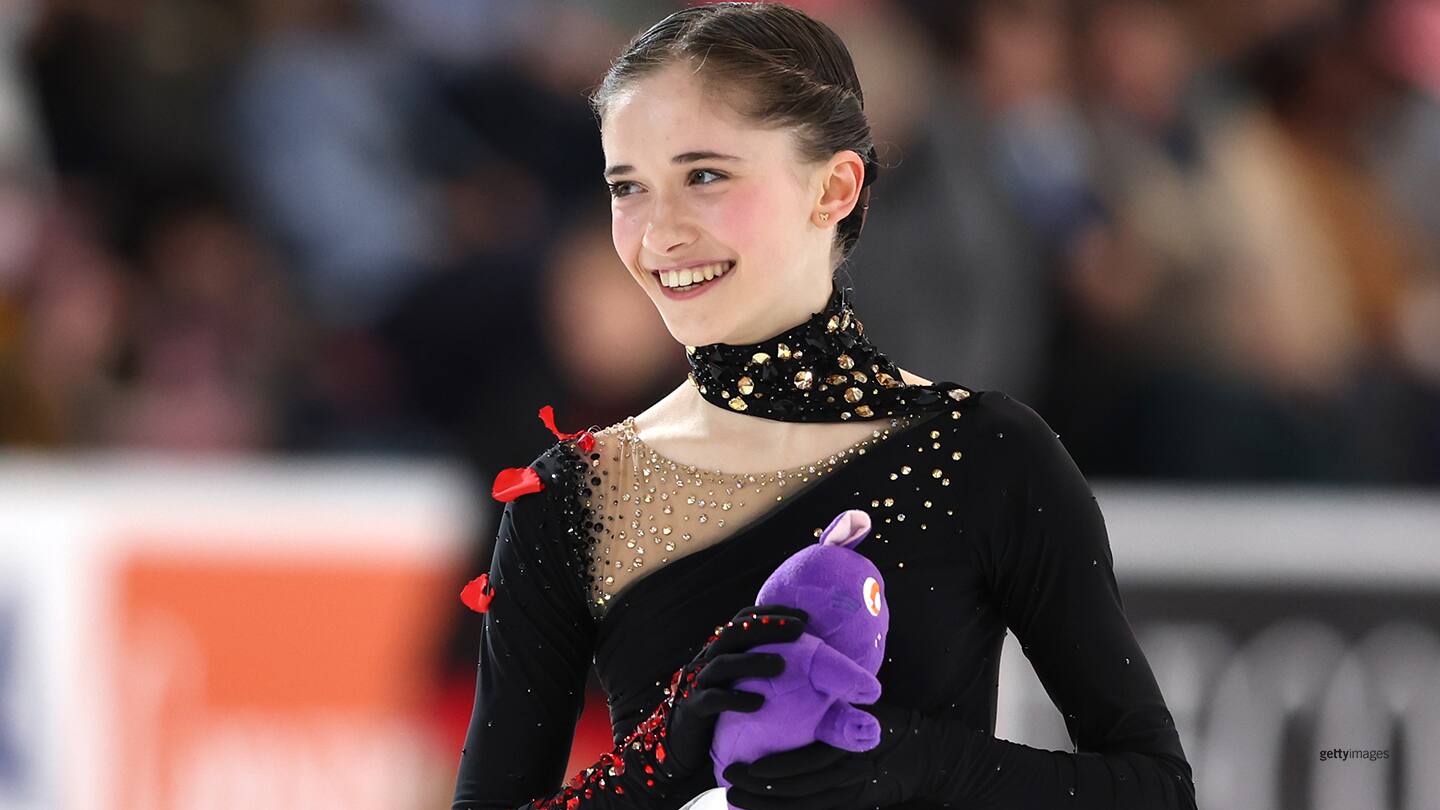 Isabeau Levito after competing during the women's short program at the 2022 ISU Grand Prix - Skate America on Oct. 22, 2022 in Norwood, Mass.
Last season, Hubbell and Donohue won Skate America gold, edging Chock and Bates by 0.28 points. Chock and Bates returned the favor at the 2022 U.S. Championships, winning their third U.S. title.

"It's kind of emotional to think about them not being here anymore," Bates said. "I really value those years of head-to-head battle. They pushed us a lot. We miss them, certainly."

"Training together in Montreal, they had such a strong presence on the ice and a wonderful energy they brought to the school as athletes," Chock said. "Now Maddie gets to bring her own unique and special talents to the coaching side (as part of the school). But I certainly miss her on the ice, her warmth, her energy, her fire."

Chock and Bates, who teamed up in 2011, got engaged while on a vacation to Thailand this June, with Bates sealing the deal with a vintage diamond engagement ring purchased in New York City. The ring is the inspiration for their free dance, set to music from French-Canadian singer and cellist Jorane and choreographed by Dubreuil and Samuel Chouinard.

"(The ring) is from 1920 and belonged to someone else a very long time ago," Chock said. "It got us thinking about how love is connected and flows through time and transcends the physical world. You can find each other, maybe beyond the physical world, and reconnect. That was our vision for this program. It may mean something different to different people, but that was our inspiration."

Four-time U.S. bronze medalists Kaitlin Hawayek and Jean-Luc Baker, 11th at the Olympic Winter Games Beijing 2022 and eighth in the world last season, showed off their lighter side to great advantage in a sparkling routine including samba and rhumba rhythms from the Desi Arnaz Orchestra. They earned 79.12 points and sit second behind Chock and Bates, their Montreal training partners, entering Sunday's free dance.

"We were really happy with our performance today," Hawayek said. "There were little technical things we can focus on as the season goes on. But from a performance standpoint, both of us were really pleased with the way we performed and danced throughout the program."

Another Montreal-based team, Canadians Marie-Jade Lauriault and Romain Le Gac, are third with 72.12 points.


Isabeau Levito, 15, and Amber Glenn, who will turn 22 on Oct. 28, performed near-perfect short programs Saturday to place second and third, respectively, behind Japan's Kaori Sakamoto, the 2022 Olympic bronze medalist and reigning world champion.

"It was really fun being in front of a home crowd and I felt like the energy from the audience gave me energy," said Levito, who scored a personal-best 71.30 points and is just .42 points behind Sakamoto heading into Sunday's free skate.

Glenn earned a personal-best 67.69 points, skating to Ursine Vulpine's "Without You."
Lynn Rutherford is a sportswriter based out of New York. She is a freelance contributor to TeamUSA.org on behalf of
Red Line Editorial, Inc.