News
Madison Chock
Evan Bates
Chock and Bates: 'All Paths Have Led To This Moment'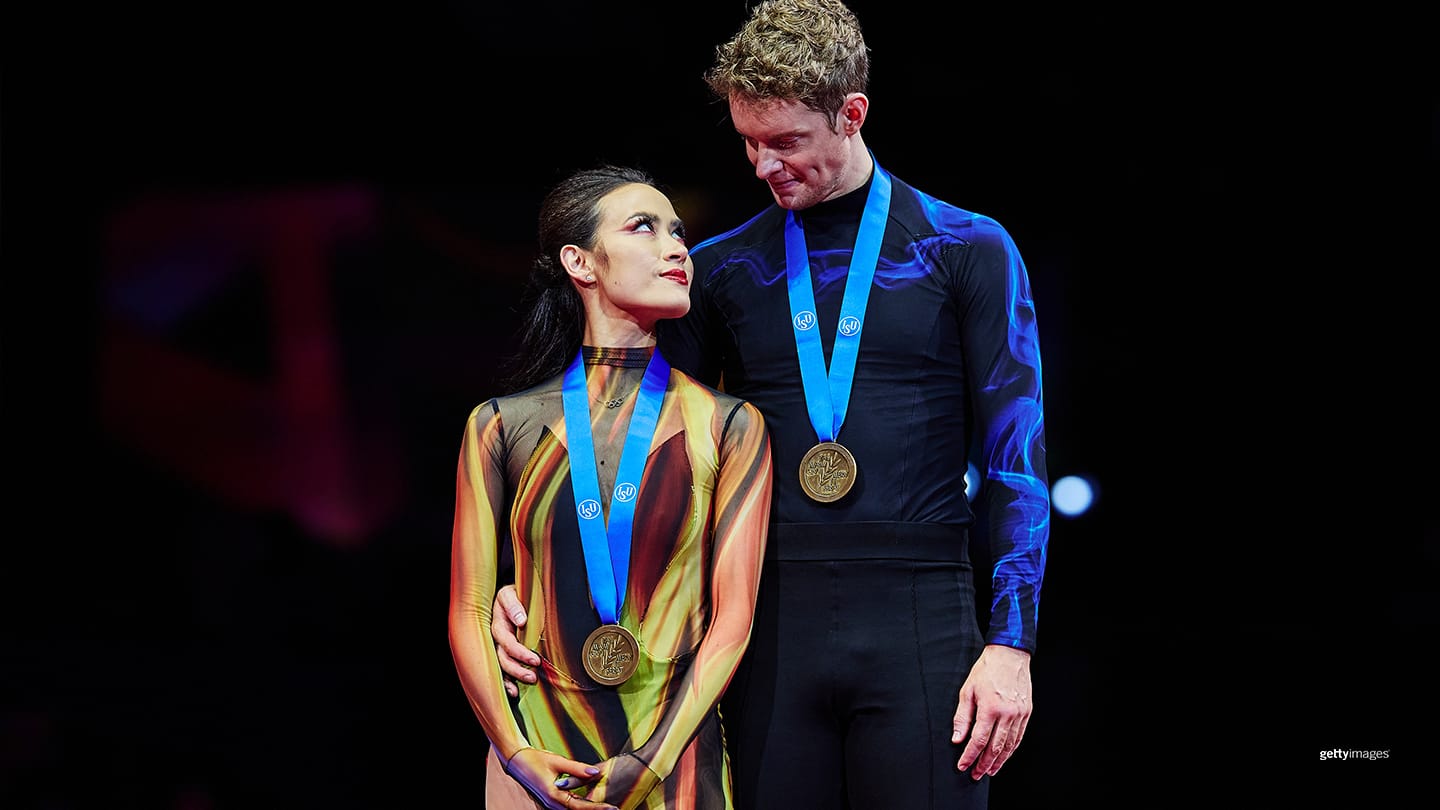 (L-R) Madison Chock and Evan Bates during the medal ceremony for the pairs ice dance at the 2023 ISU World Figure Skating Championships on March 25, 2023 in Saitama, Japan.
When ice dancers Madison Chock and Evan Bates capped 10 consecutive appearances at the ISU World Figure Skating Championships with their first world title, Chock found herself in a reflective mood.

"This season has certainly unfolded in many unpredictable ways, but all paths have seemingly led to this moment," she said after the free dance on March 25 in Saitama, Japan.

"We really had to dig very, very deep many times this year, and so for those experiences I'm incredibly grateful," Chock added. "I know we would not be sitting here today without many of those challenges we faced, not just this season, but through all the many seasons of our career. We really persevered and showed a lot of grit."

The performance accomplished a long-sought after goal for the three-time Olympians, though it wasn't a bookend.

Chock and Bates — along with Ilia Malinin, Alexa Knierim and Brandon Frazier, and Jason Brown — kicked off the "Stars on Ice" Japan tour in Osaka last week. That group, joined by Isabeau Levito and Amber Glenn, will compete at the ISU World Team Trophy on April 13-16 in Tokyo. It will be Chock and Bates' fourth time leading Team USA in the season-ending biennial event, which offers $1 million in prize money plus additional appearance fees to reigning world medalists.

"Any time you get a chance to represent your country, it's a big deal," Bates said when he captained Team USA to victory in 2015. "And of course, it's a chance to build camaraderie with your teammates."

Here's a timeline of a few of the newly crowned world ice dance champions "digging deep" moments:


Chock and Bates have been at the forefront of U.S. ice dance for so long, it's easy to forget they both had successful careers with other talented partners. For more than 10 years, Bates partnered Emily Samuelson, training with her first in Ann Arbor, Michigan, and then Canton, Michigan. Together, they won the 2008 junior world title and three U.S. senior medals, before placing 11th at the Olympic Winter Games Vancouver 2010.

Chock, too, is a junior world champion, having won the title with Greg Zuerlein in 2009. In 2011, they captured the U.S. bronze medal and placed ninth at the world championships.

During a practice session in September 2010, Bates ruptured his Achilles tendon, forcing he and Samuelson to miss the 2010-11 season.

"People forget that Evan completely severed his Achilles tendon," Chock told TeamUSA.org in a recent interview. "We've had our fair share of adversity, but I was thinking about this recently — without that, we wouldn't be who we are. So there is a great sense of appreciation."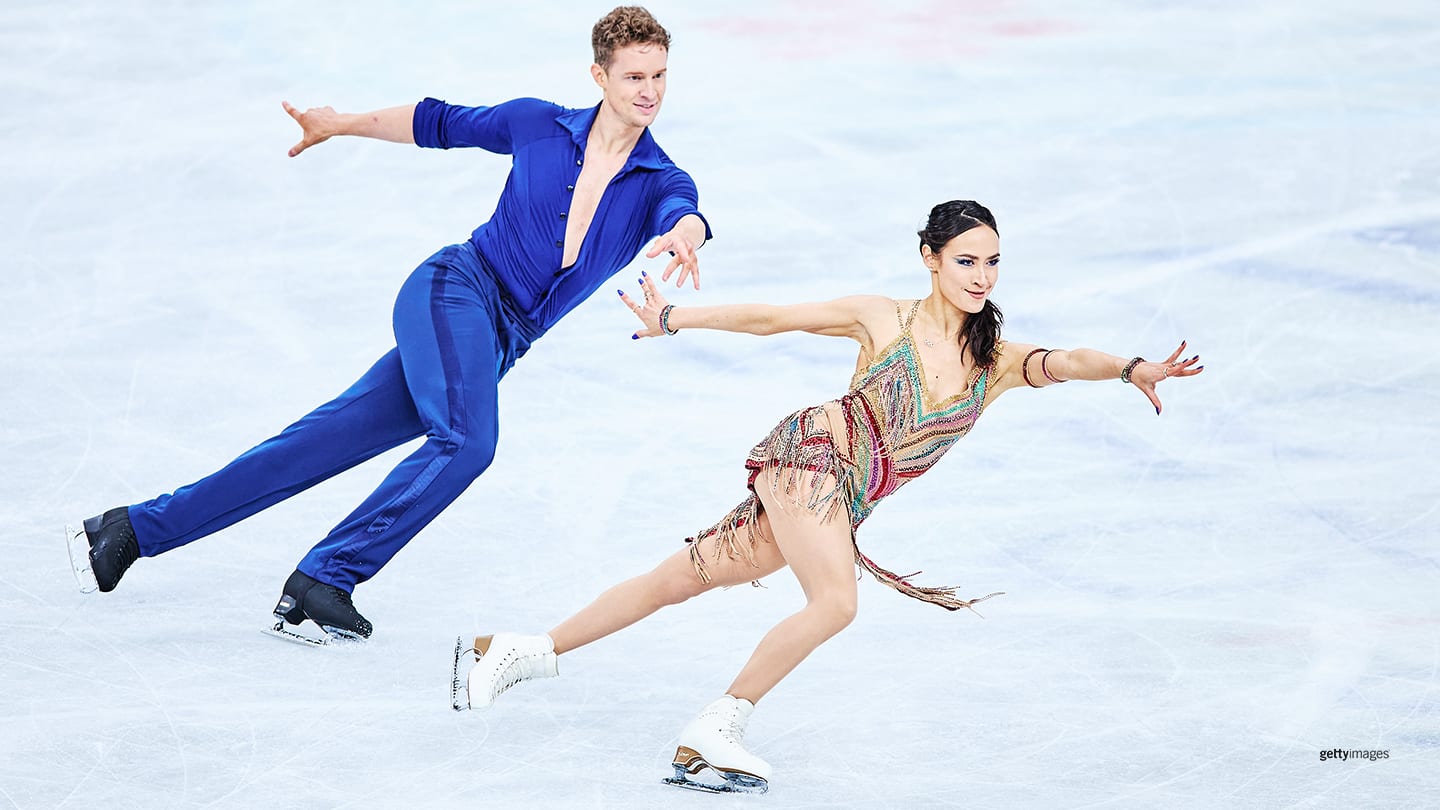 (L-R) Evan Bates and Madison Chock compete during the rhythm dance at the 2023 ISU World Figure Skating Championships on March 24, 2023 in Saitama, Japan.
Samuelson and Bates announced the end of their partnership in June 2011. Meanwhile, Zuerlein retired from competition; he now coaches ice dance in Michigan, where his students include U.S. silver medalists Caroline Green and Michael Parsons.

When Chock and Bates teamed up in July 2011, their then-coach, Igor Shpilband, said it was against his advice; he had another partner in mind for Chock. Some felt the height disparity — at 6-foot-2, Bates is a foot taller than his partner — would make matching their steps and lines more difficult, but the skaters persisted.

"We were both unsure of how things were going to go, but we both kind of plunged into it," Bates said at the time. "We got together kind of late in the season, but it just kind of gave us more incentive to work hard and stay extra hours on the ice in the summer and put in the extra work."

The new team made their U.S. Championships debut in 2012 in San Jose, California. They placed fifth, the only time in 12 consecutive appearances they did not win a medal.

"We wanted to be on the world team right away and we were disappointed," Bates said. "But we went to the rink on the Monday after nationals and got back to work."


Competing in the era of Meryl Davis and Charlie White, the 2014 Olympic champions, Chock and Bates leapt up to silver at the 2013 U.S. Championships and placed seventh in the world that same season; two years later, they were eighth at the Olympic Winter Games Sochi 2014. Their first chance to win a U.S. crown came in Greensboro, North Carolina, in 2015, after Davis and White retired, and they grabbed it. Two months later, they won a world silver medal.

"Even though we may not have as many years together as most teams, we've known each other so long, we have great coaches and we're both really hard workers," Chock said in 2015. "We make it work."


In decades past, once an ice dance team won a U.S. title, they kept it for several seasons. Not so with Chock and Bates, who waged a three-way rivalry with two-time U.S. champions Maia Shibutani and Alex Shibutani (2016-17) and three-time U.S. champions Madison Hubbell and Zachary Donohue (2018-19, 2021). Chock and Bates won world bronze in 2016, but there would be a five-year gap between their first and second U.S. titles.

"We still feel like there is a lot of room for growth for us," Bates said during that time. "This summer will be our five-year mark since we started skating together, and in that time I think we've accomplished a great deal, winning two world medals, a national title, making the (2014) Olympic team. But with that said, there is a lot yet to be written in our story."
That statement proved prophetic off the ice, as well as on. Romance blossomed during the 2016-17 season, and the couple became engaged last June. A 2024 wedding is planned.

"I think growing together with your best friend in a relationship is the most fulfilling thing ever," Bates said. "Our relationship has allowed us to grow on the ice so much more, because it's intertwined with who we are off the ice. … She pushes me to be greater, and we just make each other better."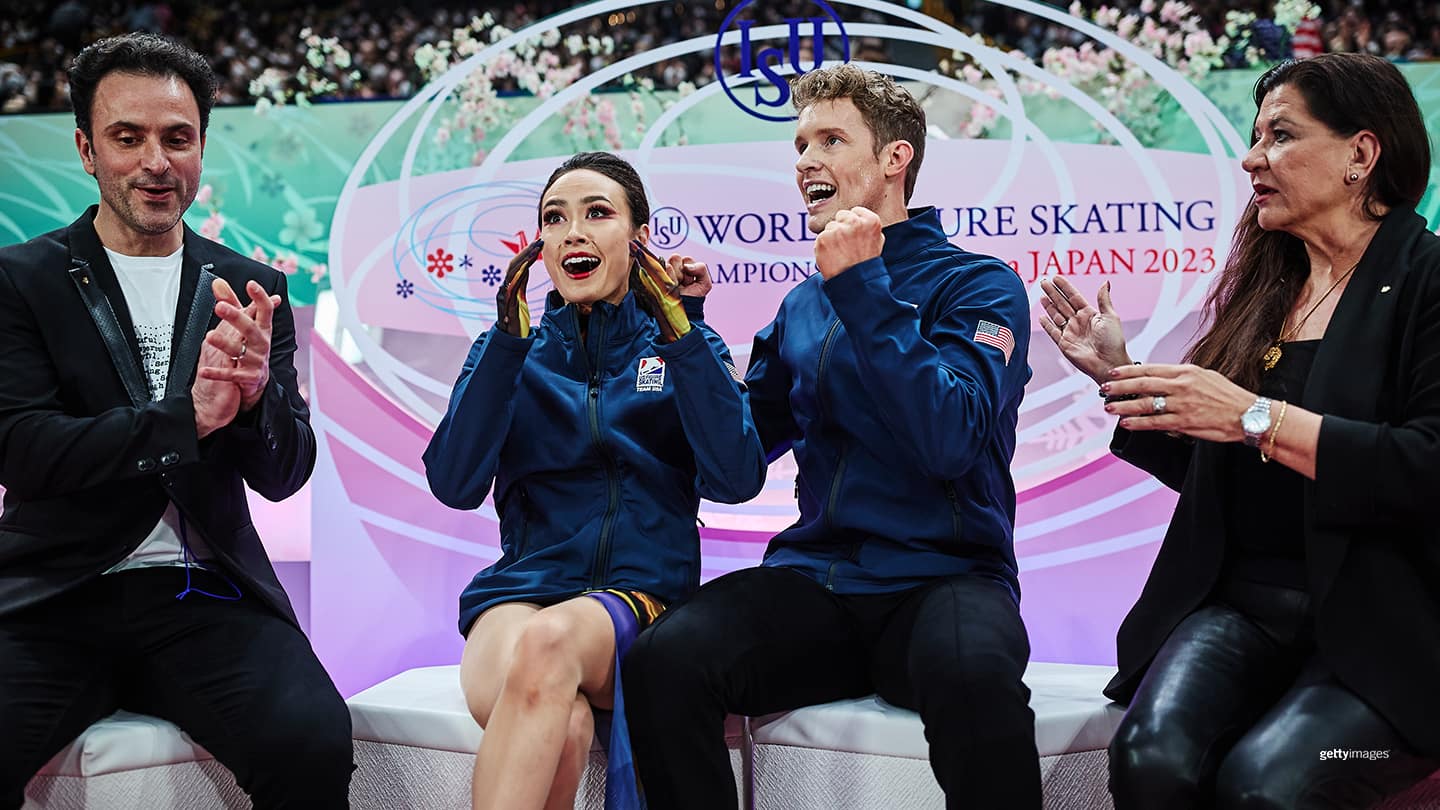 (L-R) Madison Chock and Evan Bates react in the kiss and cry during the ice dance free at the 2023 ISU World Figure Skating Championships on March 25, 2023 in Saitama, Japan.
2018 Olympic
Disappointment
Chock struggled with a right ankle injury during the 2017-18 season, which flared up at the Olympic Winter Games PyeongChang 2018. A jarring fall in their free dance left them in a disappointing ninth place.

"After working so hard all this season and going through so much and trying to stay healthy and then just losing it at a crucial moment, it was really, really heartbreaking," Chock said in PyeongChang.


Relocation, And Rebirth, In
Montreal
Chock underwent surgery in April 2018. That summer, she and Bates left their longtime training situation in Michigan to join the powerhouse Ice Dance Academy of Montreal, where they would be coached by Marie-France Dubreuil, Patrice Lauzon and Romain Haguenauer.

"We just needed that new (situation), that freshness," Bates said of the move. "We knew that we could improve, and then when we did move, the improvement happened quickly, we felt."

In 2020, the team regained the U.S. title, with their now-famous "Egyptian Snake Dance." In 2021, though, they were again edged by Hubbell and Donohue at the U.S. and world championships, where they placed fourth.

"We now know what we want to say on the ice," Bates said. "But it is important to be consistent in our sport, I think. You have to keep showing improvement every time."


Regaining The World
Podium
The friendly rivalry with Hubbell and Donohue — who also trained in Montreal — reached its height during the 2021-22 Olympic season. An outer-space themed free dance, nicknamed "The Astronaut and the Alien," grabbed attention, and helped Chock and Bates edge Hubbell and Donohue at the U.S. Championships.

Both teams contributed to the United States' medal-winning performance in the team event at the Olympic Winter Games Beijing 2022, but Chock and Bates placed fourth in the individual event, 3.25 points behind Hubbell and Donohue.

"I think sometimes fourth place can be one of the hardest places to finish," Bates said. "But there are only three places on the podium, which makes this sport so furious and so loved by so many people. … We want the competition to be strong and deep, and that's exactly what it is."

Chock and Bates ended the season with a bronze medal at the world championships, their first world medal since 2016.


Several top ice dance teams, including Hubbell and Donohue, retired or took a break from competition following Beijing. Chock and Bates, though, felt their finest skating was still ahead.

"We're having the best years of our career now," Bates said at the beginning of this season.

There were still some "digging deep" moments. Their free dance, a lyrical program set to an otherworldly mix of electronic and string music, was not immediately embraced by judges and they were defeated twice on the fall Grand Prix circuit. The couple made changes, and by the time of the Four Continents Championships in Colorado Springs, Colorado, in February, they gained a personal best free dance score.

By the time of the world championships in Saitama last month, judges were so convinced, they awarded Chock and Bates the world title by more than six points over the field, despite a stumble in their free dance. At ages 30 and 34, they are the oldest ice dancers ever to claim gold.

"It feels like we're in a different era of our skating, we've really come a long way," Chock said. "It's now a reflection of all the work that we've put in over the years, kind of compounding, and it's all coming out and unfolding in a very magical way. It feels really special this year. … It's really wonderful to have that, and to keep appreciating how far we've come."
Lynn Rutherford has covered five Olympic Games, including the 2022 Winter Games in Beijing for TeamUSA.org. Based in New York, she is a freelance contributor to TeamUSA.org on behalf of
Red Line Editorial, Inc.