News
Madison Chock
Evan Bates
Madison Chock & Evan Bates Punch Ticket To Another Grand Prix Final With Runner-Up Finish At NHK Trophy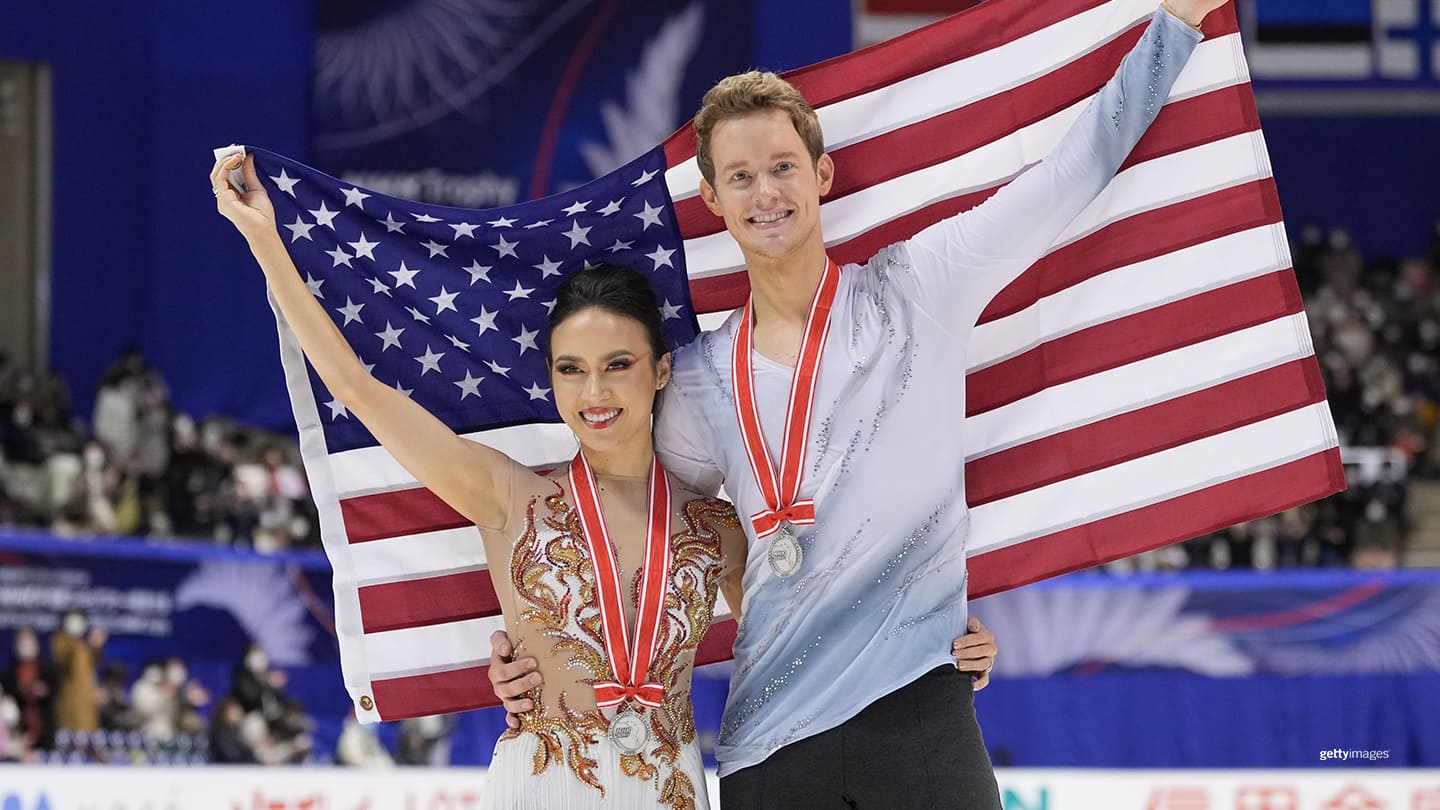 (L-R) Madison Chock and Evan Bates pose after the medal ceremony for the ice dance event at the 2022 ISU Grand Prix NHK Trophy on Nov. 19, 2022 in Sapporo, Japan.
Ice dancers Madison Chock and Evan Bates secured a sixth berth into the ISU Grand Prix Final, while pairs skaters Emily Chan and Spencer Akira Howe locked down their first, after each won silver medals at the NHK Trophy on Saturday in Japan.

In addition, this weekend's results ensured that 15-year-old Isabeau Levito, who didn't compete in NHK, nonetheless secured her spot at next month's Final. They join reigning pairs world champions Alexa Knierim and Brandon Frazier, who had previously qualified.

And it's not over yet.

Ilia Malinin, the 17-year-old "Quad God" who landed quadruple axel while winning at Skate America last month, as well as Kaitlin Hawayek and Jean-Luc Baker, winners of the ice dance silver medal at Skate America, will compete at the final Grand Prix event of the season next weekend in Espoo, Finland. If these skaters land on the podium, they could join the seven U.S. skaters who have already qualified through the first five Grand Prix events.

The Final is set for Dec. 8-11 in Torino, Italy.

After finishing second in Friday's rhythm dance, Chock and Bates' free dance, a mystical story of undying love set to music from French-Canadian cellist and singer Jorane, was judged second Saturday. The three-time Olympians' elegant performance had no glaring mistake, but their step sequences rated a shade lower than Canada's Laurence Fournier Beaudry and Nikolaj Soerensen, as did their marks for performance and composition. Chock and Bates ended the event with 209.13 points while Beaudry and Soerensen won with 210.41.

"We had great energy between the two of us, and we feel like we have improved since Skate America," Chock, 30, said after Friday's rhythm dance. "We had a late start (preparing) for the season, we had some great touring, which was a good way to round up the Olympic season."

Chock and Bates, who placed fourth at the Beijing Games and won bronze at the 2022 world championships, entered this season odds-on favorites to win their first world title. Busy with touring commitments, the engaged couple did not compete in a warm-up event prior to Skate America, saying their programs were not quite ready.

"Our goal remains the same, we want to win worlds this year," Bates, 33, said. "It's never a linear line to the top. This season is new territory for everyone. … Competition will be tough, and we just have to be the best."

Fellow U.S. ice dancers Caroline Green and Michael Parsons, who placed fourth at Skate Canada last month, won NHK bronze with 191.10 points. It is the first Grand Prix medal for the couple, who moved to Canton, Michigan, this summer to train at Michigan Ice Dance Academy under 2014 Olympic champion Charlie White, 2010 Olympic silver medalist Tanith Belbin White and 2009 world junior champion Greg Zuerlein.

"Every competition we learn more," Parsons, 27, said. "This season is about a fresh start and a learning experience. It's an honor to learn from the best in the world."

Chan and Howe, winners of the pairs silver medal at Skate Canada, found success again at NHK, finishing second with 187.49 points, a new personal best. Riku Miura and Ryuichi Kihara of Japan, the world silver medalists, claimed gold with 216.16 points while Canadians Brooke McIntosh and Benjamin Mimar took bronze with 175.65.

With Chan and Howe joining Knierim and Frazier in qualifying for the Grand Prix Final, this marks the first time two U.S. pairs have earned spots at the prestigious event, which began in 1995.

Chan and Howe, who train in Norwood, Massachusetts, under Aleksey Letov, teamed up four years ago. This is their first season competing on the Grand Prix.

"Overall, we are very happy, especially about achieving a personal best," Chan, 25, said. "We are very grateful to compete in the Final in our first Grand Prix season. We will be working on improving our score."
Lynn Rutherford is a sportswriter based out of New York. She is a freelance contributor to TeamUSA.org on behalf of
Red Line Editorial, Inc.