Ilia Malinin Continues Winning Streak In Finland, Books Trip To Grand Prix Final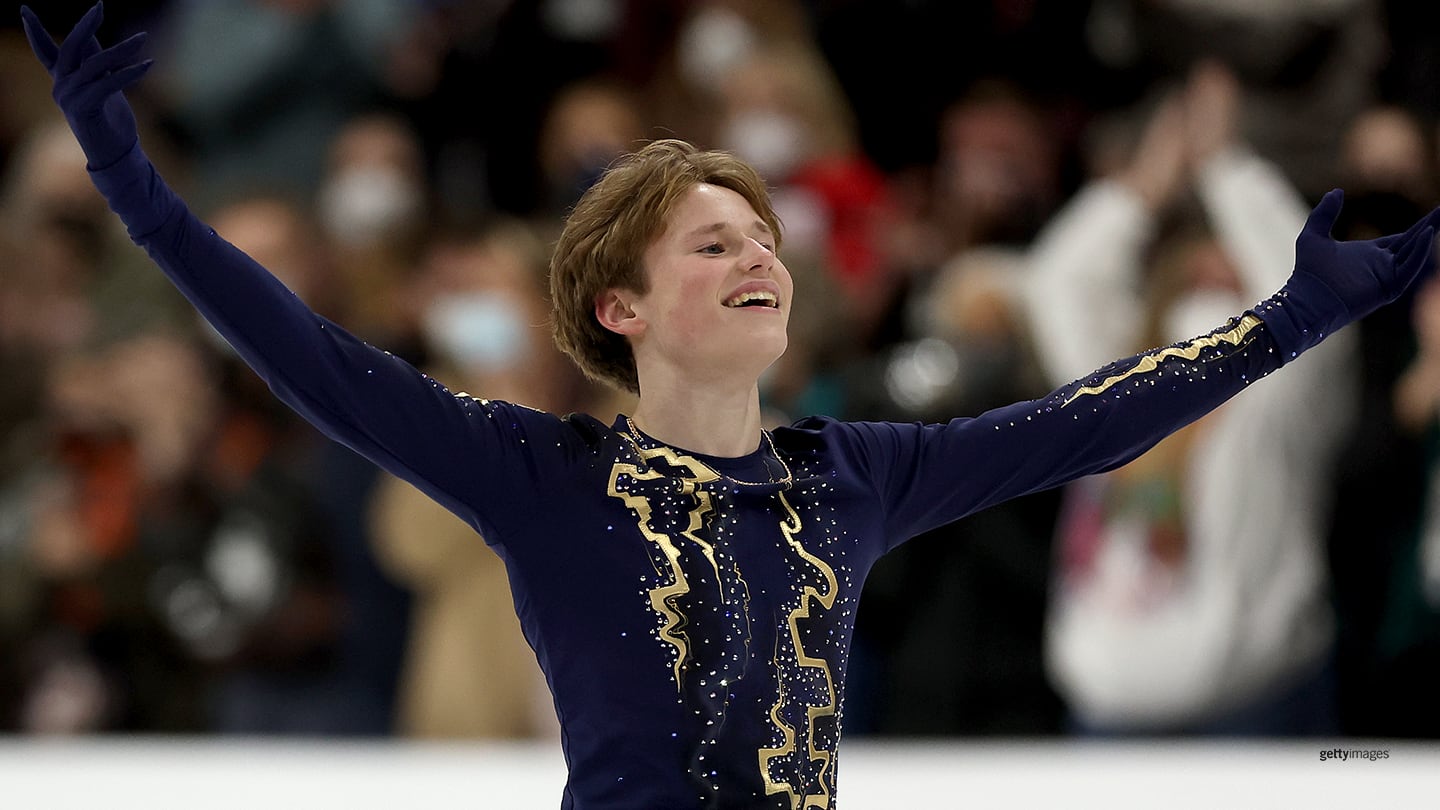 Ilia Malinin competes during the men's free skate at the 2022 U.S. Figure Skating Championships on Jan. 9, 2022 in Nashville, Tenn.

Ilia Malinin earned his first trip to the ISU Grand Prix Final, and ice dancers Kaitlin Hawayek and Jean-Luc Baker booked their second, after winning gold and silver medals, respectively, in Espoo, Finland, this Saturday.
The skaters add their names to a robust Team USA roster. Three-time ice dance world medalists Madison Chock and Evan Bates; two pairs — world champions Alexa Knierim and Brandon Frazier, and Emily Chan and Spencer Akira Howe, newcomers to the Grand Prix circuit; and Isabeau Levito, the junior world champion, previously qualified for the Final, to be held Dec. 8-11 in Torino, Italy.
It is the third consecutive international victory of the season for Malinin, who will turn 18 on Dec. 2, and the third time he has landed a quadruple axel in his free skate, although this time he faltered a bit on the landing a touched a hand down on the ice.
"It seems like it comes easily to me, but the quad axel is really difficult, especially mentally," Malinin, the only skater to ever land the jump in competition, said. "You have to be very confident and believe in your own technique."
There was some doubt about whether the teenager, who hails from Reston, Virginia, would try the four-and-a-half revolution jump. After stumbling on the landing of a triple axel in his short program on Friday, he revealed he was having problems with his left foot. He entered Saturday's free skate in second place, more than three points off the lead.
"I'm a little bit injured, I'm playing it safe, (trying to) protect it to make sure the injury doesn't get worse," Malinin said.
Still, there was no holding back in his free skate, set to music from "Euphoria." After opening with the quad axel, the junior world champion went on to land four more quads — including a quad flip, the first time he has executed the jump in competition.
Malinin's 192.82-point free skate gave him a 278.39 total and gold over Shun Sato of Japan, second with 262.21, and France's Kevin Aymoz, third with 255.69. Team USA's Camden Pulkinen, fifth in the world last season, climbed from seventh place after the short program to finish fifth overall with 229.92.
Hawayek and Baker opened on Friday with a sterling outing of their Latin American rhythm dance, a playful, refreshing program set to a medley from Desi Arnaz and His Orchestra.
The four-time U.S. bronze medalists earned a personal best 80.93 points, achieving a long-standing goal to cross the 80-point barrier in international competition. They entered the free dance in second place.
On Sunday, the Montreal-based team showed off intricate footwork and deep edges to a medley including Askjell Solstrand's "Requiem," again placing second. Their final score, 202.46, is another personal best.
"As we've continued to develop in the sport, something that has come with our years of experience is an understanding of how to ground ourselves in the present moment and take each opportunity for what it can provide," Hawayek, 26, said after the rhythm dance.
"Today we went out there, and we really tried to not only lay down a solid performance, but also to find special moments within the performance for one another," she added. "Something that we've realized, as we've grown older, is that we don't want to take each moment for granted."
Canadians Piper Gilles and Paul Poirier won gold with 219.49 and Juulia Turkkila and Matthias Versluis of Finland took bronze with 191.79 points. Team USA's Christina Carreira and Anthony Ponomarenko were fourth with 188.80, while U.S. junior world champions Oona Brown and Gage Brown placed eighth with 166.70 points.
Lynn Rutherford is a sportswriter based out of New York. She is a freelance contributor to TeamUSA.org on behalf of
Red Line Editorial, Inc.