U.S. Skaters Reach Podium Four Times In Historic ISU Grand Prix Final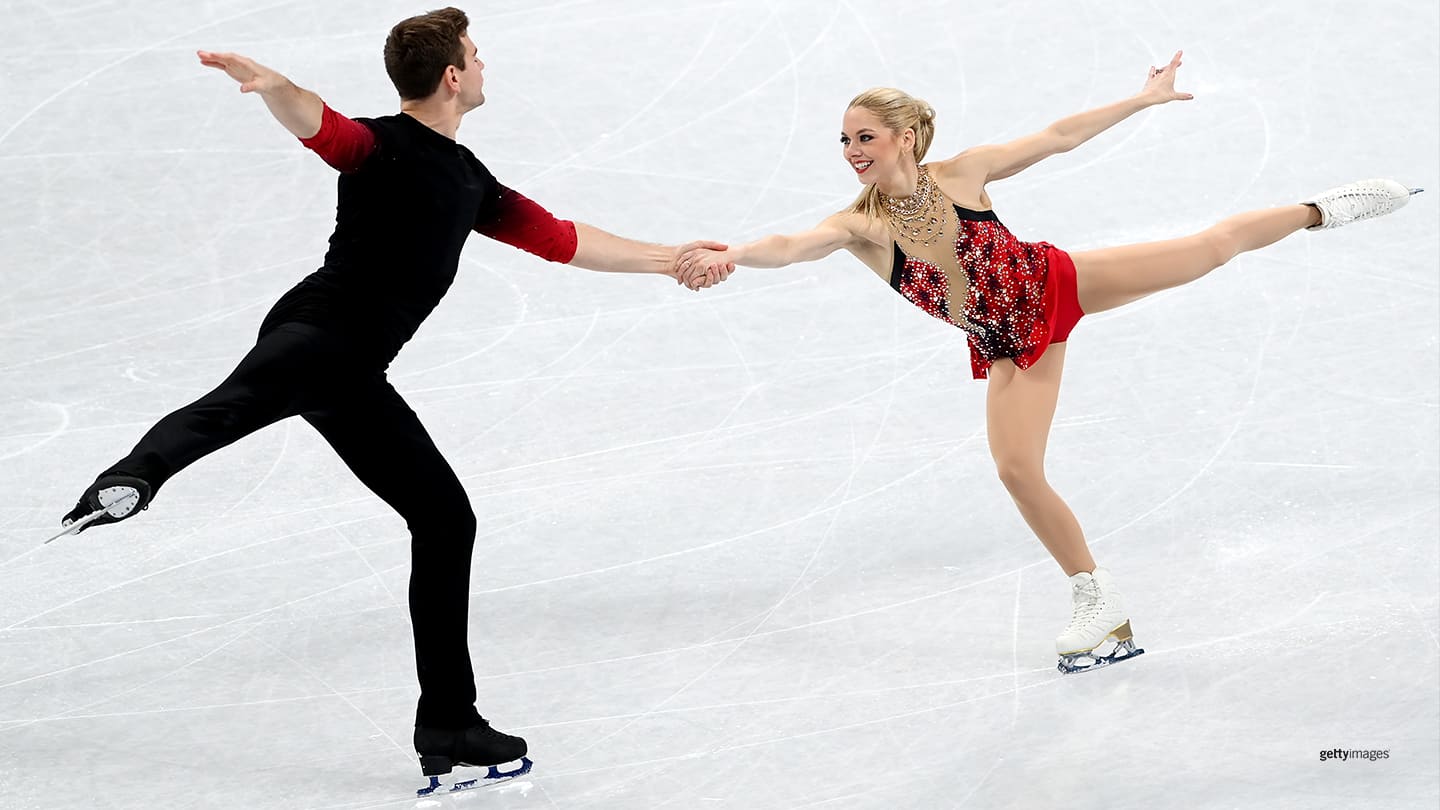 (L-R) Brandon Frazier and Alexa Knierim skate in the pair skating short program team event during the Olympic Winter Games Beijing 2022 on Feb. 04, 2022 in Beijing.
Alexa Knierim and Brandon Frazier made history on Dec. 9.
The duo won a silver medal at the ISU Grand Prix Final in Torino, Italy, marking the first time a U.S. pair has captured a medal at the prestigious event.
The world pair champions skated two strong programs but were edged out for gold by Riku Miura and Ryuichi Kihara of Japan, 214.58 points to 213.28 points. Italians Sara Conti and Niccolo Macii won bronze with 187.02 points.
Competing at Torino's Palavela, the site of the 2006 Olympic figure skating event, Knierim and Frazier placed second to the Japanese in both Thursday's short program and Friday's free skate.
The Americans earned a personal best 77.65 points for their dynamic short to Journey's "Separate Ways (Worlds Apart)," and entered the free skate just .43 points off the lead.
"We both skated from our hearts, and we skated with passion, and we are very proud and happy with how we skated today," Knierim, 31, said on Thursday.
"It was much improved from our last event, which has been our focus this season – taking one event and getting better into the next," she added.
The six-event fall Grand Prix Series was created by the International Skating Union (ISU) in 1995. The top six skaters or teams in each discipline – men, women, pairs and ice dance – qualify for the Final. Knierim and Frazier, 30, earned their way to Torino with wins at Skate America in October and the MK John Wilson Trophy last month.
The veteran pair teamed up in March 2020 after long, successful careers with other partners. Knierim won three U.S. titles and 2018 Olympic team bronze with her husband, Chris, while Frazier captured the 2017 U.S. crown with Haven Denney.
Together, Knierim and Frazier hold the 2021 U.S. title as well as a 2022 Olympic team silver medal. In March, they became the first U.S. pair since Tai Babilonia and Randy Gardner in 1979 to win the world title.
"I think we put immense amounts of pressure on ourselves already," Knierim said. "It feels like after becoming a world champion there is a broader spectrum of pressure, but when I take the ice, I feel the same and that's pressure for myself and our team to be our best."
The duo produced a sensitive program to a medley including Harry Styles' "Sign of the Times," highlighted by two strong throw triple jumps and intricate choreography. The difference maker between gold and silver was likely two shaky jump landings by Frazier, on the side-by-side triple toe loop-double toe combinations and triple salchows.
"It was a tight competition, but that's what makes sports exciting," Frazier said.
Additionally, Team USA qualified a second pair for the Final for the first time in Grand Prix history. Emily Chan and Spencer Akira Howe, winners of two silver medals on the Grand Prix circuit this fall, placed sixth in Torino with 162.91 points.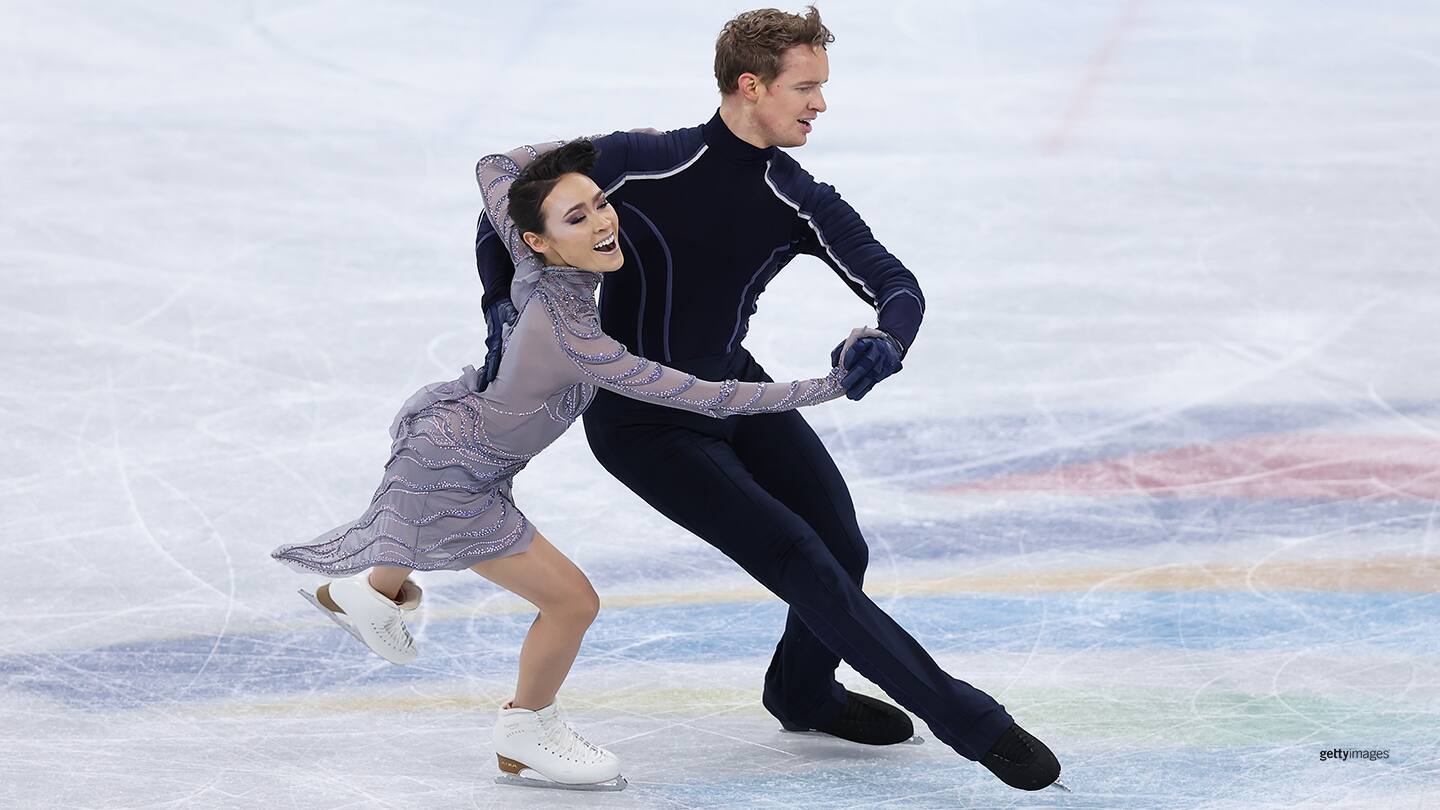 (L-R) Madison Chock and Evan Bates skate in the ice dance free dance during the Olympic Winter Games Beijing 2022 on Feb. 14, 2022 in Beijing.
On Saturday, Dec. 10, three-time Olympians Madison Chock and Evan Bates added to their impressive career resumes.
The duo won silver at the ISU Grand Prix of Figure Skating Final in Torino, Italy, scoring a second-place finish in ice dancing for the fourth time in nine years at the final.
Additionally, U.S. teen skaters Ilia Malinin and Isabeau Levito surged from fifth place after their short programs to capture bronze and silver medals, respectively.
The four medals – including Knierim and Frazier's from the previous day – marked the first time U.S. skaters had reached the podium in all four disciplines at the Grand Prix Final.
Chock and Bates continued a streak of 14 consecutive medals won by U.S. ice dance teams at the Grand Prix Final.
"We came to put our skates forward and win the Grand Prix Final. But, based on how the season has been so far we are just really proud of how much work we accomplished in such a short amount of time," Chock, 30, said.
Chock and Bates entered this season focused on a world title. As the only reigning world ice dance medalists to compete this season, the crown seemed well within their grasp.
But the Montreal-based team had, by their standards, a slow start to the season, which they partly attributed to a busy touring and show schedule during the offseason. In October, they won at the season-opening Skate America despite placing second in the free dance. Last month, they notched a second-place finish at NHK Trophy behind Canadians Laurence Fournier Beaudry and Nikolaj Soerensen, who finished sixth in Torino.
At the final, Chock and Bates found their footing, producing season-best outings in Friday's rhythm dance, set to David Bowie's "Let's Dance," as well as Saturday's free dance to a medley from French-Canadian singer/cellist Jorane, for a total score of 211.94 points.
"(I have) a huge, joyous feeling to skate and have this energy between us, and to be at our best at this point in the season," Chock said.
Piper Gilles and Paul Poirier of Canada won the gold medal with 215.64 points, and Italy's Charlene Guignard and Marco Fabbri took bronze with 206.84. Kaitlin Hawayek and Jean-Luc Baker, winners of silver medals at Skate America and Grand Prix Espoo, were fifth with 198.06 points.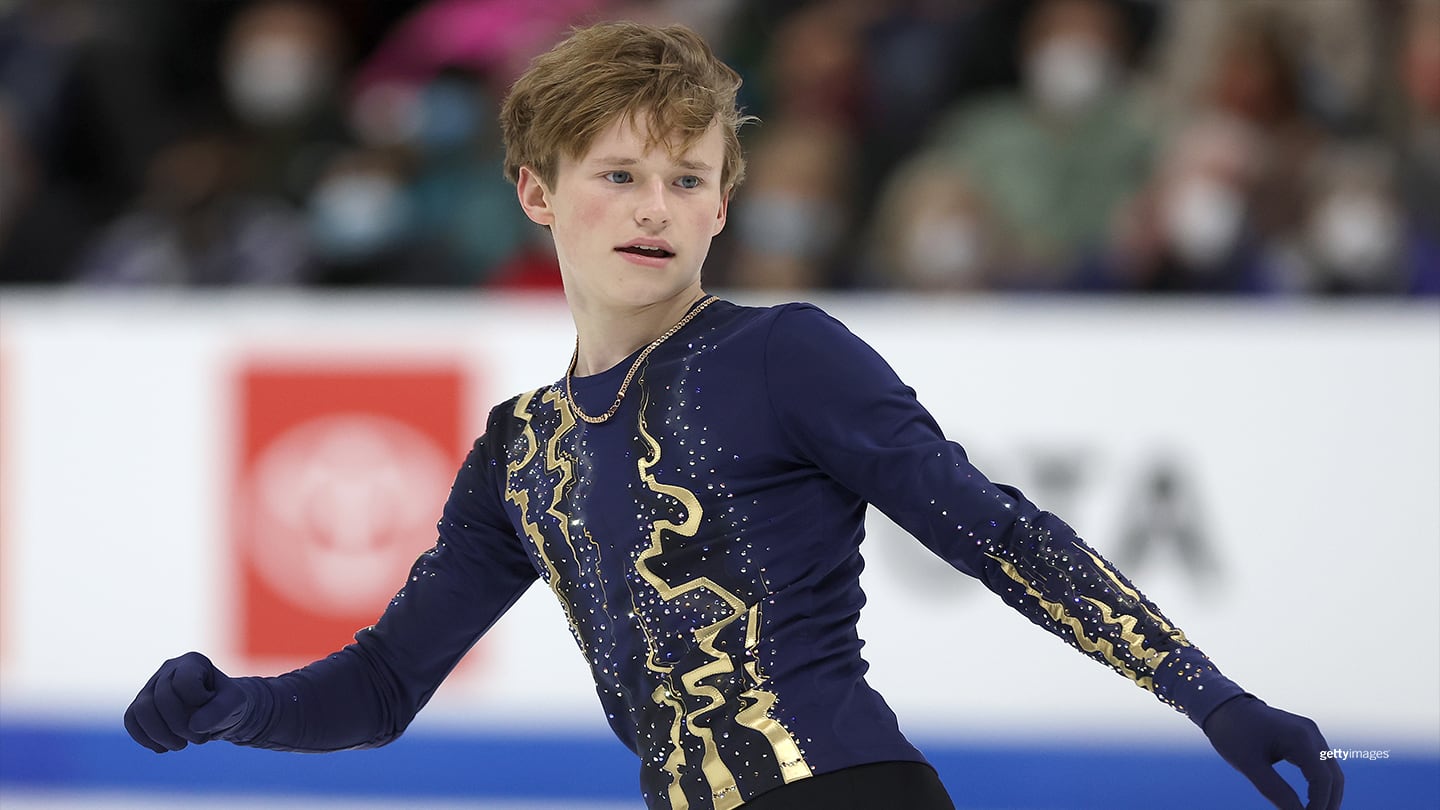 Ilia Malinin skates in the men's free skate during the U.S. Figure Skating Championships on Jan. 09, 2022 in Nashville.
For the fourth time this season, Malinin had to make up ground after a sub-par short program. The 18-year-old from Vienna, Virginia, had deductions on all three of the jump elements in his short program to "I Put a Spell on You," including a disruptive fall-out on his triple axel. His 80.10 points put him fifth, nearly 20 points out of the lead and seven points out of medal position.
Saturday was a different story. Malinin opened his free skate, set to music from the HBO series "Euphoria," with his trademark quadruple axel, followed by four other clean quads as well as a triple axel, triple-flip sequence. He earned 191.84 points for second place in the free skate, and 271.94 overall.
Malinin is the only skater to land a quad axel and has now done it in each of his free skates this season, at two smaller international events early this fall and at Skate America and Grand Prix Espoo.
He arrived in Torino with a left foot injury that prompted him to remove quad lutz from his programs and substitute quad flip.
"(My performance) is a good sign that it's healing," Malinin said after his free skate. "It showed today that with all the prep that I'm doing, all the physical therapy."
Levito, who entered the short program five points out of medal position, benefitted from mistakes made by several of the leading skaters in their free skates, including world champion Kaori Sakamoto of Japan.
The 15-year-old world junior champion, who hails from Mount Holly, New Jersey, had a near-clean short program set to Latin music, but nevertheless stood fifth due to excellent performances by other competitors.
One by one on Saturday, though, the favorites faltered. Skating to a Romanian version of "My Sweet and Tender Beast," Levito opened with a triple lutz-triple loop combination, followed by four more triples, including a triple lutz, triple salchow combination. She fell on her final jump, a triple flip.
"(I am) not exactly happy with myself, I made some obvious mistakes, and I'm not happy with how I skated today," Levito said.
As always, her superb spins and steps highlighted her performance, and she earned 127.97 points for a 197.23 total, edging out Belgium's Loena Hendrickx, who earned 196.35 for third place. Mai Mihara of Japan won the gold medal with 208.17 points.
"It feels very grown up and a big deal," Levito said of her medal. "I'm glad I was able to make it to the senior Grand Prix (Final) this year, so I can be more prepared for the next one."
The next major competition is the 2023 U.S. Figure Skating Championships, set for Jan. 23-29 in San Jose, California.
Lynn Rutherford is a sportswriter based out of New York. She is a freelance contributor to TeamUSA.org on behalf of
Red Line Editorial, Inc.