Time Is Ripe For U.S. Figure Skaters To Shine In Saitama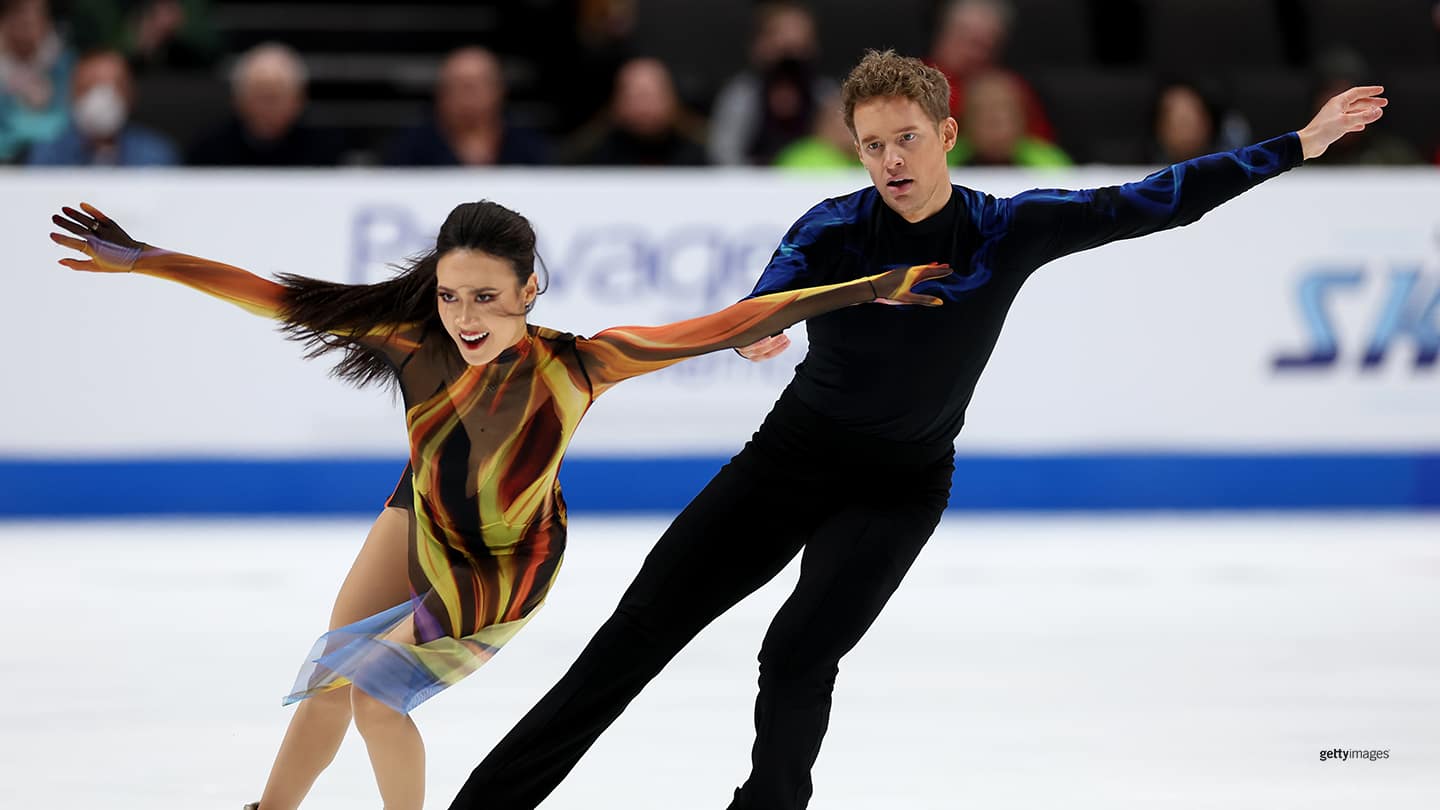 Madison Chock and Evan Bates skate in the free dance during the 2023 TOYOTA U.S. Figure Skating Championships on Jan. 28, 2023 in San Jose, California.
The 18-member U.S. figure skating team arrived in Saitama, Japan, site of the 2023 World Figure Skating Championships, just as the city's famous cherry blossoms began to bloom in its parks and along the Shingashi River. Athletes may have had time for a stroll or two before official practices began on Sunday for the nearly sold-out event, held at the 22,000-seat Saitama Super Arena.
The competition begins Wednesday with the pairs and women's short programs and continues through Saturday, when the free dance and men's free skate wrap things up. The pairs free skate is Thursday, with the women going on Friday.
Here's how the competition breaks down for Team USA:
Gold, At Last, For Madison Chock And Evan
Bates?
Since 2006, U.S. ice dancers have won 17 medals at the world championships — more than any other nation. Still, only one team — 2014 Olympic champions Meryl Davis and Charlie White — has claimed gold, a feat they accomplished in 2011 and 2013.
After 12 seasons together, during which time they've won three world championships medals and competed in three Olympics, Chock and Bates might have their best chance to win a world title in Saitama. Longtime U.S. rivals Madison Hubbell and Zachary Donohue have retired, while five-time world champions Gabriella Papadakis and Guillaume Cizeron of France are not competing this season.
Heavy post-Olympic commitments left the engaged skaters rushed to prepare for the Grand Prix season. After narrowly winning Skate America, they placed second behind Canadian teams at the NHK Trophy in November and the Grand Prix Final in December.
The Four Continents Figure Skating Championships, held at 6,000-foot altitude in Colorado Springs, Colorado, last month was a different story. After tweaking their choreography and music, Chock and Bates earned the highest scores of their careers, winning the event for the third time and handily defeating Canadian champions Laurence Fournier Beaudry and Nikolaj Sørensen, the team who had beat them at NHK.
"Of course our goal is to win worlds," Bates, 34, said. "We loaded up on the training in December, and we made some changes to the programs. From where we started at Skate America, with this (free dance) in particular, I could not imagine the form it's taken on. … It's just taken us a little time to find the niche for this program but once we found it, we felt it became something really special."
Ice dance medals will likely come down to the smallest mistake: a shaky twizzle, wobble on a step sequence or slightly awkward lift could spell disaster. In addition to Fournier Beaudry and Sorensen, Chock and Bates will be challenged by Canadians Piper Gilles and Paul Poirier, winners of the Grand Prix Final, as well as European champions Charlene Guignard and Marco Fabbri of Italy and European silver medalists Lilah Fear and Lewis Gibson of Great Britain.
U.S. silver medalists Caroline Green and Michael Parsons, and U.S. bronze medalists Christina Carreira and Anthony Ponomarenko, make their worlds' debuts this week. Both teams could place in the top 10.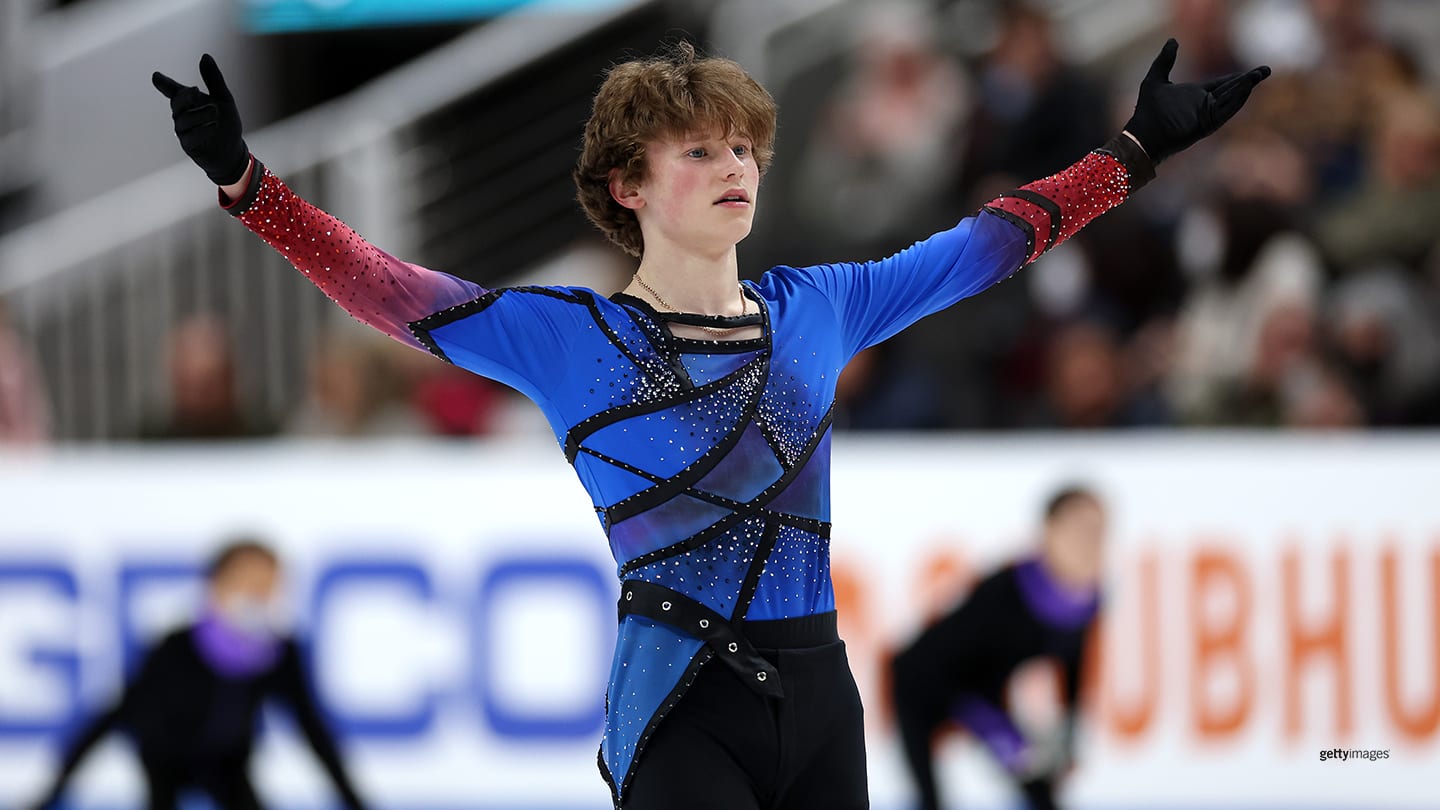 Ilia Malinin gestures to the crowd following the men's free skate competition at the 2023 TOYOTA U.S. Figure Skating Championships on Jan. 29, 2023 in San Jose, California.
More Fireworks From The "Quad
God"
Defending world champion Shoma Uno is the odds-on favorite for gold in men's singles. The Japanese skater, undefeated since winning individual bronze at the Olympic Winter Games Beijing 2022, has all the tools: a portfolio of quadruple jumps, plus top program component scores for composition, presentation and skating skills.
Behind Uno, it's a scramble, and Ilia Malinin — the self-anointed "quad god" who won his first U.S. title in San Jose in January — figures to be right in the mix. His season's best total score (280.37) is second only to Uno's (304.46).
Malinin, 18, was disappointed with his ninth-place finish at the world championships last season, calling his error-riddled free skate "just a disaster." A year later, although still the youngest man in the field, he has far more experience — as well as his quad axel, the four-and-a-half revolution jump he has landed cleanly three times in international competition this season. It is far from his only weapon: Malinin has four other quads and may try to land six quads total in his free skate.
If the high school senior from Vienna, Virginia, has an Achilles' heel, it's putting out strong programs back-to-back. In all four of his international events this season, Malinin fell or stumbled badly on at least one of the jumps in his short program, forcing him to come from behind to win a medal. At the U.S. Championships in San Jose, California, in January, his short program was stellar — but he fell on a quad axel in his free skate and reduced two other quads to doubles, placing second in that segment to unheralded Andrew Torgashev.
"I was really so confident, and I think I sort of over-thought everything and tried to get ahead of myself," Malinin told reporters after his free. "But I think it's alright, you always learn from your experiences and there's always still the rest of the season to come."
Malinin will likely need two stellar outings to have any hope of challenging Uno for gold, but he looks strong for the podium. Other challengers include Sota Yamamoto of Japan, second to Uno at the Grand Prix Final; European champion Adam Siao Him Fa of France; Japan's Kazuki Tomono, silver medalist at Four Continents; and Cha Jun-hwan of South Korea. Popular Keegan Messing is the sentimental favorite; the two-time Canadian champion has announced this will be his final eligible competition.
Another fan favorite, two-time U.S. Olympian Jason Brown, competes at his first worlds since 2021, when he placed seventh. Brown skipped last fall's Grand Prix season but returned to competition at the U.S. Championships, winning silver behind Malinin. He plans to continue a hybrid career of show skating and competition.
"If I can have that balance of constantly performing and being out in these shows, and pushing myself artistically, and still get to compete at events — you know, I'm still competitive," Brown, 28, said. "I'm always going to want to be the best I can be, but at this stage, in what you call 'the Ilia Malinin era,' I can't keep up technically. I can keep up in my own way."
Alexa Knierim and Brandon Frazier skate in the pairs free skate competition during the 2023 TOYOTA U.S. Figure Skating Championships on Jan. 28, 2023 in San Jose, California.
Stress Test For Knierim And
Frazier
Defending world champions Alexa Knierim and Brandon Frazier have a chance to become the first U.S. pair ever to win multiple world titles. But the Irvine, California-based skaters will compete in Saitama without either of their primary coaches, two-time U.S. Olympians Jenni Meno and Todd Sand.
On March 2, while coaching Team USA's Sonia Baram and Daniel Tioumentsev at the junior world championships in Calgary, Alberta, Sand, 59, suffered a severe heart attack. Meno immediately left their training site in Irvine to be with her husband. Sand remained in an intensive care unit in Calgary until March 19, when Meno posted on social media that he was now being treated closer to home in California.
"We have our good days and we have our tough days right now," Frazier told the Los Angeles Times of the pair's preparation for worlds. "It's been a little tough managing those emotions during our training practices, but we are doing the best we could and doing what we know Todd would want us to do."
In Meno and Sand's absence, the pair's choreographer, Shae-Lynn Bourne, will be on hand to help the skaters in Saitama.
The two-time U.S. champions are not considered favorites. Japan's Riku Miura and Ryuichi Kihara, silver medalists at last season's worlds, are undefeated this season, including a win over Knierim and Frazier at the Grand Prix Final. The Japanese skaters are coming off a win at Four Continents, where they braved the altitude to skate two strong programs. (Like Malinin and Brown, Knierim and Frazier opted to skip Four Continents in favor of performing in shows in Switzerland.) In Saitama, gold will likely come down to the pairs' side-by-side triple jumps.
European champions Sara Conti and Niccolo Macii of Italy, as well as Canadian champions Deanna Stellato-Dudek and Maxime Deschamps, are podium threats, as are U.S. silver medalists Emily Chan and Spencer Akira Howe, the Boston-based pair who defeated Miura and Kihara in the free skate at Four Continents and won the silver medal.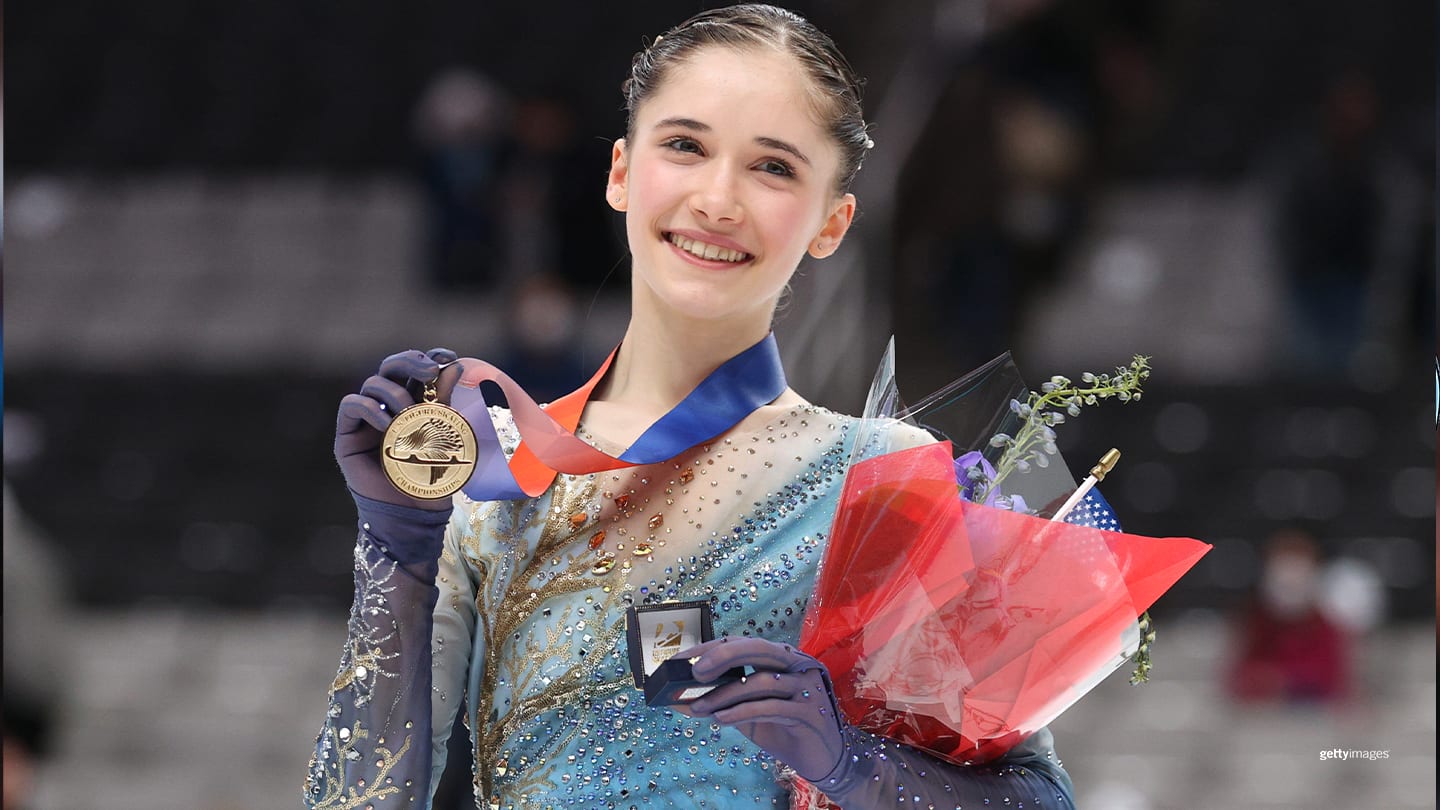 Isabeau Levito poses with her gold medal after winning the women's singles championship at the 2023 TOYOTA U.S. Figure Skating Championships on Jan. 27, 2023 in San Jose, California.
Can U.S. Women Meet The
Challenge?
Isabeau Levito, who turned 16 on March 3, is the youngest competitor in the event. The Mount Holly, New Jersey teen, who combines elegance and musicality with consistent triple jumps and superb spins, had a fine early season which culminated with a silver medal at the Grand Prix Final.
She saved her best performances, though, for the U.S. Championships, where two pristine programs — including three clean triple, triple jump combinations — won her the title by 10 points over two-time U.S. champion Bradie Tennell.
"My entire goal for both programs was to stay composed and to really try and suppress my nerves as much as possible … to really focus on staying in control and in my zone," Levito said after her free skate.
But the young skater left her next event, Four Continents, as a question mark. After placing second in the short program, just over a point off the lead, Levito withdrew shortly before the free skate due to illness. The skater made no comment to the media. Her entry at worlds means she has recovered her health; now, to compete for a medal, she will have to recapture the mindset she displayed in San Jose.
Levito's teammates, Tennell and U.S. bronze medalist Amber Glenn, also have a lot on the line in Saitama. Tennell missed the entire 2021-22 season with a right foot injury. The 2018 Olympian worked her way back into contention just in time to earn a spot on her fourth world championships team, growing stronger with each event this season.
"I feel like it's almost like I view myself as two separate people — before the injury, and then post-injury Bradie," Tennell, 25, said. "I just have a different perspective on everything, and a lot more appreciation for what my body can do and how hard I've worked and what I've already achieved and what I aspire to achieve."
Glenn, at age 23 and with eight seasons of senior competition to her name, is making her worlds debut. She would like nothing more than to land her triple axel in her free skate, a jump she often does cleanly in practice but has yet to hit in competition. Still, it has gotten consistently better over the course of the season.
"I feel like over the last couple months even if its an attempt I don't feel good about, I'm still able to keep in a relative okay space," Glenn said.
The U.S. women face formidable competition, led by Japan's defending world champion, Kaori Sakamoto; her teammate, Mai Mihara, winner of the Grand Prix Final; South Korean Haien Lee, hot off an impressive win at Four Continents last month; Yelim Kim of South Korea, the Four Continents' silver medalist; and European champion Anastasiia Gubanova of Georgia, among others.
Lynn Rutherford is a sportswriter based out of New York. She is a freelance contributor to TeamUSA.org on behalf of
Red Line Editorial, Inc.