Skiers Keely Cashman & Jaqueline Wiles Overcome Injuries To Compete in Olympic Downhill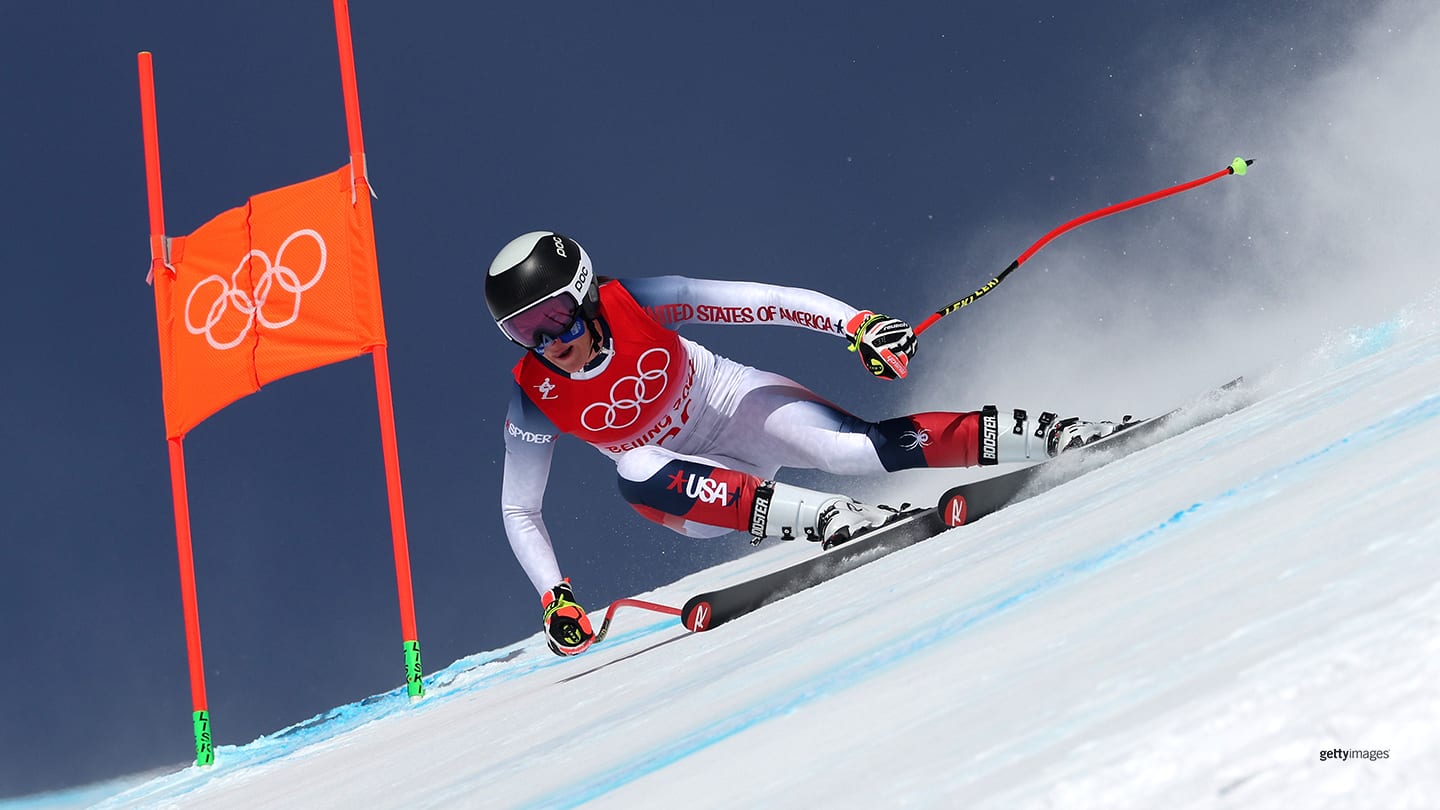 Keely Cashman skis during the Women's Downhill at the Olympic Winter Games Beijing 2022 on Feb. 15, 2022 in Yanqing, China.
BEIJING — In February 2018, Jacqueline Wiles was poised to compete in her second Olympic Winter Games in PyeongChang. With two world cup podiums on her resume, the U.S. alpine skier was a medal favorite.

Wiles never made it to South Korea. In a world cup downhill in early February that year, she crashed hard, badly injuring her left leg. After three surgeries, she rehabbed for the next 18 months. But then she crashed again. More surgeries followed, then more rehab. It was a rollercoaster.

Four years later, Wiles made it back to the Olympic stage, finishing 21st in the women's downhill at the Olympic Winter Games Beijing 2022. The 29-year-old alpine skier was disappointed with the result — she is "capable of a lot more," she said. But at the same time, she was happy to be back.

"It's been a long four years coming back from a tough injury and facing a mental battle for the past couple years, so I'm proud of myself," she said. "Feels tough at the moment with the result, but I have to remember what I've been through to get here."

Switzerland's Corinne Suter — the reigning world downhill champion — won the 2022 Olympic downhill gold medal with a time of 1:31.87. It was the Swiss skier's first Olympic medal. She was 0.16 of a second ahead of Italy's Sofia Goggia, who overcame a left knee sprain 23 days ago and came to Beijing to try to defend her 2018 Olympic downhill gold medal. Nadia Delago finished third in 1:32.44, giving Italy two medals in the event.

Keely Cashman was the top American in 17th place — and she felt good about her performance. She had held back in the super-G last week, finishing 27th.

"Going into the downhill, I just decided it was time to fully send it and leave nothing on the hill," she said. "That is what I did today."

Cashman, 22, has been trying to find the mojo she had last season, when she finished three world cup speed races in a row in the top 17 (including a tenth in super-G).

But then in January 2021, she crashed training for a world cup super-G and sustained a concussion and strained MCL in her knee. Back on snow in the spring, she fell again and severely lacerated her face.

"It has been very challenging trying to gain confidence back this season," she said after the Olympic downhill. "But this result feels like a big step in the right direction."

Mostly, Cashman has been trying to enjoy her first Olympic Games.

"I have just been trying to have fun and take in every moment and not worry too much about the results," she said. "I think being relaxed and honestly just having fun has allowed the 'freedom' in my skiing to come back — something that has been missing this year."

A 2020 junior world championship bronze medalist (in combined), Cashman plans to compete in the 2022 Olympic combined on Thursday.

Mikaela Shiffrin also competed in today's Olympic downhill, finishing 18th. A two-time Olympic champion, Shiffrin has not skied a downhill run since the Lake Louise World Cup in early December (and has only competed in 14 total world cup downhill races). She was happy to get more time on the long skis and is looking forward to the combined as well.

"I'm so glad that I had the opportunity to race it today and get another run under my belt for the coming days," Shiffrin said.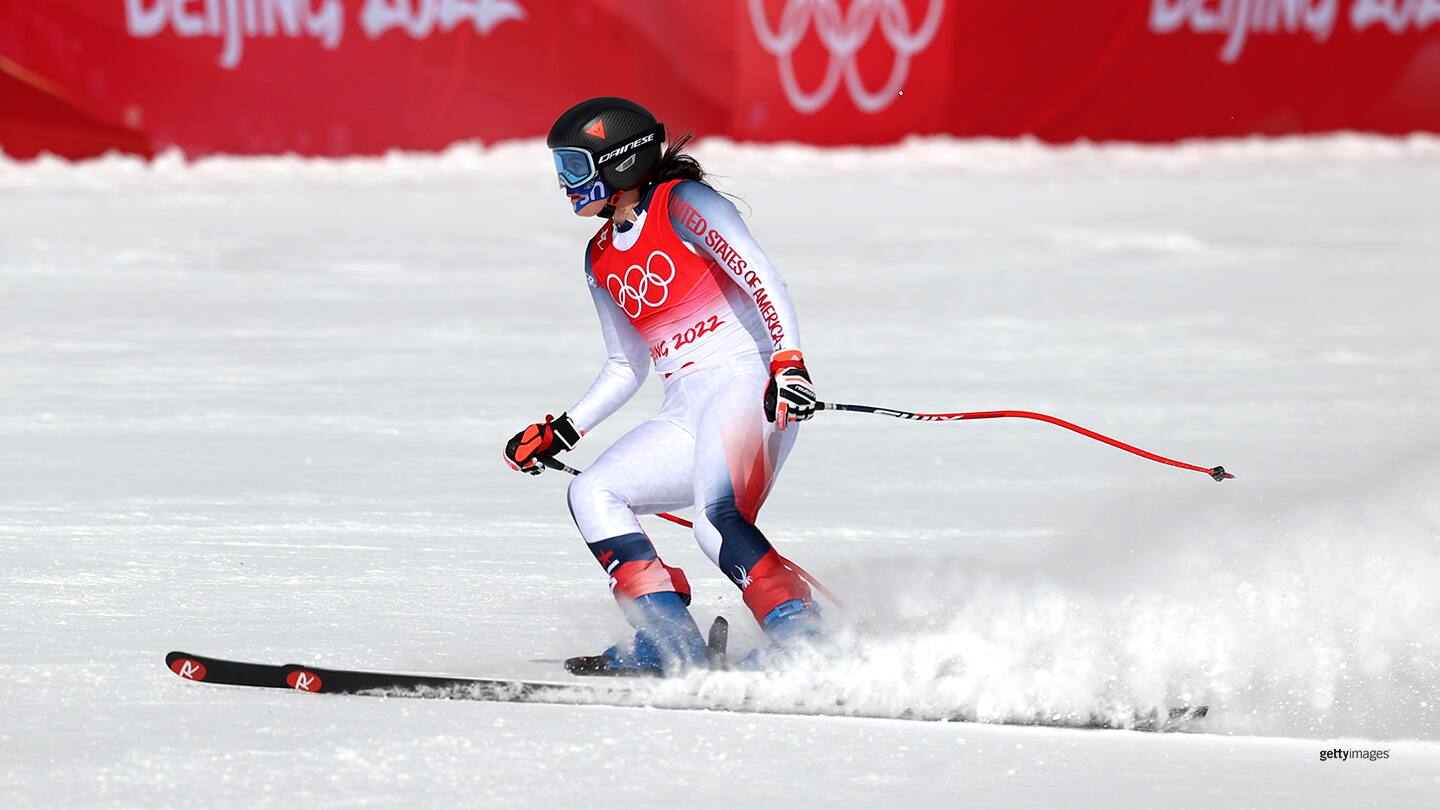 Jacqueline Wiles of Team United States reacts following her run during the Women's Downhill at the Olympic Winter Games Beijing 2022 on Feb. 15, 2022 in Yanqing, China.
Wiles will not race the 2022 Olympic combined. Her knees no longer like the quick turns of slalom. And although she was disappointed with her downhill run, it is in some ways a victory that she even made it to the 2022 Olympic start gate.
A speed skier, Wiles scored a couple of top 10s at world juniors in 2013 and won her first national downhill title. A year later, she won her second national downhill title and earned a spot on her first U.S. Olympic Team. A wide-eyed 21-year-old at her first Winter Games, Wiles finished 26th in the 2014 Sochi Olympic downhill.
Two years later, she finished a world cup in the top 10. And in January 2017, Wiles finally landed on a world cup podium, while idol Vonn — who had helped fund Wiles's career just a couple of years earlier, making Wiles the Lindsey Vonn Foundation's first ambassador — finished farther down the results sheet.
Wiles then opened the 2018 Olympic season with a fifth place in one of the two Lake Louise World Cup downhills, then scored another world cup downhill podium in January 2018 in Cortina, Italy. Vonn won the downhill that day.
"Getting to share the podium with Lindsey in 2018 meant the world," Wiles said.
Along with Vonn, Wiles was now a favorite to win a downhill medal at the 2018 Olympic Games.
But then In the Garmisch-Partenkirchen World Cup downhill in early February, with Vonn sitting in the leader's chair, Wiles crashed badly and was transported to the hospital. She had two torn ligaments in her left knee and had broken her leg. It was almost two years before she raced again.
Then Wiles crashed again in December 2020, this time breaking her clavicle. With a rod holding the bone together, she returned to racing two weeks later.
While training for the 2021 world championships, she hurt her knee. She competed anyway, finishing 24th in downhill and 32nd in super-G, then flew home to have more surgery. In May 2021, she had surgery again, this time to clean up a torn patella tendon in her right leg and to remove the rod from her clavicle.
A Downhiller Takes
Flight
The rollercoaster of injuries and emotions was tough. And it made Wiles face reality.
"It kind of hit me that I won't be able to ski race the rest of my life," she said, "and I hadn't really thought about life after the sport."
A teammate who has a pilot's license introduced her to other pilots, who suggested that she might like to try flying.
"They thought it'd be a cool career path, you know, translating from ski racing," Wiles explained. "I love to travel, and I love the thrill of challenging new obstacles, of just getting out learning new things."
So she took a discovery flight and "absolutely loved the feeling of it."
"I was like, 'Oh, I could do this!'" she thought. "After having the excitement and thrill of downhill, flying a plane seemed very fitting."
Through U.S. Ski Team programs to help athletes complete their educations, Wiles enrolled in classes at Westminster College and Utah Valley University. To date, she has completed about 40 hours toward her private pilot's license and hopes to earn it this summer.
"I have a long ways [to go]," she said, adding that she has to retake flying hours after taking time off for training and racing. "There's a bunch of different certificates and steps along the way. But yeah, it's been really fun so far."
One day, Wiles hopes to earn her commercial pilot's license. But not for a few years. As long as her body will allow her to ski race, she will take flight mostly on her skis.
"I have a different appreciation and gratitude for what I get to do now," she said. "So I definitely would love to keep going and be able to make it through Cortina in 2026."
Want to follow Team USA athletes during the Olympic Games Beijing 2022? Visit TeamUSA.org/Beijing-2022-Olympic-Games to view the competition schedule, medal table and results.
An award-winning freelance writer based in Vermont, Peggy Shinn is in Beijing covering her seventh Olympic Games. She has contributed to TeamUSA.org since its inception in 2008.