Meet The 2022 U.S. Olympic Alpine Ski Team
Returning Olympians -
Women
Returning Olympians -
Women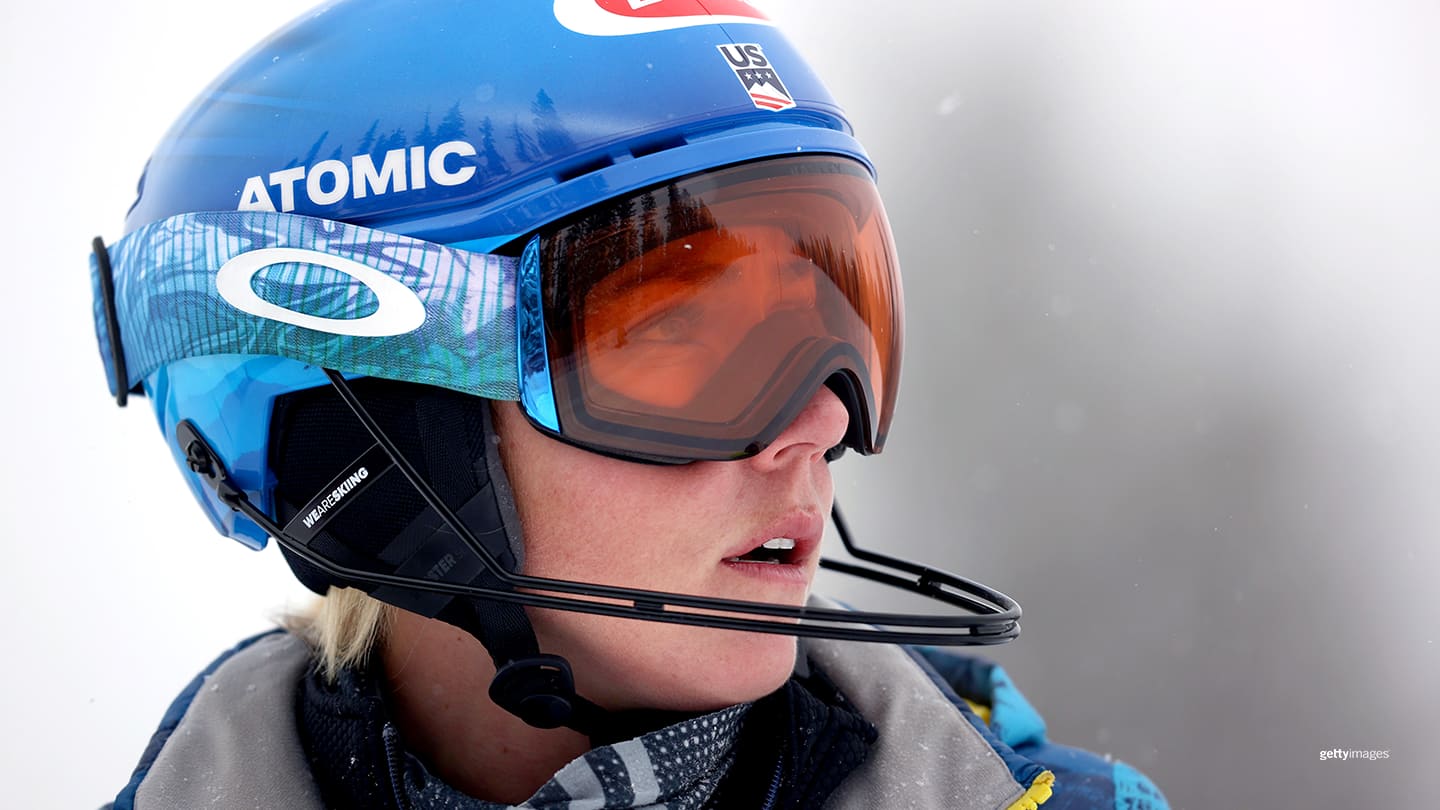 Mikaela Shiffrin inspects the course during a Slalom Training session on Nov. 11, 2021 in Copper Mountain, Colo.

Even before the Olympic Winter Games Beijing 2022 open, Mikaela Shiffrin has already cemented herself as a legend. She has won more world championship medals than any other American skier (11, four of which she won at the 2021 world championships) and is third in line for most world cup wins (72 and counting — 10 behind Lindsey Vonn and 14 behind Swedish legend Ingemar Stenmark).


But Shiffrin, 26, does not look at her stats, and this reveals more about her as a champion than the numbers themselves. Since the 2018 Olympic Winter Games, where Shiffrin won a gold in giant slalom and a silver in combined, she has suffered the tragic loss of her beloved father — a broken heart worse than any injury she has had, or will ever have — and she has, with the rest of the world, slogged through the COVID-19 pandemic, catching the virus over the holidays.


She would like to ski five events in Beijing, schedule permitting, and will likely add to her Olympic medal collection (three and counting). Only Bode Miller and Julia Mancuso have won more (six and four, respectively); Vonn has three. A realist, Shiffrin will roll with whatever comes her way in Beijing.

Like her name implies, Breezy Johnson is fast — "like the wind," she tells baristas when asked for her name on coffee orders. It's a name that her grandmother picked (after her mom wanted to name her Bree), and Johnson has wanted to live up to her name since she was young.


From Jackson Hole, Wyoming, 26-year-old Johnson grew up on big ski terrain where she could go fast. She has successfully recovered from a number of injuries, including a torn ACL at the end of the 2018 season, and is now the U.S.'s most promising downhill skier since Lindsey Vonn.


Johnson has seven world cup podiums on her resume, including three second-places from earlier this season. The Beijing Winter Games are Johnson's second trip to the Olympics (she finished seventh in the downhill in PyeongChang), and she will be listed as a favorite in the 2022 Olympic women's downhill. She is currently ranked second overall in the world cup downhill standings.
Jackie Wiles burst onto the alpine ski scene as a 20-year-old when she won the 2013 U.S. national downhill title. She won it again in 2014 and made her first Olympic team, finishing 26th in the downhill at the 2014 Sochi Olympic Games. That was just the start for the skier from Portland, Oregon.


Over the next few seasons, Wiles worked her way steadily through the world cup rankings and received the backing of Lindsey Vonn, becoming an athlete ambassador for Vonn's foundation. In January 2017, Wiles earned her first world cup podium finish — third in Altenmarkt-Zauchensee, Austria. She followed that up with another third place finish in Cortina, Italy, a year later and was suddenly on the radar to win a medal at the 2018 PyeongChang Olympic Games.


Then on the eve of those Games, Wiles crashed badly in a downhill in Garmisch, Germany. Rather than flying to Korea to compete, she was airlifted to a hospital, where she learned that she had broken her fibula and torn several knee ligaments. She faced 18 months of intense rehab and returned to world cup racing in November 2019.


Although Wiles has suffered more crashes (and 3 more surgeries last season) since then, the 29-year-old knows how to fight back. Look for her in the speed events in Beijing.

Tricia Mangan grew up racing her twin brother William and four other siblings at Holimont, a small ski area in western New York near her home in Buffalo. She made the U.S. Ski Team's National Training Group while in high school and helped pay for it by running a summer camp with William; Camp Mangan they called it.

This will be Mangan's second trip to the Olympic Games. In February 2018, shortly after she finished fourth in super-G at the world junior championships, she received a call. Her friend Jackie Wiles had crashed badly in a world cup downhill and would not be able to compete in the upcoming Winter Games. Mangan became the final athlete named to the 2018 U.S. Olympic Team. She competed in giant slalom in PyeongChang but did not finish her first run, and she helped the U.S. team take ninth in the team event.

Since 2018, Mangan has finished her engineering degree at Dartmouth College, where she also raced collegiately for two years, finishing third in GS at 2019 NCAAs. The 24-year-old is now training and racing independently with the International Ski Racing Academy, a group of women who compete on the world cup. This season, Mangan has only competed in speed races — downhill and super-G — and could be a factor in the alpine combined.
First-Time Olympians -
Women
First-Time Olympians -
Women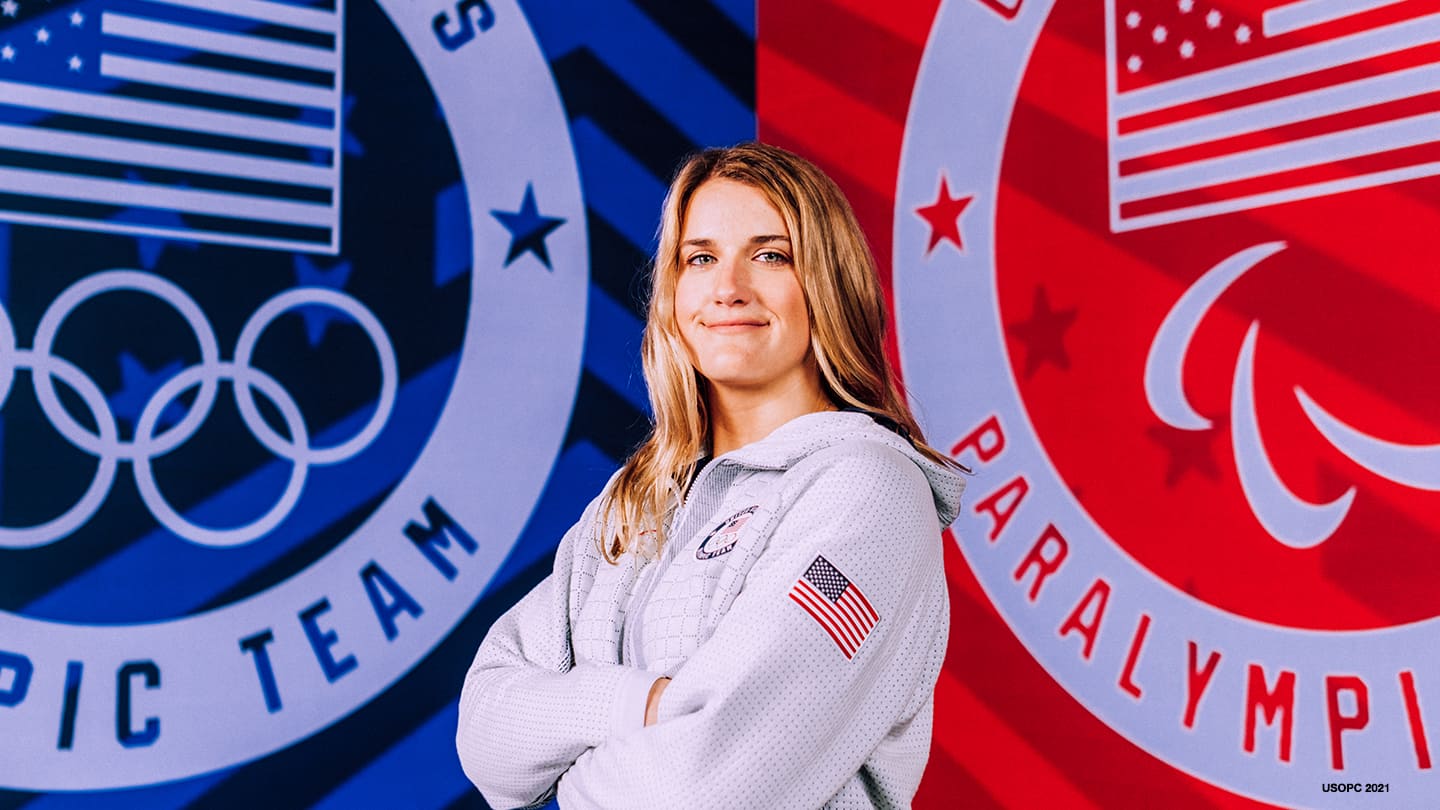 Paula Moltzan poses for a portrait during the Team USA Beijing 2022 Olympic shoot on Sept. 12, 2021 in Irvine, Calif.
In 2016, Paula Moltzan thought her ski career was over. She had not been renamed to the U.S. Ski Team so decided to use her talents to earn a college degree. She enrolled at the University of Vermont as a pre-med student. Her freshman year, she won the NCAA slalom title.

Then in November 2018, she surprised everyone when she finished 17th in the Killington World Cup slalom and earned a trip to Europe with the U.S. team. There, she continued to finish in the top 30 and score world cup points in slalom. At the end of the 2018/2019 season, she was renamed to the U.S. Ski Team.

Since then, Moltzan has rarely finished out of the points in slalom, and in November 2020, she earned her first world cup podium (second place in a parallel event). Then at the Killington World Cup this year, the 27-year-old matched her best slalom finish ever (seventh). Even with a broken wrist, she has persevered on the world cup this season to maintain a good start number.

Originally from Minnesota, Moltzan now calls western Massachusetts home, where she trains in the off-season and works at her fiancé's family's rafting business. Her fiancé, Ryan Mooney, is her wax tech, and he no doubt helped her stay happy and focused on the world cup tour. Moltzan hopes to be a factor in the Olympic slalom.
From the Sierra hamlet of Strawberry, California — population 68 — Keely Cashman was on snow early. Her dad is a ski coach, and Cashman learned to ski fast and technical at Palisades Tahoe. A three-time junior national champion, Cashman competed in five events at the 2016 Youth Olympic Winter Games. Her best finish: tenth in super-G against girls a year older.


By 2019, Cashman finished just off the podium at junior world championships in both super-G and combined. Then the following season in 2020, she won a bronze medal at junior worlds in combined. She also took fifth in downhill and eighth in super-G.


Cashman made her world cup debut in 2017 and began competing regularly on the tour during the 2019/2020 season. She was rising in the rankings, especially in super-G. But in early January 2021, while training in Germany for an upcoming world cup, Cashman crashed in super-G and lost consciousness. She strained a knee and was badly bruised, but her head injury was the most concerning. She spent eight days in a local hospital, then returned home to recover. She also enrolled as a freshman at the University of Utah.


Back on snow in mid-April, Cashman, 22, returned to the world cup circuit in October. She is one of three women on the U.S. Ski Team competing in both tech and speed events and hopes to compete in multiple events in Beijing.

When Nina O'Brien was a high school student at Burke Mountain Academy, a ski-racing academy in northern Vermont, she dreamed of joining the women competing on the world cup tour. A year after she graduated from Burke, that dream came true — and in the best of all places. She competed in the 2016 Killington World Cup in front of former Burke classmates watching from the stands.


Two years later, O'Brien finished in the points in a world cup, again at Killington, with 23rd in slalom. In the past two seasons, she has finished more regularly in the points in both slalom and giant slalom. Most recently, after recovering from a positive COVID-19 test, O'Brien battled to 25th place in a world cup slalom.


An economics major at Dartmouth College, O'Brien, 24, is originally from San Francisco, and honed her racing talents at Palisades Tahoe.

Bella Wright, 24, grew up making big turns on the big slopes of Snowbird outside Salt Lake City, Utah. A talented ski racer, she contemplated going the NCAA route and skiing for a Division 1 university. But she loves speed, and college races do not include downhills or super-Gs. She had also recently torn her ACL and needed several months to get her skis back under her. So she moved to Aspen, Colorado, and spent two post-graduate years training with the Aspen Valley Ski & Snowboard Club. Near the end of her second year, she was named to the 2018 junior world championship team.


Wright made her world cup debut in November 2019 and wrapped up her 2019/2020 season with the NorAm super-G title. Last year was her first full season competing on the world cup, and she began steadily finishing in the points (top 30), making her a candidate to compete in the Olympic downhill and/or super-G. A vegan and big animal lover, Wright hopes to attend culinary school one day.
From Truckee, California, Mo Lebel grew up in a family of skiers. Her mom taught skiing at nearby Northstar, and her three older siblings all ski raced as well. As a teen, Lebel was named to the U.S. Ski Team's National Training Group, and in 2018, she competed in all disciplines — slalom to downhill — at the world junior championships. That year, she also won the national downhill title and finished third overall in the NorAm downhill standings. Her ski career was about to take off. But injuries would stand in her way.

Lebel had surgery for compartment syndrome in both legs in November 2018, then broke her leg skiing in spring 2019. She enrolled at the University of Utah that fall but injuries kept her from competing for the school that winter and the next.

Now 23, Lebel was finally ready to jump back into the gates this season. Then her father, Jay, passed away on October 30 in a car accident due to a medical emergency. Grieving, Lebel was unable to make her world cup debut in the Lake Louise speed races. Lebel finally competed in a world cup downhill on January 14, 2022, and dedicated it to her dad.
Californian AJ Hurt grew up on the slopes of Palisades Tahoe and by age 16, was the top junior born in 2000 in NorAm points in both the speed and technical races. Two years later, in 2018, she made her world cup debut in the Killington slalom.

Since then, Hurt, a multi-event skier, has scored points in four disciplines (slalom, GS, downhill, and parallel). In 2019, she finished second overall in the NorAm standings, first in the downhill and combined NorAm rankings, and second in GS and super-G.

Last season was a banner year for Hurt. She kicked off the 2020/2021 season by winning the 2020 slalom national title (postponed from the spring due to the Covid-19 pandemic). Then over the next four months racing in Europe, she earned world cup points in four disciplines. She concluded the season by earning a slalom bronze medal at 2021 world junior championships. Then back home in the U.S., she finished runner-up in downhill at the 2021 national championships.

This season, Hurt is focusing on slalom, GS, and super-G. She began the Olympic season by finishing 20th in the opening world cup GS. She is one of three women on the U.S. team competing in both speed and technical races.

A student at Dartmouth College, Hurt attends classes during the off season and does not compete for the Big Green. As for her name, AJ stands for Amelia Josephine.
Katie Hensien, 22, is one of a handful of alpine skiers who is balancing college (and collegiate ski racing) with world cup races. A Washington state native, Hensien grew up skiing at Crystal Mountain, then attended Rowmark Academy in Park City, Utah, graduating in 2018. It was a busy year, as Hensien was also named to the U.S. Ski Team that spring, after finishing fourth in slalom at the 2018 world junior championships. With world cup races on her radar, Hensien stayed committed to the college path. She entered the University of Denver (DU), where she is now a senior, and competed for the Pioneers in NCAA racing for three of her four years there. She also raced internationally and in 2019, won a world junior silver medal in the team event. Most recently, this month Hensien returned from world cup racing in Europe and a week later, finished fifth in a collegiate GS.

Hensien has finished in the world cup points in slalom three times so far, and she competed for the U.S. at the 2021 world championships. At DU, Hensien is pursuing a computer science and business degree with a minor in innovation and entrepreneurship. One day, she would like to become a product planner and designer.
Returning Olympians -
Men
Returning Olympians -
Men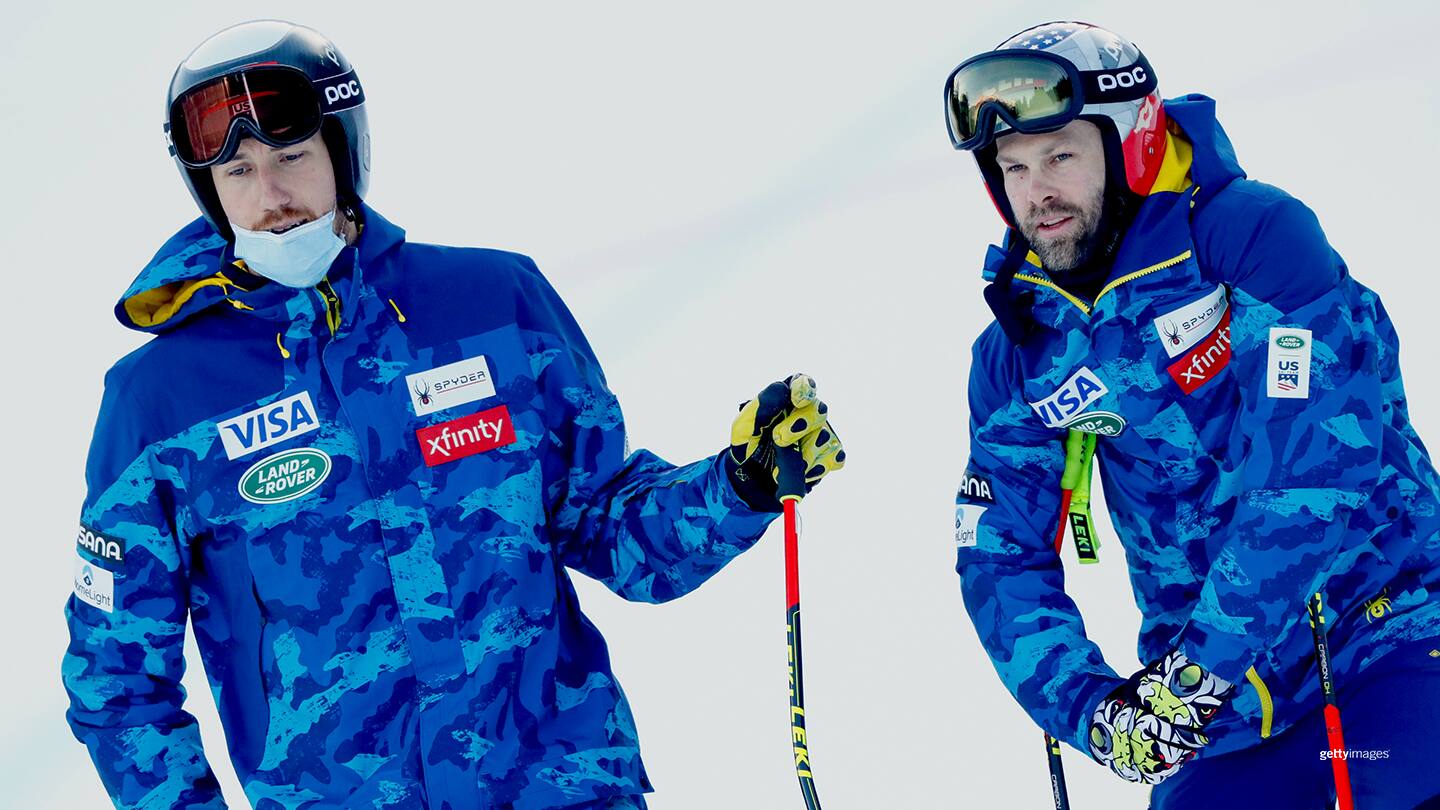 Bryce Bennett (L) Travis Ganong (R) inspect the course during the men's downhill at the Audi FIS Alpine Ski World Cup on Feb. 5, 2021 in Garmisch Partenkirchen, Germany.
Big man Bryce Bennett grew up in the big mountains surrounding Lake Tahoe, and he loved to ski fast. As a kid, he idolized speed legends Daron Rahlves and Bode Miller and tried to emulate their style. He competed in two junior world championships, scoring a handful of top 10s in downhill and combined, and he made his world cup debut at age 21 in a super-G at Lake Louise.


Since then, 29-year-old Bennett has been a world-cup mainstay in speed events. But he did not become a regular in the top 30 until four years ago. Then he inched toward the podium with a handful of top fives in world cup downhills. He also made the 2018 U.S. Olympic Team and finished 16th in downhill and 17th in combined in PyeongChang.


When he finally stepped onto the world cup podium this season, he did it in a big way (of course) — by winning the Val Gardena downhill. It ended a five-year world cup downhill win drought for the American men. At 6'7", Bennett is indeed a big man, and despite inconsistency in his results this season, he is hoping for big wins in Beijing.


RCS, as he's known, is part of the second generation of "Skiing Cochrans." The 29-year-old is the son of 1972 Olympic slalom gold medalist Barbara Ann Cochran. But unlike most of his Olympic aunts, uncle, and cousins, RCS competes in the speed events (downhill and super-G) in addition to giant slalom. It's not what one might expect from a skier who grew up making his first turns at Cochran's Ski Area in Richmond, Vermont — a ski area so small that it's served by only two rope tows and a t-bar. But when RCS was young, he famously flew down a trail at Cochran's and had so much speed that he crashed through the window of the base lodge. Even that accident did not slow him down.


On the world cup, RCS broke through last December, finishing second in a downhill, then winning the Bormio super-G. But a bad crash in the Kitzbuhel downhill last January put him in the hospital with a broken neck.


He's back to (almost) full speed this winter, with a fourth in the Bormio super-G and a sixth in the Beaver Creek downhill in December, then an eighth in the notorious Wengen downhill. A mechanical engineering major at the University of Vermont, RCS could become the second "Skiing Cochran" to bring home an Olympic medal.


Travis Ganong grew up on the legendary steeps of Palisades Tahoe (formerly Squaw Valley), home of the 1960 Olympic Winter Games. So it's no surprise that the 33-year-old has become a downhill legend. Fifth in the Olympic downhill at the 2014 Games, he became the first U.S. man in a decade to win a world championship medal in downhill (silver) the following year.


But then six weeks before the 2018 Olympic Winter Games, he crashed and tore the ACL in his right knee and missed those Games. He successfully returned to the world cup from surgery. But it took another four years before he reached the world cup podium again — with a third in the Beaver Creek super-G in early December. In his 17th year on the U.S. Ski Team, Ganong will be gunning for a medal in super-G and downhill in Beijing.
Two years ago, Tommy Ford was ripping. A talented giant slalom skier, he stormed to the lead of the 2019 Beaver Creek World Cup GS and broke an almost-three-year drought of world cup wins for the U.S. men. He followed it up with another GS podium later that winter and finished the season ranked fifth overall in GS. Already a two-time Olympian — with a 26th place in GS at the 2010 Games and 20th in GS in 2018 — Ford was becoming a favorite to make his third Olympic team in 2022 and perhaps win a medal.

Then last January, Ford was on his way to another world cup giant slalom podium finish when he crashed badly. He was knocked unconscious, broke his right tibial plateau and tore ligaments in that knee. The Bend, Oregon, native underwent four surgeries last winter.

Recovery has been slow, and as of a month ago, Ford, 32, told his state's newspaper that he was still recovering from the concussion. Although he has yet to race this season, he has been fast in training. He will look to carry that speed to Beijing.
First-Time Olympians -
Men
First-Time Olympians -
Men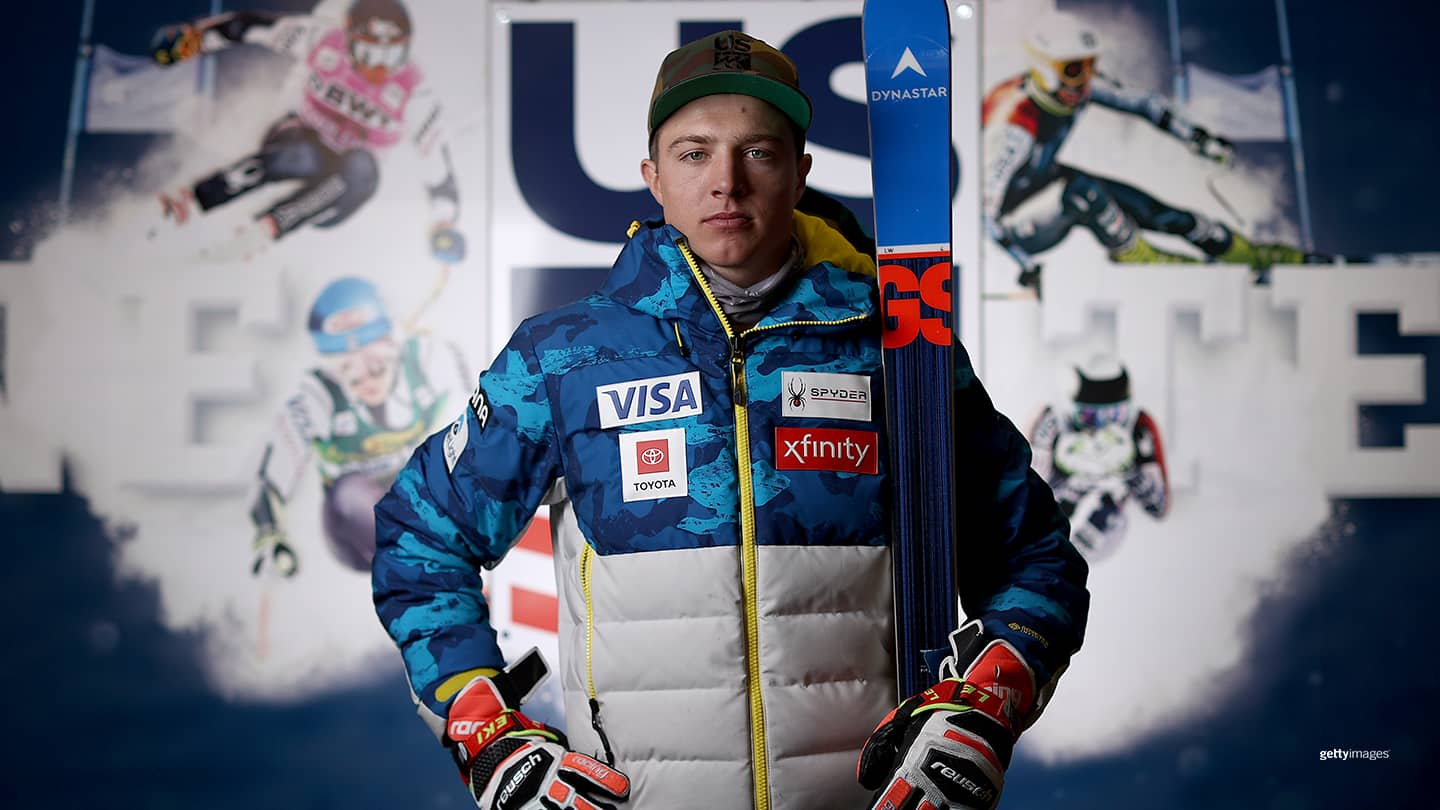 Luke Winters poses for a portrait during the U.S. Ski Team Media Day Event on Nov. 10, 2021 in Copper Mountain, Colo.
Slalom specialist Luke Winters grew up skiing Oregon's Mt. Hood with his twin brother Cody. They both attended Sugar Bowl Academy in Truckee, California, but Luke had just a bit more drive in ski-racing than his brother. At the 2018 junior world championships, Luke finished on the super-G podium with teammate Radamus, taking bronze to Radamus's silver.

Winters made his world cup debut that same year in a handful of races. Then, in his second slalom of the 2019 season, he was the only American on the start list — a position he earned from his high NorAm standings. No one expected much from Winters. But wearing big 40, he flew down the course and with incredible balance, finishing the first run in second place. Although he ended up 19th (after the second run), Winters showed his potential.

A career-best tenth place finish in the world cup slalom on January 8, 2022, moved Winters to 24th in the world cup slalom rankings. Hopefully, he will maintain that spot and earn a good start order in the slalom at the Beijing Olympic Winter Games.
The son of two ski-racing coaches, River Radamus was on skis before he could walk (it was easier for his parents to push him around than carry him). A promising junior, he became the first alpine skier ever to win three gold medals when he claimed the GS, super-G, and combined titles at the 2016 Youth Olympic Winter Games. He then went on to win at least one medal in every junior world championships for the next three years, culminating with two gold medals (GS and super-G) at 2019 junior worlds.

Radamus made his world cup debut as a 19-year-old and has shown the most promise in GS. Now 23, the Vail, Colorado, skier started out the 2022 Olympic season with a sixth-place finish at the Soelden World Cup GS in October and has scored four other top-15s since then, putting him in ninth in the GS standings going to the Beijing Games.
An award-winning freelance writer based in Vermont, Peggy Shinn has covered six Olympic Games. She has contributed to TeamUSA.org since its inception in 2008.