Nordic Combined Concludes At Winter Olympics With Personal Bests For Team USA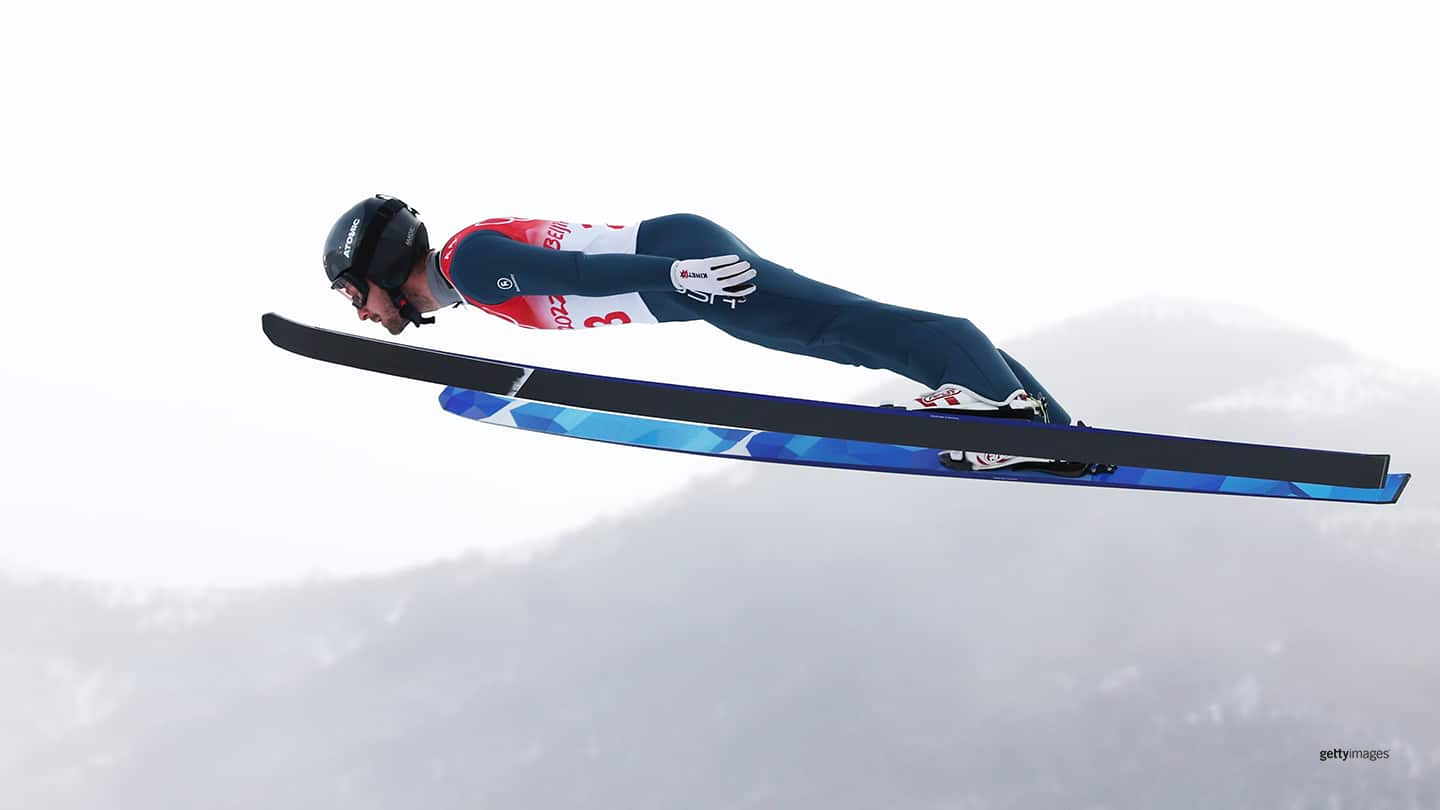 Taylor Fletcher competes during the individual gundersen large hill/10-kilometer during the Olympic Winter Games Beijing 2022 on Feb. 15, 2022 in Zhangjiakou, China.
ZHANGJIAKOU, China — The third and final event of Nordic combined, and the only team event, took place Thursday afternoon with the start of the ski jumping at the Zhangjiakou National Cross-Country Centre.
The U.S. quartet of Taylor Fletcher, Ben Loomis, Jasper Good and Jared Shumate finished with an overall sixth-place finish and a time of 53:07.1 — the U.S.'s best result since Sochi 2014, where Fletcher helped the U.S. to its first sixth-place finish.

The moment was admittedly bittersweet for four-time Olympian Fletcher, who plans to retire after these Games.

"This is really tough," Fletcher said. "I started in 2010 with Billy Demong and Johnny Spillane winning medals, and that was cool to see."

The U.S. has four total medals in the sport, winning them all at the 2010 Vancouver Games, taking gold and silver in the individual large hill, and silver in the normal hill and the team event.

The 31-year-old, affectionately nicknamed "Old Man" by his teammates, was instrumental earlier this year when he led the U.S. to their best finish in a Nordic combined team relay since 2013 when they placed fifth in a world cup event.

"I have nothing to be ashamed of," he continued. "It has been an honor to be able to represent the USA. It has been a fun year, and I'm excited to see what the guys are going to do in the future. It's crazy to think that this will be the last time I will be putting on an Olympic bib — unless I get some stupid idea to come back in four years."

Three-time Olympic champion Norway took the gold (50:45.1) despite having to compete without one of their most consistent athletes, Jarl Magnus Riiber, who tested positive for COVID-19 earlier in the Games. Germany's defending gold medalists took silver (51:40.0) — continuing their winning streak, which has seen them on the podium in the team event at every Winter Games since 2002.

Team Japan made it an exciting race for second, but settled for bronze with a time of 51:40.3, making it back on the podium for the first time since their gold medal win in 1994.

As the name suggests, Nordic combined combines two sports: ski jumping and cross-country skiing. It has been contested at the Winter Olympics since the first Games in 1924 in Chamonix and has been included in every Games since.

It is also the only sport — winter or summer — that does not include women at the Olympic level. A women's event could be added for the 2026 Winter Games in Italy.
Want to follow Team USA athletes during the Olympic Games Beijing 2022? Visit TeamUSA.org/Beijing-2022-Olympic-Games to view the competition schedule, medal table and results.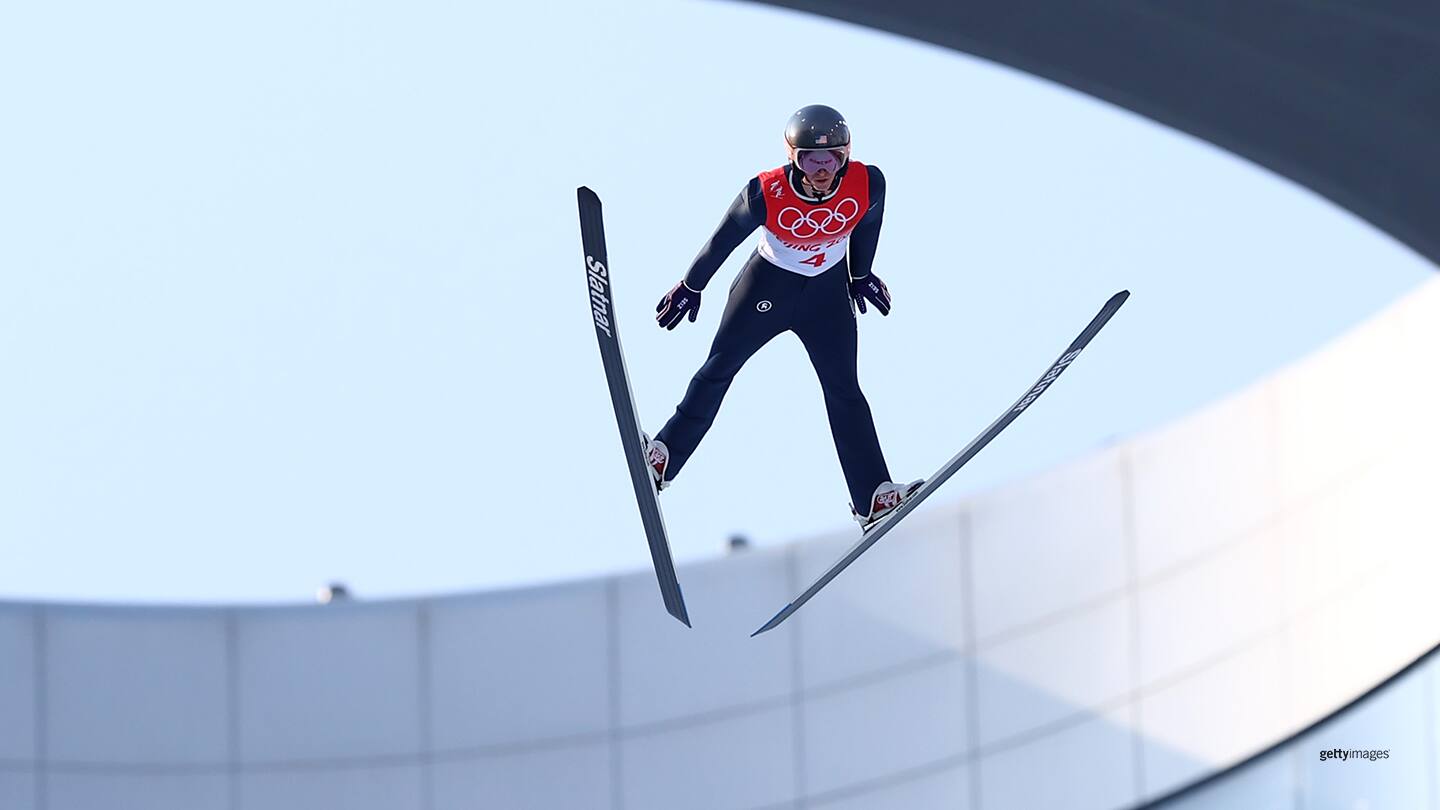 Stephen Schumann competes during individual gundersen normal hill/10-kilometer during the Olympic Winter Games Beijing 2022 on Feb. 9, 2022 in Zhangjiakou, China.
The remaining member on Team USA's Nordic combined team, Stephen Schumann, made his Olympic debut on February 9 at the first of the Nordic individual events, the normal hill.

For the 21-year-old from Park City, Utah, his 25th place was the best result he's had since coming back from a knee injury in 2018 that caused him to take almost a full year off from the sport.

"I'm pretty psyched about how today went," Schumann, 21, said about his time of 27:52.4. "I think it was probably one of my best events this year. I had a great time."

It was an especially good day for two-time Olympian Loomis, who was in 17th going into the cross-country race but pushed ahead to finish 15th with a time of 26:57.8. Before Beijing, the 23-year-old Nordic combined athlete from Eau Claire, Wisconsin, averaged around 38th place this past season.

"I'm really happy with finishing 15th overall today. I wasn't totally satisfied with my jumping, but I was able to make up for that in the race," said Loomis, the highest placing American in the event. At his first Olympic Winter Games in PyeongChang four years ago, Loomis finished 41st in the same event.

Finishing just behind him was teammate Shumate, 22, who made his Olympic debut with a jump distance of 93.5 meters and a score of 99.2 points. He was in 24th place going into the cross-country portion, moving up to finish in 19th with a time of 27:10.0.

After three Winter Olympics, Fletcher had his highest finish ever in the event when he landed in 24th and an overall time of 27:50.9.


Fletcher would finish one place better in the large hill individual event almost a week later, finishing 23rd overall — just behind his position in Sochi, where he finished in 20th place. His standing after the jump was 35th, but he leapt ahead, moving up 12 spots to end the race in 23rd with a time of 25:42.7.

The event would have a good showing for Team USA, with three top 25 finishes and another top 20 finish for Shumate, who was 17th overall (26:24.5). Behind him was Loomis with 19th place and a final time of 26:51.2.

Two-time Olympian Good sent a new personal Winter Games best, moving up from his 41st place finish in Sochi to land 34th overall in Beijing (27:32.9).

"I'm very psyched about my personal best at the Olympics in this event," said the 25-year-old. "I'm also very proud to be representing the U.S. Army in this Olympics as well."

Both Good and Loomis are members of the U.S. Army World Class Athlete Program (WCAP), allowing top-ranked Soldier-athletes to perform at the international level while also serving their nation in the military.

"I think we are going to continue to grow as a team, and we are still very young. I believe we're going to continue to get better as a team, and we will be up for some medals in 2026," predicted Loomis.
Lisa Costantini is a freelance writer based in Orlando. She has covered Olympic and Paralympic sports for various publications, and has contributed to TeamUSA.org since 2011.