With Bronze Megan Nick Becomes First U.S. Woman To Medal Individually In Aerials Since 1998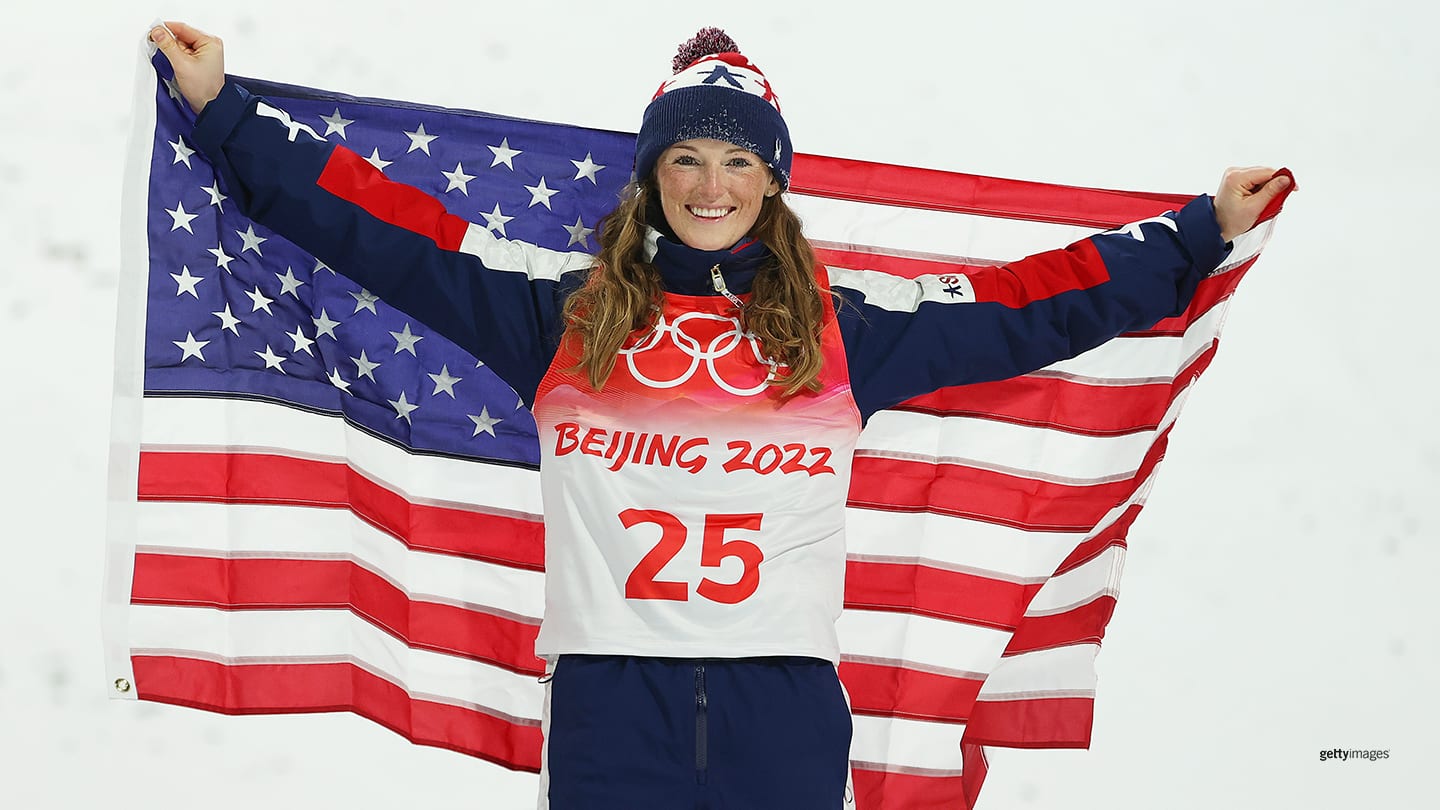 Megan Nick poses during the women's freestyle skiing aerials final flower ceremony at the Winter Olympic Games Beijing 2022 on Feb. 14, 2022 in Zhangjiakou, China.
Megan Nick will tell you that she's had her share of ups and downs.

When it counted the most on Monday, Nick experienced the highest moment of her young life, claiming the Olympic bronze medal in the women's aerials at Genting Snow Park northwest of Beijing.

The 25-year-old from Shelburne, Vermont, landed a back full-double full in the super final to score a 93.76 and reach the podium. She was joined there by Xu Mengtao of China, who took the gold medal with a 108.61, and defending gold medalist Hanna Huskova of Belarus, whose 107.95 earned her the silver medal. Fellow American Ashley Caldwell was just off the podium in fourth.

"(I'm) very overwhelmed but I'm extremely happy," said Nick, who was making her Olympic debut. "I was very relieved to put down the jump that I did tonight and to get on the podium. I can't even explain how it feels. It's incredible. I am just extremely grateful to be here and for this opportunity."

"It's taken a long time to get to this level of jumping. I've had a lot of ups and downs. I'm just taking in every moment and being grateful that I made it here and I was able to compete the way I wanted to."

With qualification and finals all squeezed in after Sunday's weather postponement, it was a busy day for the skiers. Following the qualification round, 12 skiers advanced to the first final, where they each had two jumps. The top six from that round then moved on to the super final to determine the medals.

Americans Nick, Caldwell and Kaila Kuhn all made it through the qualifier to the first final, but Winter Vinecki failed to advance.

Caldwell then posted the top score in the first final to enter the super final as the top seed, but she fell on her landing to finish fourth with a score of 83.71. Kuhn did not advance to the super final and finished eighth.
First Games and first medal.

We 👀 you Megan Nick! #WinterOlympics pic.twitter.com/N5v2ZF9tyu


— Team USA (@TeamUSA) February 14, 2022
"I have a lot of emotions right now," said Caldwell, who is competing in her fourth Olympics. "Mostly I feel like there is a lot of relief. The Olympics is incredibly stressful, and we put a lot of heart into what we do. I gave it my all, and it didn't work."

Nick's medal was the 29th all-time for Team USA in freestyle skiing, though it marked just the second individual aerials skiing medal for a U.S. woman, following Nikki Stone's gold in 1998. Aerials became an Olympic event four years earlier in 1994.

The medal was somewhat of a surprise for Nick, who enjoyed a breakout season in 2019-20 and then posted her first two world cup wins in January 2021, but who hadn't placed higher than 15th in any world cups this season. She's also never competed at the world championships.

The former high school gymnast admitted to having a case of nerves headed into the final.

"I thought I was going to throw up, but I was able to calm my nerves enough to land some jumps, thank goodness," Nick said. "I knew it was going to be challenging because the field is so good. Everyone's jumping at such a high level that I knew I had to put down a good jump. I'm just relieved that I was able to do that."

Nick's was the second medal for the U.S. in aerials at these Games. The Americans also took the mixed team gold medal on Thursday in the Olympic debut of that sport. Caldwell, 28, was part of that team, along with Chris Lillis and Justin Schoenefeld.

"I got first (in mixed team aerials) at the Olympics, and I got fourth, which I think are the worst and the best positions that you can get," said Caldwell, a native of Ashburn, Virginia. "I just feel relief. There is a lot of (stress) taken off my shoulders, and I did all I could."

Nick said she hopes the medals spark interest at home.

"I know that interest in our sport in the U.S. has been dwindling," said Nick, "so I just hope that our gold in the mixed team event and this medal — and hopefully another medal in the coming days — inspires kids around the nation to consider starting aerials."
Want to follow Team USA athletes during the Olympic Games Beijing 2022? Visit TeamUSA.org/Beijing-2022-Olympic-Games to view the competition schedule, medal table and results.
Bob Reinert spent 17 years writing sports for The Boston Globe. He also served as a sports information director at Saint Anselm College and Phillips Exeter Academy. He is a contributor to TeamUSA.org on behalf of
Red Line Editorial, Inc.