Jaelin Kauf Headlines Strong U.S. Freestyle Skiing Contingent For The 2022-23 World Cup Circuit
Jaelin Kauf competes in the women's ski freestyle moguls during the Olympic Winter Games Beijing 2022 on Feb. 6, 2022 in Zhangjiakou China.
When Jaelin Kauf looks back on her silver-medal performance in women's moguls at the Olympic Winter Games Beijing 2022, she does so with deep appreciation.
"It was just the most fun that I've had competing," Kauf said. "I could truly feel that love and support standing up in the gate."
Her mother told her later that she could see Jaelin smiling before starting her run. Kauf admitted to looking at the television camera and knowing that people in her hometown of Alta, Wyoming, were watching.
"I'm just going to put on a show and try my best," she said. "Obviously, everyone is so stoked and excited that I got a medal. But that wasn't going to change how anyone felt about it or felt about me."
It was a lesson Kauf had learned in 2018 at her first Winter Olympics in PyeongChang, where she finished seventh after letting self-induced pressure get the best of her.
"It was pretty bittersweet and heartbreaking at the time, but it was a huge learning (experience) for me," Kauf said. "Going into my first (Olympic) experience being No. 1 in the world, having that pressure on me, looking back on it, I can acknowledge it was a lot for myself to handle.
"I was putting pressure on myself from outside sources that wasn't there of these expectations of friends and family and people. That wasn't at all the case. No one was going to be disappointed. My whole hometown was just so excited to be able to watch me compete in the Olympics and push myself. I still went out and competed well. I accomplished that dream."
Kauf took a more relaxed approach in Beijing. When new tricks she was working on didn't progress as she wanted, she jettisoned them just before the Games and relied on her skiing and natural speed.
"And that, I think, was a big thing moving forward with the rest of the season," Kauf said. "I'm still going to keep working on those new tricks, but I don't need them to be competitive."
Freestyle skiing has grown to include a handful of different events, though aerials and moguls were the first to be included in the Olympics. The 26-year-old Kauf and the other U.S. moguls and aerials skiers are now preparing for the upcoming world cup season, which begins Dec. 3-4 in Ruka, Finland. Another highlight of the schedule is the Feb. 2-4 stop at Deer Valley Resort in Park City, Utah. It is the only world cup event of the season on home soil. The world championships will take place in Bakuriani, Georgia, from Feb. 19-March 5, 2023.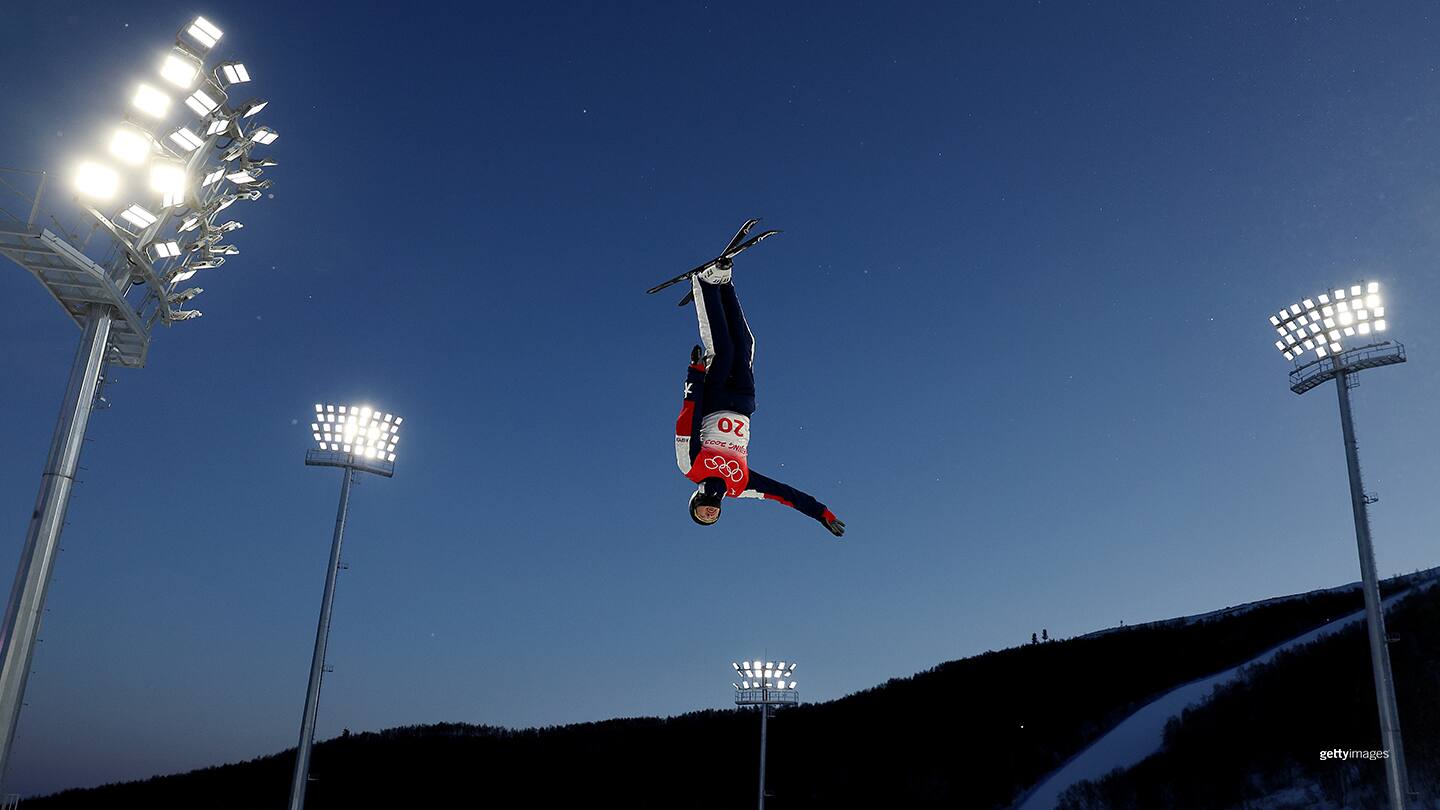 Chris Lillis performs a trick on a practice run before the men's freestyle skiing aerials final in the Olympic Winter Games Beijing 2022 on Feb. 16, 2022 in Zhangjiakou, China.
Kauf isn't the only newly minted American Olympic medalist who will be returning to the world cup scene this year. Ashley Caldwell, a four-time Olympian, Chris Lillis and Justin Schoenefeld — who upset host China to win the inaugural mixed team aerials gold medal — will all be competing.
Megan Nick, who brought home a bronze medal in women's aerials, will also return to action. Nick became the first American woman to win an individual medal in aerials since 1998.
The U.S. women put on a strong showing in aerials. Caldwell finished just off the podium in fourth place, while Kaila Kuhn finished eighth. Caldwell had entered the super final as the top seed but fell on her landing.
The U.S. men's aerials team will look to three skiers who finished in the top 12 in Beijing — Schoenefeld, fifth; Lillis, sixth; and two-time Olympian and 2021 world championship bronze medalist Eric Loughran, 12th.
In addition to Kauf, Olivia Giaccio returns in moguls after placing sixth at the Games.
Nick Page is back in men's moguls after a fifth place showing in his Olympic debut. Cole McDonald, fifth in last year's overall world cup standings, will join him.
Kauf said she's still riding high off her Olympic experience.
"It's such an unbelievable experience and accomplishment," she said. "Now, getting prepped for the next season and getting pretty close to our first competition only a couple months away, it definitely gets me pretty amped up to start competing again.
"I'm just so excited to be able to get back to that and kind of keep pushing myself and hopefully keep bringing more."
While continuing to work on new tricks, Kauf will again lean on her skiing and speed.
"I think that that's something that I can continue to carry into this season and kind of through the rest of my career," Kauf said. "It's just building on that and having confidence in my skiing."
Kauf pointed out that the FIS began awarding a separate world cup crystal globe for dual moguls in 2021-22, giving athletes an opportunity to compete for season titles in both moguls and dual moguls. That's especially good news for Kauf. She has recorded 13 world cup podiums in dual moguls to go with two world championships medals. That event will also be included in the Olympics for the first time in 2026.
"So, it gives us two opportunities for getting a (crystal) globe to win the two separate tours, which is exciting," she said. "The goal is to be at the top of both of them."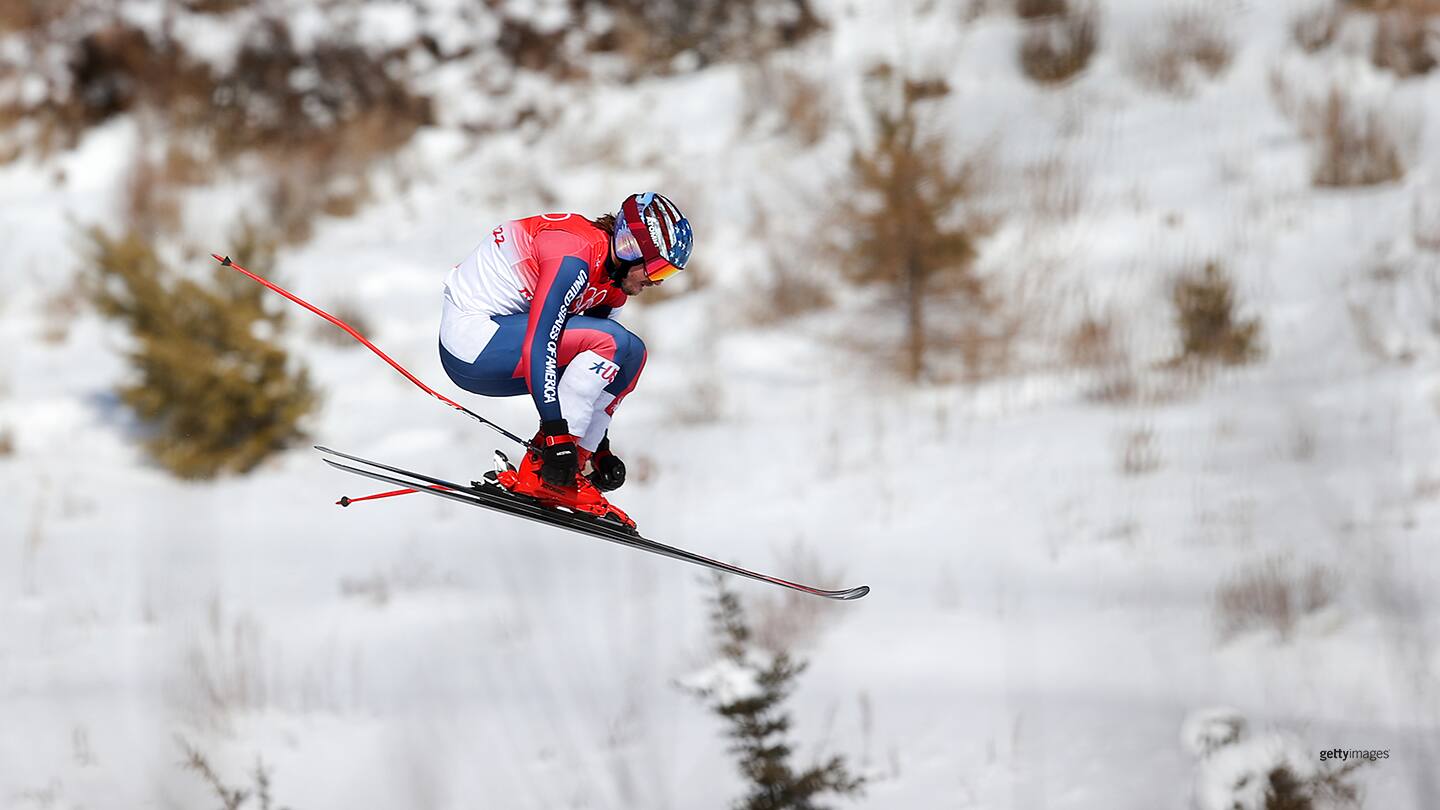 Tyler Wallasch competes during the men's skicross qualifiers at the Olympic Winter Games Beijing 2022 on Feb. 18, 2022 in Zhangjiakou, China.
Earlier this year, Tyler Wallasch became the first American to compete in skicross at the Olympic Winter Games since 2014. He would rather not be the lone U.S. competitor again at Olympic Winter Games Milano Cortina 2026.

Instead, the 28-year-old from Mammoth Lakes, California, would like to see his sport grow domestically and produce other Olympians to give Team USA a greater chance to bring home medals. No American has won hardware since skicross was introduced in 2010 as an Olympic event.

Wallasch hopes to use his experience in Beijing as a springboard to better results — for both himself and other Americans.

"I hear a lot how skicross is an 'American sport' and the United States are often credited with inventing skicross, and with a lot of winter sport culture tied to European origins, it's relatively rare in winter sports," said Wallasch, who was eliminated in the heats in Beijing and placed 28th. "The U.S. terrain and ski culture (are) perfect for developing fast skicross racers, but we are an underdog team and spend nearly the entire season in Europe."

Wallasch also placed 25th in the 2022 world cup standings after finishing a career-high 17th in 2021. He has participated in four world championships, with a top showing of 15th in 2017. He was 19th a year ago.

After arriving in Europe in August to start the 2022-23 season, Wallasch competed this week in Val Thorens, France, in his first world cup of the season. He said he'll likely stay overseas until the season wraps up at the end of March.

"Most of our competitions are live in the middle of the night in the U.S., and in 10 years of racing professionally, I have only competed at two top-level events (on American soil)," he said. "So, the exposure to the younger generation doesn't come as easy as it does to athletes in Europe, who see the best in the world compete in their backyard nearly every weekend all year long."

There are no U.S. stops on the 2022-23 world cup skicross calendar. The closest to home Wallasch could get on the tour is the final at Craigleith, Ontario, from March 16-18.

That event will take place after the freestyle skiing world championships, which are set for Feb.19-March 5 in Bakuriani, Georgia.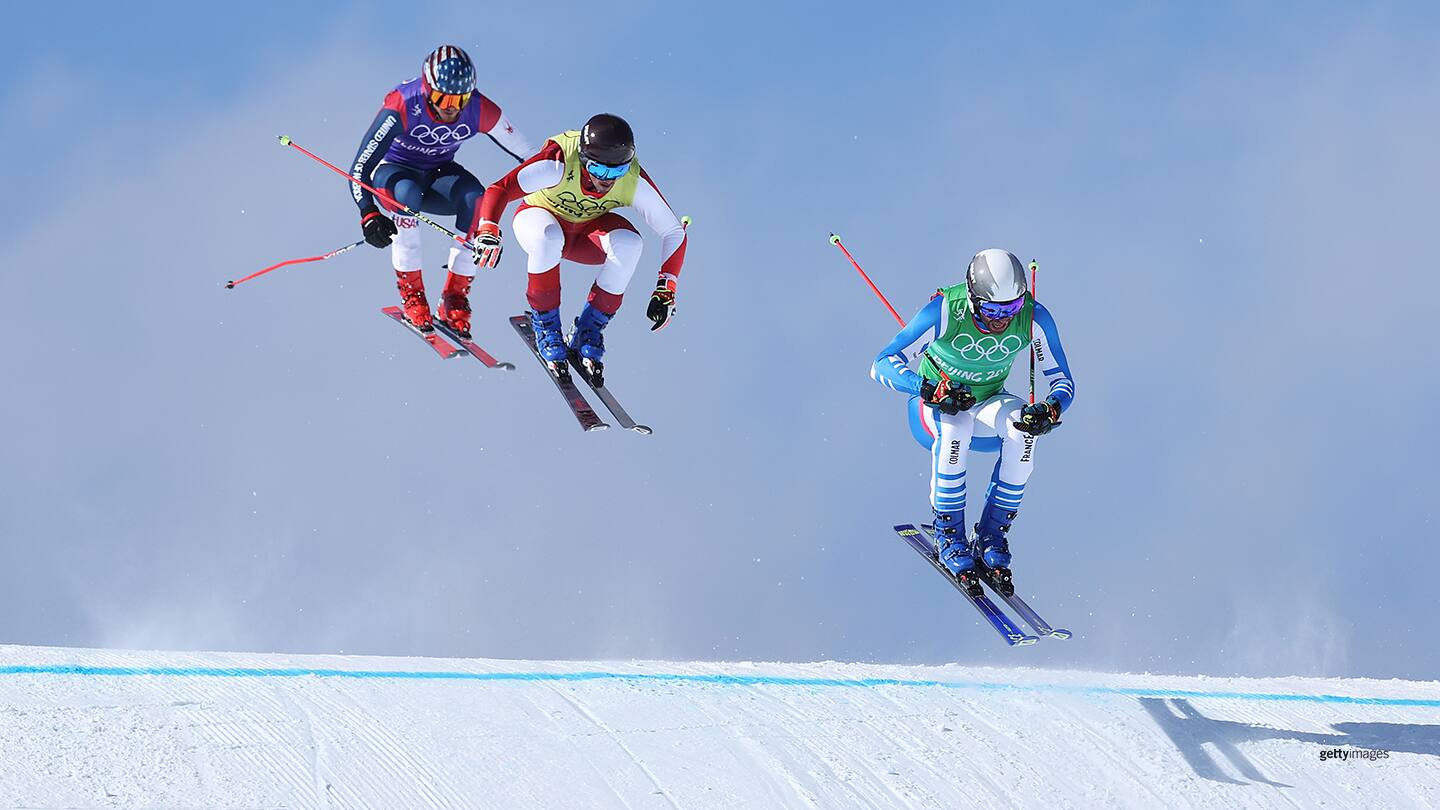 Tyler Wallasch, Adam Kappacher (Team Austria) and Bastien Midol (Team France) compete during the men's skicross 1/8 finals at the Olympic Winter Games Beijing 2022 on Feb. 18, 2022 in Zhangjiakou, China.
Committed to growing the sport at home, Wallasch spent time working with young skiers in April at the U.S. nationals and junior nationals.

"Especially after the last few years with many competitions being canceled or postponed, it was amazing to spend time, offer tips and just cheer on the kids racing hard and having fun in Colorado," Wallasch said. "I also realized there have only been three American skicross Olympians before myself, and all had retired the season following their Olympic skicross debut.

"So, I think having an athlete continue competing and hop in the start gate with them or just be there to answer a question about the next step they can take on the path to their Olympic dream is huge."

Wallasch spoke with those U.S. Olympians — Casey Puckett, Daron Rahlves and John Teller — before the Beijing Games about what to expect.

"John Teller and myself have both competed and qualified for the Games as private athletes independent of a national team," said Wallasch, "and when we competed at the Games, we were both the sole U.S. skicross representative in the competition.

"I would love to go again in four years but bring some teammates with me. I think it would incredibly special to share such big moments with people you train with and compete against so often. I saw it in my peers from other nations and how special those experiences were with them."

Wallasch said he skied hard at his first Olympic finals but came up short.

"In skicross you share the track, and the race can be insanely unpredictable," Wallasch said. "My only regret, not that I would even call it that, is that I wish I had more successful heats for people watching at home.

"I would have loved to battle a few more rounds into the competition. I know I had the speed and ability to do so. But I am immensely proud of how I prepared for these Games and my level of skiing at the Games, but the position I finished doesn't reflect where I think it was."

Wallasch said he wants to move up this year in the world cup standings and bring that momentum into the world championships. Whether he'll be joined by other Americans is yet to be seen. Christopher Del Bosco on the men's side and Leta McNatt for the women joined Wallasch among the top-40 in last year's world cup standings. Wallasch said he expects fellow American Brant Crossan, a former 12th-place finisher at the world championships, to return from an injury to this year's tour.

"I also want to try to help younger athletes get their way onto the world cup tour and beyond to the Olympics," Wallasch said. "American skicrossers have been competing, training and traveling independently since 2010. It makes the development gap from local club team to being competitive on the world cup incredibly difficult."
Bob Reinert spent 17 years writing sports for The Boston Globe. He also served as a sports information director at Saint Anselm College and Phillips Exeter Academy. He is a contributor to TeamUSA.org on behalf of
Red Line Editorial, Inc.